Recently I noticed that every beauty recipe starts by melting something. To make perfume, you first need to melt beeswax. To make deodorant bars, you start by melting beeswax and the butters. While daydreaming about a separate kitchen for beauty recipes (no more ruined saucepans!), I started thinking about all the recipes that use the same basic beauty ingredients. And friends, it's a lot!
You don't need a huge number of ingredients to make your own beauty products. Here are three beauty recipes that all use the same four ingredients, just in different ratios.
3 Homemade Gifts using just 4 ingredients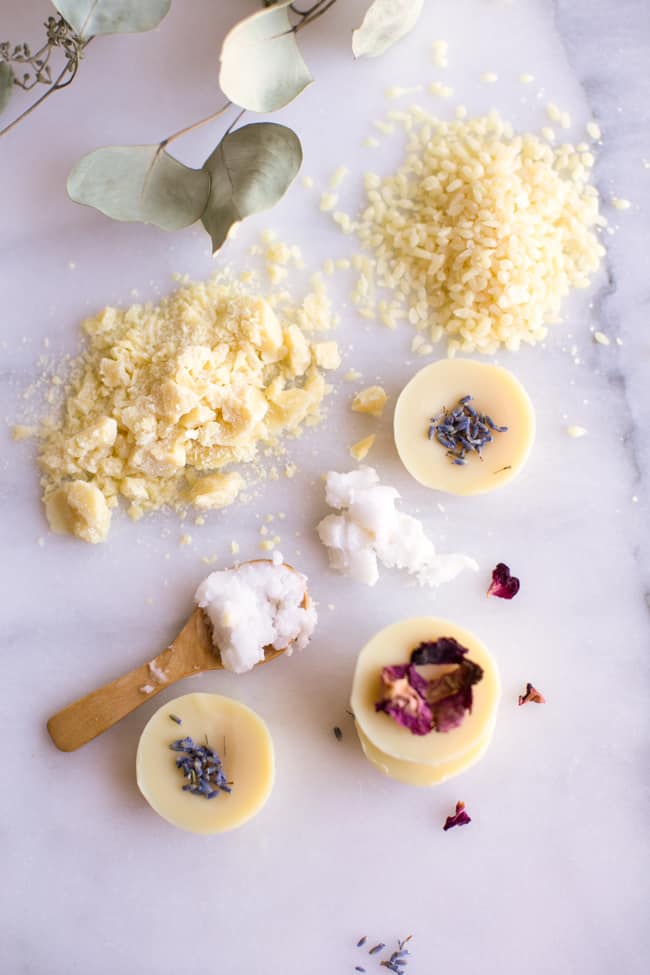 Get a dedicated glass measuring cup and saucepan and take an afternoon to start melting. You just need four basic ingredients to whip up lip balm, lotion bars and baths melts. You'll have gorgeous beauty gifts done in no time!
Supplies needed
Coconut oil
A dedicated measuring cup and saucepan for a makeshift double broiler is recommended
Molds: Ice cube trays or muffin tins work great (I like the mini muffin size). You can also use food storage containers to shape things.
Mint Chocolate Bath Melts
Bath melts are a luxurious way to add moisture to your soak. There's no beeswax in the recipe so they melt easier, making them the perfect treat for the tub. To use, simply put one melt in a hot bath and let it melt. I used a 4:1 ratio of cocoa butter to coconut oil.
Melt the cocoa butter and coconut oil together over low heat. Remove from heat and let cool slightly. Add peppermint and stir. Pour into molds and let sit to harden. This made about four melts in a mini muffin tin. Triple the recipe if you want to fill the whole pan. You can press a few dried herbs on top of the the melts to add some color. Adding a chocolate chip on top would be fun, too!
Mint Chocolate Lip Balm
Mint chocolate is by far my favor flavor so I can't resist the taste of this lip balm. Adding beeswax to lip balm makes my lips feel even more dry and chapped so I've left it out of this recipe. That means the resulting balm is a lot softer and can melt if it gets too warm (don't keep it in your pocket!).
Melt the coconut oil and cocoa butter together over low heat. Add a few flakes of beeswax if you're worried about melting, no problem. Remove from heat and let cool for a couple of minutes then add peppermint. Stir and pour into lip balm containers. Refrigerate to speed up the setting process.
Mint Chocolate Body Butter Bar
Body butter bars, or solid lotion bars, feel so good on parched skin. They melt as you rub them over dry areas, leaving a protective layer of moisture on your skin. The combination of cocoa butter and peppermint gives the bar a decadent scent.
Start by – you guessed it! – melting the coconut oil, cocoa butter and beeswax together. Remove from heat and let cool slightly. Then add your peppermint oil and stir. Pour into molds and let sit until firm (refrigerate to speed things up). I used a soap mold and was able to make two super large bars so this would probably make about four smaller sized bars.
Since there is no water in the recipes these products should last indefinitely. Package in cute containers or wrap in wax paper for a thoughtful, homemade gift.
29