I know I'm a little late to the scene, but I had my first wine slushy the other day and I have to admit, I get it now. If you haven't tried them yet, they're like snow cones for adults–one part childhood nostalgia mixed with two parts girls' night out. They totally scream for a fun Friday night relaxing with your girlfriends.
And, unlike a lot of other cocktails, they're actually good for you (well, as long as you don't over do it). All you need is wine, fresh fruit and a dash of raw honey or agave if you like your cocktails on the sweeter side. They really couldn't be easier.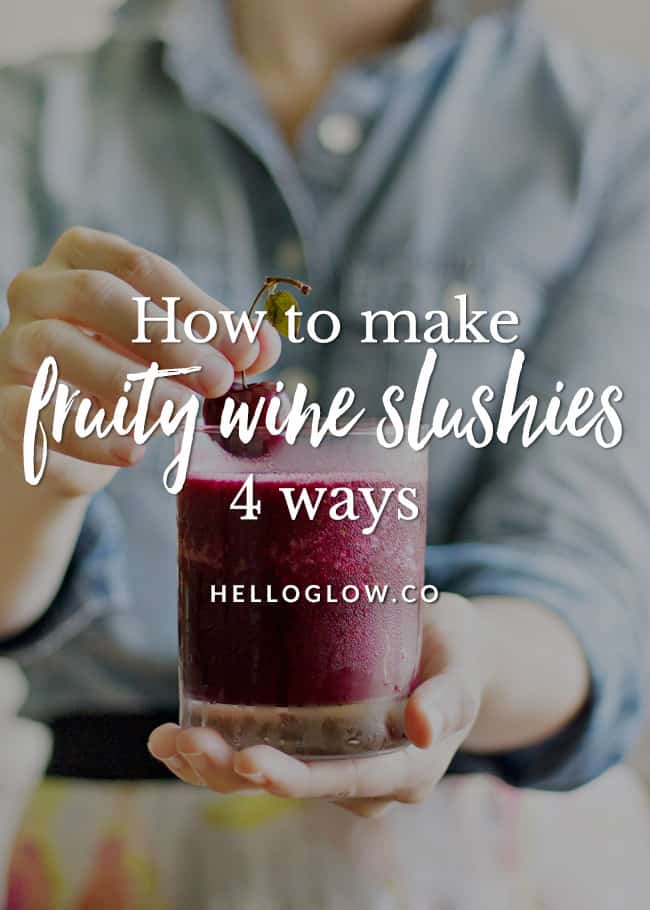 With summer in full swing and local markets brimming with fresh fruit, the potential flavor combinations are endless. Stock up on a variety of in-season fruit like strawberries, peaches and honeydew, and mix and match with light, low-sugar wines like rosé and chardonnay.
You can also round up any leftover fruit you have lying around your kitchen and pair it with your favorite bottle of wine–it's all delicious! These wine slushy recipes are a great way to use up all that fruit you might otherwise not get a chance to eat before it goes bad.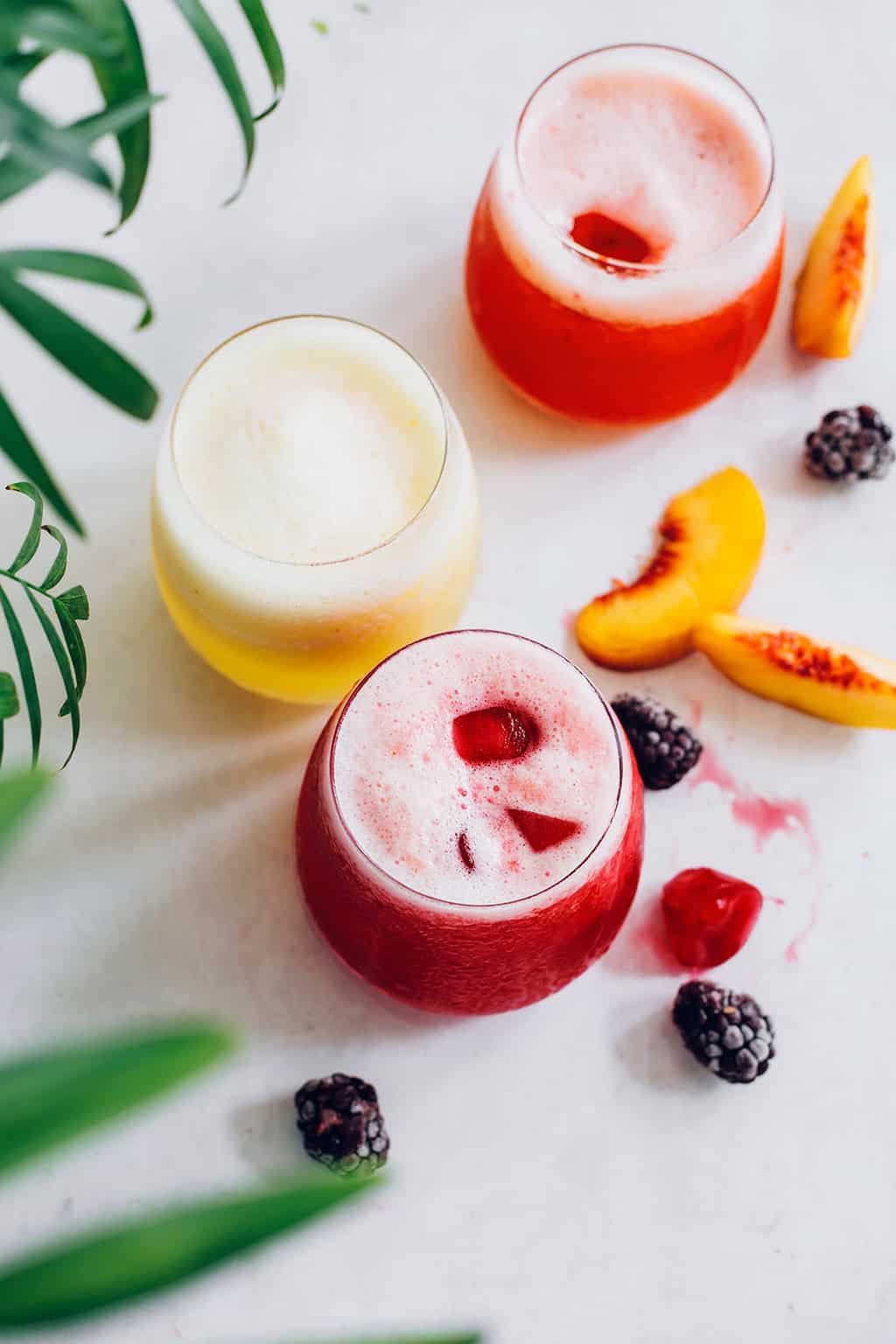 To get the smoothest slushies possible, I like to freeze both the fruit and the wine before tossing everything in the blender. Because of the alcohol content in wine, it doesn't freeze as solid as water, so when you blend it with frozen fruit you end up with the perfect slush texture (minus the dreaded separation at the bottom of the glass). But if you're in a hurry, just freeze the wine and toss in a couple ice cubes and you'll be fine.
4 Refreshing Wine Slushy Recipes
Here are a few flavor combinations to get you started, but don't be afraid to swap out ingredients or use fruit you already have in the fridge. That's the beauty of wine slushies–anything goes.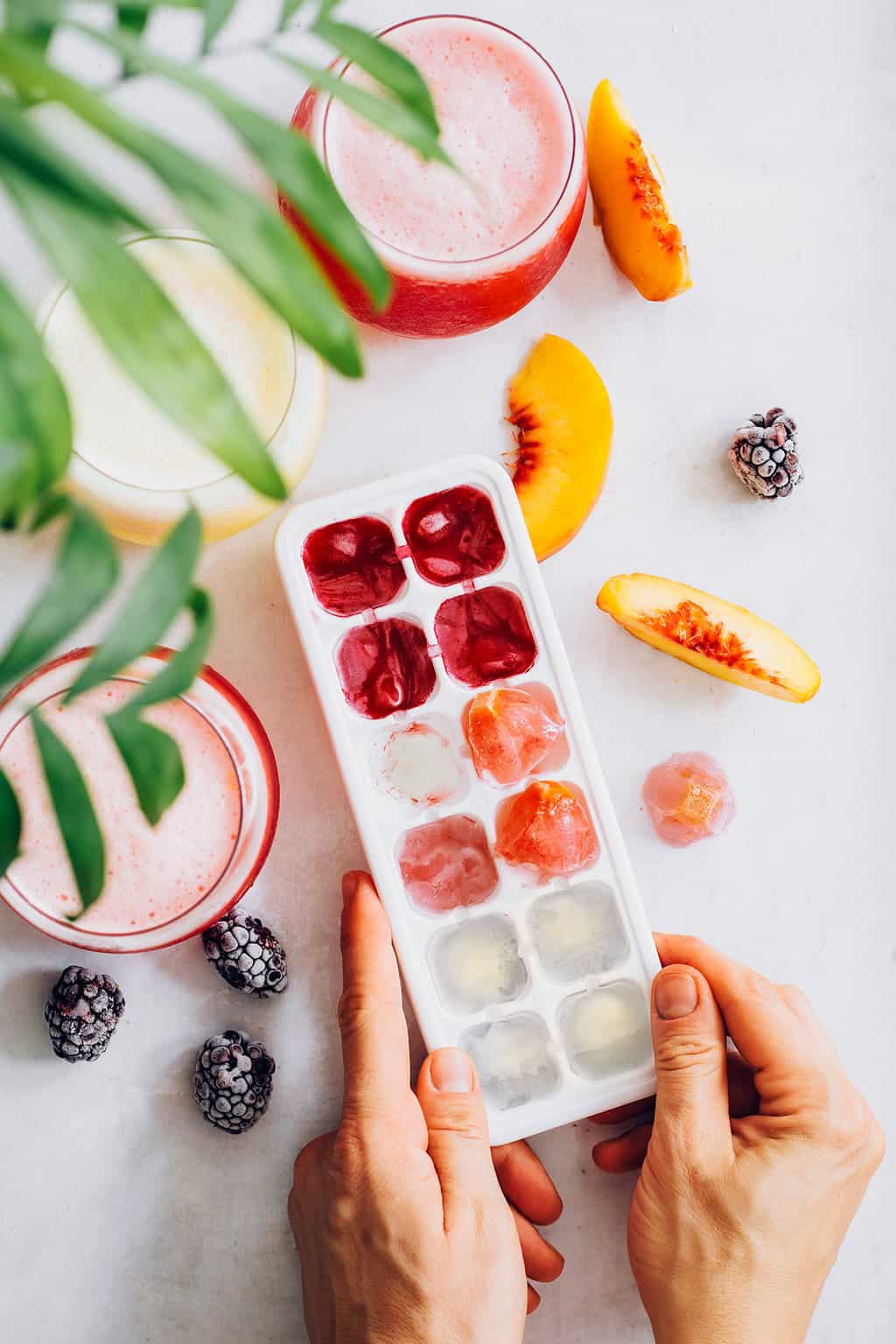 1. Creamy Peach
Peaches are the ultimate summer fruit, amiright? They're sweet, slightly sour, and they go so well with white wine and coconut cream.
Since peaches are naturally high in sugar, you don't really need to add any extra sweetener to this recipe. But if you find things too acidic, go ahead and add some agave to the mix.
2. Tart Cherry Lime
Have you ever read the back of a red wine bottle and noticed "cherry" listed in the flavor notes? There's a reason cherry and red wine so go well together.
They both have deep, bold flavors with a slightly tangy after taste. Grab yourself a bottle of pino noir and a pint of cherries from the farmer's market and whip up this perfectly paired wine slushy.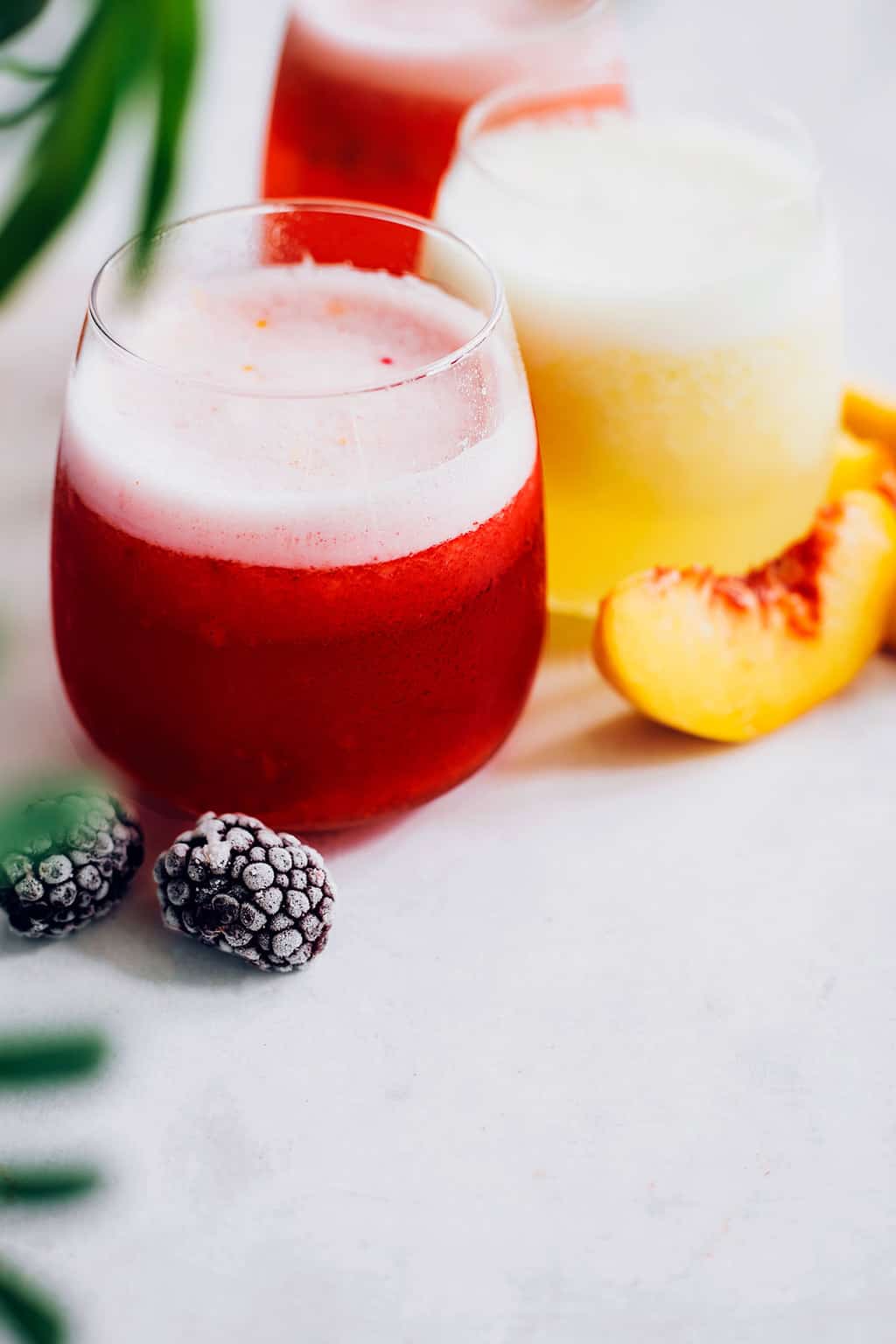 3. Cooling Cucumber Melon
This wine slushy is a little mellower than the others thanks to cucumber, honeydew and white wine. And since cucumber and honeydew are on the juicier side, it's hydrating to boot.
I prefer my slushies to be pretty dry (ie. less sugar), but you can add agave or honey to make it more dessert-like. It's totally up to you!
4. Refreshing Strawberry Basil
This strawberry wine slushy tastes just like a strawberry margarita, but it doesn't pack quite the same punch. I like to use rose wine and basil leaves to give it a nice, summery flavor. But feel free to use red wine in place of the rose and sub rosemary or lemongrass in place of the basil.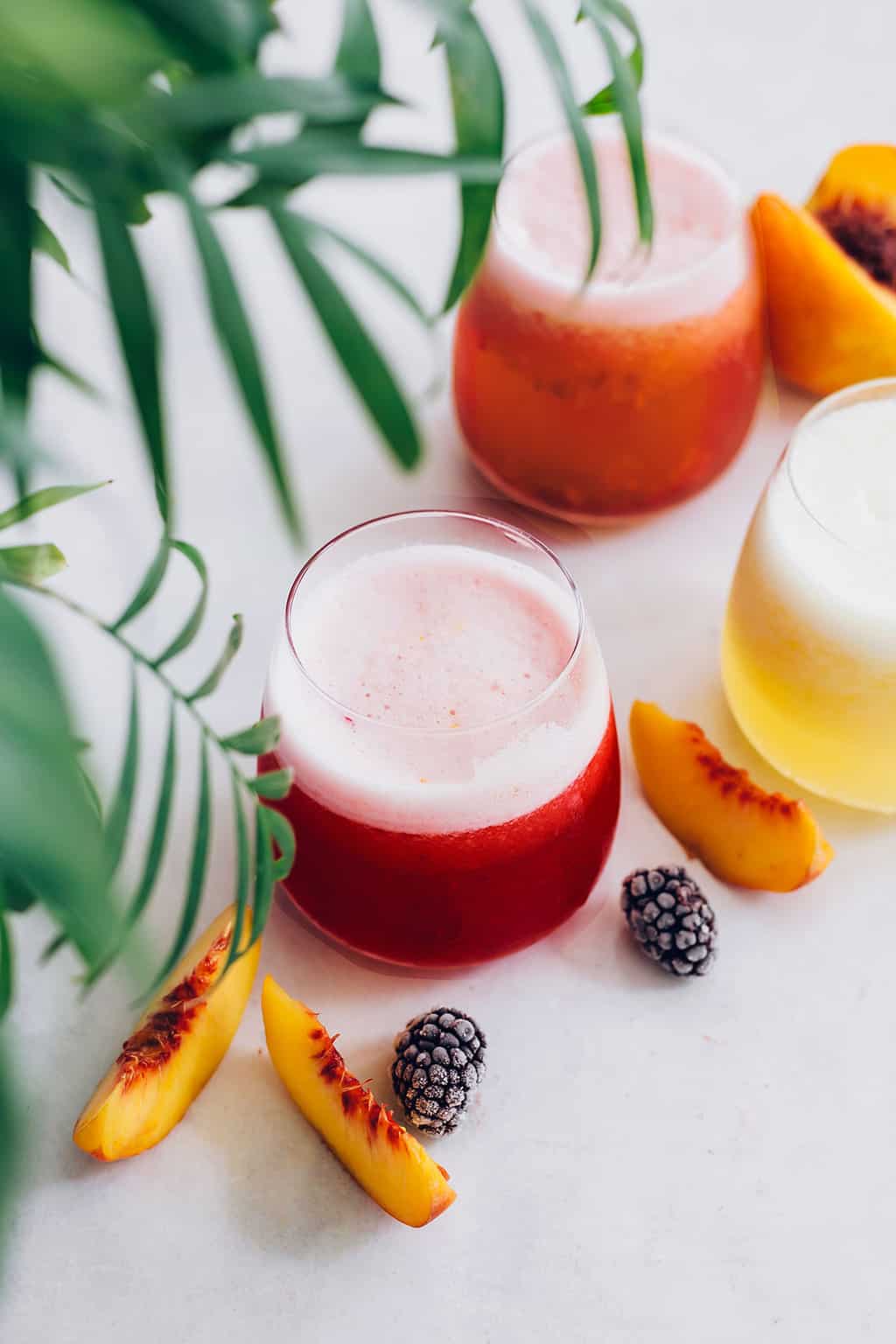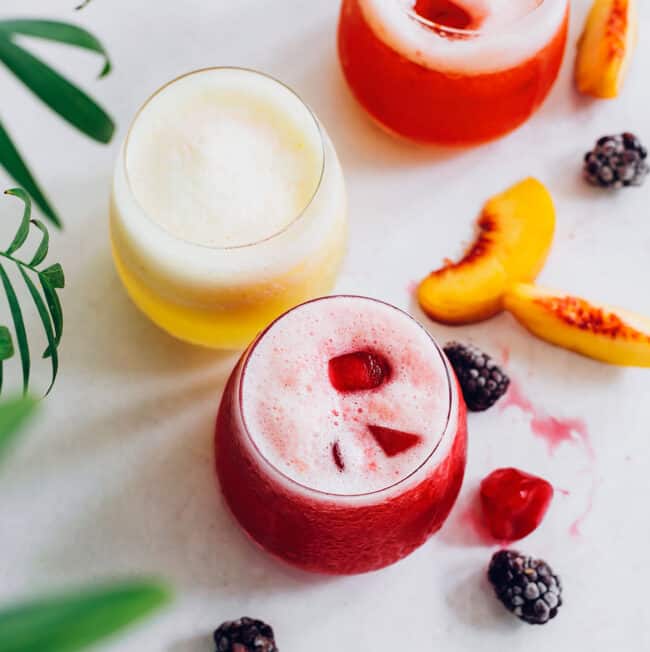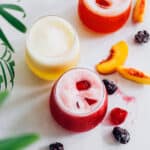 Print Recipe
4 Refreshing Wine Slushy Recipes
With a bottle of wine and some fresh summer fruit, you can whip up these refreshing wine slushy recipes to liven up your weekend.
Ingredients
Creamy Peach Wine Slushy
1 ½

cup

frozen peaches

6

white wine ice cubes

¼

cup

chilled white wine

¼

tablespoon

agave

2

tablespoon

whipped coconut cream
Cherry Lime Wine Slushy
1

cup

frozen cherries

6

red wine ice cubes

¼

cup

chilled red wine

1/2

lime juiced
Cucumber Melon Wine Slushy
1

cup

cucumber chopped

1 ½

cup

frozen honeydew melon

6

white wine ice cubes

¼

cup

chilled white wine

½

tablespoon

agave
Strawberry Basil Wine Slushy
1

cup

frozen strawberries

4

basil leaves

6

rosé wine ice cubes

¼

cup

chilled rosé wine
Instructions
Puree all the ingredients in a blender until smooth. Add more room-temperature wine as needed to reach the ideal consistency.
Notes
To make wine ice cubes, p

our wine into ice cube trays and freeze for at least 8 hours.
Feel free to scale the recipe up to serve a crowd. Store any leftover slushy in the refrigerator for up to 24 hours and add ice as needed for consistency. 
10