This post has been sponsored by Thicker Fuller Hair. All thoughts and opinions are my own.
Thinning hair is a total downer, let's be honest. My hair has always been super fine so, of course, any breakage or shedding really shows! Everything from stress, hormonal changes (hello pregnancy!), age, heredity and over-styling has impacted the health of my hair.Here are easy ways—both on the inside and the outside— that I have found to reduce hair thinning and keep hair thick, healthy and happy.
Nourish your scalp
If you have thinning hair, don't forget your scalp! When my scalp is healthy, I have found it is the key to prevent thin and thinning hair at the root, so you need products that nourish and stimulate it. Stalking the aisles of CVS, I found the 4-step scalp-to-strand hair care regimen from Thicker Fuller Hair® that uses 100% vegan ingredients to attack the causes of thinning hair. Right now you can use a coupon to save $3 off 1 product!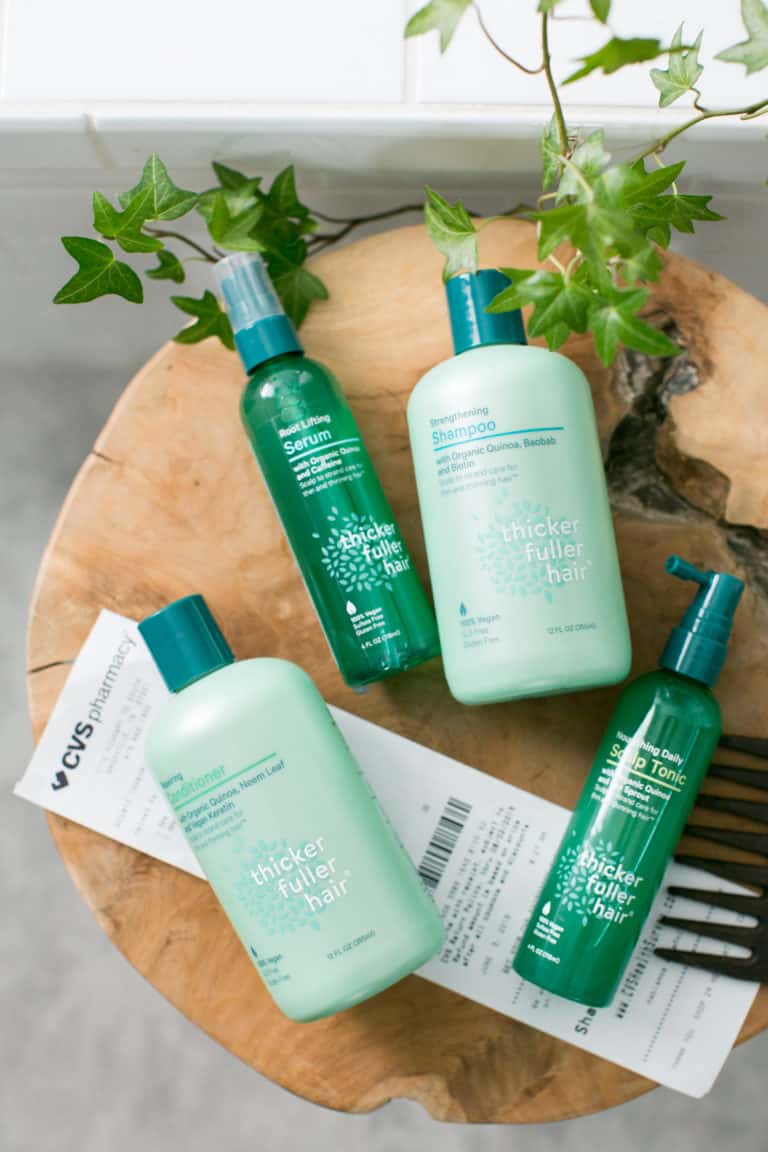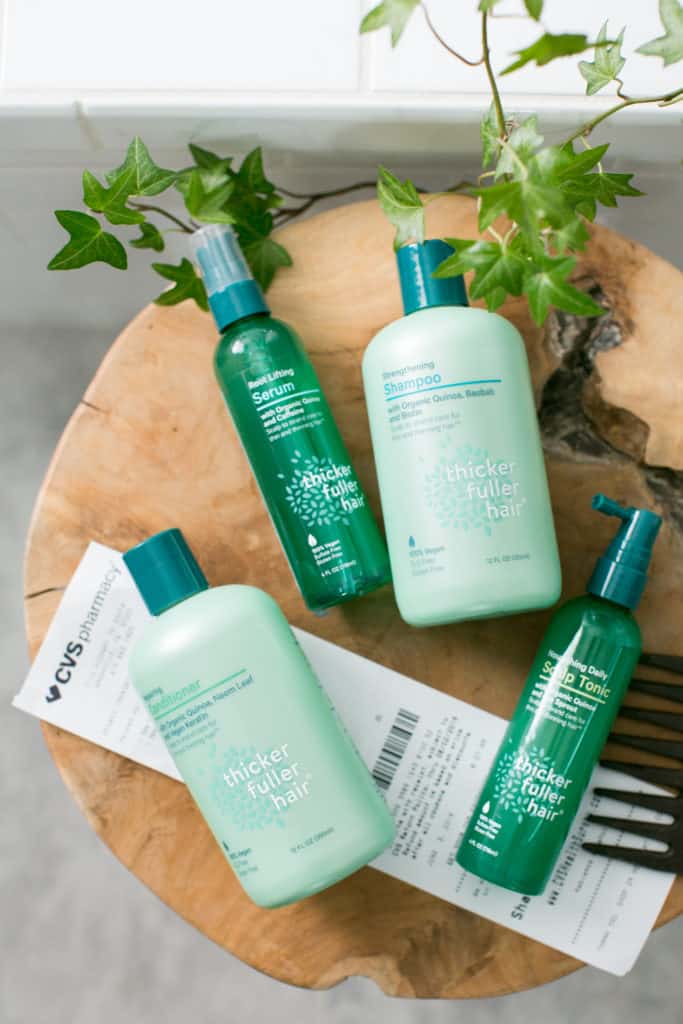 Thicker Fuller Hair includes a great product to nourish the scalp without weighing down your hair. The Root Lifting Serum gives your roots a caffeine fix to add volume while the Energizing Scalp Tonic delivers a nourishing blend of essential minerals that rejuvenates the scalp. I like to massage the tonic into my dry hair before bed so it can increase circulation overnight and then massage again when I'm shampooing to exfoliate and remove product buildup.
Look for natural ingredients
I've made the switch to gentler hair products that don't contain paraben, SLS, or phthalates, and Thicker Fuller Hair makes it easy to ditch the chemicals and incorporate natural ingredients that also slow thinning and add volume. You've probably heard of biotin for hair, but pea sprouts and quinoa? Yep.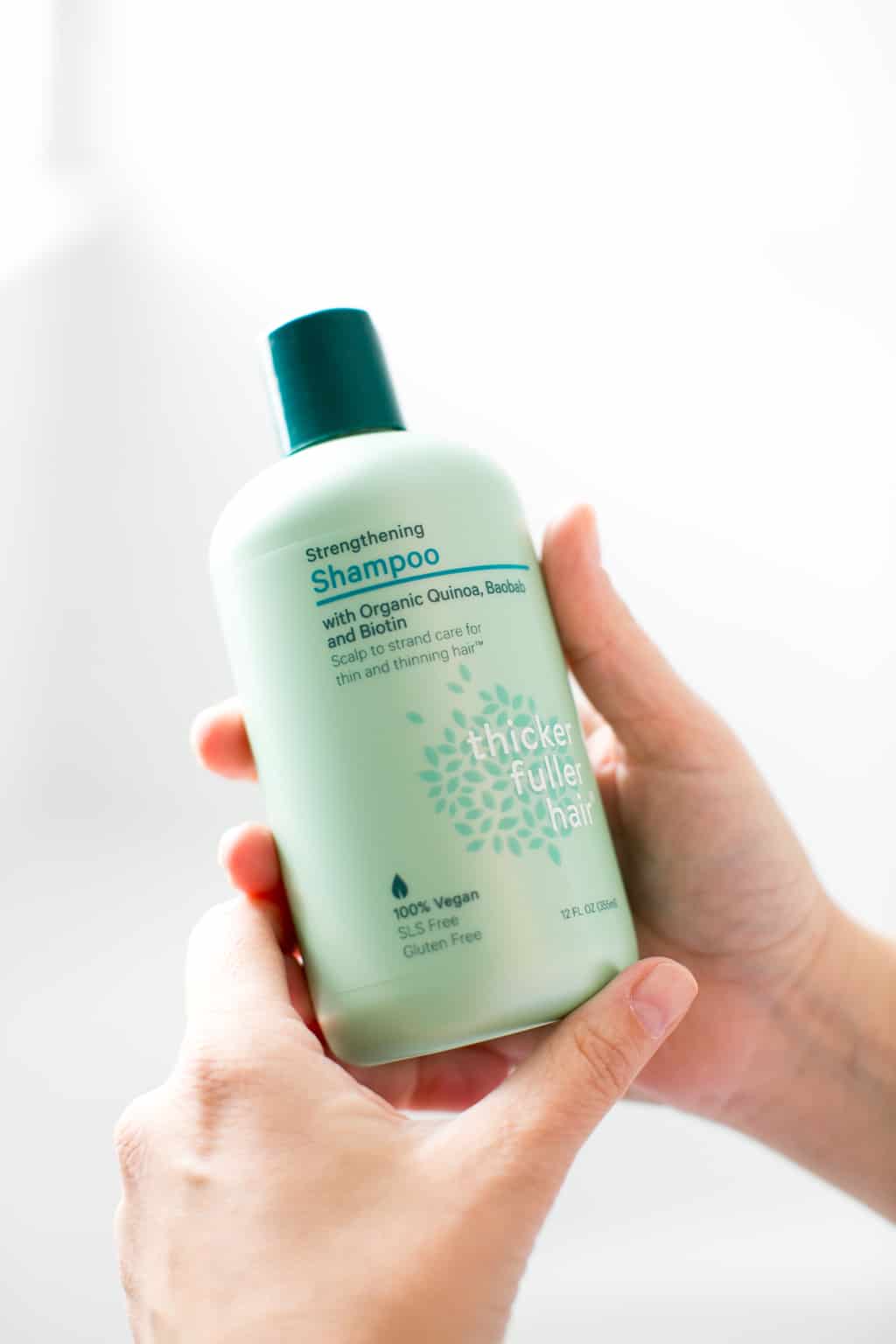 The Strengthening Shampoo uses organic quinoa and baobab to repair and strengthen each individual hair strand while the lightweight Repairing Conditioner uses vegan keratin and neem leaf to moisturize and add shine.
Checking my nutrition
In my personal experience, one of the biggest risk factors for thin and thinning hair is a lack of protein in your diet. Hair is made from protein, so it stands to reason that protein plays a crucial role in how strong and healthy your hair is. What I have found is that eating a diet too low in protein lead to dry, brittle hair and even hair thinning. Collagen protein is particularly helpful in the formation and strengthening of my hair.*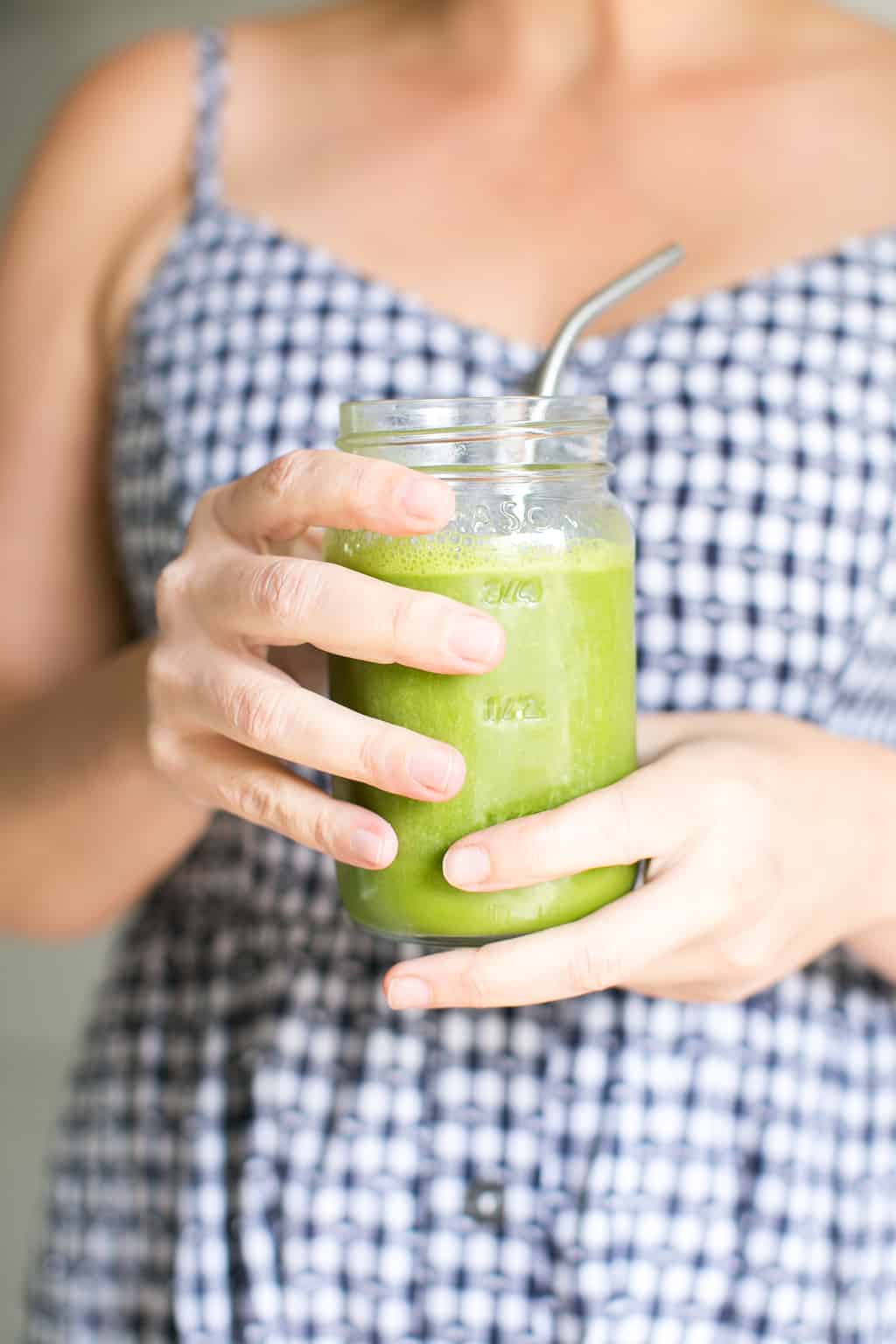 I drink a green protein smoothie every morning with plenty of leafy green vegetables to up my intake of protein, iron and healthy hair nutrients. An iron deficiency can disrupt the hair's natural growth cycle and result in shedding, and I have found that B vitamins also play a role in reducing thinning hair and helping to maintain longer, shinier hair.*
Reduce overstyling
I seriously damaged my hair last year, and it literally started breaking off in the middle. Eek! That's when it really hit me that all my daily styling took a toll on my hair.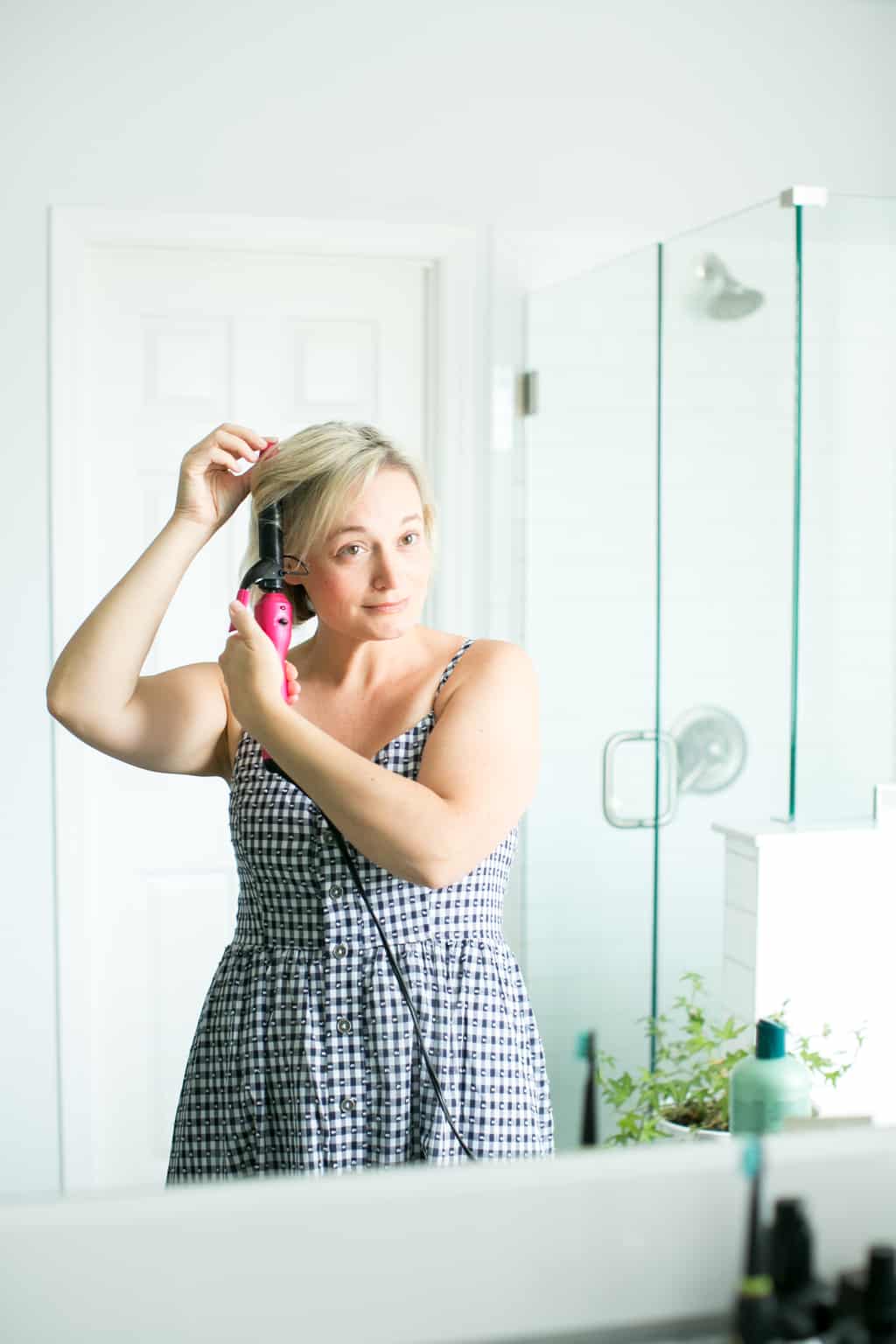 Most people lose around 50-100 strands a day, and up to 250 on days when we shower, according to WedMD*. To keep that number as low as possible, I avoid using blow dryers, curling irons, and straighteners on their hottest setting and traded in my harsh bristle brushes. Check CVS for natural fiber brushes, wooden combs and soft hair ties that don't tug, pull and break your hair.
Talk to your doctor about potential causes of thinning hair. Trust me, we all have our hair issues—so don't be afraid to discuss thinning hair!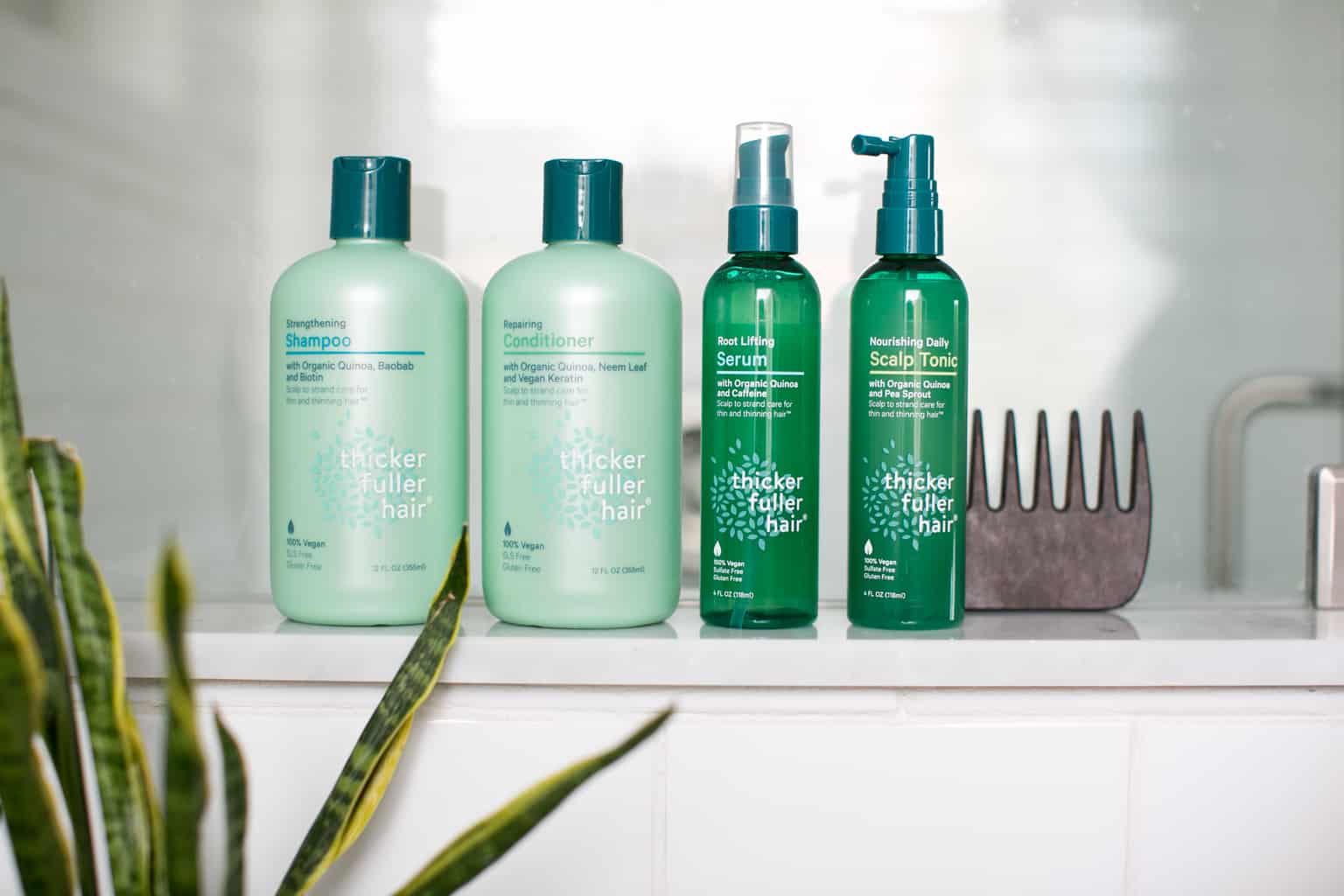 *claims are personal opinions and experience, not substantiated by Thicker Fuller Hair's research.
111