If there's currently watermelon in your fridge, go ahead, cut yourself a slice. We'll wait here, nomming on our own. Are you back already? Good. Cause there are so many more ways you can eat your watermelon this summer! We've got you covered with 45 yummy, refreshing watermelon recipes, including everything from appetizers to desserts!
Appetizers & sides
1. Red, white & blue bruschetta by Nosh and Nourish. Swap the tomatoes for watermelon and you have the best bruschetta of the summer!
2. Watermelon tomato gazpacho by Eat Well 101. There's nothing like gazpacho in summer, except gazpacho with watermelon!
3. Watermelon salsa by Carrie Leber. Serve your memorable watermelon salsa with chips or as a sauce for your next party!
4. Cucumber basil watermelon salad by Hello Veggie. An excellent side dish for just about any summer dinner.
5. Watermelon feta blueberry skewers by A Healthy Life For Me. A patriotic-looking snack that's also light and healthy enough for your diet.
6. Watermelon, mozzarella and prosciutto skewers by Cookie Monster Cooking. If it's on a skewer, then it's perfect for picnics and BBQs!
7. Spicy watermelon bites by Bourbon & Honey. There are only 2 ingredients to this recipe, but the result it delicious!
8. Watermelon sandwiches by Yummily Yours. Place goat cheese between slices of watermelon and prepare for the easiest, tastiest appetizer.
9. Watermelon manchego and prosciutto skewers by Picture-Perfect Meals. Watermelon. Manchego cheese. Prosciutto. Skewers.
10. Watermelon and avocado bruchetta by White Lights on Wednesday. You only need fresh watermelon, avocado and feta cheese on some crackers to put together your next appetizer!
Main dishes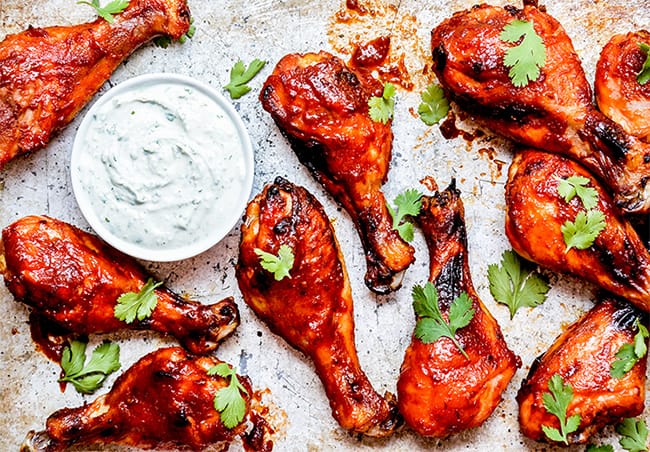 11. Baked watermelon barbecue chicken drumsticks by Floating Kitchen. Use watermelon in your barbecue sauce and never look back.
12. Chorizo tostadas with watermelon serrano salsa by Little Leopard Book. Summer fruit with a spicy twist and your favorite chorizo tosdadas – a match made in flavor heaven.
13. Lamburger with watermelon & aragula by Pepper. This lamb burger is beautifully paired with watermelon, arugula and pesto cream.
14. Watermelon sashimi by She Knows. Baked watermelon resembles fish in appearance, and it tastes amazing!
15. Cumin crusted lamb with watermelon chutney by No Recipes. Watermelon chutney perfectly complements the strong aroma of lamb.
Salads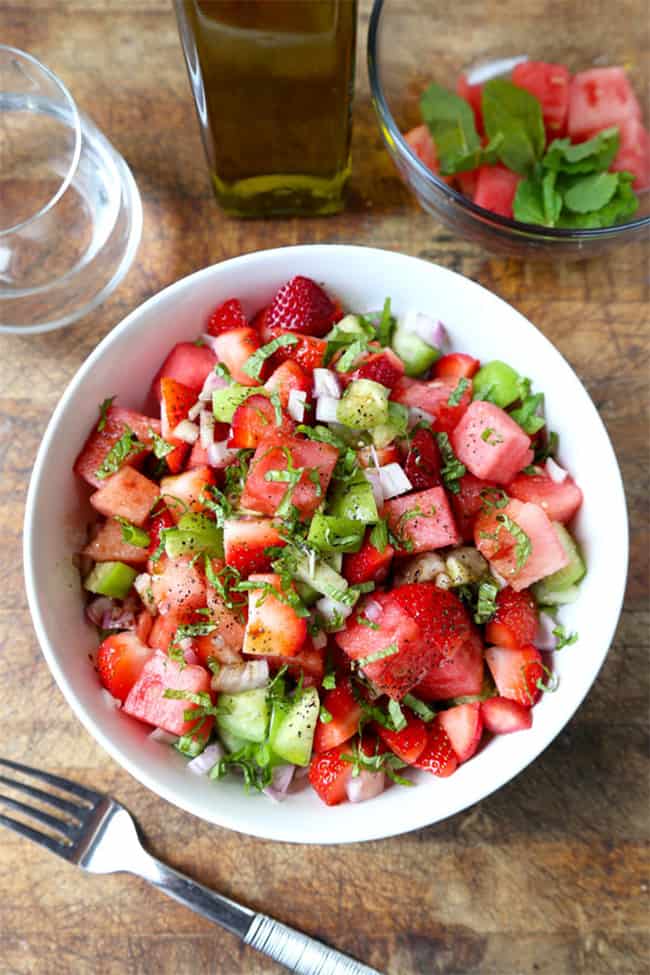 16. Watermelon, strawberry & tomatillo salad by Pickled Plum. A healthy, refreshing and satisfying salad made with seasonal fruits and veggies.
17. Watermelon feta salad by Healthfully ever after. The perfect combination of sweet and salty, that's light and refreshing any summer day.
18. Watermelon with spicy tahini sauce by River City Good Eats. Spice up that watermelon salad with some excellent tahini sauce.
19. Watermelon wedge salad by Sweet Miscellany. Watermelon wedges are topped with microgreens, mint and seeds for an easy salad.
20. Minted watermelon & cucumber salad by A Virtual Vegan. A light, hydrating salad like this one is all you need on hot summer days.
21. Savory bacon and balsamic watermelon salad by Simple Roots Wellness. Wow your guests with this wild combination of tastes.
22. Watermelon feta quinoa salad by GI 365. Your favorite quinoa salad deserves an upgrade: watermelon!
23. Melon salad by Tastes Spicy. All different kinds of melon meet in a refreshingly delicious salad.
24. Watermelon, spinach and zucchini noodle salad by Gourmande in the Kitchen. The perfect salad on any summer menu, this recipe is sweet, fresh and slippery.
25. Zesty orange & mint watermelon salad by Lauren Kelp. A beautiful salad for special occasions, topped with mint and balsamic.
Drinks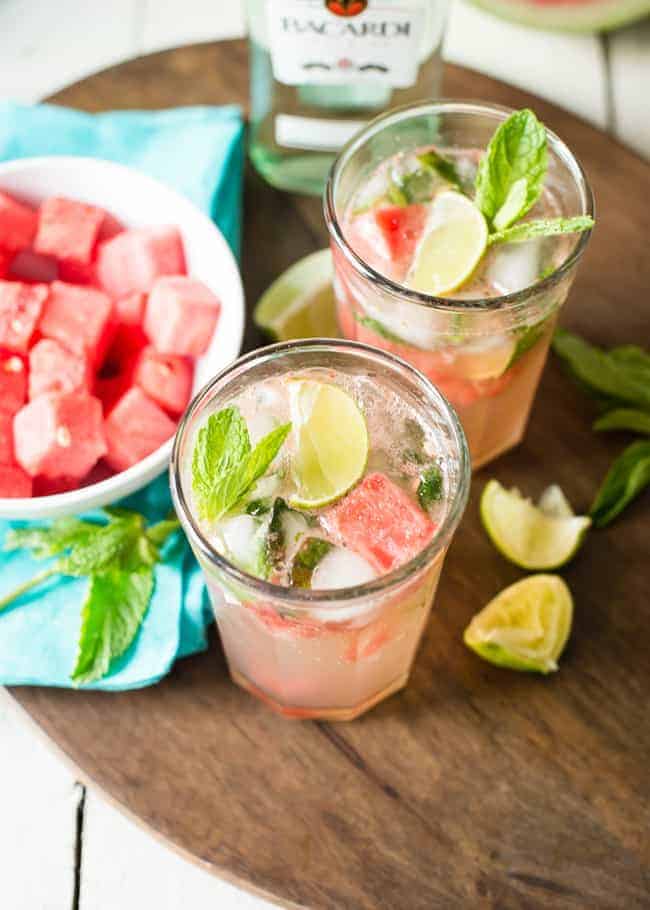 26. Watermelon mojito by Hello Glow. Refresh your regular mojitos with some sweet watermelon and you'll never want to go back again.
27. Watermelon smoothie by Hello Glow. This hydrating smoothie is made with coconut water, pineapple and mango for a true tropical taste.
28. Watermelon iced green tea by Hello Glow. Infuse green tea with pieces of melon and watermelon to make it taste like summer.
29. Watermelon cucumber slush by Hello Glow. These two ingredients are guaranteed to quench your thirst!
30. Peno blast by The Drink Blog. A light, summery cocktail that's meant to go perfectly with your barbecue.
31. Watermelon blueberry sangria by Chocolate Moosey. A patriotic way to upgrade your sangria for summer.
32. Cool watermelon refresher by Tried and Tasty. An easy juice made with just watermelon and lime, but so delicious!
33. Anti-inflammatory smoothie by Choosing Raw. A healthy smoothie made with watermelon, berries, and ginger.
34. Watermelon lemonade by My Ginger Garlic Kitchen. Double the refreshment powers of lemonade with watermelon!
35. Watermelon margarita by The Lovely Kitchen. Nothing like a good ol' margarita, made sweeter with watermelon.
Desserts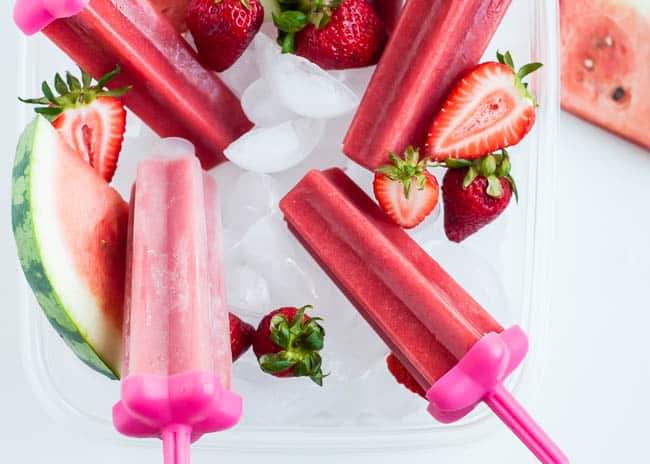 36. Watermelon strawberry spa pops by Hello Glow. So cool, so refreshing, so summer!
37. Spiked watermelon ice by Food52. A grown up version of watermelon ice, made with Campari.
38. Watermelon coconut agua fresca by Kitchen Treaty. The perfect non-alcoholic drink for a summer party.
39. Red, white and blueberry sundae by Dinner at the Zoo. A truly special dessert for the 4th of July, put together in a watermelon.
40. Chocolate covered frozen watermelon by From Calculus to Cupcakes. This recipe is as easy as dipping frozen pieces of watermelon into chocolate!
41. Salted watermelon ice by Fed & Fit. Salt your watermelon to make it even more flavorful, and enjoy a frozen treat.
42. Watermelon, lime + hibiscus ice pops by Hello Glow. The summer heat has nothing on you when these ice pops are your secret weapon.
43. Frozen yogurt cake by Hungry Couple. A layered treat that is gonna be the talk of the party. Plus there's no over involved!
44. Watermelon chiffon pie by The Hungry Hounds. An absolutely beautiful pie with a light, delicious watermelon filling.
45. Watermelon cake by That Clean Life. There are amazingly few (and healthy) ingredients to this stunning cake!
0