Recently I started reading the book Happier at Home, and one of the first things the author talks about is 'cultivating a shrine.' It sounds a little hokey, but I loved the idea of designating areas to celebrate possessions that you love and treasure. One of the first spaces I tackled was my jewelry drawer. It was chaotic and jumbled, and opening it always bummed me out. My goal was to cull the jumbled collection down to what was truly meaningful and then find ways to enjoy seeing what was left on a daily basis. Here are my 5 easy DIY jewelry storage ideas!
5 DIY Jewelry Storage Ideas
1. You can't have too many bowls
I love little dishes and bowls for small treasures. And you can't go wrong with oven bake clay for creating a tiny bowl collection. My wedding rings stay in this gold leaf bowl, and I use these tiny marbled dishes for my latest favorite ring (who doesn't love a ginormous ring?).
Screw in a few hooks and suddenly old window frames become rotating wall art. Sadly, I rarely wear necklaces anymore so this is a perfect way to enjoy them.
3. Use old bottles for bracelets.
I'm such a sucker for vintage bottles and jars. Keeping things within easy reach is half the battle so I'm gather lots of old bottles and limiting my bracelet stack to just one or two. Who has time to dig to the bottom of a big bracelet organizer?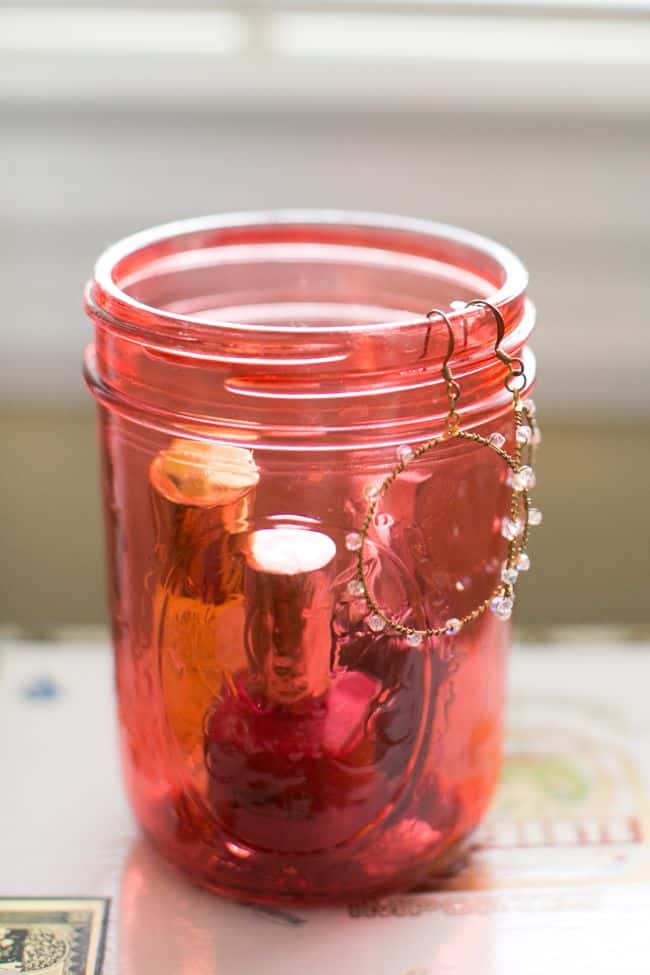 And my ever growing collection of jelly jars got a pink makeover. Most were turned into candles but I kept one to corral nail polishes and hang earrings.
4. Utensil holders are perfect for drawers.
Instead of tossing an old utensil drawer I started using it for jewelry. The dividers are perfect for keeping rings, pins and things separated.
Anyone else have scarves wadded up and shoved into drawers? Give 'em new life by mod podging it onto a plain wooden tray. Now I can enjoy seeing the scarves I love and jewelry too.
1