This is a post is brought to you by Burt's Bees.
A swipe of bold lipstick and a quick mascara/eyeliner application is my everyday go-to 'look.' Recently I made the switch to safer, more natural options because I must reapply lipstick, gloss or lip balm a dozen times a day. Think of how much must be ingested! In fact, it's said that the average woman will consume seven pounds of lipstick over the course of a decade. Thankfully, it's now possible to get gorgeous lip colors without the nasty ingredients.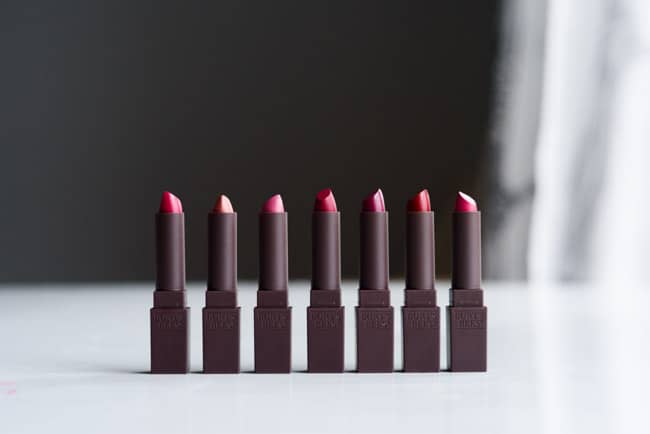 Burt's Bees 100% Natural Lipsticks, Available at Target, are my new favorite. They deliver luscious, bold color with naturally moisturizing ingredients that love your lips in return. But if you're not sure you can wear a bold shade or if you even need a natural lipstick, read on for five misconceptions you might have about your favorite shade.
#1 – You don't need a natural lipstick.
Several nasty ingredients may be hiding in your favorite tube of lipstick. Here are 5 common ones:
Lipsticks often contain toxic heavy metals like lead, nickel and chromium. They're not listed as ingredients because they're not intentional ingredients; they tag along with minerals or colorants. But companies are not required to screen for or eliminate these bad guys.
Lipsticks often contain petrolatum or 'coal tar.' Sounds tasty, right?
Lipsticks often contain mystery fragrances. Companies don't have to disclose fragrance ingredients, and they are often made of dozens of chemicals, including toxic phthalates. Look for 'fragrance,' 'perfume' or 'parfum.'
Lipsticks often contain flavor. Companies aren't required to disclose flavor ingredients either.
Lipsticks often contain parabens, a common preservative, that acts as a hormone disrupter.
Burt's Bees has stayed steadfast and true to a very simple idea: what you put on your body should be made from ingredients you can spell and pronounce. Their lipstick is no exception.
#2 – Your lipstick will never last.
I rarely use lip liners these days, but this method is still my sure-fire way to make lipstick last. Now when I want to keep color on for more than, say, 5 minutes I apply, blot and reapply.
#3 – Lipstick will dry out your lips.
Some 'long lasting' lipsticks will turn your lips dryer than the Sahara Desert. They suck the moisture out of your lips, and when the color settles into the grooves of your lips it's not a pretty sight. But Burt's Bees lipsticks use natural moisturizing ingredients like beeswax, moringa oil and raspberry seed oil to soften and condition lips all day.
#4 – You can't do red lipstick.
Red lips and stripes is one of the oldest blogger cliches! But truly, anyone can pull off red lipstick, just keep looking for the right shade. Burt's Bees Scarlet Soaked is definitely one to try!
#5 – You can't wear more than one color.
Layering shades of color is the best way to create your own personalized lipstick shade! One rule for application: When you're layering lip colors, it's best to start with the product that has the most matte finish or the richest color. This means lipsticks are always going to be applied first, and then topped with a tinted lip balm or gloss.
Photos by Lindsey Freitus
0