This post brought to you by LUNA Bar. The content and opinions expressed below are that of Hello Glow.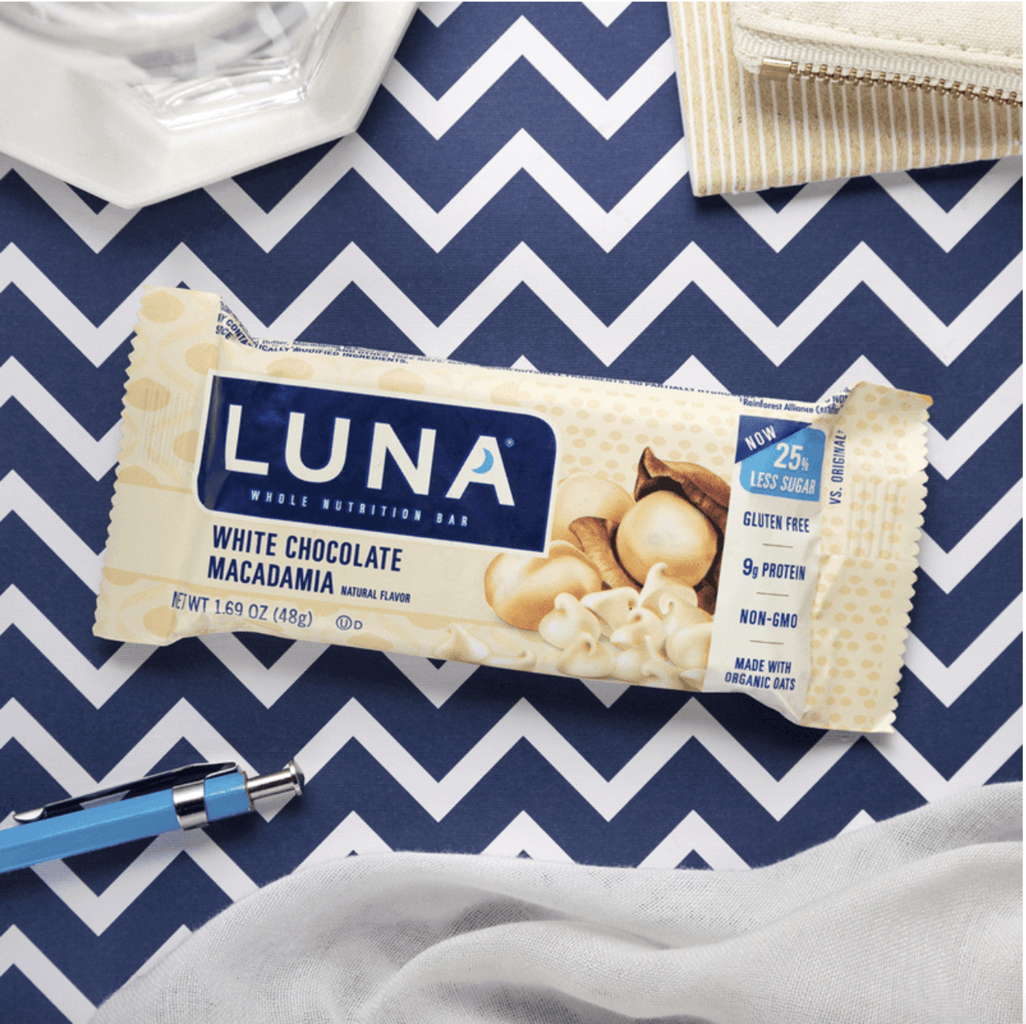 On Tuesday, we hosted a Twitter party with LUNA Bar and nutritionist Sarah-Jane Bedwell to chat about staying healthy over the holidays. The chaos of this time of year makes it so easy to let your good habits fall to the wayside—and the pie and cookies don't help either! Sarah-Jane shared a lot of fantastic tips with us:
1. Eat foods that keep you full when you're traveling.
Airports are full of fries and pizza and it can be tempting to grab fast food before your flight. Sarah-Jane recommends bringing nutritious, filling snacks with you, like LUNA Protein Bars. And bring your own bottle of water to fill at the airport—staying hydrated is important too!
2. Stay active!
It's hard to fit in gym time when you're busy with holiday prep, so build activity into your daily life by taking the stairs instead of the elevator, parking further away when you're going shopping, etc. @sohair_m suggested dancing while you cook—we love that idea! Another way to stay active is to make it a family activity—Sarah-Jane's family runs in their local turkey trot race before Thanksgiving dinner and @CraziMomOf2Boys does the polar plunge with her husband.
3. Meal planning is key.
When you've got so much going on, it's easy to opt for takeout instead of cooking—and all that takeout on top of holiday goodies can add up to weight gain. Sarah-Jane recommends taking the time to plan meals for each week and having a Plan B, like salads, eggs, and beans, on hand in case you don't have time to cook. @mrscali34 always keeps rice and beans on hand in her house for an easy, filling and healthy dinner.
4. Keep on track at work.
Most of us spend 8 hours a day (or more!) at the office and during the holiday season, there's always something unhealthy hanging around the lunchroom, just begging to be eaten. Keep nutritious snacks like fruit, nuts and LUNA Bars in your desk to curb any cravings and pack leftovers for lunch instead of going out.
5. Don't let yourself get too hungry!
Tell me if this doesn't sound familiar: you're going to a holiday party at night, so you eat practically nothing all day, then when the party rolls around, you're ravenous and eat every fattening food in sight. We've all been there, right? Nutritious meals and snacking throughout the day can help keep you from over-indulging later. LUNA Protein Bars are great for that, and as a bonus, they provide much-needed energy to tackle all those holiday to-do lists. @mhbaozi adds that she never goes to the grocery store when she's hungry because she'll end up buying junk food—been there, done that!
At the end of the party, we chose 5 participants to win gift cards: @spiffany419, @makeup2meltdown and @LizardsNLadybug won $50 AmEx gift cards, @Gwhizmom1 and @awSAMM won $100 AmEx gift cards, and @LoriLeal1 won a $150 AmEx gift card. It was so much fun chatting with everyone who participated and getting so many great tips from Sarah-Jane. Thank you for joining us!
1