Potty training is hard work. I've survived it twice, but cannot for the life of me remember what I'm supposed to be doing for our third child (entire years have been lost to the fog of survival). Sam, now 2, has a new-found love of nudity – and making messes on the floor. We took that as a sign that either he's ready (or he thinks he's a puppy) and with the help of the Pull-Ups Big Kid Academy we hatched a potty training plan. Here are my 5 best potty training tips!
1. The clothes have to go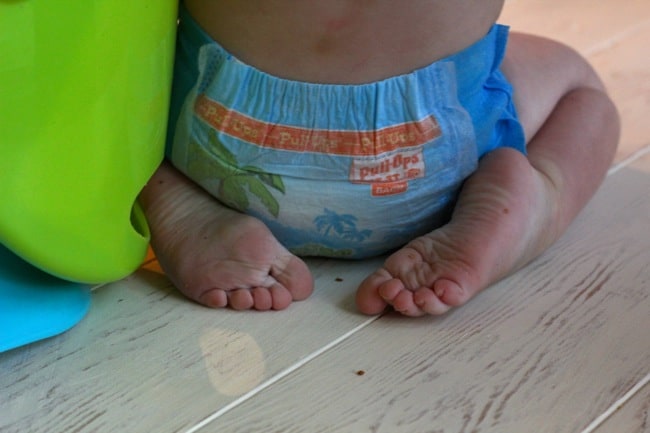 Onesies are not your friend. Metal snaps in the crotch are cruel and unusual punishment for parents, much less 2-year-olds. On serious potty training days, don't bother with anything but a pullup, unless you want to change their clothes half a dozen times.
2. Toilet in the living room? Check!
One of my fondest potty training memories is of my daughter sitting on a tiny potty in the living room watching Dora the Explorer. She wanted nothing to do with the whole process and the only way to get her interested in going near the crazy contraption was to let her watch TV as long as she sat on the potty (5 minutes was about all we got). However, once kids are semi-used to the idea, it's a good idea to get the potty back in the bathroom ASAP.
3. There's an app for that
"Do you need to pee pee before we get into the car?" "No." Five minutes later: "I gotta gooooo!" Potty training requires consistency – go when you wake up in the morning and after naps, go after meals, go before leaving the house – but it's to hard to remember everything when you're in the middle of cooking, cleaning, Candy Crush. Don't worry, there's an app for that. Huggies' Big Kid Academy Time to Potty app helps you maintain your consistency and momentum and provides fun games and activities as rewards for your little one.
4. You will make a total fool of yourself doing the pee pee dance
Speaking of rewards, I'm a firm believer in reinforcing positive behavior. Tiny toys are good; M&M's are better. And there's just no getting out of doing many, many embarrassing renditions of the 'pee pee on the potty' dance. Sigh.
5. Foster independence
Pull-Ups® products are all about getting kids interested in potty training. Fun designs and characters and stretchy sides let kids put them on and take them off — just like real underwear. The Pull-Ups Big Kid Academy gives parents tips on making this transition an easier one.
Share your favorite potty train tip + enter to win a $100 Visa card
Thank you to Huggies for sponsoring this post!

0