There's not much I love more than starting the day with a tasty smoothie. And once you get addicted to your morning smoothies, having the rights tools and equipment will make prepping and cleaning so much easier. Here are the smoothie essentials (tools and tricks) I've learned on my smoothie journey.
5 Essentials for Smoothie Lovers
1. The right blender
One of the first smoothie must-haves is a good blender. But you don't have to spend hundreds of dollars! Celebrities might sing the praises of the magical Vitamix, but I've found my Ninja blender works just as well. It's worth upgrading slightly from the typical blender you'll find at the supermarket because you need a machine that will consistently crush ice and frozen fruit or veggies.
2. Eye-pleasing accessories
A smoothie just isn't the same out of a plastic cup. It's time to upgrade! My personal favorite is large mason jar with a metal straw. Adding a lid is helpful for on the go.
3. A freezer 'system'
The freezer is a smoothie-lover's best friend. Use frozen fruit to sweeten and thicken smoothies, and make ice cubes from just about any milk or tea to amp up ice cubes.
If you're totally pressed for time in the morning (and who isn't?) you can freeze a month of smoothies at a time. Then grab one, add liquid and blend. Brilliant!
4. Superfoods
A smoothie is a great way to load up on superfoods. You could have a different one each day of the week: try hemp seeds, chia seeds, flax seeds, spirulina, cacao powder, cinnamon or probiotics. Look for a protein powder that delivers protein, probiotics, prebiotic soluble fiber and digestive enzymes.
5. Easy go-to recipes
One thing I've learned is that a smoothie with more than 5 ingredients is going to take too much prep and clean up time. Simple is better! So follow our fool-proof green smoothie formula or use one of our favorite recipes.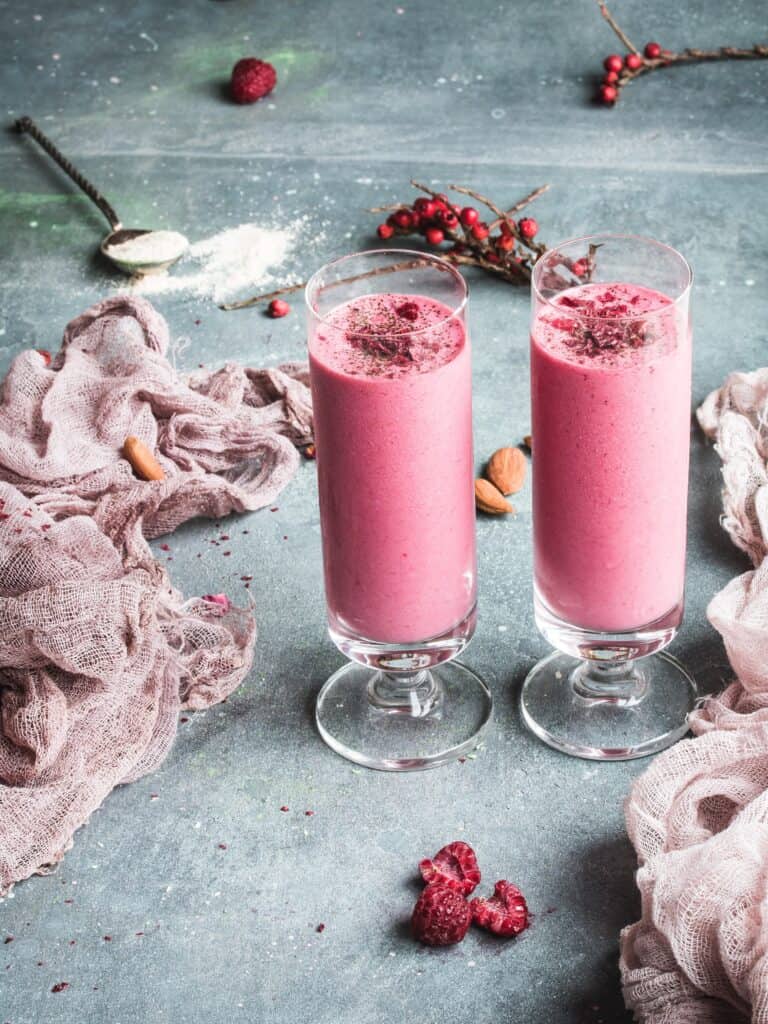 Chocolate Almond Raspberry Smoothie
1 cup frozen raspberries (I used 1 cup of a frozen raspberry/blackberry mixture)
1 cup almond milk
A big handful of spinach or other greens
1 tablespoon almond butter
1 tablespoon cocoa powder
1 scoop protein powder
Ice, if desired
Blend and enjoy!
Photos by Natalia Vanthienen
3