I honestly love a great salad. It's sounds a little healthy holier-than-thou, but there's something about the delicious crunch, mix of flavors, and the ability to throw in whatever I want. If I want something light in the summer, I may choose something with fresh berries and with a lemon vinaigrette. During the winter, I usually like a heavier salad, maybe with some squash or extra cheese.
But, as easy as it is to take whatever catches your eye and toss it in the bowl, there is a certain strategy to building the perfect salad. And, if you are trying to be healthy and eat a yummy meal, it's worth the effort to do it right.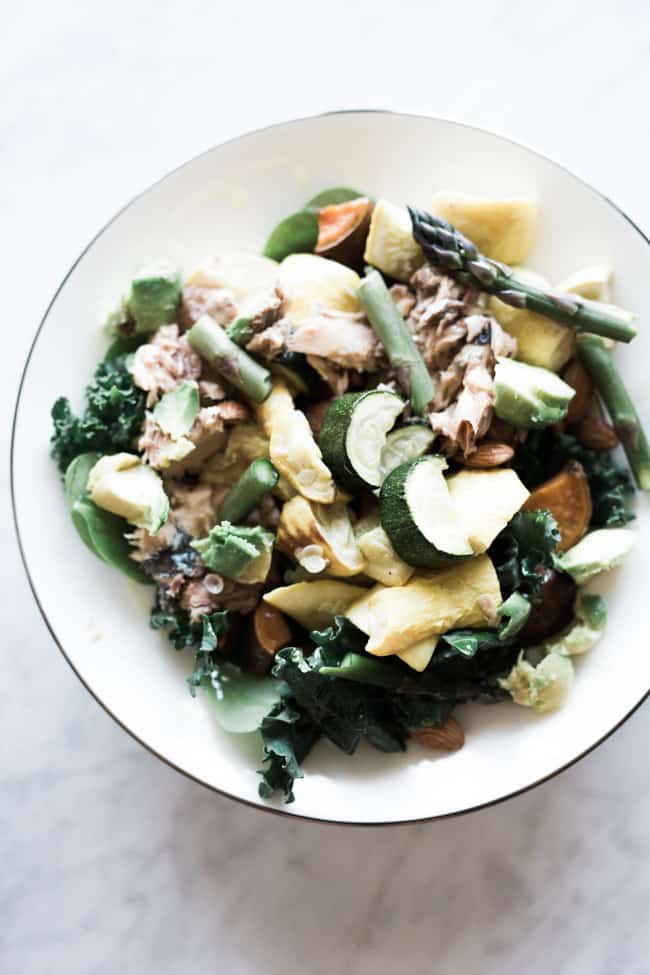 A good rule of thumb when planning your meal is to keep your plate 50% low-starch veggies, 25% protein, 25% complex carb and then a bit of healthy fat. Something like this:
Protein – animal protein (chicken, fish, red meat) or 1/3 beans
Healthy fats – avocado, nuts/seeds, tahini, olive oil, etc.
Complex carbs – sweet potatoes, winter squash, pumpkin, carrots, beets, parsnips, corn, peas; all fruits, and GF whole grains (quinoa, buckwheat, millet, rice, oats)
Making a salad is a time for creativity in the kitchen — even more so than with other traditional dishes. Think texture, color, nutrients, and of course, taste! Now are the five things to make sure to include:
5 Ingredients for the Perfect Salad
1. Green foundation
This can sometimes be the hardest part of figuring out your meal, but don't worry, it's downhill after this choice. Always opt for organic greens when possible, like spinach, kale, arugula, Romaine, or mixed greens. Think of which type will pair best with your toppings. For example, Romaine tastes great in a salad with hard boiled eggs and bacon bits, but spinach may pair better with lighter ingredients like berries. Each have different nutrient values, so switch it up every so often.
2. Protein
Making sure you're getting enough protein is essential, especially when you're eating mostly veggies. This is your chance to fuel up your body for the day. Adding hard boiled eggs, seasoned chicken breast (a great way to use up leftovers), or seafood, like canned wild salmon, are all great options. If you don't eat meat, opt for plant-based proteins like beans or lentils. They're still full of healthy protein, plus fiber, iron, and magnesium.
3. Low carb veggies
Here's your shot to make your salad colorful and beautiful. Aim to add a few different colors as different color foods have different benefits for the body. Look for ingredients that are in season. They'll taste better and may cost you less. The best way to do this is to head over to your local farmers' market. And if you want to be as organic as possible, ingredients that you don't peel a skin off are the most important, like tomatoes.
Mix up your preparation and don't forget that veggies don't always need to be eaten raw. Depending on the other ingredients, you may want to steam or roast your veggies for a different flavor or texture.
4. Complex carbs
Your body needs complex carbs just like it needs protein — just watch what kind you're using. Sweet potatoes, winter squash, pumpkin, carrots, beets, parsnips, corn, peas, fruit, and gluten-free whole grains are some delicious ideas to meet this category. There are plenty of options to get your complex carbs in while staying in season.
Pick up some local grown corn in the summer and toss it in some mixed greens. Later in the fall, roast some pumpkin cubes and mix with spinach for a heartier salad.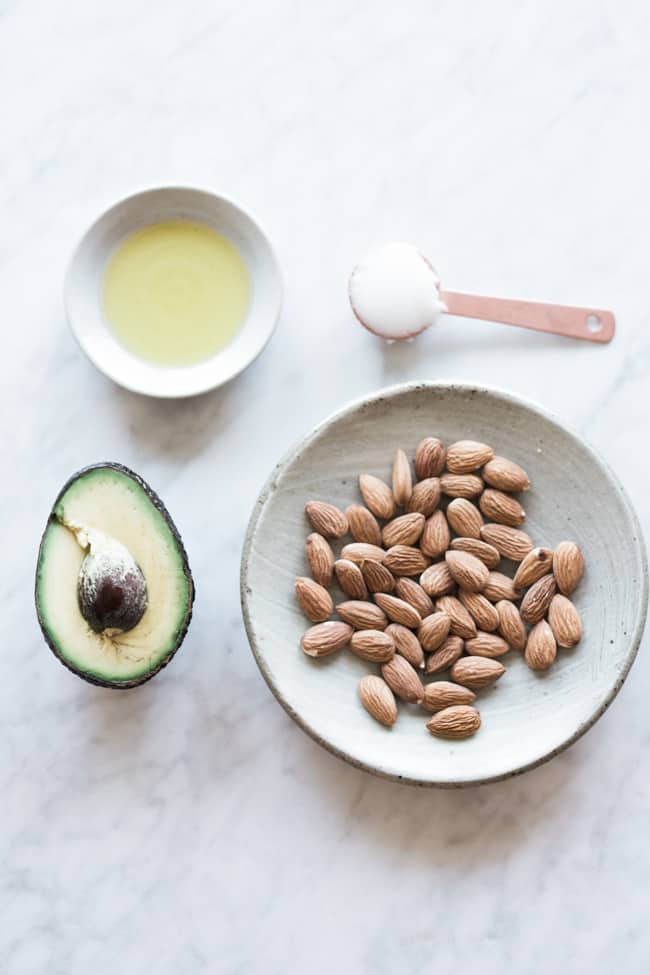 5. Healthy fats
Yes, your body also needs fat! Good, healthy fats, that is. Avocados are a great choice since they can pair up with virtually anything — berries, mandarin oranges, meat, eggs, etc. Nuts and seeds also make for yummy options and add a good crunch to your salad. Olive oil-based dressings are best, but don't go overboard and drench it.
Studies have actually shown that the addition of healthy fats drastically helps the body absorb antioxidants.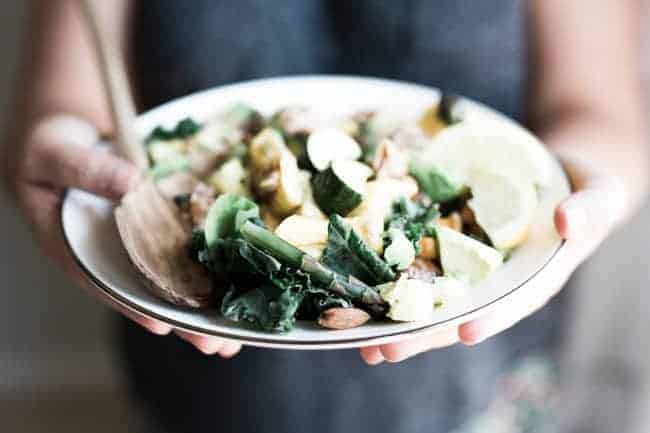 10 Summery Salad Options
So, what to make with all of this info? Here are some delicious concoctions we've made in the past:
1