Weekend brunch is one of my favorite ways to entertain. But it's far too easy to make poor food choices when you're serving bacon and biscuits. The good news is that with a few food tweaks, brunch can still be a bit indulgent without sending you into a calorie coma for the rest of the day. Here are 5 of our favorite no-guilt brunch tips and recipes!
1. Fill up on protein
A frittata is the perfect brunch food for several reasons. You can throw in just about anything that's in your refrigerator, and it's almost impossible to screw up the recipe. But it looks impressive, like you've been slaving over the stove all morning. Then there's the fact that it's really tasty. So you get a hearty, filling entree that's loaded with protein.
2. Add fiber with fruit, veggies & beans
Bulk up that frittata with beans and greens. Then spare yourself the tiresome task of peeling and chopping and go with a store bought fruit salad. Put the fruit in a pretty bowl or tray no one will know how much time you saved.
3. Make smart choices
Sugary cocktail mixers can quickly turn into calorie bombs. Serve champagne and make things festive and colorful with a make-your-own juice mimosa bar. Stick to one drink and then switch to coffee or tea.
4. Avoid hidden sugar
Yogurt and granola often contain a surprising amount of sugar. Go for plain yogurt and top it with chopped fruit and nuts and maybe a drizzle of honey. Or go with Greek yogurt for additional protein.
5. Makeover your carbs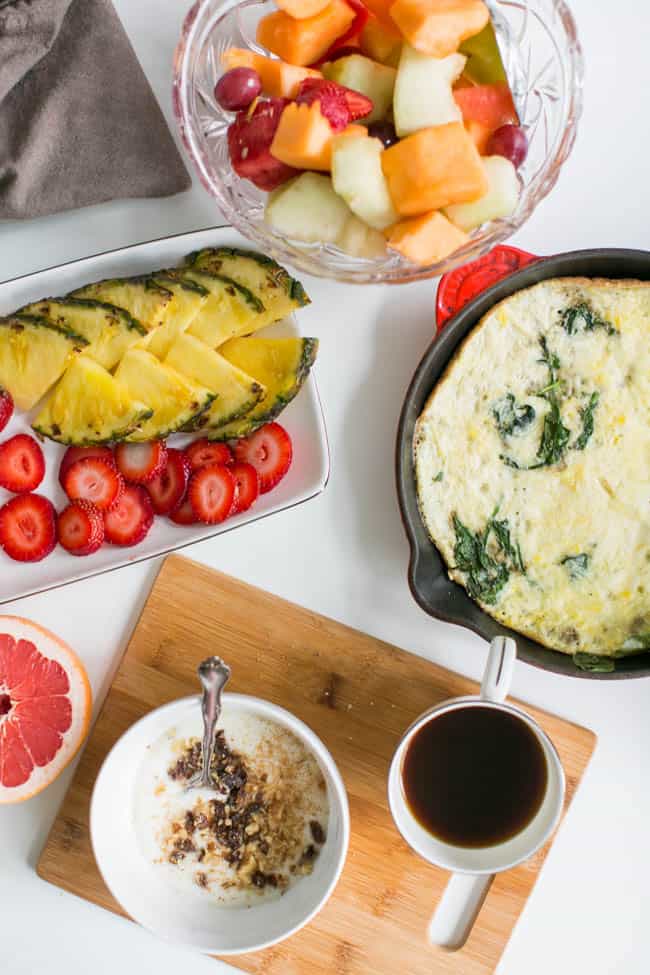 Waffles, pancakes and biscuits, oh my. If you need to satisfy a carb craving, liberally add fresh fruit to the waffle or pancake mix and top with fruit instead of syrup and whipped cream. Biscuits are my weakness, but now I spread on nut butter or ghee instead of butter and jam.
1