This is a sponsored post written by me on behalf of iHerb. All opinions are 100% mine.
It happens every year without fail. You wake up one morning with a tingle in your throat and by bedtime you have a raging case of the sniffles, a throbbing headache and a croupy cough that could wake the neighborhood. Lying in bed with your tea and cold compress, you vow that next year will be different. You'll actually take that multivitamin, you'll incorporate that miracle oil you've heard so much about, and you'll buy the family-sized bottle of echinacea so maybe, just maybe, you can prevent this.
Last year after coming down with the worst case of the flu I have ever had, I learned just how much better it is to prevent an illness than to treat it. And while there is no surefire way to prevent illness entirely, by adopting healthy habits you may be able to stay healthy longer—and recover quicker—during cold and flu season. Boosting your diet and incorporating supplements can do wonders for your immune system, but the supplement aisle can be confusing. Knowing what to take and what brand to trust is tricky.
I have always used Nature's Way supplements to support my immune system during the winter months. But I recently learned that Nature's Way makes a whole slew of products that can help to boost your vitamin and mineral intake and support your immune system. Since its founding in 1968, Nature's Way has grown to offer herbs, extracts, homeopathic remedies, vitamins, minerals and specialty products to support the body naturally. I like Nature's Way because they strive to balance natural remedies with modern science, and their focus has always been on product effectiveness and safety. They have become such an important part of my family's overall health and wellness that I can't imagine getting through the winter without them.
And in case you would like to avoid the supplement aisle entirely, iHerb makes it easier than ever to shop from your sofa. Not only does iHerb carry over 400 Nature's Way products, they also ship to over 160 countries and their Customer Service team provides support in 10 different languages. No matter where you live or what you're looking for, iHerb probably has it.
5 Ways to Stay Healthy this Winter
Here are 5 simple ways to keep you and your family healthy this winter with Nature's Way.
1. Boost your microbiome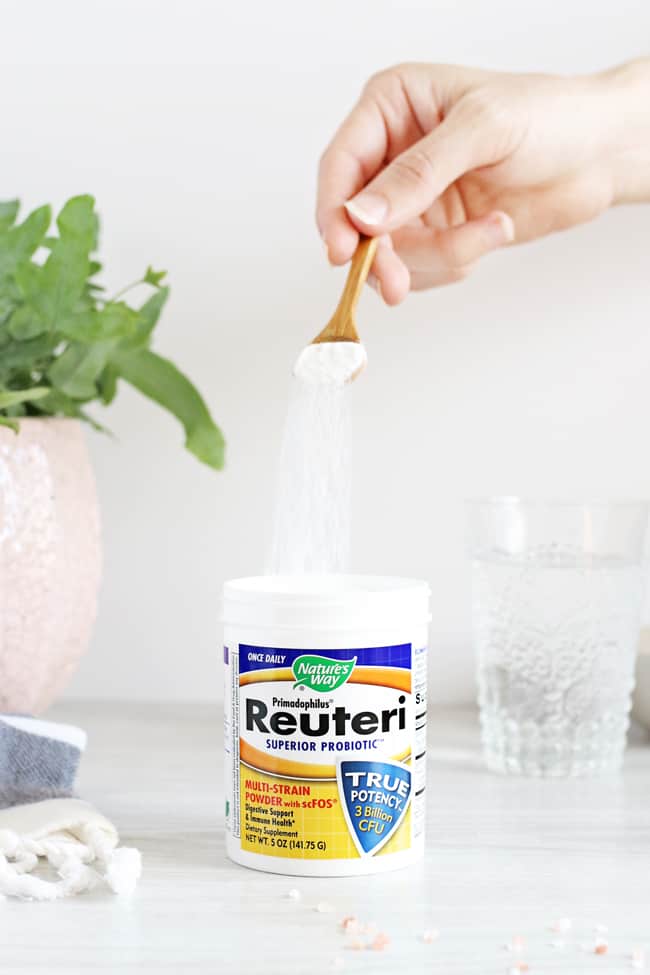 It has long been said that good health begins and ends with the gut—or more specifically, the bacteria in the gut. Probiotics can help prevent the overgrowth of pathogens, improve digestion, help synthesize vitamins and minerals, and maintain the pH of the gut. And because the gut is wired to the immune system, probiotics can also enhance immune function.
Nature's Way Primadophilus Reuteri Superior Probiotic is a multi-strain probiotic powder that contains over 3 billion CFU of beneficial bacteria. While I have yet to test out its immune-boosting properties, I have noticed that a stress-related breakout I've been battling for a few weeks cleared up within days of taking this probiotic! Unlike other probiotics, this one is a powder, so I like to add a scoopful to my morning smoothie. But you can mix it with juice, sprinkle it over yogurt or eat it with your cereal and get the same benefit (just avoid hot beverages or you might kill the bacteria!).
2. Get your medium-chain triglycerides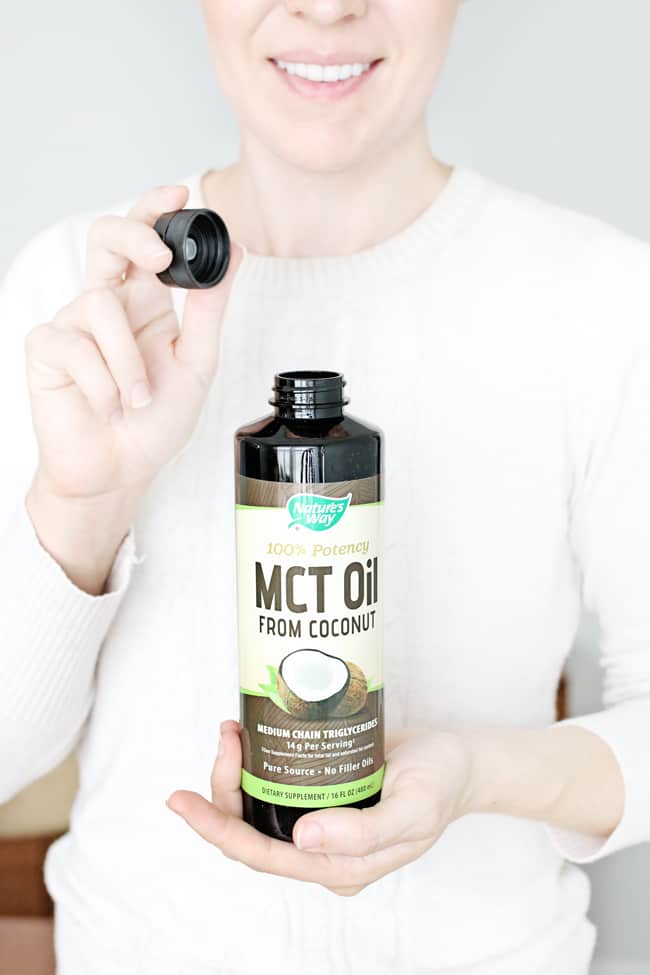 Medium-chain triglycerides (or "MCT" for short) are a form of saturated fatty acids found in everything from coconut oil and ghee to yogurt and grass-fed beef. They are said to help improve cognitive function, boost energy levels and manage metabolism. Nature's Way MCT Oil From Coconut contains is a natural source of MCTs sourced from coconut oil. I like to add my MCT oil to a cup of coffee for the ultimate energy boost, but you can also mix it into smoothies, shakes and other beverages, or simply take it by the tablespoon. And don't let the name fool you! Even though it looks and feels like coconut oil, this MCT oil doesn't have any of the strong nutty aftertaste of regular coconut oil.
3. Take the right multivitamin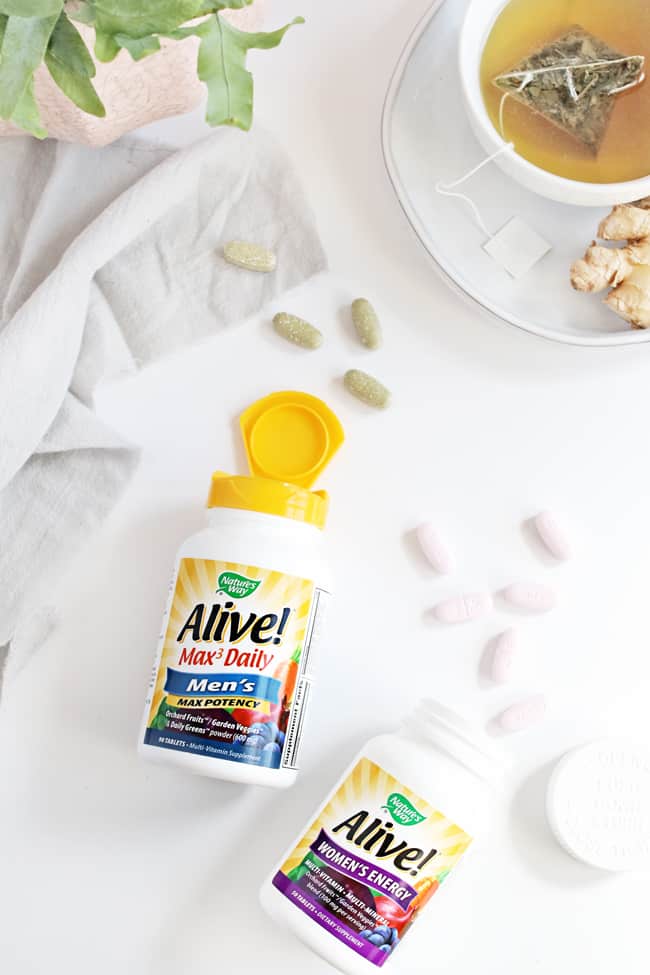 Multivitamins sometimes get a bad rap. In an ideal world, we would all be eating organic grass-fed meat and rainbow-colored salads at every meal and a multivitamin would be overkill. But to be honest, there are days when I survive on coffee and crackers alone. Not only do I not eat a healthy meal, but I don't really eat any meals (and don't even get me started on my vitamin intake). So I try to make up for it with a multivitamin.
Multivitamins help fill in the nutritional gaps in your diet so you can stay just a little bit healthier. While a good multivitamin may not prevent colds, it can help support the immune system and encourage your body to heal faster. To reap the benefits, it's important to choose a multivitamin that is made from whole foods and that can be easily absorbed by the body. Not only does Nature's Way Alive! Multivitamins have 100% of the vitamins and minerals you need, but they also contain a blend of dried fruit and vegetable juices so you can get your nutrients straight from the source.
Nature's Way makes vitamins specifically formulated for everyone in the family. You can choose from Alive! Max3 Daily Men's Max Potency, Alive! Women's Energy and Alive! Gummies Multivitamin for Children. Or choose another multivitamin that meets your needs.
Ever since I started taking Alive! Women's Energy I have noticed I have a ton more energy and my hair and nails have even been growing like crazy. And my husband, who never takes a multivitamin, swears by the Max3 Daily Men's multivitamin for keeping his running-induced aches and pains at bay.
4. Don't skimp on the calcium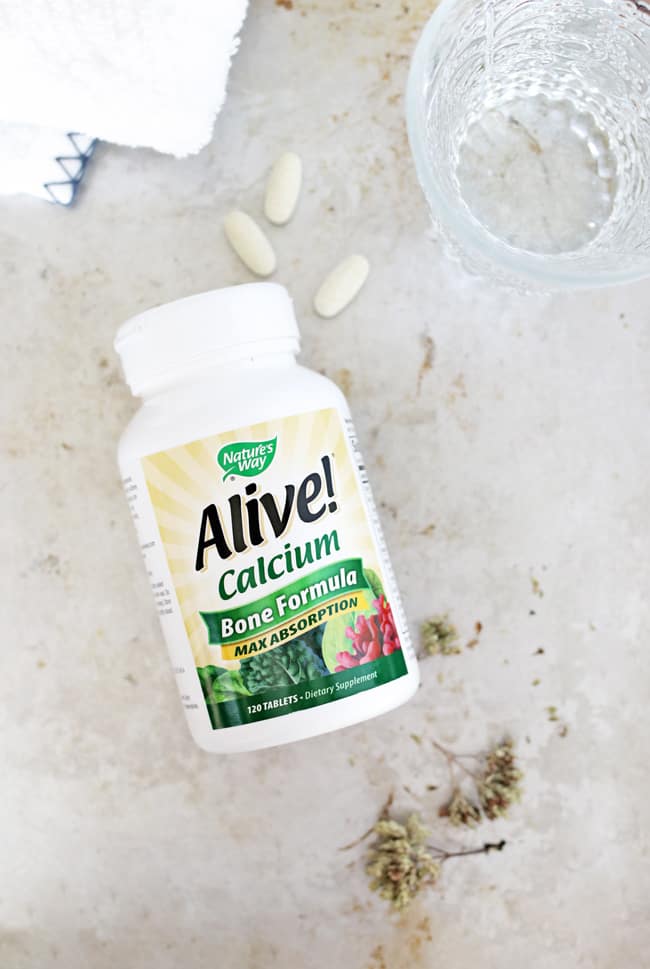 Most people think the main reason to take a calcium/magnesium supplement is to build strong bones, but the need for calcium and magnesium is so much more complex than that. Calcium is required to control heart rate, blood clotting, muscle health, and more, while magnesium is involved in over 300 enzymatic reactions in the human body. And together they work to improve bone health and support the nervous system.
This is definitely one of those supplements I know I need to take more often, but I hate having to remember to take my calcium and magnesium separately. Thankfully Alive! Calcium Bone Formula contains the perfect balance of calcium and magnesium, along with Vitamin K2, C and D3 to nourish your bones and keep your body running smoothly. I especially like that this plant-based supplement gets its calcium and magnesium from red algae, making it safe and easily absorbed by the body.
5. Support your immune system with echinacea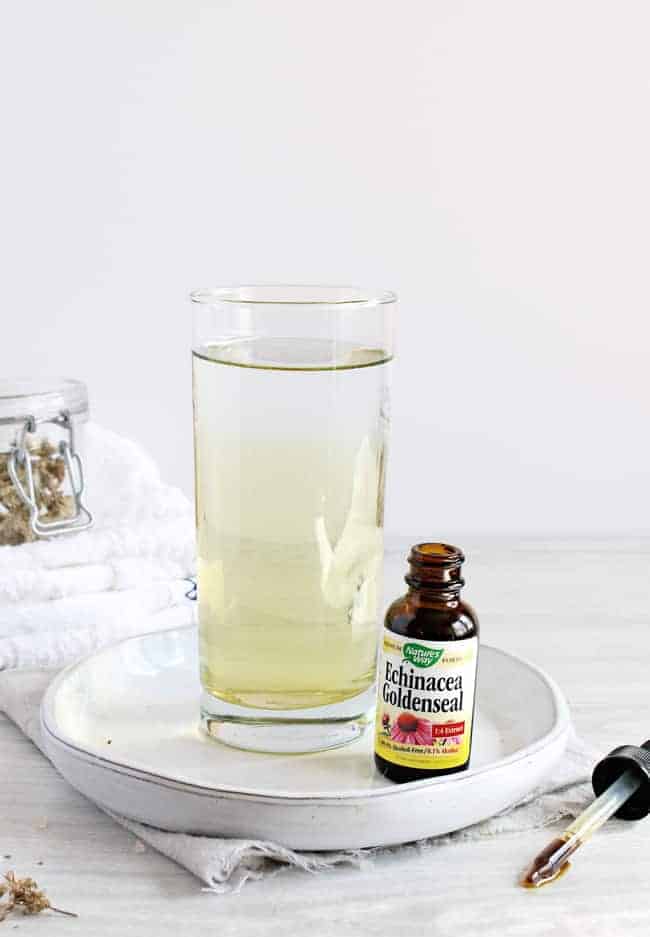 I swear by ehinacea as soon as the weather starts to change or when I feel a cold coming on. Nature's Way Echinacea Goldenseal comes in both capsule and liquid form, but I find that the liquid works a little more quickly when I'm feeling under the weather. Thanks to the addition of goldenseal extract (a potent immune-booster), it also aids in digestion and calms inflammation. If you're worried about the taste, simply put some in your coffee or tea and it will mix right in.
Get $5 Off Your First iHerb Order
If you're a new iHerb customer, use this link to get $5 off your Nature's Way order of $20 or more. It's the perfect opportunity to stock your medicine cabinet and pantry with your favorite Nature's Way products!
3