Since becoming a mother, I've become increasingly interested in using natural remedies to heal myself and my family. In part, it started with a very stubborn case of thrush that wasn't responding to strong prescription medication. I headed for my health food store, became acquainted with the wall of supplements and oils, and never looked back.
One I use frequently is oregano oil. The oil is distilled from wild Mediterranean oregano (Origanum vulgare), not to be confused with the oregano commonly found in grocery stores.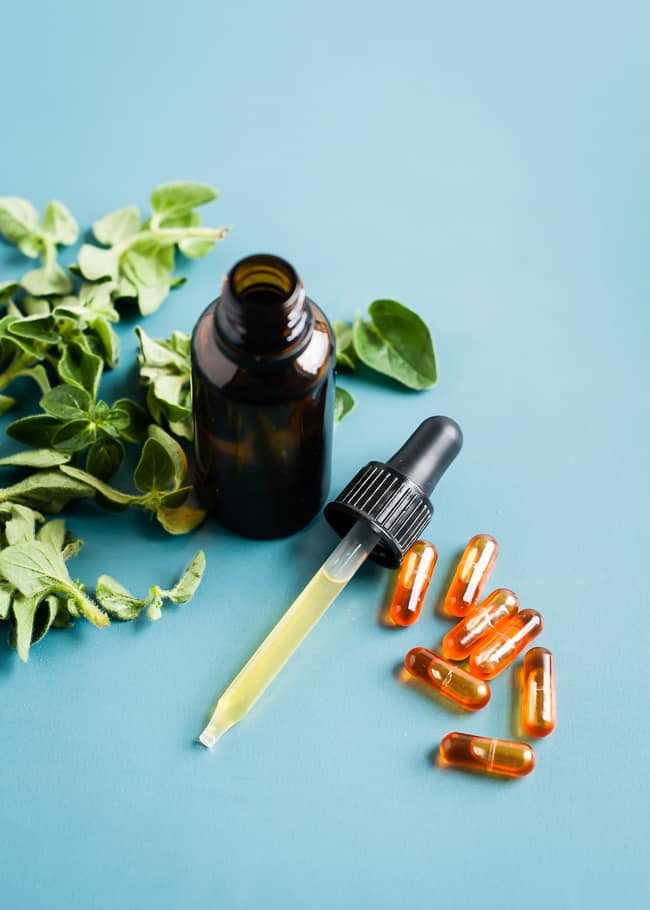 5 Ways to Use Oil of Oregano
Oil of oregano is considered one of nature's most powerful remedies [source]. It contains the phenol carvacrol, which is an effective antimicrobial [source]. Carvacrol has also been shown to kill yeast, mold, Staphylococcus (think food poisoning), and E. coli [source].
It's used to treat a variety of problems and can be taken in pill form, as a liquid (diluted in another liquid or oil), or used topically. Be careful when using the drops; oil of oregano is very potent and must be diluted. And be prepared for it to taste terrible!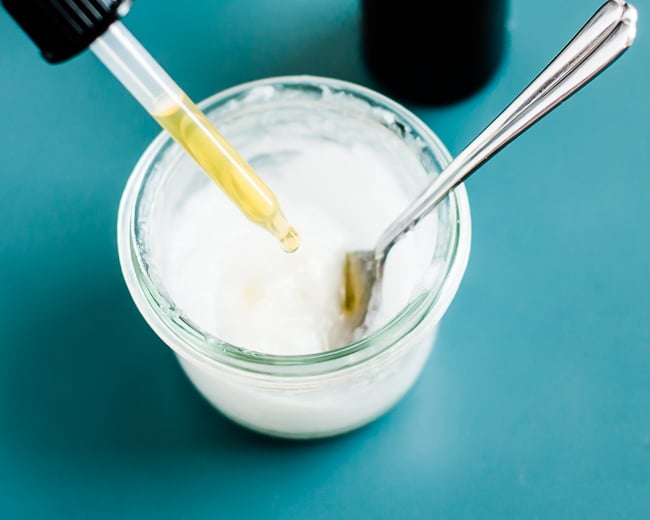 1
.
Make a sanitizing
+
healing lotion
Mix oregano oil with coconut or olive oil for a simple hand sanitizer. Combine 6 drops of oregano oil with 2 tablespoons of coconut oil, and rub it into your hands as a natural moisturizer and disinfectant. Oil of oregano is also frequently used in skin products as an anti-inflammatory [source] to help with rosacea, psoriasis, cold sores, acne, and aging [source]. Apply it to problem areas before bed.
Oil of oregano is very strong and should be diluted with an equal amount of a carrier oil when applied topically to avoid irritation. Chances are the oil you purchase will already be diluted, but check to make sure.
This is potent stuff! Using it on broken skin might also cause irritation, though many people also use it as a first-aid remedy for small cuts.
2
.
Use as a natural bug repellant
Carvacrol, which is also found in mint and thyme, also works as a natural bug repellant [source]. Dilute the oil and spray on outside furniture and pets to protect them from mosquitoes.

3
.
Treat athlete's foot and thrush
Because of its ability to fight candida fungal infections [source], oregano oil is often used to treat athlete's foot and fungal nail infections [source]. Add oregano oil to a foot soak or apply oregano oil lotion.
Taking oil of oregano capsules along with other natural antifungal remedies definitely helped me beat my raging case of thrush. Please note that studies with pregnant and breastfeeding women are lacking, so talk to a doctor before using it.
4
.
Natural cold
+
flu remedy
If you've come down with a cold or the flu, you may want to give oil of oregano a try. There are even a couple of ways you can use it if you're feeling under the weather.
Taking oregano oil capsules can help with respiratory infections, as can adding a drop to a bowl of hot water to use as a homemade vaporizer.

5
.
Soothe an upset tummy
My family takes an oil of oregano capsule at the first sign of a stomach virus, particularly for diarrhea. That's because research has shown its effectiveness on norovirus [source]. In animal studies, oil of oregano was used to improve intestinal barrier integrity [source]. However, oregano oil is not intended for long-term use.
Have you tried oil of oregano? How do you like to use it?
This article was medically reviewed by Dr. Gina Jansheski, a licensed, board-certified physician who has been practicing for more than 20 years. Learn more about Hello Glow's medical reviewers here. As always, this is not personal medical advice and we recommend that you talk with your doctor.
68