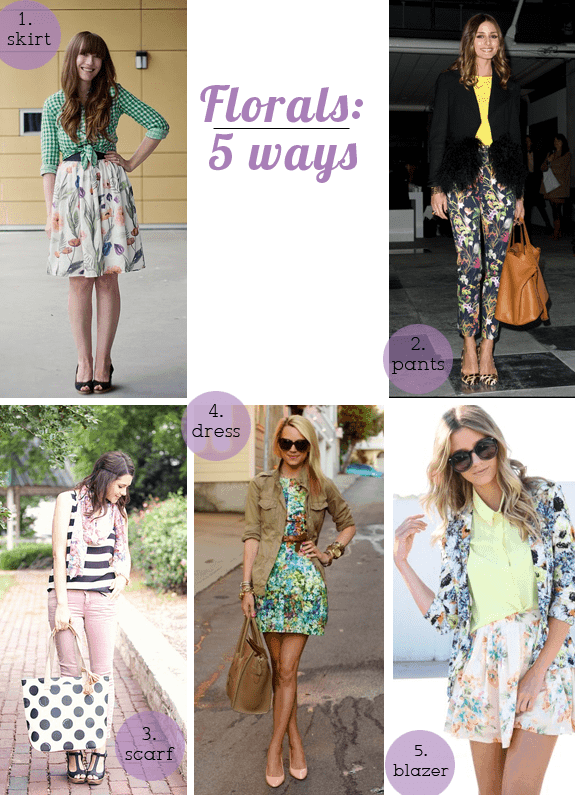 Florals are a great way to add some femininity and fun to your wardrobe, especially if your closet is filled with solids. Even just a tiny bit of floral can transform a whole look. I love this trend because it works for everyone no matter what your body type. Here are 5 ways to wear florals and get in on the trend.
1. Floral Skirt
Gingham is a great pattern to mix with florals. Try a gingham shirt paired with a full floral skirt. To give you that hour glass figure, be sure to either tuck in your shirt or tie it at the waist. Finish the look with a pair of wedge sandals.
2. Floral Pants
One of the biggest trends this season is the patterned pant. Try a floral version and give them a professional look by pairing them with a structured black blazer and bright colored top. For a bold and mixed look, add some leopard heels.
3. Floral Scarf
Accessories are one of the best ways to try a trend and I love the idea of pairing florals and stripes (or even polka dots). Just be sure to pick a floral pattern and a stripe pattern that are in the same color family.
4. Floral Dress
One of easiest ways to wear florals is to wear a floral dress. If you want to toughen up the sweetness of the florals try pairing the dress with a cool jacket such as a military or leather one.
5. Floral Blazer
One of my favorite ways to wear florals this season is with a floral blazer. It's a modern way to wear this trend and can be worn with jeans and a t-shirt, a pencil skirt and blouse, or if you're daring enough with another floral.
What do you think of this trend? Do you plan on wearing it?
– Ali from with an i.e.
0