Many of us are all too familiar with the uncomfortable feelings that can accompany a bout of sluggish digestion—we become bloated and lethargic, irritable and uncomfortable.
Maintaining a healthy digestive system is an important contributor to our overall sense of well-being. While much of our digestive health comes down to the nutritional quality of our food, our hormones, and our gut flora (hello, probiotics!), yoga can play a big part in keeping things moving. Our yoga expert Lisa Veronese is back with five great poses to lend that much needed kick-start in slow times!
1. Seated Twist with Dynamic Breathing
This dynamic breathing and rhythmic movement work together to stimulate circulation in the belly and it will also help to ignite the digestive fire (agni) which, if you are noticing bloating and slow movement, could use some stoking!
Sit up tall (on a block or folded blanket if they will make you more comfortable), and bring your arms to shoulder height, bending them at the elbows, palms facing inward. Inhale through your nostrils, and as you exhale twist your torso and arms to the left. Inhale as you return to center, and exhale as you twist to the right. Continue twisting back and forth, picking up the pace and breathing dynamically, keeping the elbows up at shoulder height.
See if you can keep this movement going for one minute, eventually building up to three.
2. Cobra Flow
Many of us spend hours each day seated, which can exacerbate bloating after meals. Sometimes what our gut really needs is a good stretch! Cobra pose is a great option which may provide the relief you are looking for.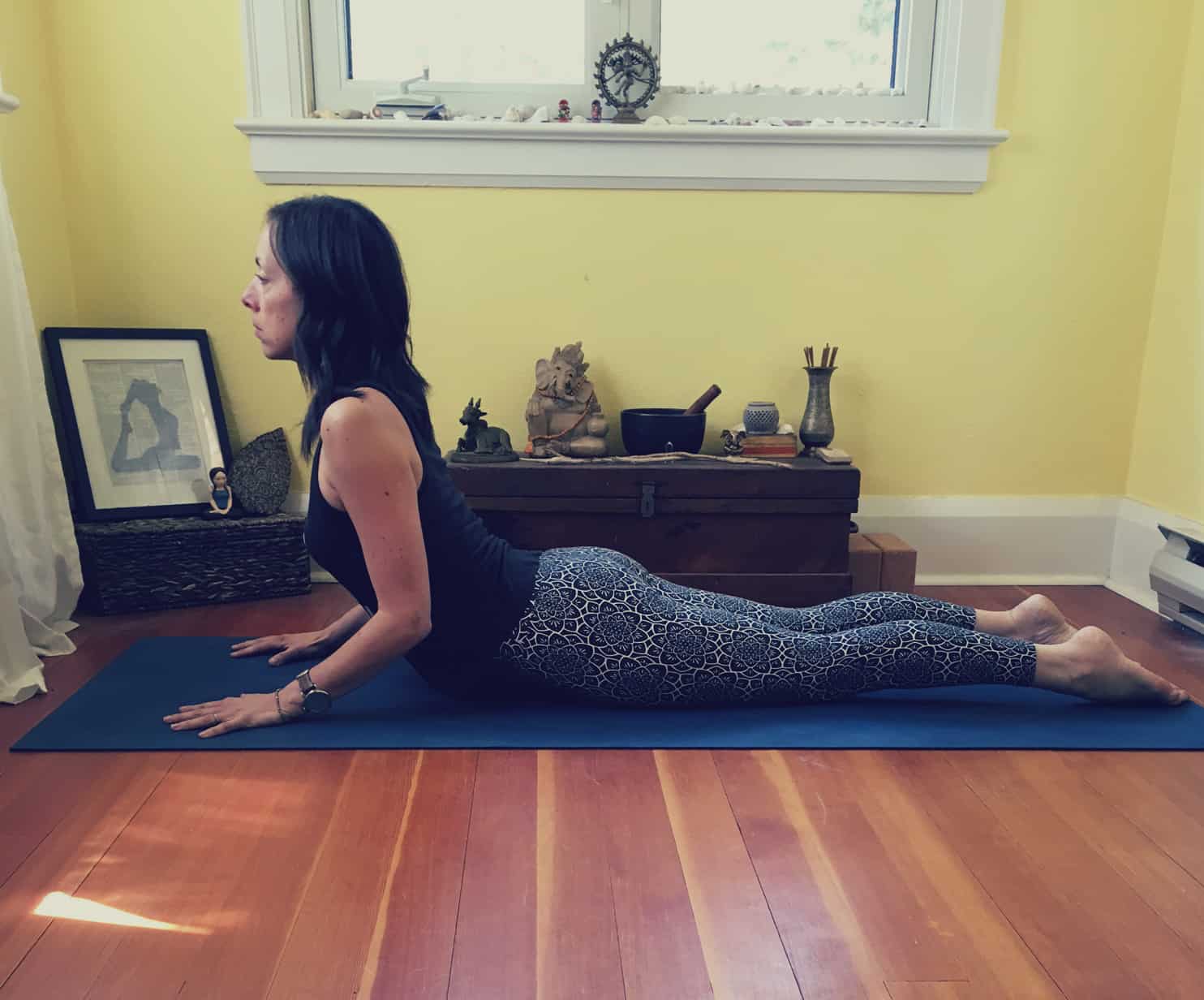 Lay on the floor with your legs together. Slide your hands beneath your shoulders and move your shoulder blades towards one another on the spine, drawing your shoulders back. As you inhale, gently press into your hands and lift your chest off the floor, without collapsing shoulders to ears and keeping your pelvis rooted to the floor. Lightly tone your buttocks and draw elbows in towards the body. On your exhalation, lower back down and fully release. Take anywhere from five to ten lifts, moving up and down with your breathing.
3. Supported Forward Fold with Bent Knees
Forward folds are great poses for relieving bloating and slow motility.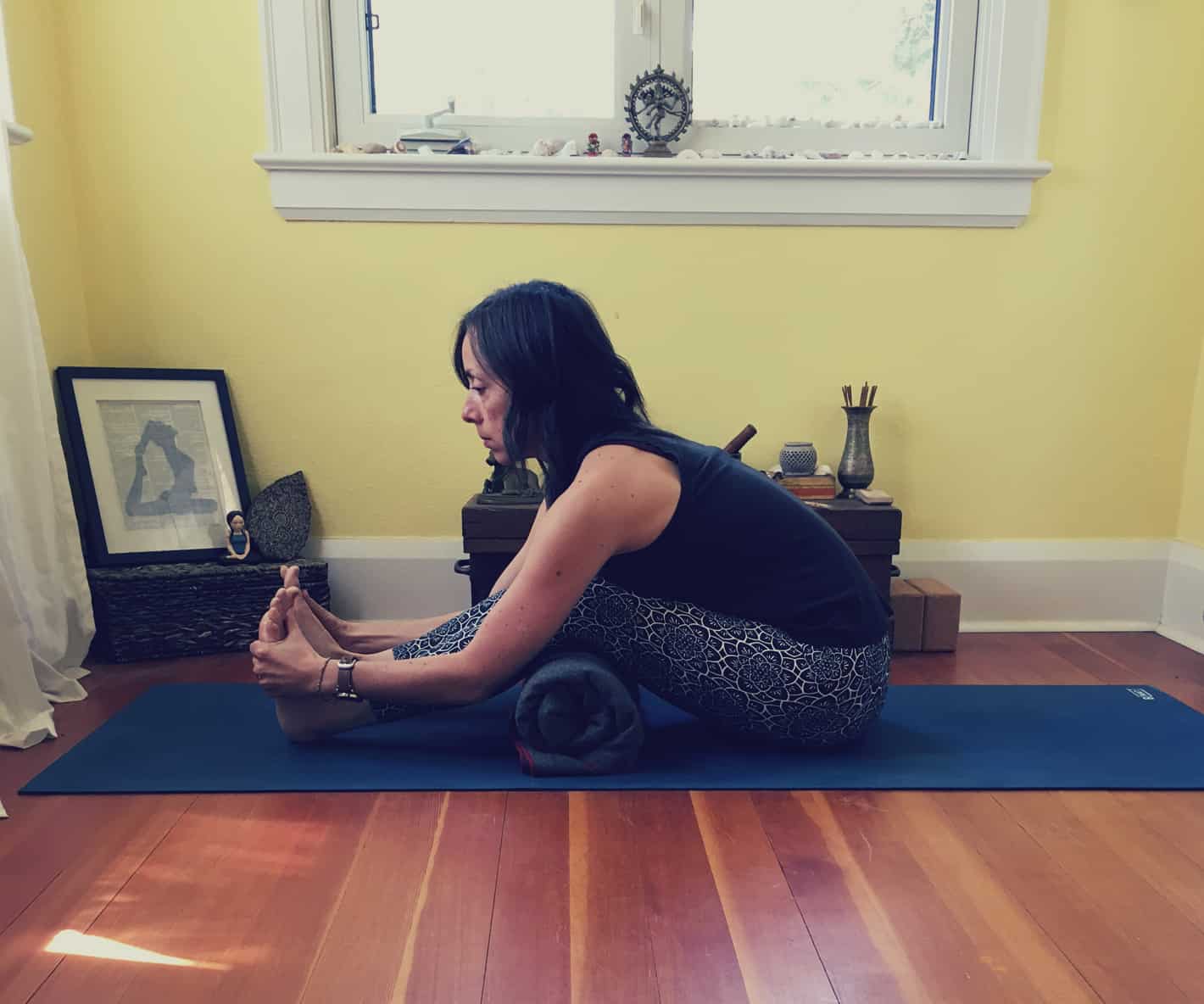 Begin with your legs extended and knees bent (placed a rolled blanket beneath your knees for support). As you inhale, reach forward until your torso is resting on your thighs, and make sure to maintain as long of a neutral spine as you can—avoid collapsing and rounding in like a tortoise shell. Once this feels comfortable, you can explore straightening the legs a bit more if you are able to maintain that "sandwiched" feeling of upper body upon lower body while continuing to lengthen the spine.
On your inhalation, lift your belly off of your thighs, and on your exhalation rest the torso back down. You can also try rolling up a towel and placing it across the creases of the hips for an additional press to the belly. Take 10 breaths here.
4. Apanasana
When my son was a baby he would sometimes cry from being gassy or bloated. My midwife recommended that I lay him on his back and gather together his little feet and gently pump his chubby thighs in towards his belly, gently pressing them in. Without fail, this would provide comfort and ease his digestive woes. This pose is called apanasana, or "wind releasing pose," which speaks for itself.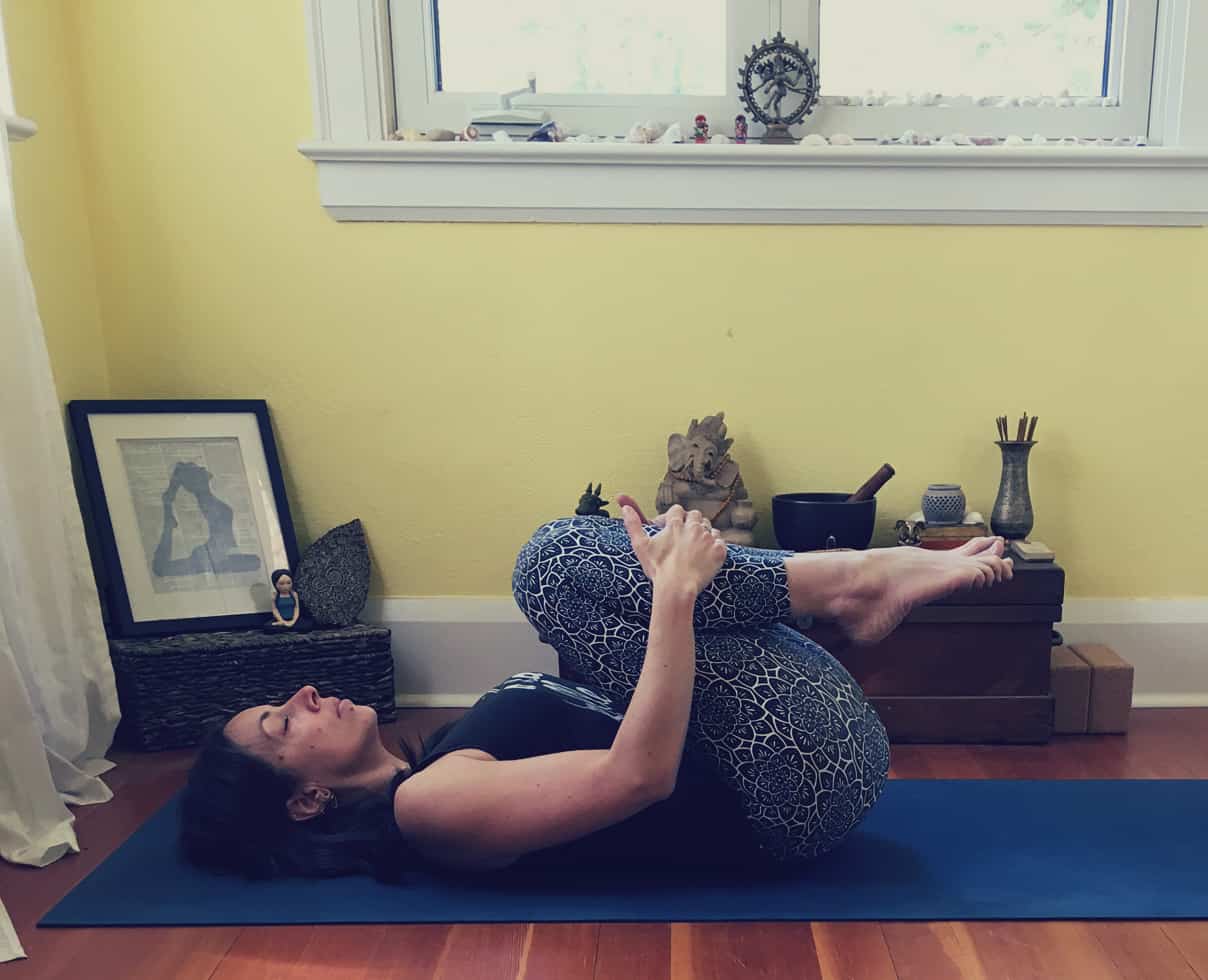 Hug your knees in deeply to your chest. Inhale as you back off of the pull just a bit, and exhale as you draw the legs in more deeply. Knees can be slightly apart if it feels better for your body. Repeat this movement in and out for 10 breath cycles.
5. Reclined Twist
Another tip I picked up when dealing with my baby's digestive distress was to gently massage his tummy in little clockwise circles—right then left. Here we are moving into a reclined twist to each side (right squeeze and then left squeeze) to create a similar release.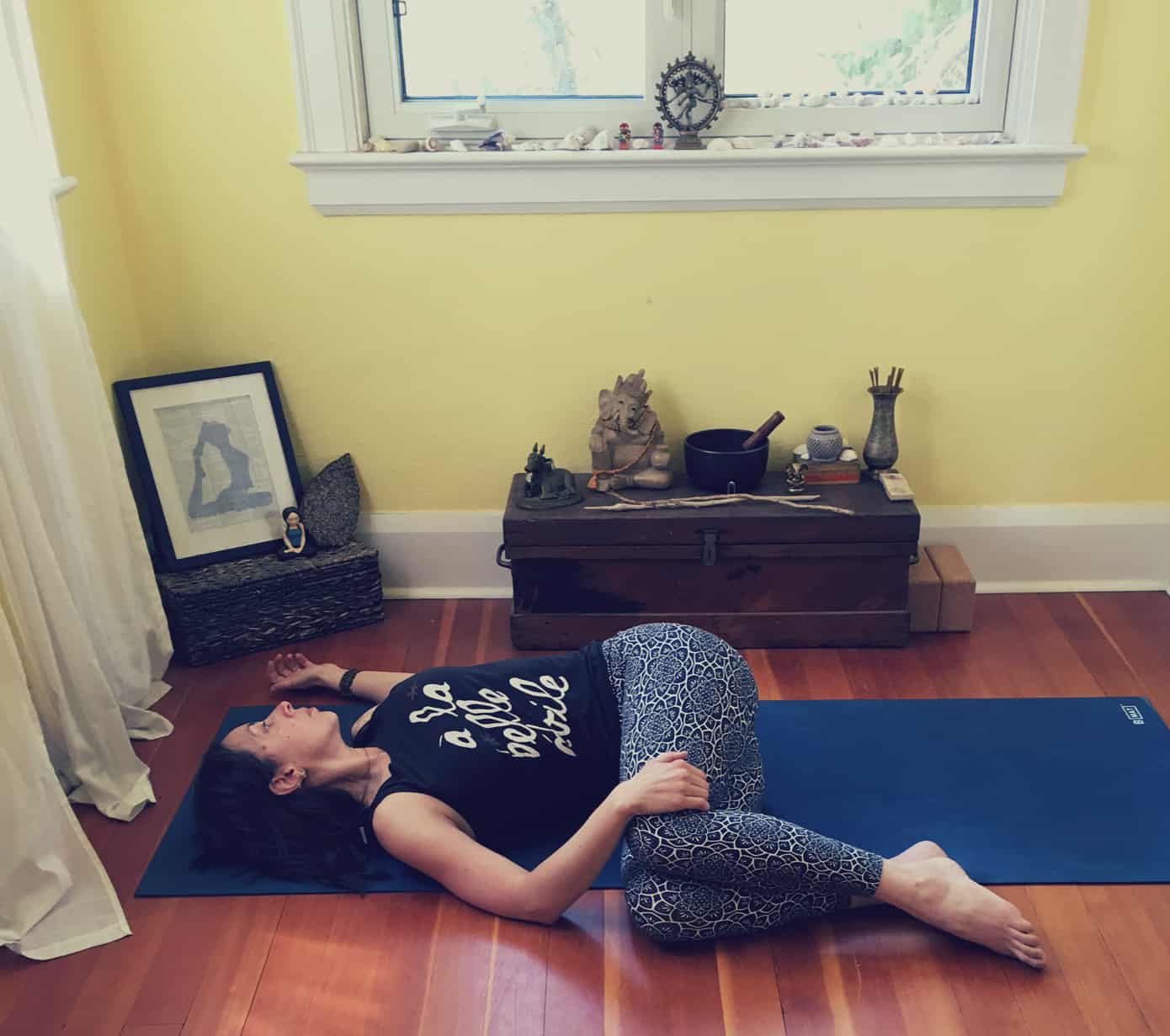 Begin by laying on your back. Roll onto your left hip and draw stacked knees to your side. Hold the right knee with your left hand as you then lay your upper back to the floor, rooting your right shoulder downward and opening the arm from there. Take 10 deep breaths. Untwist and take a deep breath as you stretch out, and then roll to your right side and repeat the pose. Take 10 deep breaths on this side. Finish with another full body stretch and then draw your knees to your chest for one more apanasana.
If your digestive system is dawdling, you don't need to suffer. Adding these yoga postures and movements into the mix might be just what you need to get your digestion back on track!
3