One of my favorite crafts is jewelry-making. I've been crafting since I was a child but jewelry-making was the first craft I got serious about. Although I've expanded to all kinds of crafts, I still regularly make jewelry. I am the type that will quickly whip out a pair of earrings before I go to work because I have a very specific look in mind. That might sound crazy if you've never made jewelry but I gotta tell ya, it's addictive!
There are so many DIY jewelry tutorials out there to help you get started making jewelry or to help hone your current skills. I've chosen 50 DIY earrings that range from crazy easy to moderately challenging. There's something here for every crafter!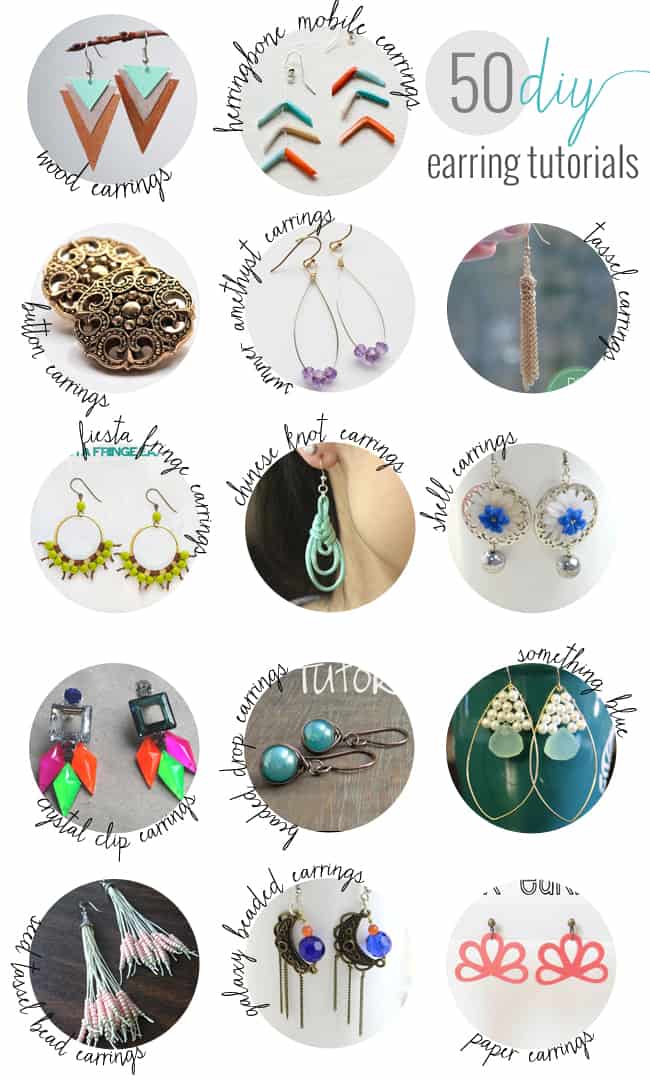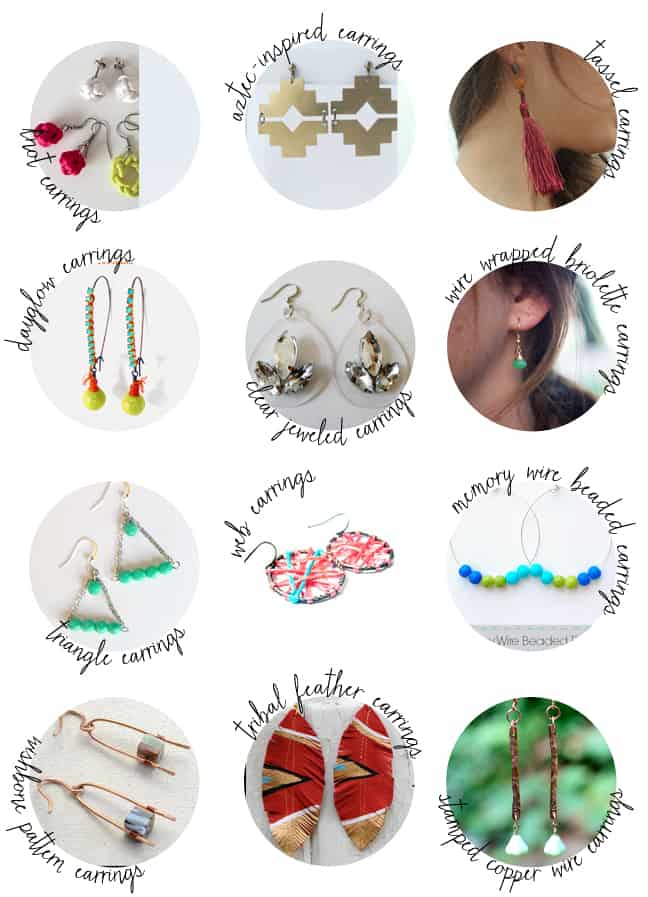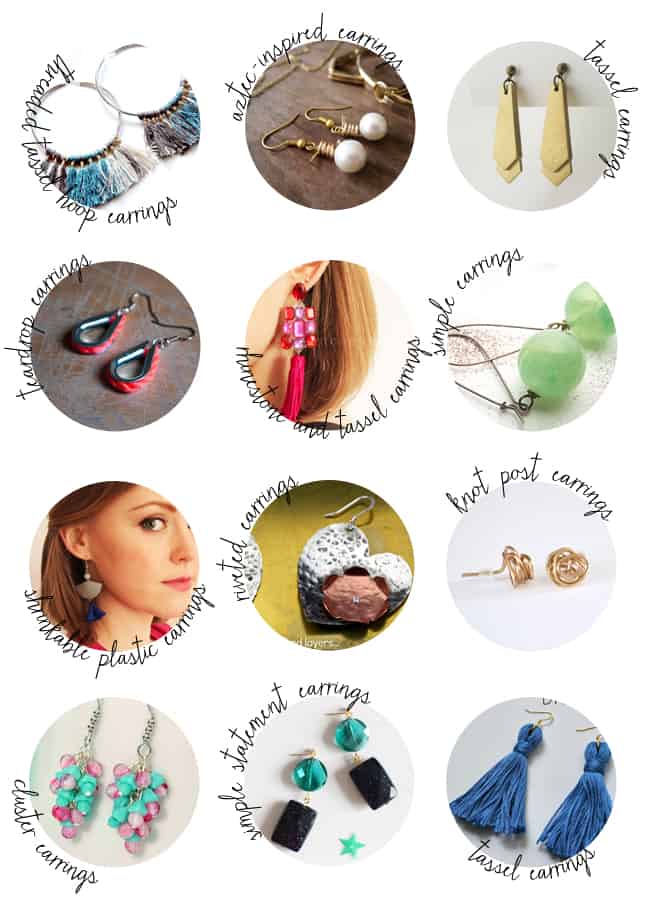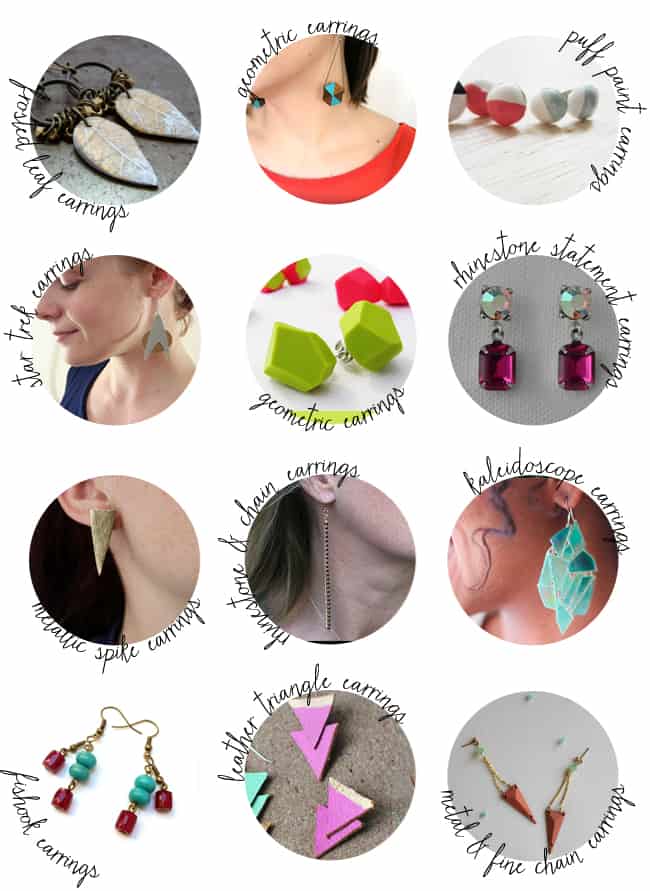 Row 1: Wood Earrings // Herringbone Mobile Earrings Row 2: Button Earrings // Summer Amethyst Earrings // Tassel Earrings Row 3: Fiesta Fringe Earrings // Chinese Knot (Pipa) Earrings // Shell Earrings Row 4: Crystal Clip Earrings // Beaded Drop Earrings // Something Blue Row 5: Seed Tassel Bead Earrings // Galaxy Beaded Earrings // Paper Earrings Row 6: Knot Earrings // Aztec-Inspired Earrings // Tassel Earrings Row 7: Dayglow Earring Tutorial // Clear Jeweled Earrings // Wire Wrapped Briolette Earrings Row 8: Triangle Earrings // Web Earrings // Memory Wire Beaded Earrings Row 9: Wishbone Pattern Earrings // Tribal Feather Earrings // Stamped Copper Wire Earrings Row 10: Threaded Tassel Hoop Earrings // Tom Binns Wire & Pearl Earrings // Art Deco Earrings Row 11: Teardrop Earrings // Rhinestone & Tassel Earrings // Simple Earrings Row 12: Shrinkable Plastic Earrings // Riveted Earrings // Knot Stud Earrings Row 13: Cluster Earrings // Simple Statement Earrings // Tassel Earrings Row 14: Frosted Leaf Earrings // Geometric Earrings // Puff Paint Earrings Row 15: Star Trek Combadge Earrings // Geometric Earrings // Rhinestone Statement Earrings Row 16: Metallic Spike Earrings // Chain & Rhinestone Earrings // Kaleidoscope Earrings Row 17: Fishook Earrings // Leather Triangle Earrings // Metal & Fine Chain Earrings
Do you see any favorite projects to add to your Pinterest board?
8