Just because you may be short on time doesn't mean your meal has to be short on creativity. Slow cookers can be a home chef's best friend, with endless possibilities for toss-in-the-pot-and-go meals. And since we're always looking for ways to maintain our healthy eating, it makes sense that we'd sniff out the most fantastic, delicious and healthy slow cooker meals. From chili to chicken to pasta, here are 50 healthy slow cooker meals to toss in your Crock-Pot.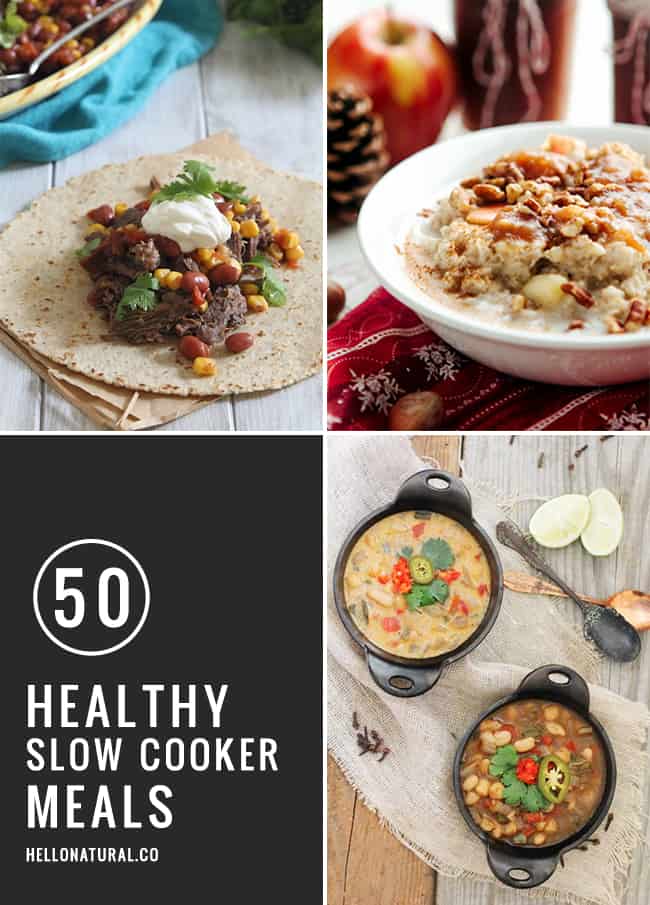 Chili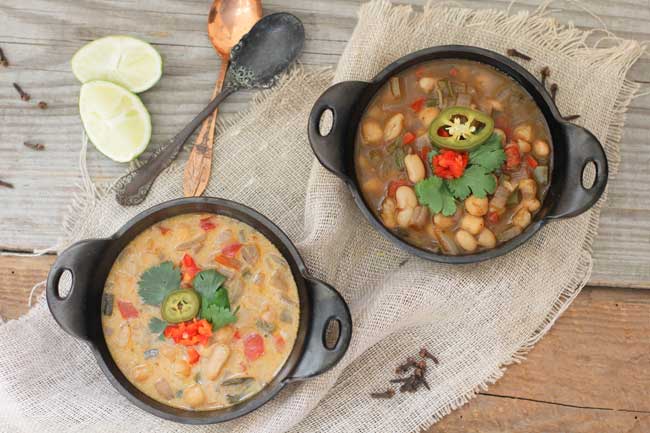 1. Chickpea and White Bean Chili – Hello Glow's chickpea and white bean chili makes the perfect Sunday afternoon meal. Rich in natural protein, this satisfying vegetarian chili boasts a secret, flavor-boosting ingredient.
2. Quinoa Chicken Chili – The perfect meal from Sweet Treats & More to warm you up on fall night. This chili is thick, hearty and packed with protein.
3. White Bean and Chicken Chili – Cauliflower creates a healthy, creamy base for this white bean and chicken chili with mild poblano peppers.
4. Fire Roasted Slow Cooker Chili – A gluten-free, vegan chili from Beard & Bonnet that's packed with 3 types of beans, 2 types of peppers and fire roasted tomatoes.
Indian
5. Indian Spiced Vegetarian Split Pea Soup – Indian spices make this split pea soup something special.
6. Indian-Style Curried Eggplant -Another great dish, courtesy of Veggie Wonder, for those who want to stay vegetarian while still enjoying bold flavors. Eggplant's texture makes it a great meat substitute.
7. Vegetable Chickpea Curry – Creamy coconut milk provides rich flavor while plenty of vegetables fill you up in this curry from Fitness.
8. Red Lentil Dal – A hearty, comforting slow cooked dal from Cafe Johnsonia made from red lentils, split yellow peas and Indian spices.
Mexican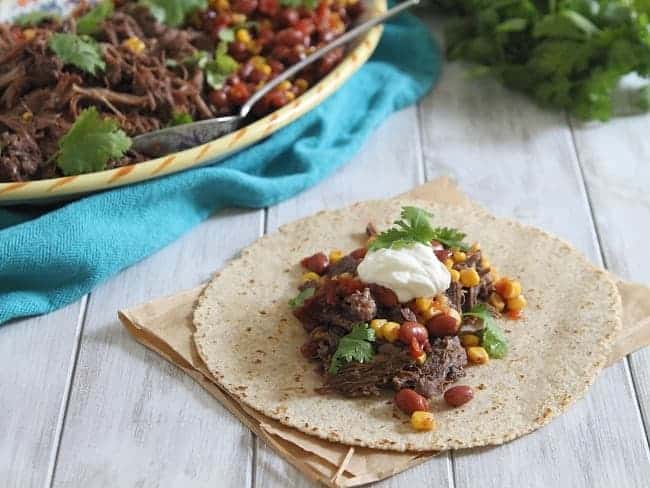 9. 5-Ingredient Mexican Pulled Beef – Start the week by letting the slow cooker do the work with this easy 5-ingredient slow cooker Mexican pulled beef that's perfect for serving up with tortillas.
10. Slow Cooker Pork Tacos – Yummy pork tacos deliciously seasoned with cinnamon, honey, chipotles and bay leaves.
11. Mango Chicken Tinga – It's smoky courtesy of chipolte chile pepper and sweet from the mangoes. Leftovers from this Better Homes & Gardens dish can be used as the filling in tacos or enchiladas, or as a topping on huevos rancheros.
12. Jalapeno Fajitas – While this recipe calls for beef, it uses a lean cut of flank steak, making this take on a classic by Mr. Food Test Kitchen healthier than what you get at TGI Fridays.
13. Non Fried Re-Fried Beans – All Recipes eliminates all frying for their take on this classic side dish and taco filling.
14. Chalupas – Pork, garlic, and light beer are among the many tasty ingredients in this dish by Pinch of Yum. The longer you cook it the better it tastes!
15. Skinny Beef Enchiladas – Reduced fat cheese, high fiber whole wheat tortillas, and a meal made from leftovers. Guild and stress-free meal from Shugary Sweets.
16. Enchilada Cornbread Casserole – A one pot, vegetarian wonder dish that includes quinoa for a healthy, modern twist.
Stews & Soups
17. Slow Cooker Curried Lentil Sweet Potato Soup – Connoisseurus Veg puts a flavorful spin on lentil soup.
18. Healthy Beef Stew – Lean steak and reduced fat chicken broth are just two of the ingredients that keep How OMG's beef stew to fewer than 250 calories per serving.
19. Miso Vegetable Zoodle Soup – The Crockpot Gourmet ditches the noodles and for zoodles. In her Crockpot Miso Vegetable Zoodle Soup, she reveals the delicious versatility of zucchini noodles.
20. Carrot Ginger and Red Lentil Slow Cooker Soup – The Muffin Myth cooks up a soup that's perfect for serving with a side of naan.
21. Lighter New England Clam Chowder – Substituting bacon and low-fat milk for butter and cream, the Suburban Soapbox's Lighter New England Clam Chowder retains the creaminess everyone loves. Big bites of potato and fresh littleneck clams give this cold weather classic a hearty, satisfying edge above other light versions.
22. Slow Cooker Creamy Tortellini Spinach Soup – Kitchen Treaty's soup featuring everyone's favorite pasta is hearty and delicious. And did we say easy to make?
23. O'Brien Irish Stew – Warm up from the inside out with Fountain Avenue Kitchen's O'Brien Irish Stew. Chock full for potatoes, carrots, onions and lamb, this wholesome Irish stew tastes just like Grandma used to make.
24. Slow Cooker Pearl Couscous Soup – If you guessed that this soup from Vegan in the Freezer was meat-free, you are correct. If you guessed that it is delicious, you are also correct.
25. Vegan White Bean Stew – Not sure how to cook dried beans? Try this quick (only 3 hours needed) vegan white bean stew with dried white beans and tons of flavor.
Poultry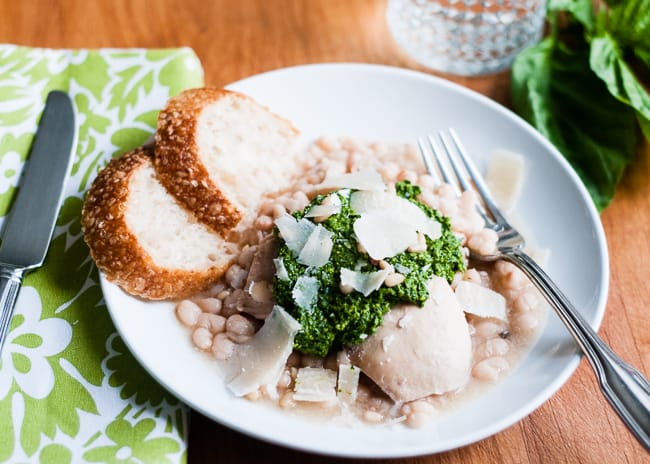 26. Chicken and White Beans with Kale Pesto – Enter a whole new dimension of flavor with Hello Glow's Slow Cooker Chicken and White Beans with Kale Pesto. Creamy white beans cooked with aromatics and delicious chicken thighs make for a hearty, healthy, anytime meal.
27. Mediterranean Chicken Breasts – The Nutritious Kitchen brings us Slow Cooker Mediterranean Chicken Breasts. Simmered in white wine along with garlic, feta, olives, tomatoes and spices, this distinctive meal will be a family favorite.
28. Pomegranate Chicken Stuffed Sweet Potatoes – Hold on to your hats because Worth Cooking's Pomegranate Chicken Stuffed Sweet Potatoes will blow you away. Savory, sweet, and oozing with heavenly flavors like caramelized onions, ginger and cilantro. It's a must try for certain.
29. Mediterranean Roast Turkey – My Recipes uses garlic, olives and tomatoes to infuse this healthy roasted turkey dish with Mediterranean flavors.
Meatballs
30. Paleo Italian Meatballs in Marinara Sauce – Tomatoes and lean protein make this dish from Paleo Newbie a delicious new twist on an old classic.
31. Saucy Slow Cooker Turkey Meatballs – Mom's Kitchen Handbook uses lean turkey and hides extra veggies in these meatballs.
32. Healthy Turkey Meatballs in Spinach Sauce – Substitute high fat beef with leaner turkey and add spinach into the mix (well, the sauce actually) in this healthy update of the classic meatball showcased on Yummly.
33. Meatballs with Chutney Sauce – Lamb meatballs from My Recipes work great as a main course and as a hearty appetizer when entertaining a crowd. A perfect dish for your next Super Bowl party.
34. Mini Turkey Quinoa Meatballs – How Sweet It Is makes meatballs from lean turkey breast and quinoa to create a guilty pleasure that's actually not guilty at all!
Pasta
35. Skinny Lasagna – Pinch of Yum uses kale as the main vegetable in this not-so-traditional but oh-so-delicious take on lasagna.
36. Barley Risotto with Fennel – Delish highlights this risotto that's not only healthy but also eliminates the stand by the stove, stirring rice and cheese for an eternity.
37. Pasta Meat Sauce with Turkey – The Yummy Life says it perfectly: "I added some ground turkey in place of the usual ground beef or pork in a meat sauce to cut down on fat and calories and pump up the protein."
Beef + Pork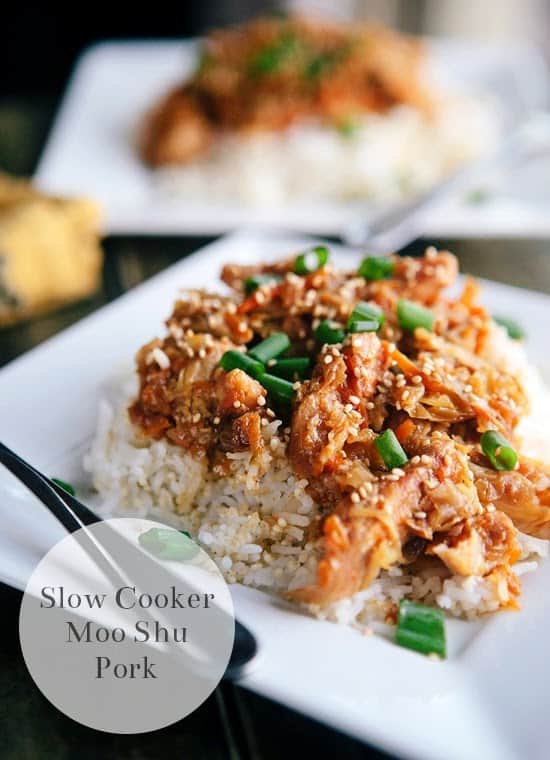 38. Slow Cooker Moo Shu Pork – A tasty dish from Some the Wiser that comes together in no time using a bag of coleslaw mix to cut down on prep time. Serve over a healthy mix of rice and quinoa.
39. Squeaky Clean Beef Bourguignon – Browning the meat before it hits the Crock-Pot is the secret to the Healthy Food's melt-in-your-mouth Slow Cooker Squeaky Clean Beef Bourguignon. It freezes wonderfully making for healthy and quick lunches and dinners.
40. Slow Cooker Lamb Shanks – Get restaurant style gourmet at home with Becomingness' fall-off-the-bone Slow Cooker Lamb Shanks. It's rich, flavorful and healthy, too.
41. Martha Stewart's Pot Roasts – Martha knows the secret to a good pot roast—slow simmering to lock in the juices and flavor.
42. Slow Cooker Mongolian beef – When you have a craving for Chinese food but don't want the excess calories, opt for Slow Cooker Mongolian Beef by Becomingness. This healthier-for-you version taste just like the original.
43. Memphis-Style Pulled Pork With Old-Fashioned Cole Slaw – Make an at-home version of Memphis cuisine staple for a healthier version of what you'd find at a barbecue joint.
44. Ham and Turkey Sloppy Joes – What's great about this recipe from Whole Foods is that you can substitute a little more turkey for the ham if you want to make your sloppy joes even leaner.
Seafood
45. Thai Coconut Fish Curry – Fantastic any time of year, Thai Coconut Fish Curry (via Noshing with the Noland's) always hits the spot. Creamy, spicy and filled with fresh fish and vegetables, this savory curry is lightened up and totally gluten free.
46. Salmon with Rice Pilaf – 365 Days of Slow Cooking provides this delicious recipe for those of you want to eat more fish. As a bonus, the recipe also contains advice on getting the right sized slow cooker for your family's needs.
Breakfast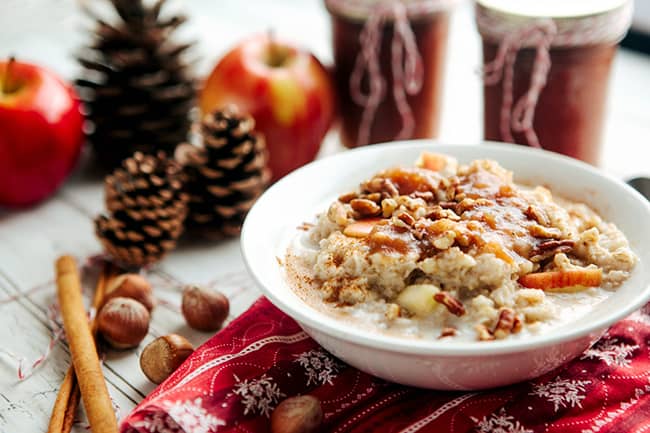 47. Overnight Apple Butter Oatmeal with Hazelnuts – Apple butter is a cinch to make in the Crock-Pot. Adding it overnight oatmeal makes it that much easier to wake up on a cold a winter morning.
48. Pumpkin Maple Overnight Oatmeal – Pumpkin puree and maple syrup will fill your home and belly with fall aromas and flavors thanks to Delish Knowledge.
49. Healthy Crock-Pot Breakfast Casserole – Who says the Crock-Pot is just for dinnertime? Healthy Crock-Pot Breakfast Casserole (via Apple of my Eye) proves our most important meal of the day can be made in the slow cooker, too. Veggie rich and perfect for feeding a crowd.
50. Egg, Spinach, Ham Breakfast Casserole – Most of us will have overnight guests at some point during the holiday season, and this dish from 365 Days of Slow Cooking can help you give your friends or family a hearty start to the day. This recipe uses Greek yogurt for extra richness, eliminating the need for cream.
3