You know we're a little obsessed with probiotics, and especially natural ways to get them in the system. This time of year when we're eating lots of rich food it's especially important to give your gut a little love. That's why we were so excited to try KeVita.
Why We Love KeVita
Their sparkling probiotic drinks are handcrafted with KeVita culture, organic fruit and whole plant extracts. They're made with pure ingredients, vegan, non-GMO, non-dairy, kosher and gluten free. And along with all the amazing health benefits, they taste amazing!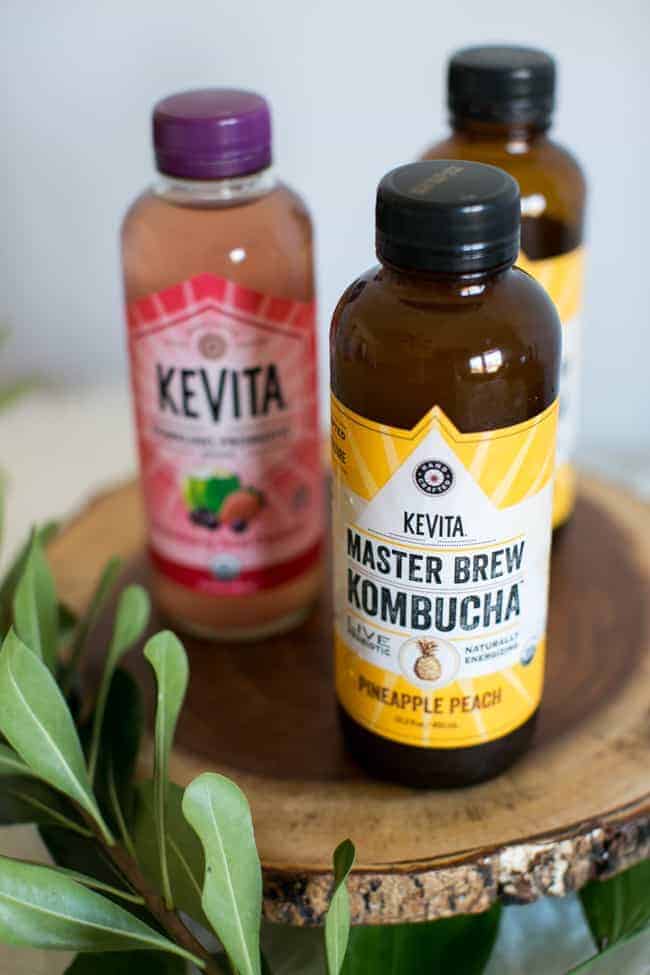 My favorite KeVita drinks are the Master Brews and the Sparkling Probiotic Drinks. For an afternoon pick-me-up, I like the Pineapple Peach Master Brew Kombucha. Slow brewed from green and black tea, the Master Brews are energizing and full of flavor with just a hint of sweetness (it contains no added sugar).
When the need to reset hits, the Lemon Cayenne Sparkling Probiotic Drink is perfect. KeVita Sparkling Probiotic Drinks are refreshingly effervescent with 4 billion CFU's of live probiotics in every bottle. Whoa. I particularly like the tongue-clarifying tartness of lemon combined with the system-cleansing spiciness of cayenne and the blast of probiotics.
And there are so many more yummy flavors! Mojita Lime Mint Coconut, Lemon Ginger, Strawberry Acai Coconut, Mango Coconut, Blueberry Cherry, and Hibiscus Berry to name a few. Now you're picturing yourself sipping KeVita, aren't you? Lucky for you, you can try some of these flavors for free!
Get social with KeVita
Instagram: @kevitadrinks
Facebook: https://www.facebook.com/KeVitaDrinks/
Twitter: @KeVitaDrinks
Pinterest: https://www.pinterest.com/KeVitaDrinks/
$50 KeVita Voucher Giveaway
We've partnered up with KeVita to give 1 reader 15 KeVita vouchers ($3.50 value each). Find a store near you here and enter below to win!
1
[gravityform id="113"]
Rules
Giveaway Ends: January 3, 2015
Number of Prizes Available: 1
Max Entries Per Day: 1

OFFICIAL RULES: No purchase or payment of any kind is necessary to enter or win this sweepstakes. By entering this promotion, entrants accept and agree to be bound by these official rules. Limit one daily entry per IP address. Entry open to anyone 18 years of age and over, US only. Giveaway ends at 11:59pm on January 3, 2015. Winner will be chosen at random from all eligible entries and will have 48 hours to respond to email notification. Giveaway is sponsored by KeVita; HelloGlow is not responsible for prize fulfillment.