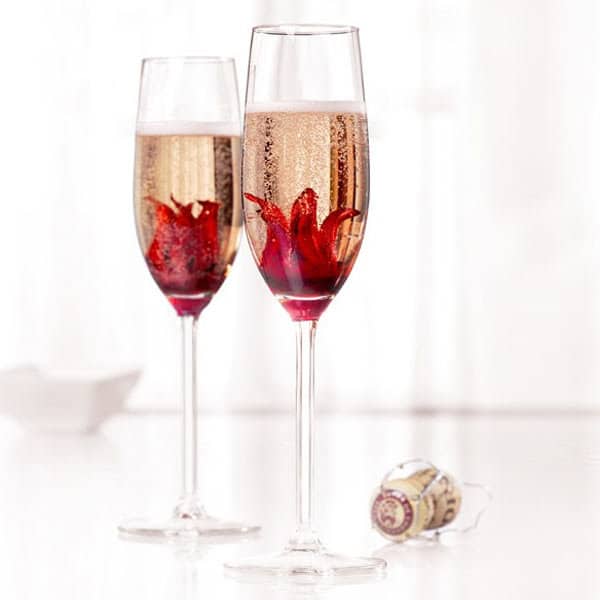 Wild Hibiscus Flower Co., based in Sydney, Australia, is a family-owned business that brings to market deliciously edible, 100% natural, Kosher and gluten-free hibiscus/floral products. All lines are produced with the utmost care to the environment, using thoughtful ecological farming and harvesting methods, and following fair trade practices. They actually invented Wild Hibiscus Flowers in Syrup, the popular gourmet specialty, back in 1998!
Wild Hibiscus Flower Co. Giveaway
The lucky winner of this giveaway will receive a package of edible goodies from Wild Hibiscus Flower Co. (valued at $55) that includes the following:
These deliciously edible candied flowers swim delicately in sparkling wine or water, and also lend themselves to a show-stopping cocktail and culinary garnish or topper. This is their signature product for a reason! 
A simple blend of pure dried-ground hibiscus flowers and delicate Australian pyramid salt flakes, this gourmet finishing salt crumbles easily between your fingers. Use to rim your gorgeous pink cocktail, as a cooking salt or in a salt grinder. The perfect pantry staple for someone who enjoys entertaining.
Add some magic to your mixology kit, with this trendy combination of floral extracts. These all natural (free of dyes, chemicals and GMOs) extracts add delicate floral fragrance and brilliant color to cocktails, mocktails, desserts and more.
This is what you have to do to enter:
Hello Glow received free product in order to write this review. Opinions are solely our own.
1