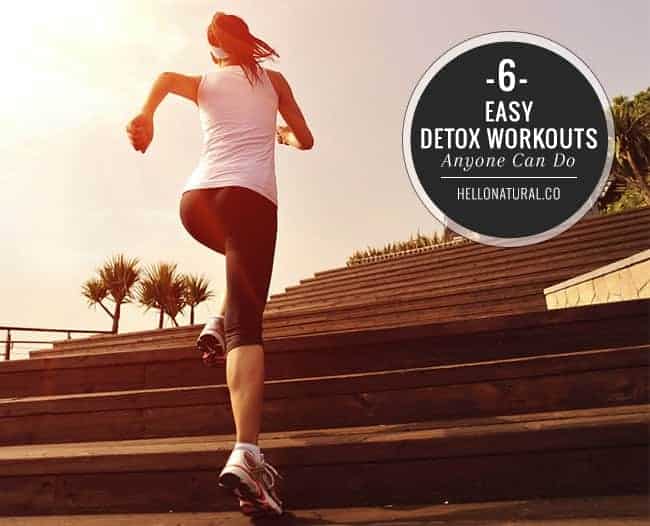 You might wonder if you should exercise while on a detox. Listening to your body is crucial while you're on any detox program, but getting in a good sweat actually helps the process, not harms. Not only does exercise stimulate lymphatic flow, blood circulation, respiration and promote sweating – it improves the function of kidneys, digestive tract, lungs and liver, all which help process and eliminate toxins released while cleansing.
The best workout routines to do on a cleanse are ones that get your heart rate up slightly, help you break a bit of a sweat, and/or aid your body in its repair efforts. You're probably taking in fewer calories than usual, plus introducing your bod to an entirely new way of functioning for a few days – so be kind and gentle. Your workout routine might not be as hardcore or intense as usual, but you'll reap the best results from your cleanse experience if you follow the less-is-more mantra.
Whether you're doing a full-on detox or or are just looking to ramp up your resolutions, these 6 workout routines primed for detoxification. Ready to get moving? Head over to The Chalkboard Magazine to get the best starter workouts for all of these detox-friendly exercise methods, and even more fabulous cleansing tips.
6 Easy Detox Workouts Anyone Can Do
1. YOGA
Whether you're warrioring it up or getting down with a grounded flow, many yoga poses are meant to give frequently used muscles some much-needed love, build strength in the smaller fibers that don't get enough love throughout the day, and twist, stretch, and soothe the body into a lean, mean, detoxing machine.
2. MEDITATION
Okay, so meditation might not be a physical workout per se – but it's definitely a mental one. Meditation gives your brain some much-needed exercise and your bod some necessary rejuvinating, allowing you to tap into your breath and ease everything from pent-up fear to that nagging anxiety which so often stands in the way of us and our goals.
3. FOAM ROLLING
Foam rolling releases the lymphatic fluid in your muscles, acting as a magnet to pull the toxins from your body. The benefits aren't just muscular, however – the connective tissue found woven throughout the entire body receives the benefits as well. Foam rolling releases tension in the tissue, promoting health and vitality of the fascia – mini fibers responsible for giving your muscles shape and tone.
4. REBOUNDING
Rebounding is our detox exercise de jour – all that low-impact bouncing up and down stimulates the lymphatic system, also improving circulation, cardiovascular health, even bone density and cellulite reduction. Best part? It's ridiculously fun.
5. LIGHT CARDIO
Aerobic exercise gets your heart pumping and lungs taking in the oxygen needed for all those detox processes to really ramp up – the trick is to stay at a heart rate and intensity that allows for swift recovery. Think a light walk or jog, cycling, hiking, elliptical, or quick interval routine.
6. DANCE
Don't own a rebounder but want to have a blast? Hate cardio equipment and routines but want to get your heart rate up? Simply pump up the jam. Dance, whether you're alone in your room or hitting up the nearest Zumba studio, is a top-notch form of low-impact cardio while you're on a cleanse. So many people thinks "detox" means severe – but getting a little dance into the day can remind you just how great it feels to do something good for your bod.
Even more detox tips:
Doable 3-Day Winter Detox with Recipes
10 Best Essential Oils for Detox
The Foolproof Way to Make a Detox Meal + 11 Detox-Friendly Dinners
7