This post brought to you by Vera Bradley. All opinions are 100% mine.
Today I'm sharing my favorite packing tips. Because after years of hauling 3 kids around for the holidays, I'd like to think I have packing down to a science. Travel is never easy, I'll admit, but here are my tips for making it more fun.
Tip #1: First, every gal needs a nice set of luggage. My parents gave me several pieces one Christmas while I was in college, and those bags went everywhere from Paris to Pakistan. It feels like an indulgence but having quality, sturdy luggage in a stylish pattern that puts a smile on your face is totally worth it. And you'll know it's yours when it comes off the plane!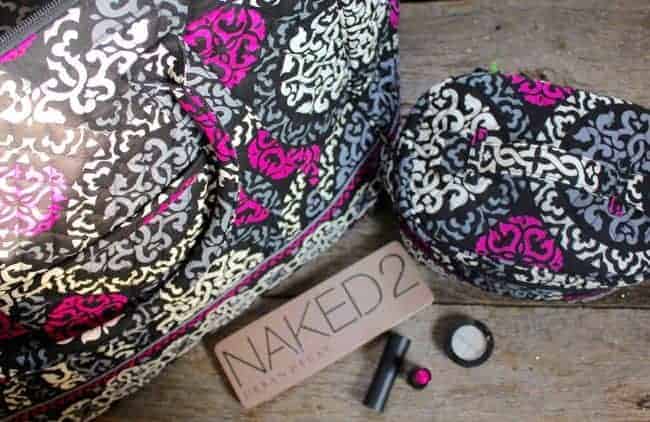 Tip #2: The other essential bag you need for travel? A really, really big carry all bag. Vera Bradley sent me their Frame Travel Bag in canterberry magenta, and it more than meets the 'big' requirement. Lots of pockets and the internal structure that help it hold its shape make it super packing friendly.
Good bags really do make a difference. For years my husband has used a hanging travel bag, and I've always wanted one for myself. Bless Vera Bradley's heart for sending me a hanging bag and a cosmetic bag too. I was thinking about giving them as gifts, but now I'm not sure I want to part with them – you can fit a ton of stuff in there!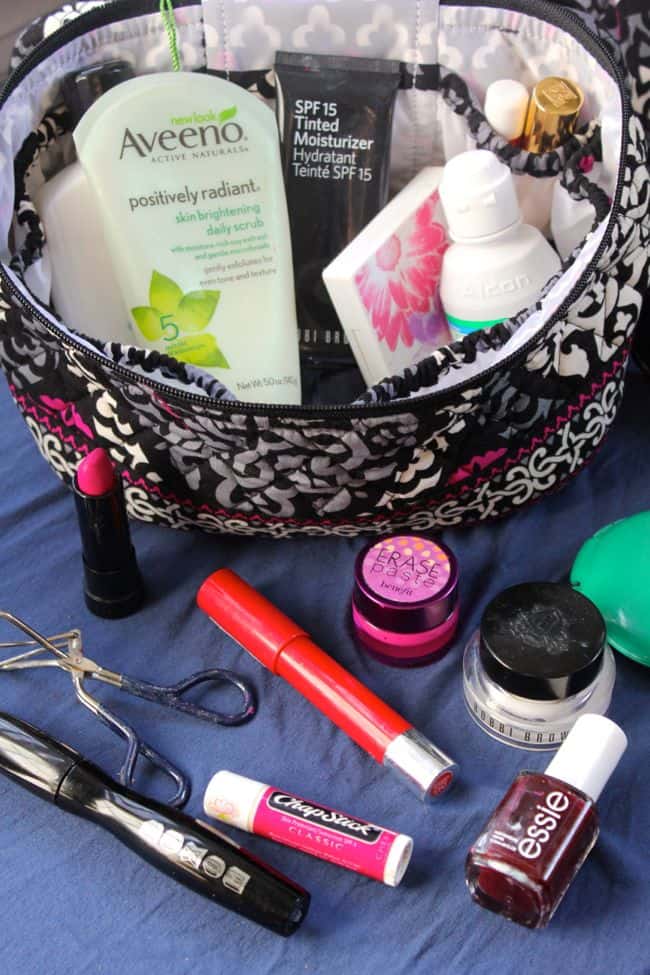 Here's a peak into my toiletries bag. I used to travel a ton for work, and a brilliant friend suggested I buy duplicates of the essentials (toothbrush, moisturizer, etc) to avoid packing and unpacking all the time. So tip #3 is to create a 'grab and go' travel bag. Now I never have to worry about forgetting something simple, like shampoo, because it's always ready to go. And I take advantage of any hotel stays to restock.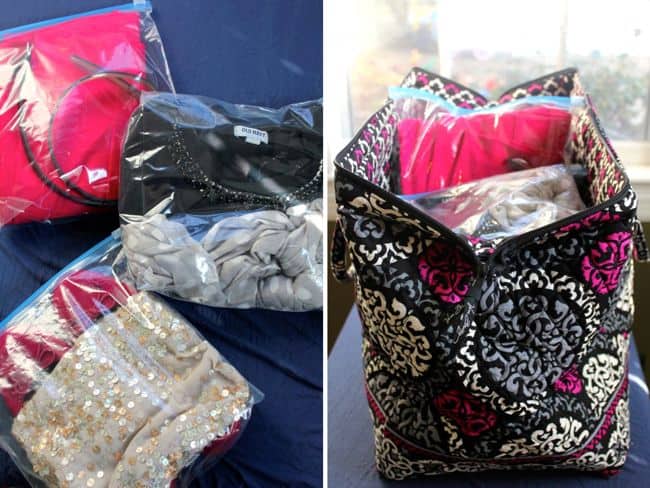 Tip #4 I just picked up from Giada's Feel Good Food, a cookbook of all places. Plan out in advance exactly what you're going to wear each day, for each occasion if necessary. Then pack each outfit in gallon-sized zip top bags. You can add accessories to the bags and little notes about which jewelry or shoes to wear.
Isn't this genius? It prevents you from overpacking, and your clothes stay protected! Press out all of the air in the bags to save even more space.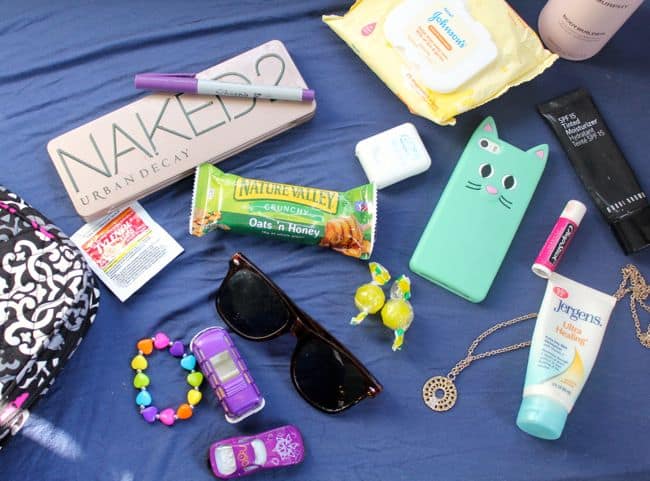 I'm also a big believer in planning ahead. So tip #5 is to think about the potential stressors (hungry kids or the headache I always get) and brainstorm ways to avoid the meltdowns. I always carry snacks, wipes, Tylenol, candy, a few toys and hand lotion in my purse.
For the kids, my husband is brilliant about downloading new apps or finding inexpensive toys before a trip. We entertained a cranky baby for at least 2 hours on a flight just by blowing up a balloon a little bit and letting the air out. Over and over and over.
And then just know that something can go wrong – and probably will. Don't let screaming kids on planes (sorry!) or traffic jams ruin the holidays. My final tip is to find small things that feel like a treat, like indulging in Starbucks if your plane is delayed or a new CD for the long ride. Magazines are my weakness, and I love to buy tons when I travel (another reason you need a big bag). And Mark and I always split a plate of nachos if there's time. Little things make a big difference, and you can arrive with a smile on your face.
Vera Bradley Giveaway
Do you need new travel bags? You're in luck! One reader will win a few pieces from the Vera Bradley winter collection. Enter via the Rafflecopter widget below!
Want to learn more about the Vera Bradley winter collection? Check out the Colorful Holiday Pinterest board or follow them on Twitter | Facebook | Pinterest | Instagram
0