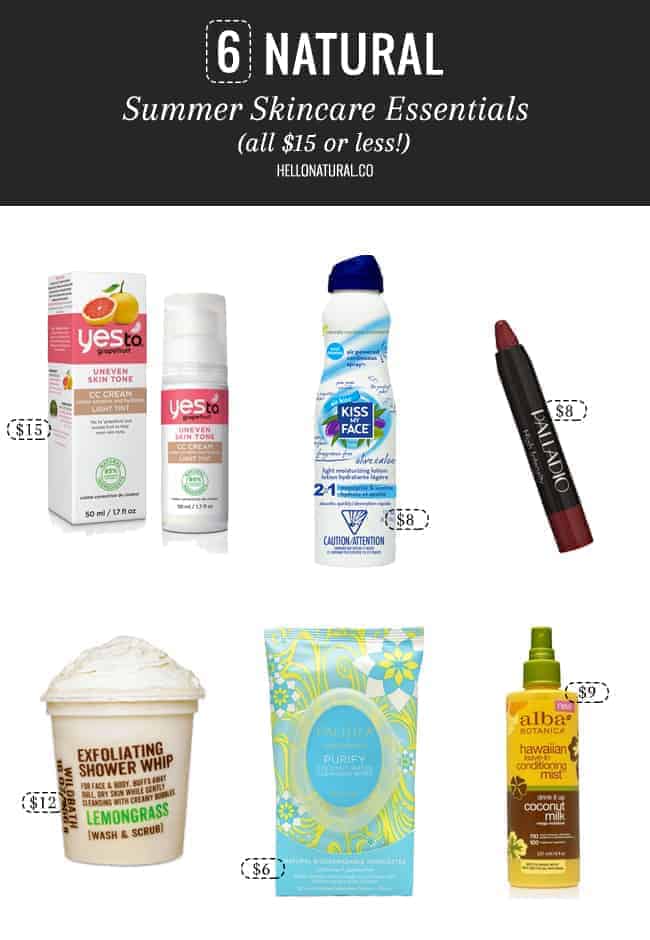 Embrace summer's arrival with natural summer skincare products that are as easy on your wallet as it is Mother Earth.
Wearing full-coverage foundation in the summer is as out of place as wearing a snowsuit in 80-degree weather. Don't do it! Lighten up and reap the benefits of natural-looking, color-correcting coverage with this award-winning, super-absorbent CC cream. Lightweight in nature and unbelievably blend-able, this paraben-, petroleum- and sodium laurel sulfite-free wonder provides SPF 18 to boot, making it a solid choice for active summer days.
Sure, we all know we should apply moisturizer directly after showering, but in the dog days of summer, slathering on a thick layer of anything sounds downright unappealing. Thankfully, Kiss my Face recently released a cure in the form of a feather-light, continuous moisture spray. The air-propelled one-touch, any-angle nozzle makes it easy to hit your hardest to reach but very exposed areas, meaning all your skin (yes, even the back of your thighs) gets the love it deserves.
For easy on-the-go touch-ups, balm sticks are the bomb—one swipe and you're good all afternoon, you don't even need a mirror! Palladio's breathable balm is enriched with shea butter, jojoba and olive oils, and packs a punch of pigment akin to long-wearing lipsticks. Pinky-nude Spicy Peach is a subtle choice for day, while darker shades like Bloomin Berry deliver on-trend '90s girl vibes.
Let's face it, summer's a grubby season. Powered by ultra-fine volcanic ash, Wildbath's bubbly whip of a wash polishes away even the most stubborn of smudges, dead skin, and debris gently, with no harsh detergents necessary. Coconut and shea butters act as natural conditioners and leave your skin feeling soft and supple.
While you're likely well acquainted with the on-the-go convenience cleansing wipes provide, what sets Pacifica's biodegradable iteration in a class of its own is its extremely gentle formula. With cooling aloe and soothing calendula, these cruelty-free, made in the U.S.A. wipes are suitable for any and all skin types, even sensitive and sun-kissed (i.e. burned). Keep a pack in the fridge for the ultimate hot-weather complexion cooler.
I'm a big fan of Alba's Hawaiian line products (have been for many years), and their new lightweight leave-in does NOT disappoint. Packed with protein-rich coconut milk, nourishing argan oil, and plant-sourced keratin (a rarity in hair care), this mist protects hair from the ravage, drying effects of the sun, surf and chlorine, making it a no-brainer addition to your beach bag.
1