We all know that "green" is the way to go these days. Electric cars, solar panels, reusable grocery bags, and so on are popping up all over the place. But what about our makeup bags and beauty routines? How do we know what's bad for our bodies and for the planet? I wish I could go around every day with not a drop of makeup on and look perfect, but when I do that, I get that "you look tired" reaction. Thank you, I'm actually thriving after 8 hours of sleep, but just didn't feel like putting on makeup today.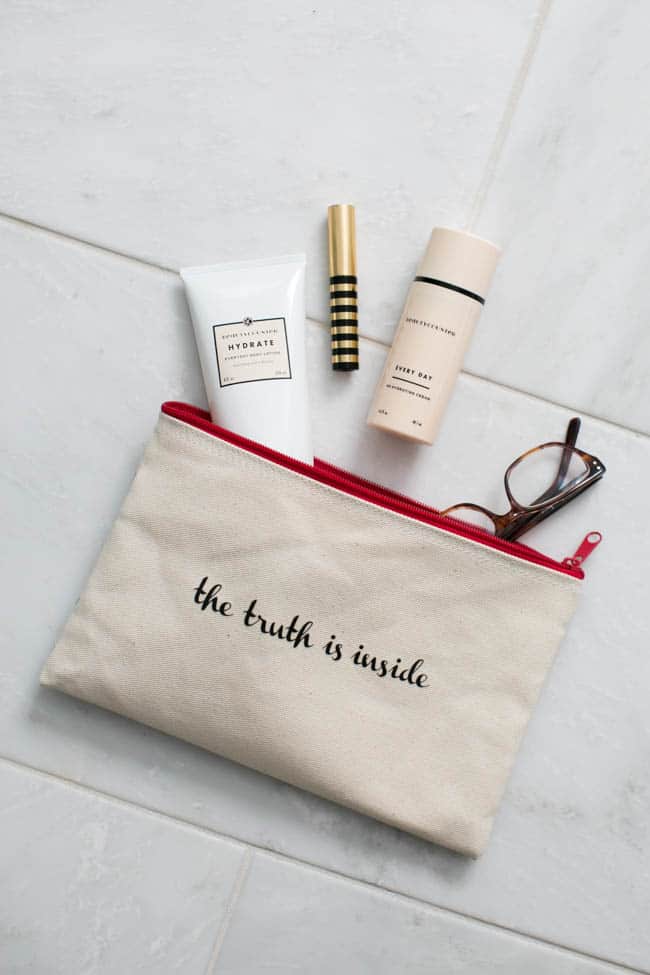 So, despite my need for at least a little powder and mascara, I try to focus on buying products I feel good about. There's so much that goes into creating the products we use. It's not just the chemicals in our lipsticks and it goes beyond just checking labels for parabens. What about how the products are made and the science behind the chemicals? These are things that we should think about when we're browsing through the aisles at the drug store or department store. And, it's not hard once you know what to look for and avoid.
We're always hearing works like "natural," "organic," and "pure," but let's get down to basics. Here are some simple ways to look at what's in your makeup bag and what shouldn't be, with some tips and awesome natural alternatives.
1. Look at how many products you're using
Do you really need a dozen eyeshadows? We're certainly not saying you don't need your beloved eye color, but remember, the more products in your makeup bag, the more toxic chemicals you have on hand. Some of your cosmetics may even have the same chemicals, making those chemicals do double duty on your face.
Eyeshadow to try: RMS Cream Eyeshadow | Dr. Hauschka Eye Palette | Lauren Brooke Eyeshadow Duos
2. Replace items when they run out
Even though we're talking about going green with our makeup, it doesn't mean that you need to immediately toss out your whole bag. Wasting your makeup is the opposite of being conservative. Next time you run out of your favorite mascara or blush, take the time to find the right product that fits your green needs. Take it slow.
Mascara to try: W3LL PEOPLE mascara | Physicians Formula Organic Wear | Eco Bella FlowerColor Mascara
3. Tackle your lip products first
Lipsticks, lip glosses, and balms are especially known for their toxic chemicals. And, guess what? Those products are closest to your mouth, meaning chemicals have easy access directly into your body. Watch out for popular chemicals in lip products like parabens, synthetic colors and dyes (the colors with numbers following), butylated hydroxytoluene, fragrances, and petroleum.
Lipstick to try: RMS Illusive | Burt's Bees Lipstick
4. Consider what you cover your face in
Many of us use some kind of foundation on our faces when applying makeup, whether with powder or a liquid. It's the base for everything else — mascara, bronzer, blush, and so on. It covers the largest surface area, making examining the ingredients in those products even more important. Again, watch out for parabens, but that's not all. Check for 1,4-dioxane, ingredients with the letters "eth" (e.g., polyethylene glycol), ingredients ending in "-siloxane" or "-methicone," diethanolamine, butylated hydroxyanisole, and butylated hydroxytoluene.
Foundation to try: Bare Minerals BareSkin | Andalou Naturals Color + Correct | Juice Beauty Foundation | BeautyCounter Concealer Pen
5. Research the chemicals in your bag
We're not all scientists, and with such long chemical names, it's tricky to understand what's ok and what's not. Here's our list of the biggest skincare and makeup ingredients to avoid. And there are many websites that examine the chemicals in cosmetics and let us know what products contain. Next time you're looking for a new product, check out sources like the Environmental Working Group's Skin Deep Cosmetic Database to help you make smart decisions.
6. Try samples of new products
We all know that giving up our favorite products and trying new things can be difficult. That's where samples come in! There are plenty of stores that will let you try samples before buying the whole product. You may just find something you like more than your previous product!
Ready to start shopping? Here are our favorite natural makeup brands with glowing reviews!
7