What if you didn't have to think about breakfast for a whole week? Sounds pretty heavenly, huh? Well, it's a lot easier than you think. Smoothies are one of the quickest breakfasts out there, but it can be daunting to invent one (or look up a recipe, only to find you don't have all the ingredients) every day. Use this plan to not only map out an entire week's worth of smoothies, but also do a beginning-of-the-week shopping trip that will ensure you have everything you need for 7 days.
7 Days of Healthy Smoothies for Breakfast
Many of the smoothies have overlapping ingredients so the shopping list isn't miles long, but they're varied enough that you'll get a variety of nutrients and flavors throughout the week. Before you get started, check out some smoothie hacks to make things even easier, as well as our guide to smoothie add-ins, and a how-to on making a month's worth of green smoothies. Each recipe shown here makes 1 smoothie (some have been adapted from the original recipes to make just 1—keep that in mind if you click through to the original smoothie posts). You may also want to pick up some extra add-ins—like avocados, your favorite protein powder and extra chia seeds or nuts. Those are all listed under "optional" on the shopping list. Happy blending!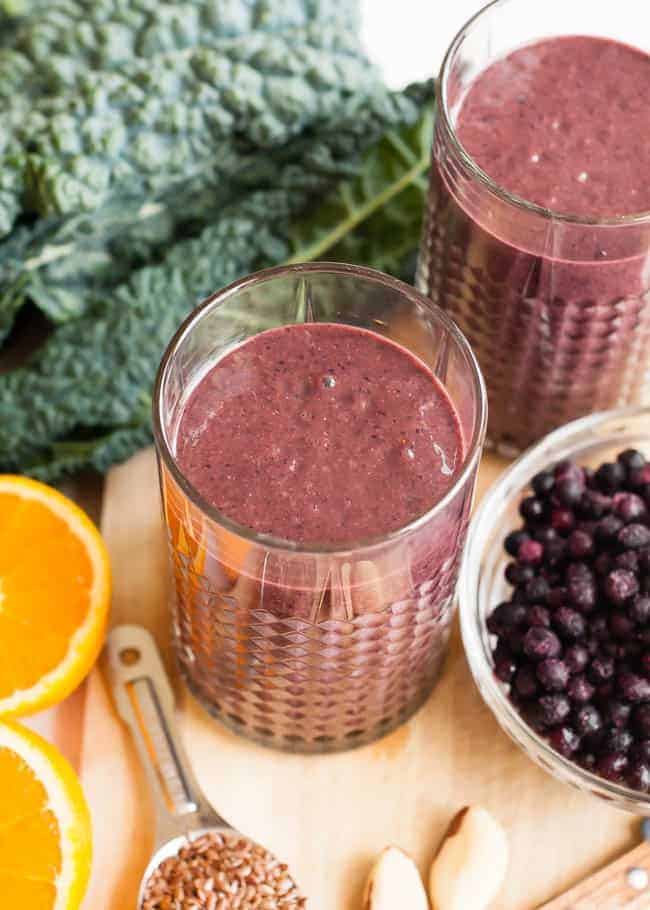 This fruity smoothie has a few greens to provide fiber, vitamins and minerals. The coconut water will keep you hydrated, and the orange and blueberries contain lots of antioxidants that are great for your skin. You can skip the Brazil nut if you want, but it adds selenium, which protects cells and boosts your immune system.
3/4 cup cold coconut water
1 cup (lightly packed) kale, roughly chopped
1 cup frozen blueberries
1/4 orange, peeled
1/2 tablespoon flax seeds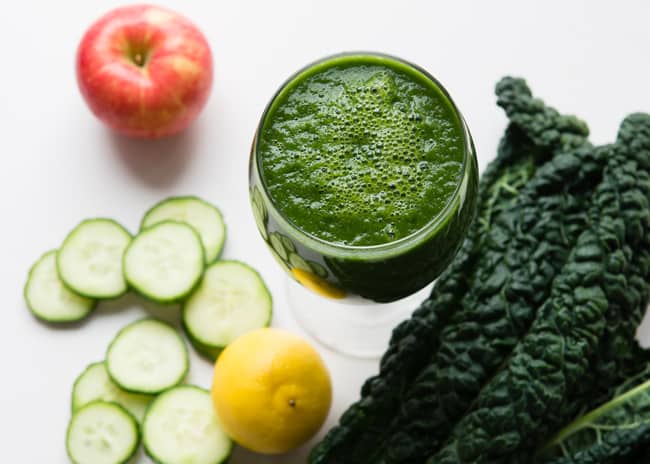 This veggie smoothie has a refreshing, clean taste, and is high in water content and fiber. Lemon helps you detox and balance your pH and blood sugar levels—super important in the morning! If you like your morning smoothie a little sweeter or thicker, feel free to add more apple, ice or plain kefir. Using seedless cucumbers makes it less bitter, too. If you have a high speed blender, leave the kale stems on. Otherwise, remove the leaves from the stem and chop them before blending.
1/4 seedless cucumber
1 apple, cored and sliced
1 cup (lightly packed) kale, roughly chopped
1/2 large lemon (juiced)
1/2 cup water or non-dairy milk or kefir
Ice, if desired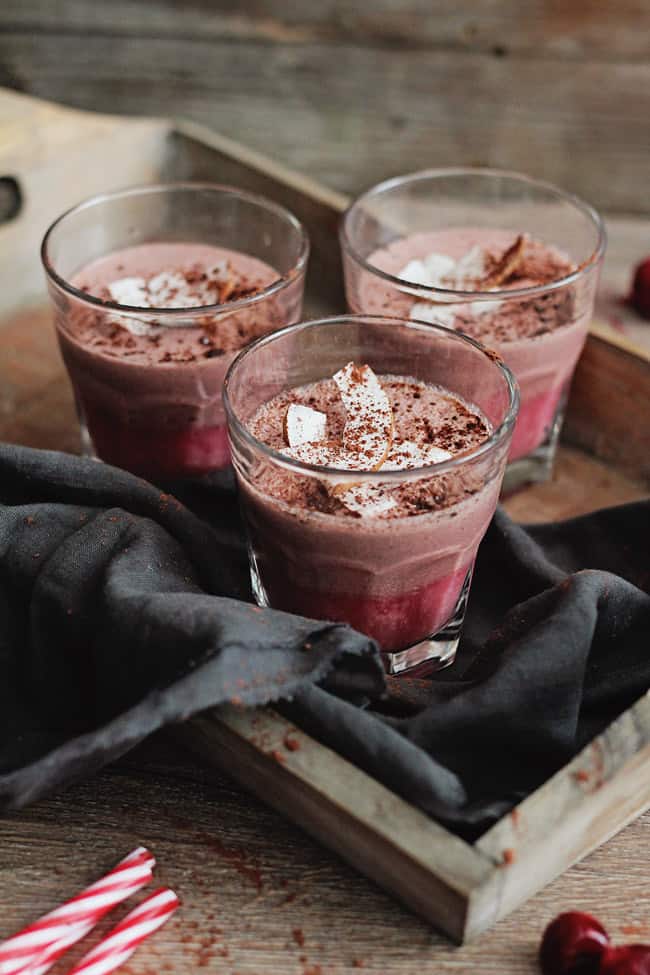 Okay, it's day 3. You've had plenty of kale, and you've earned some chocolate. This decadent, dessert-like smoothie has spinach, parsley, antioxidant-rich cherries and beauty-boosting cinnamon.
1/2 cup frozen cherries
1 cup water or non-dairy milk
1/2 cup spinach
small handful parsley
1 teaspoon unsweetened cocoa powder (or cacao)
1/2 teaspoon cinnamon
1 teaspoon honey or 1-2 drops liquid stevia (optional)
1 tablespoon unsweetened shredded coconut (optional topping)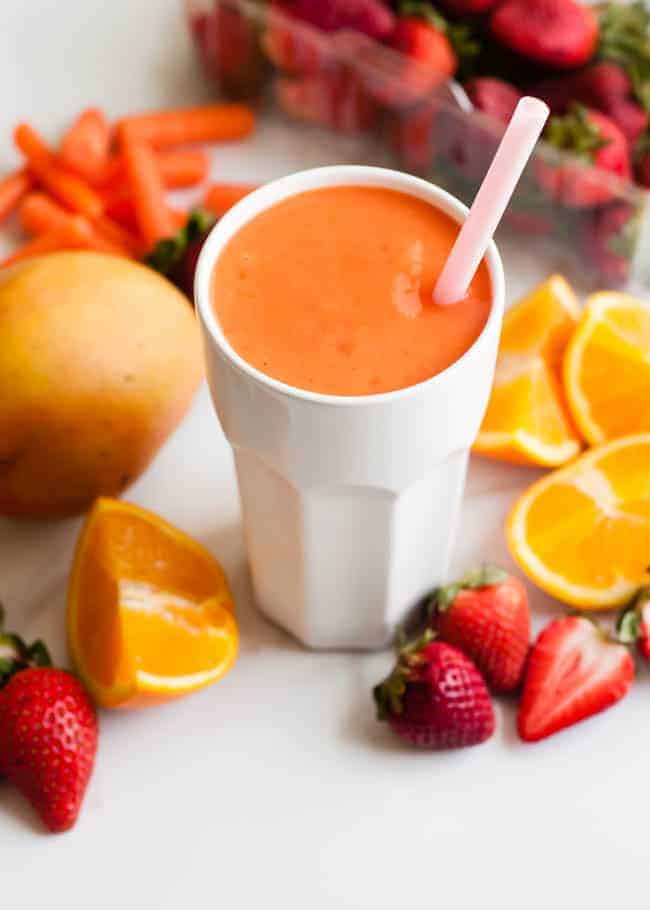 This smoothie is on the sweeter side, but still packs in antioxidant-rich carrots and hydrating, mineral-rich coconut water. Feel free to sub in another berry type, or to play around with the strawberry-mango ratio. You can use fresh fruit, however using frozen adds thickness and cools it down without having to add ice.
1/2 cup coconut water, chilled
1/2 cup frozen strawberries
1/2 cup baby carrots or washed, peeled carrots, chopped
1/2 cup fresh or frozen mango chunks
1/2 navel orange, peeled
This pumpkin pie smoothie is creamy and filling, and boasts plenty of healthy add-ins like pumpkin seeds, coconut oil and raw honey. The hemp seeds will add a complete protein—very important, especially if you're vegetarian or vegan. If you love this smoothie, stock up on canned pumpkin whenever it goes on sale!
1/2 cup pumpkin puree
1/4 teaspoon grated ginger
1 tablespoon raw pumpkin seeds
1/2 tablespoon hemp seeds
1/2 teaspoon coconut oil
1/4 teaspoon cinnamon
1/4 teaspoon nutmeg
1/2 tablespoon organic raw honey
1/2 cup water (you could use non-dairy milk or apple cider instead)
1 small piece of chocolate, grated for garnish (optional)
1/2 teaspoon bee pollen granules for garnish (optional)
Note: blend the hemp seeds, pumpkin seeds and liquid in blender before adding other ingredients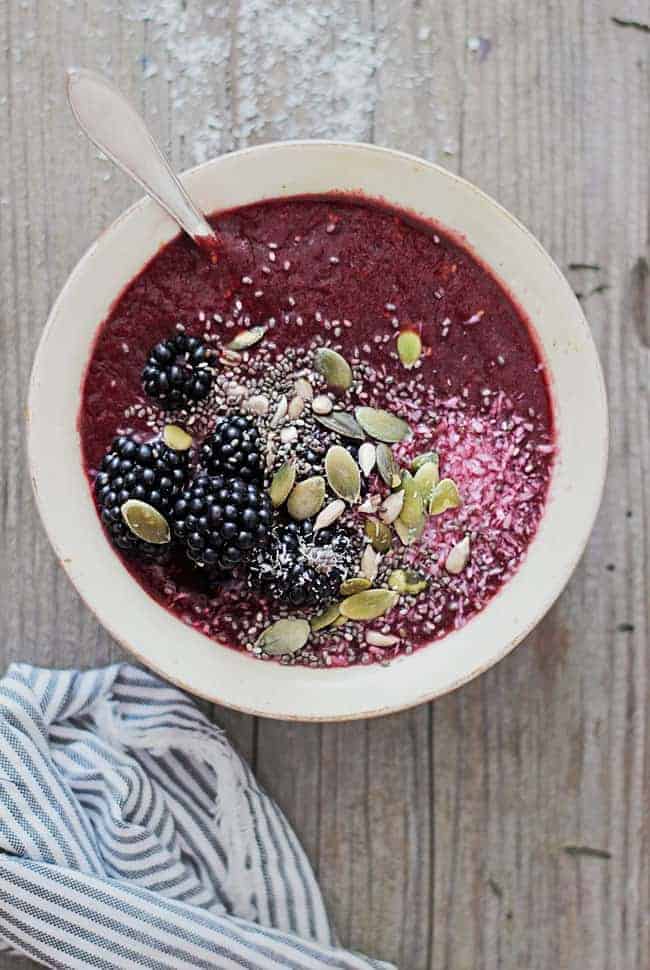 This creamy coconut smoothie recipe was created as a smoothie bowl, but it also works as a drink. The chia seeds add fiber and omega-3s, while pumpkin seeds and spinach will help fill you up. Sub in whatever berries you have on hand if you can't find blackberries. If you like it thicker, use coconut-milk yogurt instead of coconut milk.
1/2 cup frozen blackberries (use more if you want to make a smoothie bowl)
1/2 ripe banana, frozen
1/8 cup coconut flakes, unsweetened
1 cup coconut milk or other non-dairy milk (use less if you want to make a smoothie bowl)
1 teaspoon chia seeds
1 teaspoon raw pumpkin seeds
1/4 to 1/2 cup fresh spinach
Note: You can leave out a few berries, the coconut flakes and seeds as a garnish if you like.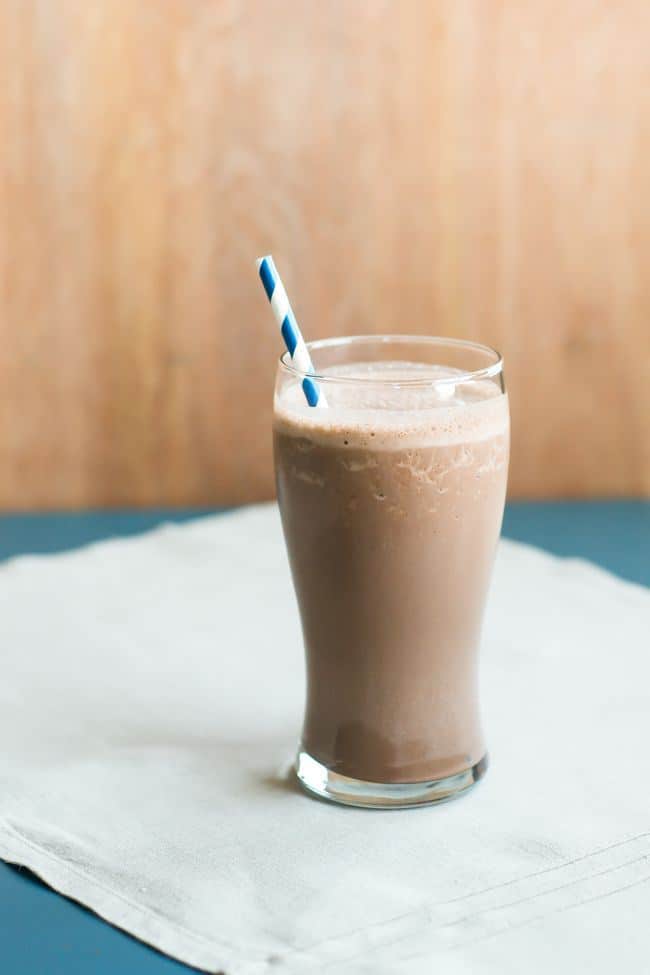 Celebrate your week of healthy smoothies with this smoothie that tastes like a coffee drink. It's super satisfying thanks to cocoa powder, protein-packed almond butter and a creamy base. If you don't drink coffee, sub in more almond milk. Using more almond butter or a frozen banana will thicken it up nicely, but you can use fresh banana if you want.
1 ripe banana, frozen
½ cup coffee, cooled (great way to use up leftovers)
½ cup unsweetened almond milk (or another non-dairy milk)
1 tablespoon unsweetened cocoa powder
1 tablespoon almond butter
7 Days of Healthy Smoothies Shopping List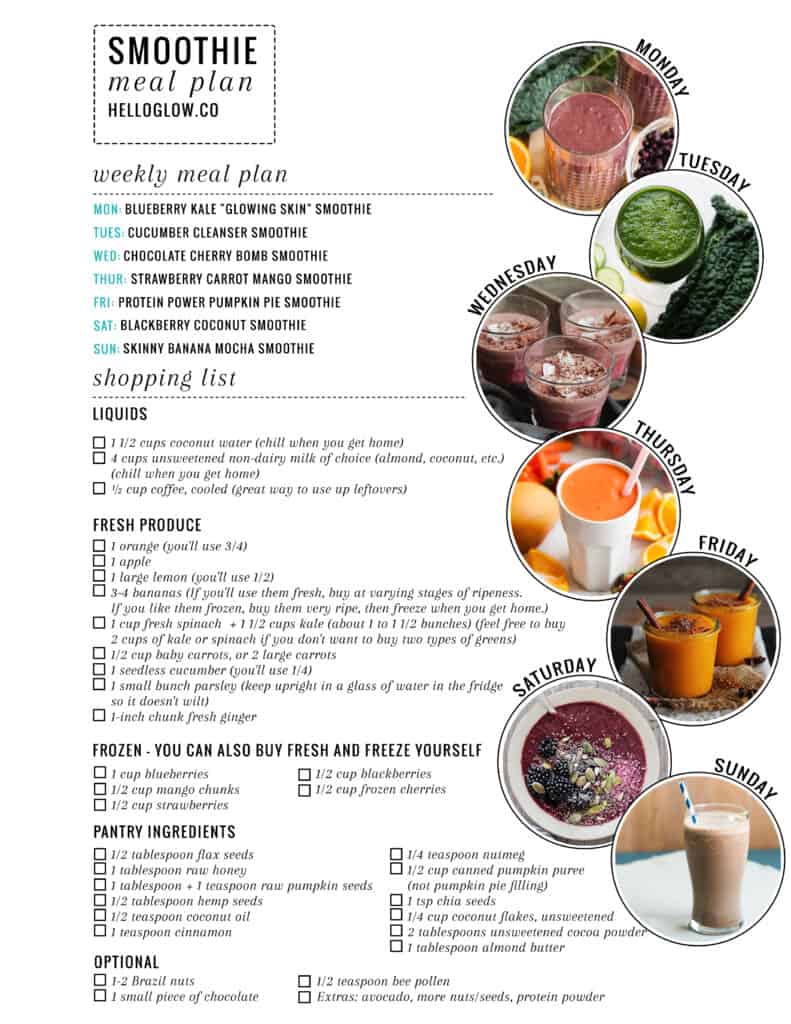 77