Although we're spending so much of our lives online and sourcing so much information from websites, it's great to peruse a physical object such as a book every once in a while. We actually love trying recipes from books, whether it's food or beauty recipes. And today it's beauty!
If you've ever wondered what inspires us, these are our favorite natural beauty books to keep on the nightstand or coffee table. And while we're on the subject, don't miss our books, Hello Glow and Essential Glow—as well as our newest book, Hello Gorgeous!
Our Favorite Natural Beauty Books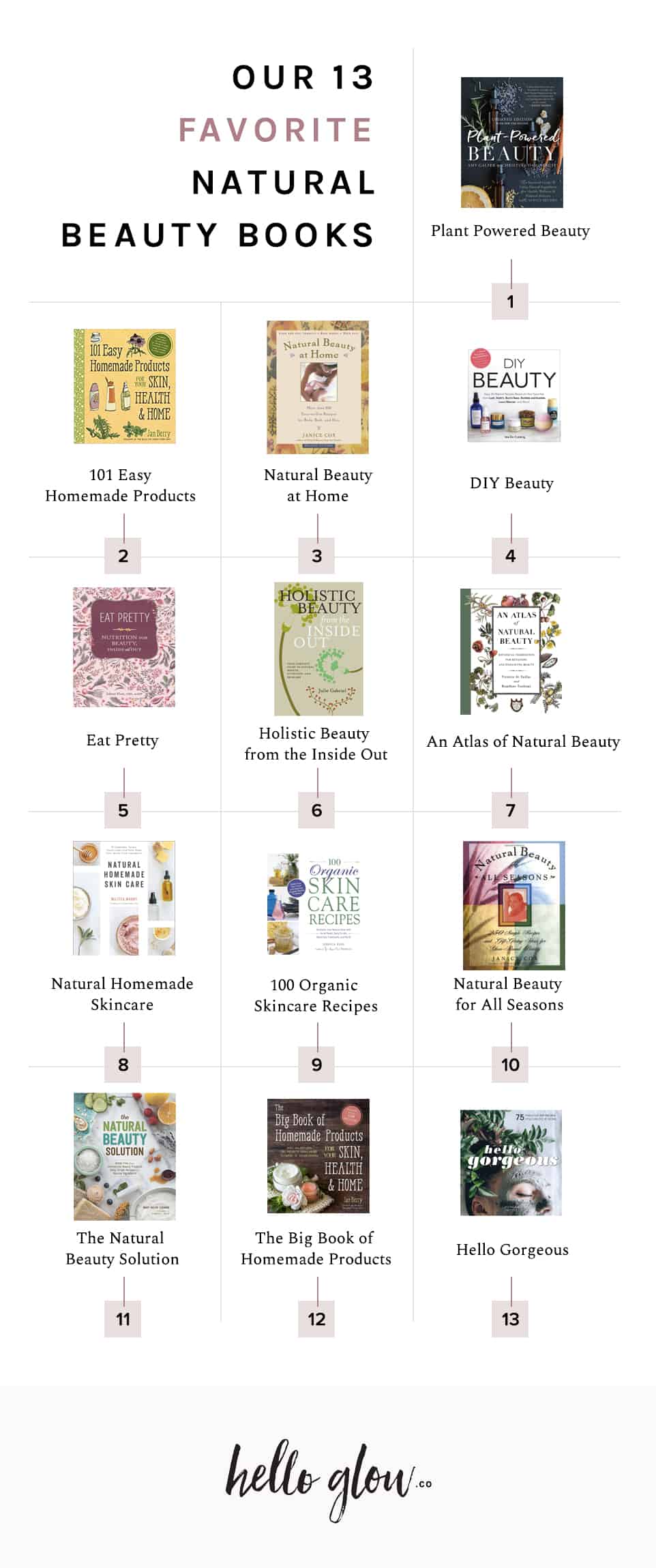 1. Plant-Powered Beauty: The Essential Guide to Using Natural Ingredients for Health, Wellness, and Personal Skincare (with 50-plus Recipes)
The starting point of this book is that healthy skincare should be plant based, just like a healthy diet. Natural beauty experts Amy Galper and Christina Daigneault not only share their tried and true recipes, but also give readers the tools they need to understand beauty product labels and make informed choices.
We've been fans of Jan Berry's books for a while now, and this one doesn't disappoint. The book promises and delivers simple, versatile recipes for healthy skin, hair, and home.
3. Natural Beauty at Home: More Than 250 Easy-to-Use Recipes for Body, Bath, and Hair
One of the reasons many of us start gravitating toward homemade beauty is cutting costs. While spending a lot on a face cream may seem like a treat for a moment, it's actually not that convenient in the long run. Janice Cox's book is a collection of more than 250 easy, affordable recipes you can make at home, some passed down for generations.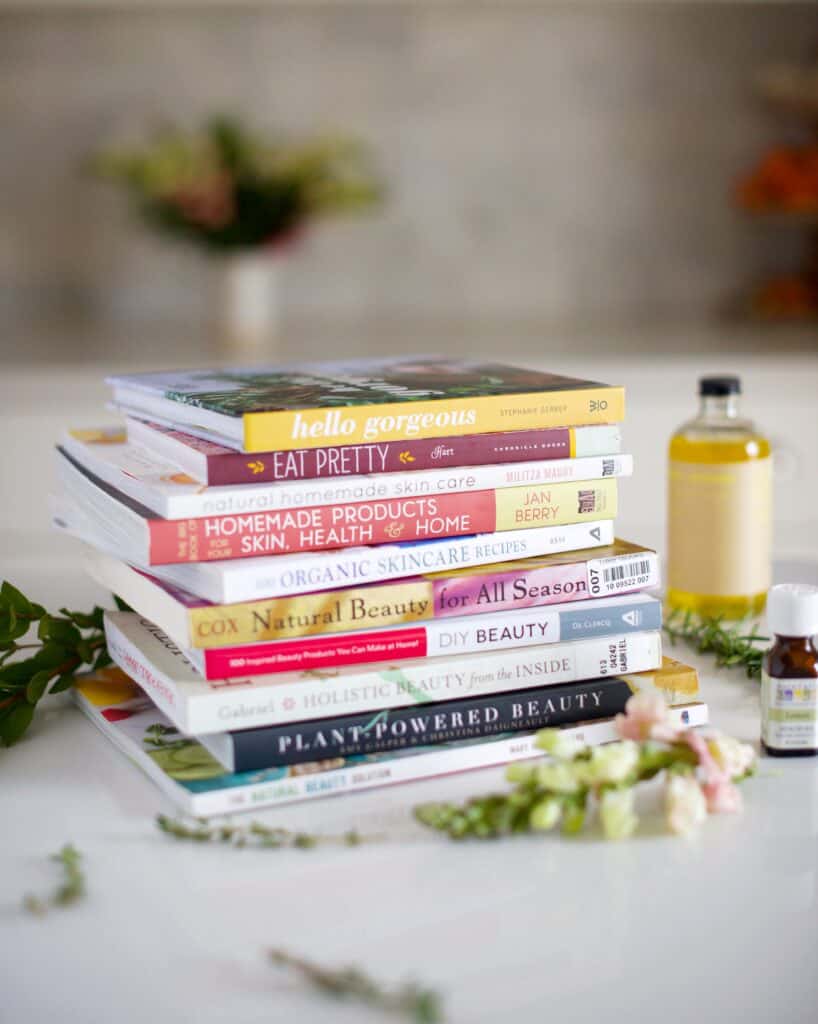 4. DIY Beauty: Easy, All-Natural Recipes Based on Your Favorites from Lush, Kiehl's, Burt's Bees, Bumble and bumble, Laura Mercier, and More!
Copycat beauty recipes are our soft spot! This book by Ina De Clercq is our favorite source for affordable products from Lush, Sephora or The Body Shop—all homemade with ingredients you can 100% trust!
5. Eat Pretty: Nutrition for Beauty, Inside and Out
Don't worry, this title doesn't refer to a book of good manners. Jolene Hart's book is a wonderful guide to nutrition for beauty, including a user-friendly program for gorgeous looks that last a lifetime. Charts, lists and recipes are all part of the book, helping you navigate the (sometimes confusing) world of antioxidants and omega 3s.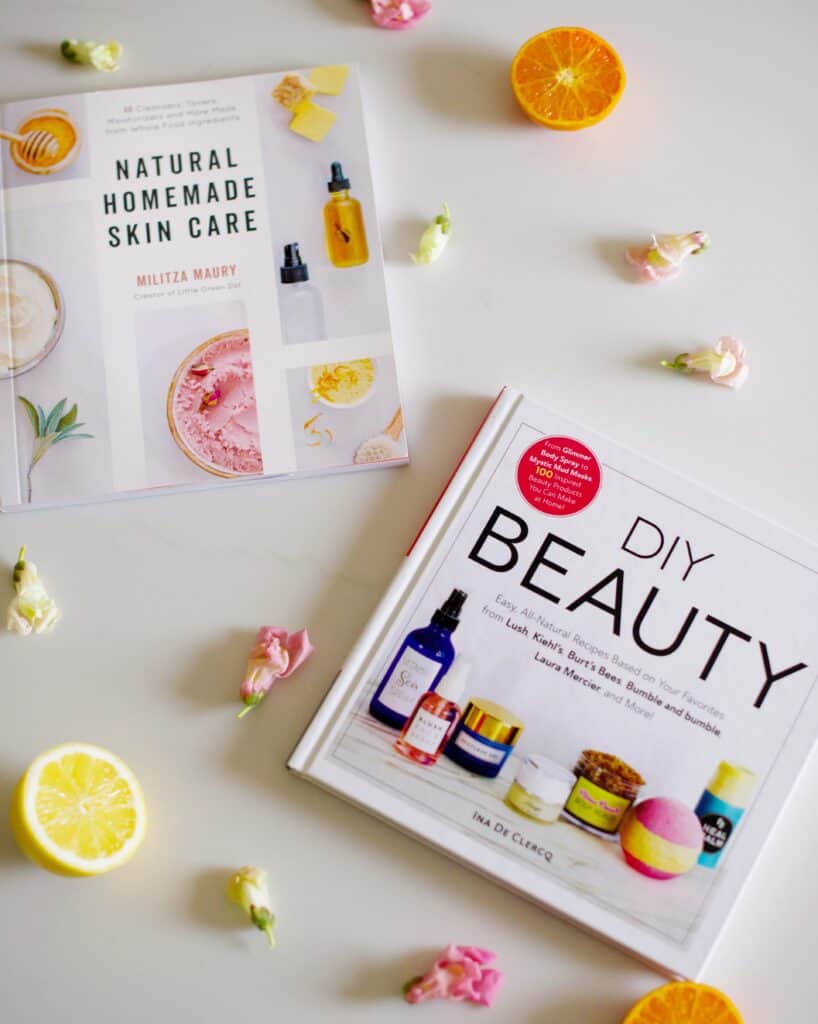 This informative guide by Julie Gabriele covers the four pillars of natural beauty: natural skincare, holistic nutrition, stress relief, and healthy lifestyle. Following the principle "eat yourself beautiful," the book is essential for those looking not just for quick results, but for a life-changing approach.
7. An Atlas of Natural Beauty: Botanical Ingredients for Retaining and Enhancing Beauty
This beautifully illustrated book shares the secrets of French beauty in a whole new way. The guide is packed with simple recipes and methods that will help anyone retain and enhance their natural beauty.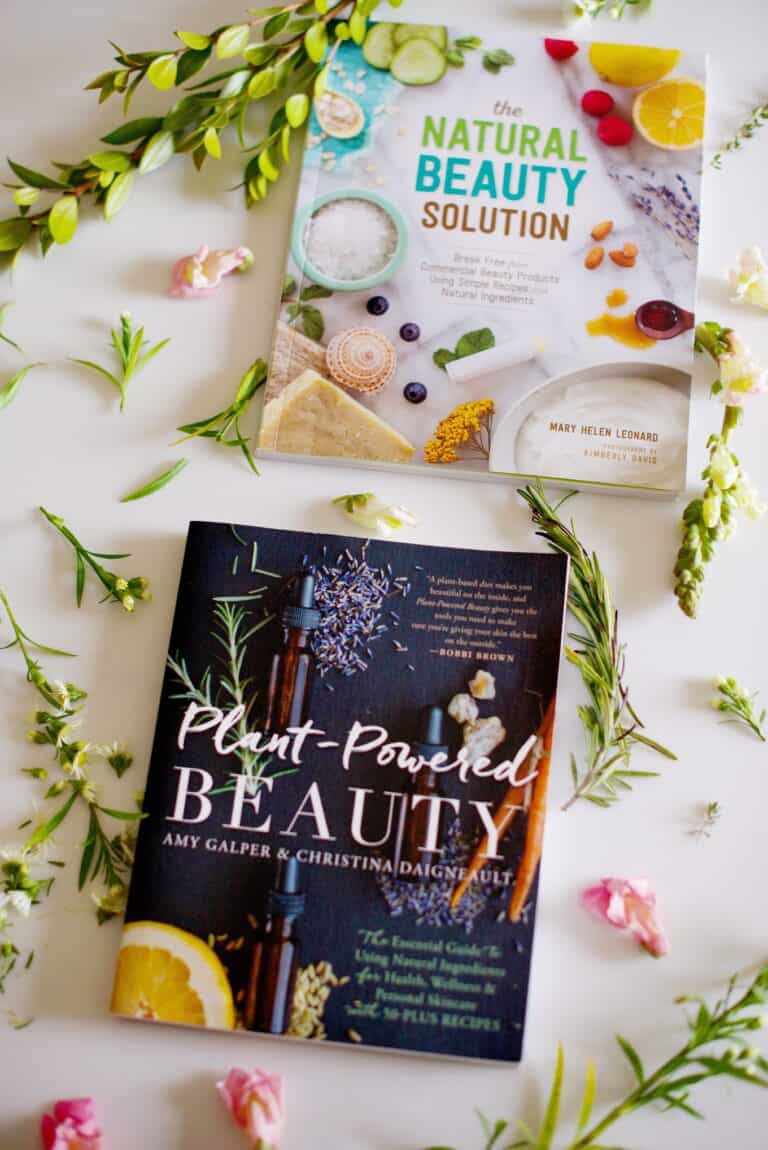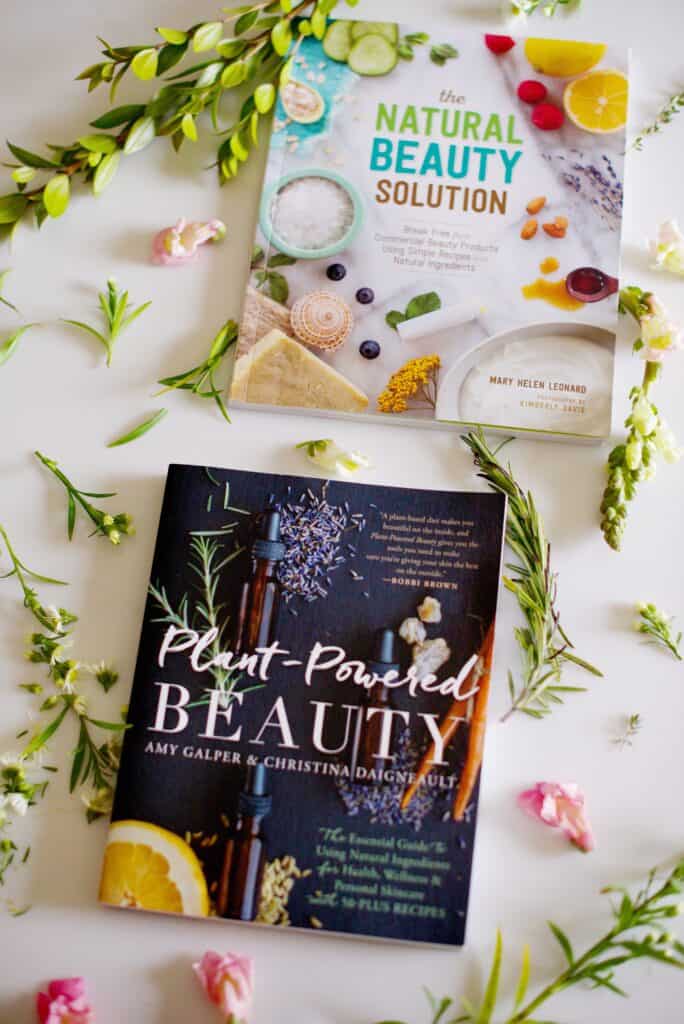 8. Natural Homemade Skincare: 60 Cleansers, Toners, Moisturizers and More Made from Whole Food Ingredients
This book by herbalist Militza Maury offers recipes for everything you need to create a daily skincare routine focused on natural ingredients. Once you've got your daily routine down to a science, you'll find lots of recipes for masks, scrubs and many more ways you can treat yourself at home.
9. 100 Organic Skincare Recipes: Make Your Own Fresh and Fabulous Organic Beauty Products
The all-natural skincare recipes Jessica Ress concocted for this book are a dream for anyone obsessed with skincare and home spa products designed to delight your senses. Her recipes, which include everything from a Fizzy Mojito Foot Spa to Ginger Citrus Body Wash and Chocolate Lip Scrub, sound good enough to eat, but we managed to avoid the temptation and bask in the skin benefits instead.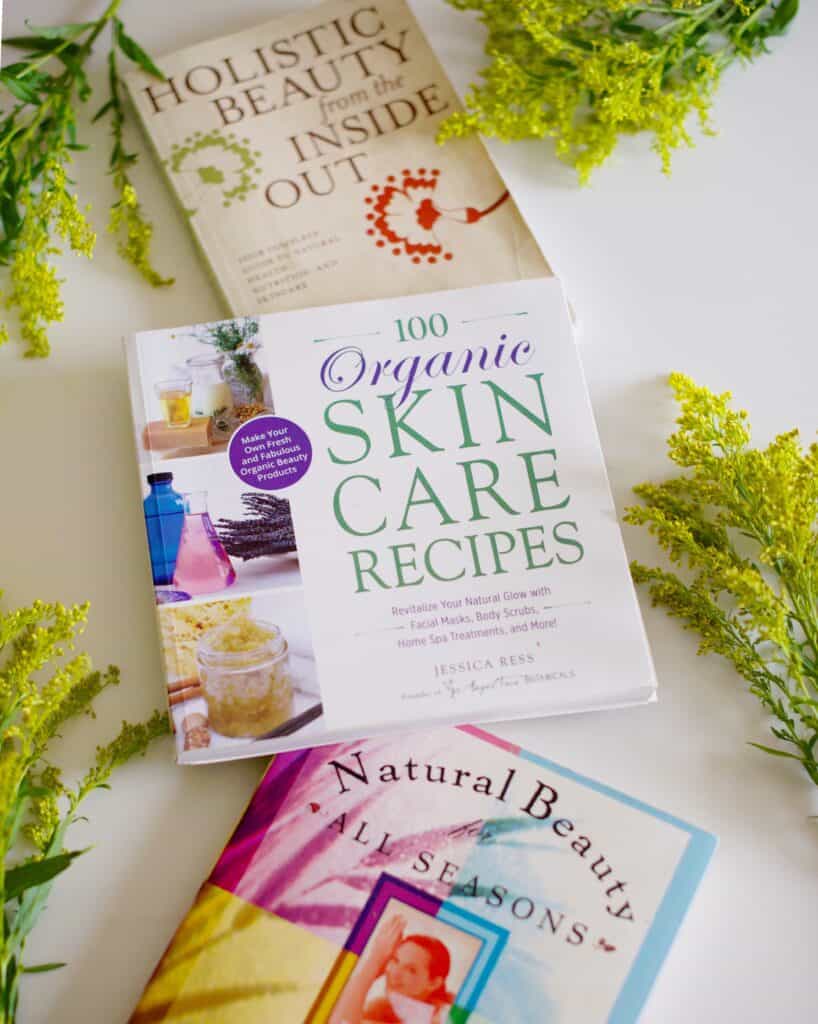 10. Natural Beauty for All Seasons: More Than 250 Simple Recipes and Gift-Giving Ideas for Year-Round Beauty
This book is a must-have for anyone who loves shopping for (and enjoying!) the freshest seasonal fare. These recipes by Janice Cox focus on the availability of ingredients throughout the year—a great idea for those of us working to mindfully appreciate and celebrate each season for its unique bounty and to integrate those seasonal items into our beauty routines.
11. The Natural Beauty Solution: Break Free from Commercial Beauty Products Using Simple Recipes and Natural Ingredients
If you're new to the world of handmade and natural beauty but are ready to break up with commercial beauty products laden with chemicals, this is a great guide to follow. Author Mary Helen Leonard leads you step by step through the process of replacing store-bought products with a quick and affordable natural routine designed for your specific skin and hair type.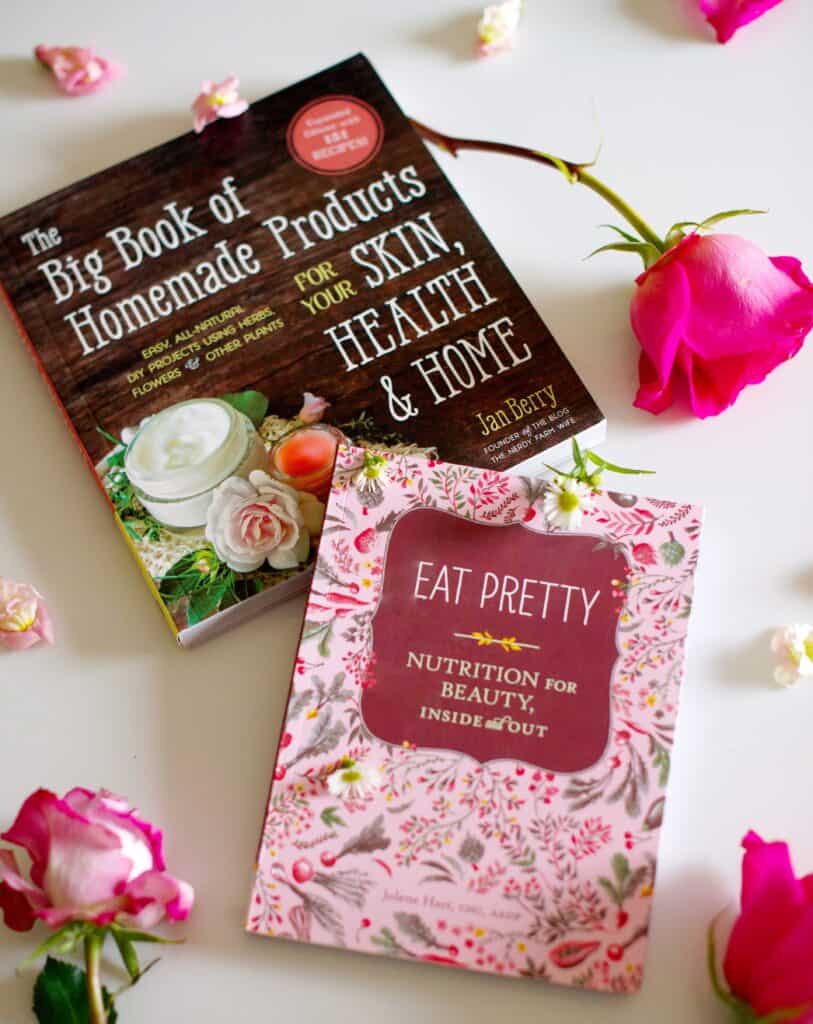 This book, which is a follow up to Jan Berry's 101 Easy Homemade Products for Your Skin, Health & Home (that also made this list), is a worthy investment for those who enjoy Berry's approachable take on all-natural beauty recipes.
If you already own the first book, there is still plenty to be gleaned from this updated version, which offers 50 new recipes. Some of our favorites include the Sleepy Time Bath Bombs and Wildflower Shower Scrub Bars, which are not to be missed.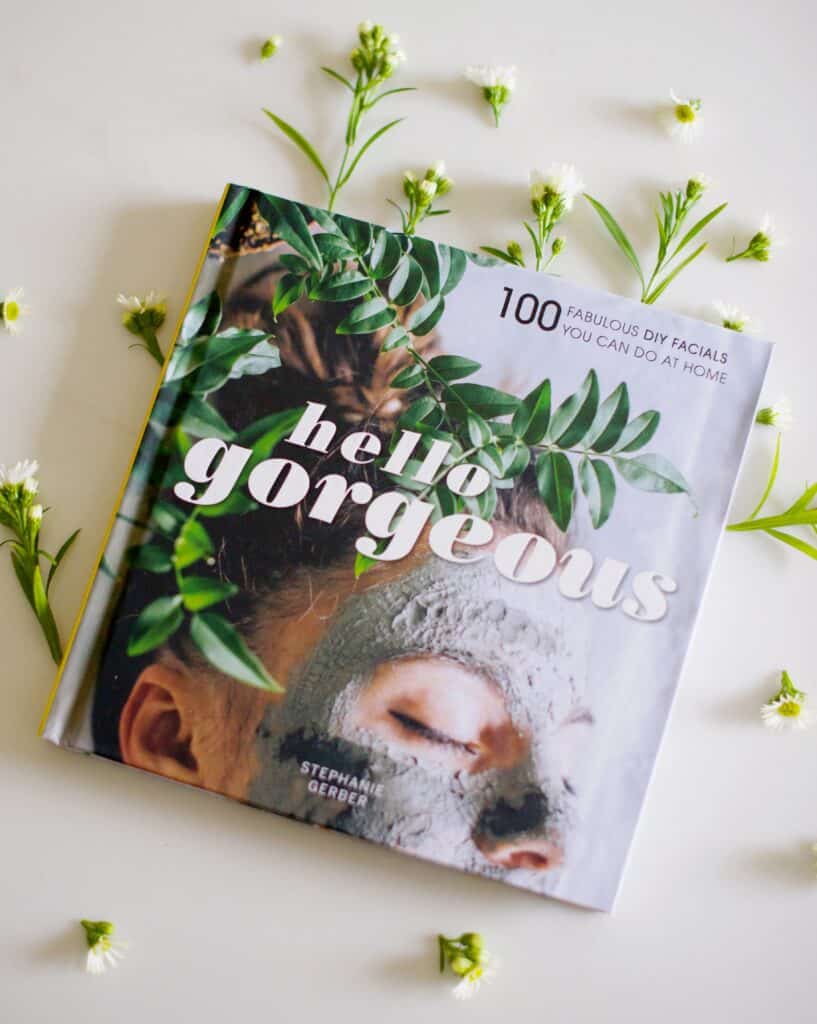 13. Hello Gorgeous: 100 Fabulous DIY Facials You Can Do At Home
Last but certainly not least is our newest release, in which we bring the spa treatment to your bedroom (or bathtub or living room) with our favorite tried-and-true DIY facial recipes.
Whether you're into exfoliating scrubs or rejuvenating face masks, we're pretty sure there's something for everyone—and every skin type—in this ode to one of our favorite ways to nourish our skin (and ourselves!), our beloved facials.
Looking to further stock your home library? Check out our favorite natural living books.
36