You know that feeling, that run-down, achy feeling when a cold is coming on. Sometimes there's no avoiding the inevitable, but I'm all for fighting back (or at least feeling better faster).
Peak flu season is coming, so there's no time like the present to stock up on immunity boosters and take preventative measures against getting sick. Here's my no-fail plan for stopping a cold in its tracks!
1. Sleep it off
Easier said than done, I know. But one of the reasons you feel so low-energy during a cold is because your immune system is working in overdrive. Infection with microbes triggers increased sleep in various studies, and sleep appears to be an adaptive response [source].
So do yourself a favor, listen to your body, take the day off of work, and stay in bed. If you're too congested to rest, prop yourself up with a pillow, and run a humidifier with a few drops of peppermint or eucalyptus oil to help you breathe easier.

2. Sip on Something Warm
When I feel yucky, I crave hot beverages. Keeping your body temperature on the warm side helps it fight infections [source], and hot beverages can also soothe an irritated throat and thin out congestion. My favorite feel-better beverage is turmeric tea or a simple, soothing tea made with a few slices of ginger and lemon and sweetened with honey.
You can also try broth, herbal teas, and old-fashioned chicken soup, which has actually been studied and shown to help the body deal with respiratory infections [source]. Soup is not only hydrating and comforting, but it also has anti-inflammatory benefits and helps clear congestion.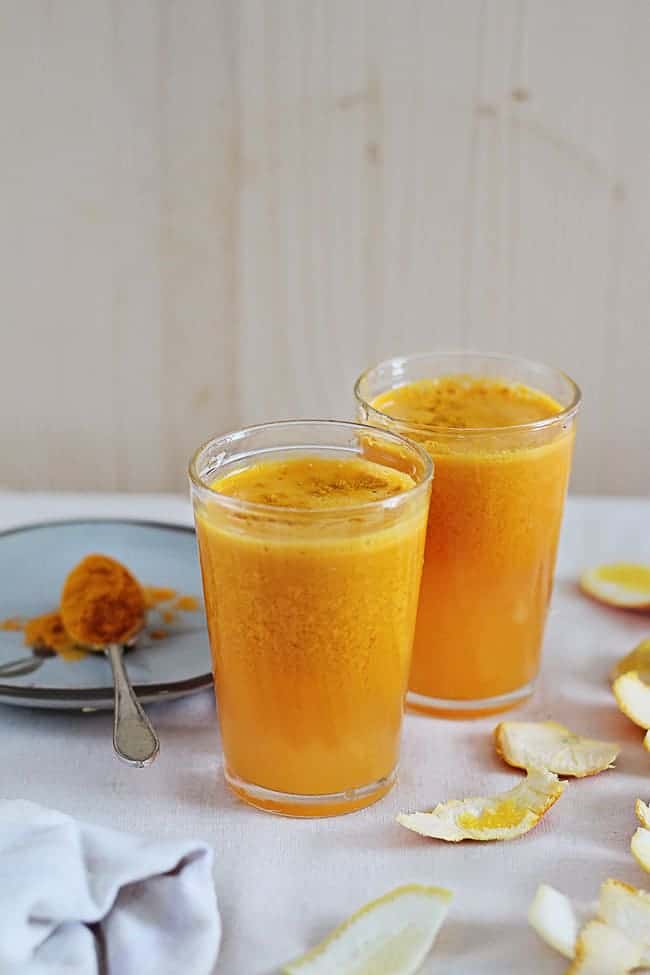 3. Juice a Dose of Vitamin C
When I'm not feeling great, my tolerance for water is zero. But we all know that staying hydrated is key to feeling better fast, and juicing is a great way to deliver a concentrated dose of vitamins and antioxidants.
Try one of these cold-fighting juices packed with vitamin C and healing superfoods. Not a juicing fan? You can still up your vitamin C intake by infusing water with citrus or berries.
4. Up Your Probiotic Intake
My other favorite cold-killing beverage is kombucha for a natural megadose of healthy probiotics. A natural concoction of good bacteria can shorten the length of a cold and reduce symptom severity (source).
Taken regularly, probiotics help regulate the bacteria in your gut, keeping your intestinal tract free of disease-causing germs.
5. Munch on Garlic
Ready for the fun one? Raw garlic! This immune-boosting food contains allicin, a compound that helps fight off cold symptoms and can even reduce the length of a cold if symptoms do appear [source].
For the best results, you need to consume it raw. Mash up a few cloves and take it with a small spoonful of raw honey or simply eat a couple of raw cloves every week. (Trust us, it's not that bad!)

6. Sweat it Out in the Bath
When I start to get sick, I also begin to stress out. "I can't get sick! There's too much to do!" This is where a nice long soak comes in handy to relax the mind and help your body fight infection.
A mustard and ginger bath is a great way to sweat out toxins, or these sinus-soothing bath salts can soothe a stuffy nose.
7. Skip the Sugar and Booze
And one thing you should definitely stop doing is consuming cocktails and snacking on Girl Scout cookies. Both alcohol and sugar suppress the immune system [source][source], making it harder for your body to prevent infections and fight them off once they've taken hold.
Plus, they might interfere with any over-the-counter medicines you're taking. So it's best to eliminate both from your diet until you're back to your old self.
What do you do when you start feeling sick? Let us know your favorite natural ways to jump in when you feel something brewing and prevent a cold!
This article was medically reviewed by Dr. Gina Jansheski, a licensed, board-certified pediatrician who has been practicing for more than 20 years. Learn more about Hello Glow's medical reviewers here. As always, this is not personal medical advice and we recommend that you talk with your doctor.
80