With so much pressure surrounding Valentine's Day, it may seem like not being in a relationship in mid February is the end of the world. It's not! Sure, Valentine's can be so romantic when done right, but it can also be a lot of work during an already stressful time. Our tip? Focus on yourself! After all, you know yourself best, so you can give yourself the best gifts! Plan for a fun Galentine with your girlfriends, and check out these awesome gift ideas to treat yourself to: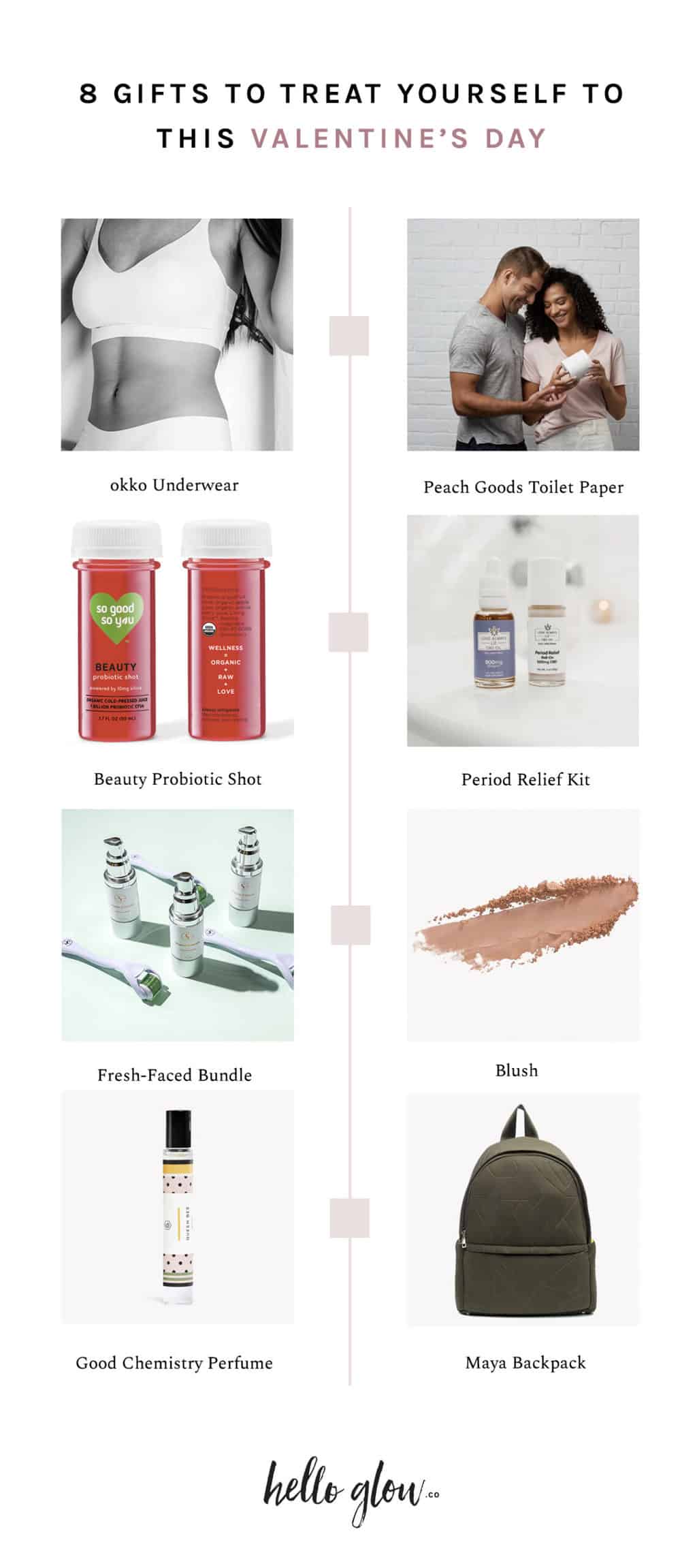 Nothing says V-Day like lingerie! And nowadays, our lingerie must be comfortable. We recently tested out this bra and underwear set from Okko and they are dreamy!! The fit is seamless and the fabric feels like a feather. If you hate underwire and are looking for something supportive that does not dig into your skin, this is the set for you.
Valentine's Day screams sweets and fruits, so why not treat yourself to some fruity toilet paper? This peach patterned toilet paper is luxury yet very sustainable and safe for the tush. You can rest easy knowing it's organic and free of chemicals.
Since we can't all get the beauty rest we desire, we gotta supplement somehow! We've been on a beauty shot kick, and love that these pack a healthy punch. They are full of vitamin C, probiotics, and silica which helps stimulate collagen production. Another round, please!
While periods may not be the sexiest thing to celebrate on Valentine's Day, chances are lots of us will be dealing with cramps and bloating this holiday! This CBD kit from Love Always, Liz comes with a tincture and a roll on containing full spectrum hemp extract to help ease cramps, back pain, and anxiety caused by your period.
Sdara Skin Roller and Vitamin C
Having a Galentine's Date instead of going out? We love doing at-home spa night with our girlfriends! But we don't like to just slap on a face mask and call it a day…we go all out! Dermarollers help stimulate collagen production and improve skin texture, so it's one of our favorite steps of an at-home facial. Finish with some antioxidant serums and your favorite winter moisturizer!
Peachy cheeks will never go out of style, and are perfect for a date night out or in. We love sweeping the shimmery shade in the Lily Lolo duo on our cheekbones for a glowy finish. For a monochromatic "no-makeup" makeup look, dust a little bit of your blush on your nose and eyelids after you hit the apples of the cheeks.
We just found out about Roven and have been obsessed with some of the products we chose! Roven is the new clean beauty retailer – under parent company, Grove Collaborative – offering a trusted place to shop the best in clean beauty. This Queen Bee perfume rollerball is the perfect combo of sweet and sassy…which is totally our V-day vibe.
You'll need something to put all your goodies in of course! We're [not so] secretly obsessed with all the little compartments and special features this Go Dash Dot bag boasts. There is a laptop space, a detachable fanny pack, and even a separate compartment for gym shoes! This bag would be perfect for anyone.
2