Remember our summer essentials for busy moms? Now we're going to show you how to put them together! I don't know about you, but this is always the hardest part in getting dressed. I tend to get stuck in the "this top only goes with these pants" rut and wear the same thing over and over. But there are so many more options! Changing up how you wear the basics is the key to maximizing your closet – it allows you to have fewer pieces that you can wear more ways.
Here are 8 easy (and slimming) summer uniforms to get you started!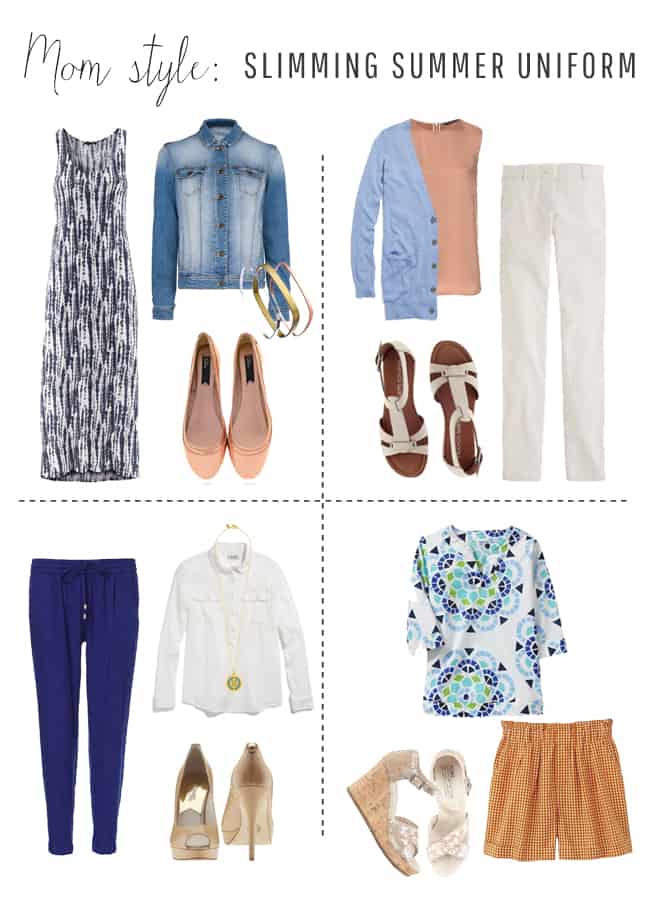 Maxi + Jacket + Ballet flat // Adding the jacket suddenly makes it feel like an outfit. Wear a necklace and bangles for running errands or a lunch date.
Silk tank + White trouser + Long cardigan + Sandal // Keep it simple and slim with the silk tank and white trousers. The long cardigan is great for summer layering in over air-conditioned places.
Button down + Relaxed pants + Neutral heels // Sharp with the button down & heels, but still comfortable with the loose pants. A long necklace would look great on the white shirt.
Tunic + Printed shorts + Wedges // Just tunic & shorts could be good for a picnic. With the wedges (and stacked bangles!), the outfit becomes urban and trendy.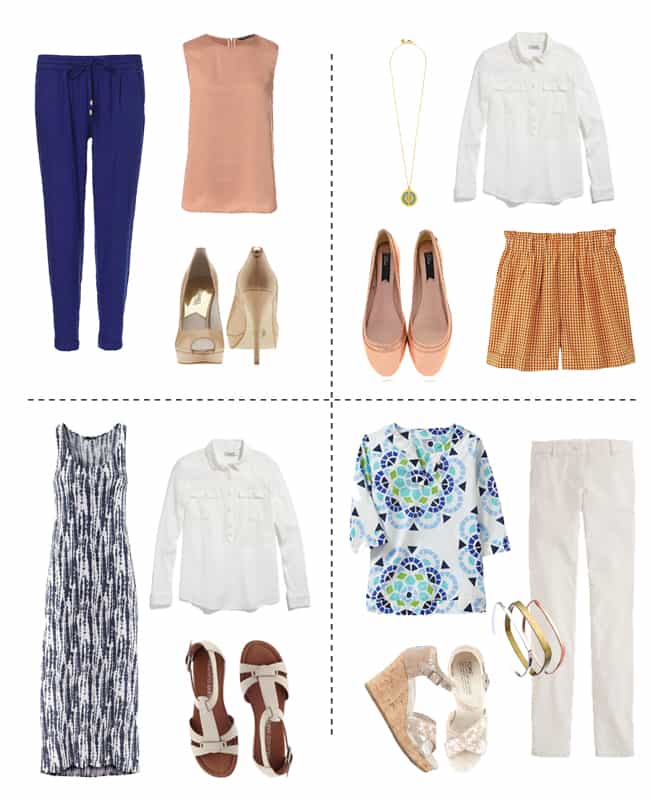 Silky tank + Relaxed pants + Neutral heels // The heels make a great pair with the dressy silk top, while the pants allow you to move freely.
Button down + Printed shorts + Flats // Pure comfort: loose, breathable, pretty. Can be dressed up with a necklace and/or bracelets.
Maxi dress + Button down + Sandals // Change the look of a maxi by wearing a shirt on top, tied at the waist or left loose. With sandals, it's great for the beach.
Tunic + White trouser + Wedge // The ultimate summer night look. All you need to add are stacked bracelets and bag.
0