For busy moms, mealtime is rarely a stress-free occasion. Dinner is tough as little ones grow restless and impatient, but breakfast and lunch can be just as hectic. The solution? Frozen meals. But not the usual French fries and chicken fingers – meals that you can prepare ahead and pull out anytime. We knew we had hit a nerve when our slow cooker freezer meals started flying around the Internet. (I'm pretty those 12 meals are the only reason I kept my sanity over Christmas break.)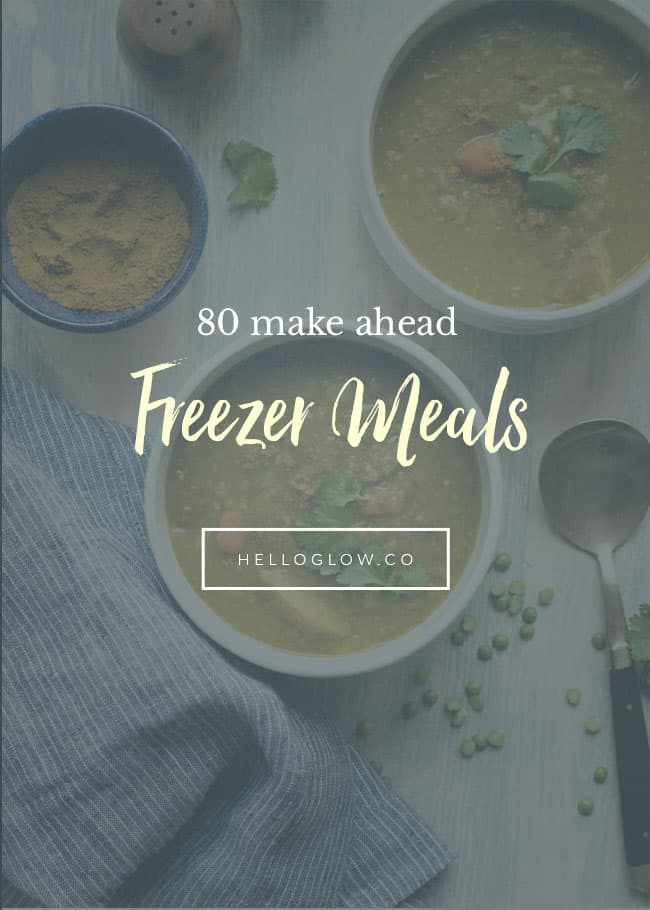 Besides the few foods that don't freeze well, such as cucumbers, raw potatoes, boiled eggs, mayo and some dairy products, almost anything goes! So grab your zip-lock bags and your plastic Tupperware and let's see we what we can make. We have 80 – yes, 80! – make-ahead freezer meal recipes.
Freezer Breakfast Recipes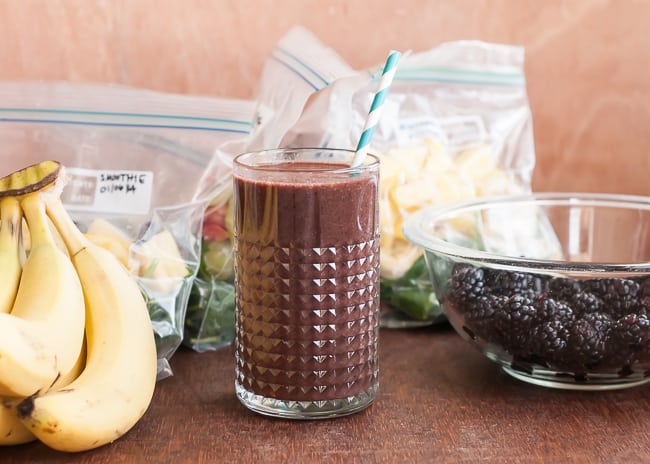 1. Make a month of green smoothies in a hour by Hello Glow. Use that spare hour on Sunday to chop and bag your favorite fruits and veggies. You'll have a month's worth of breakfast smoothies in no time!
2. Buttermilk pancakes by Happy Money Saver. You will probably get overexcited and make more of these pancakes than you can eat…. It's a good thing they can be frozen!
3. Make ahead breakfast cookies by Kitchen Frau. Freeze this dough for up to 3 months, bake for 20 minutes, and you've got yourself some energizing breakfast cookies.
4. Grapefruit buttermilk waffles with toasted coconut by Cookie Monster Cooking. Reserve some time on the weekend to make waffles, and freeze enough of them to last the whole week.
5. Gluten-free parsnip morning glory muffins by Hello Veggie. Trying to work more veggies into your diet? These muffins have parsnip in them – and they're made right in the blender!
6. Oat Bran muffins by I Food Real. A filling, nutritious breakfast muffin that you can freeze for up to six months!
7. Sweet potato breakfast burritos by Kim's Cravings. These freezer-friendly breakfast burritos are the perfect meal for when you're on the run.
8. Strawberry baked oatmeal cups by Hello Veggie. Freezer-friendly, kid-friendly, and portable, these oatmeal cups are everything you need on hectic mornings.
9. Healthy maple oatmeal muffins by Well Plated. Healthy oatmeal muffins with maple syrup, cinnamon and nutmeg, which freeze beautifully.
10.Big batch of green smoothies by Hello Glow. Start every day with a refreshing green smoothie by making all of them ahead of time.
11. Spicy Italian breakfast roll ups by Recipe Tin Eats. Freezable and microwavable food you can eat with your hands when in a hurry.
12. Gluten-free buckwheat waffles by Cookie + Kate. These healthy, buckwheat waffles will fill your morning with energy.
13. Leftover pizza scrolls recipe by Insatiable Munchies. Pizza for breakfast? Why not, just pop these scrolls out of the freezer.
14. Cranberry almond energy bars by The Creative Bite. A protein packed recipe that you can store in your freezer for a healthy and convenient snack or breakfast.
15. Gluten-free carrot cake breakfast cookies by Iowa Girl Eats. Packed with good-for-you ingredients and ready in just 20 seconds out of the freezer.
16. Breakfast burrito by Hello Glow. Make them, freeze them, enjoy them every morning.
17. Freeze and bake biscuits by Baker Bettie. These black pepper and sage buttermilk biscuits are easy to bake fresh or frozen.
18. Tofu scramble wraps from Hello Veggie. Keep these in the freezer and pop a couple out whenever in need of a quick and healthy breakfast.
19. Acai superfood parfait by Whole Food Bellies. Ice cream for breakfast, something you've always wanted, is now doable and defensable.
20. Raw coffee quinoa protein bars by Strength & Sunshine. Protein bars are an easy breakfast on the go, and this one will give you extra energy!
Freezer Lunch Recipes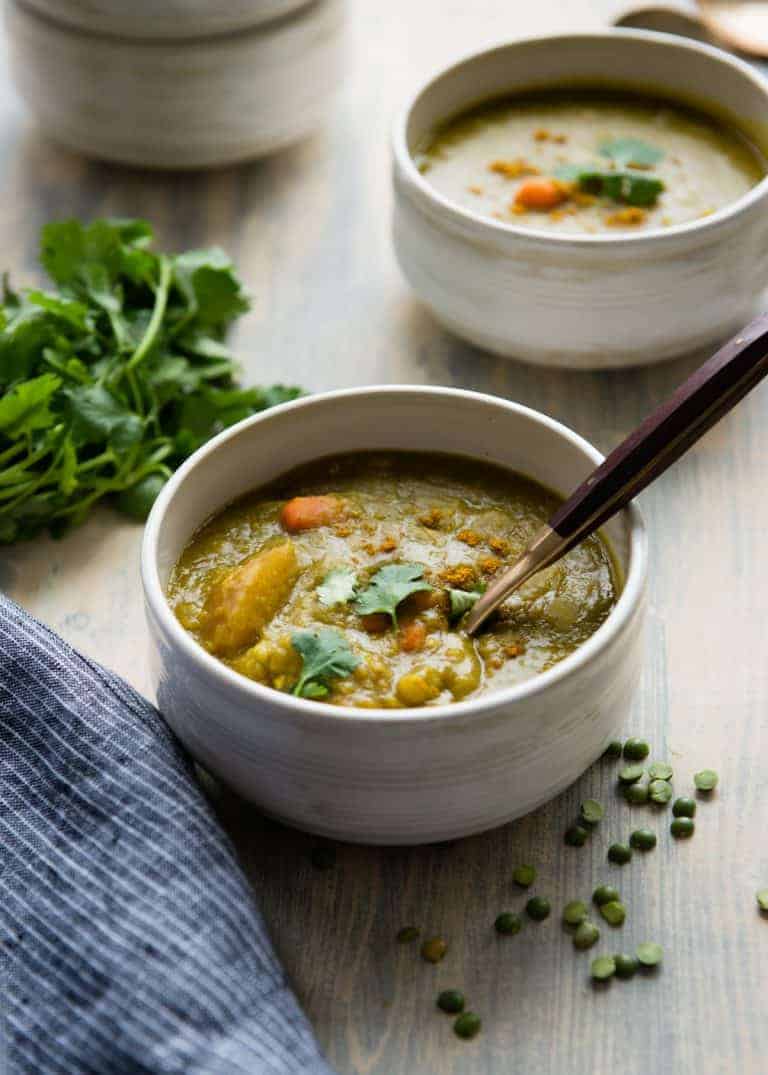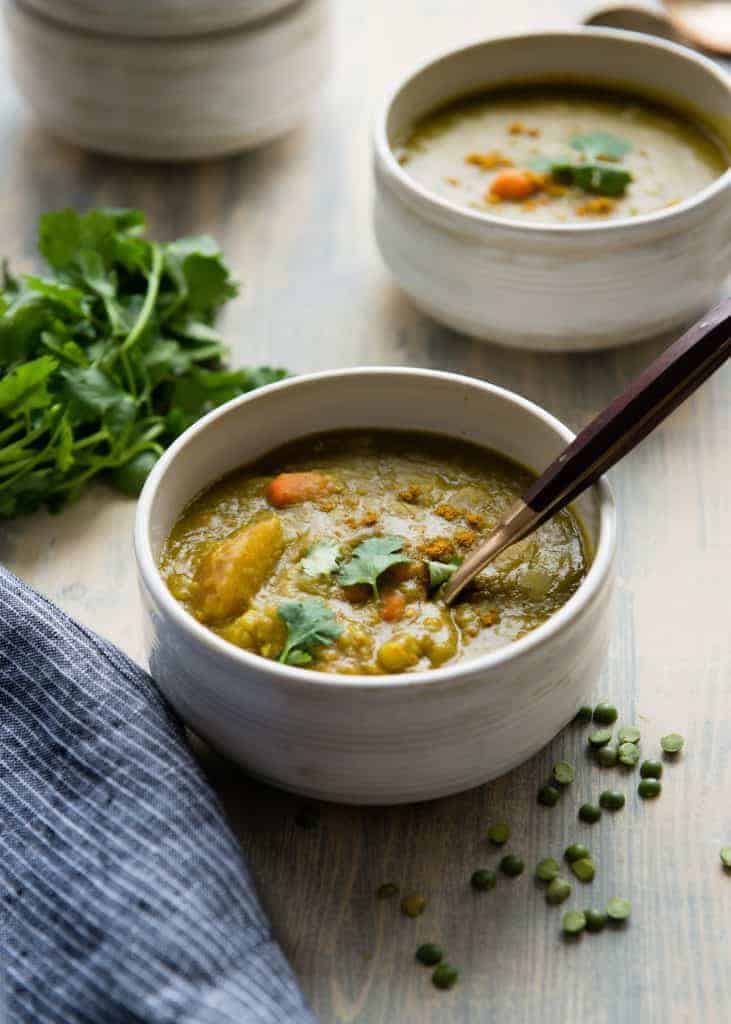 21. Slow cooker vegetarian split pea soup by Hello Veggie. Portion this soup into individual containers and bring them to work with a piece of naan or bread.
22. Garlic lime chicken kebabs by Happy Money Saver. Freeze these kebabs directly on the skewers, then throw on the grill when you're ready to eat them.
23. Make ahead slow cooker meals by Hello Glow. Freeze all the chopped ingredients so when the time comes you can place them in the slow cooker and watch it do it's magic.
24.Slow cooker short rib tacos by Wright Family Table. Whether you freeze it before it's cooked or after is up to you. Either way, the final taste will be just as amazing.
25. Black bean pecan burgers by Hello Veggie. You can make a batch of these veggie burger when you have time and freeze them for when you don't.
26. Make ahead cassoulet by Beyond Mere Substance. You can have your favorite complex dish any time if you simply freeze it ahead. This cassoulet is proof!
27. Freezer-friendly meatballs and sauce by Cooking Up Cottage. Heat this sauce while you're boiling some spaghetti and lunch is basically ready!
28. Parmesan crusted chicken tenders by Kristine's Kitchen. Baked and delicious, these chicken tenders are easy to freeze ahead in big batches.
29. Crockpot honey soy chicken by Uproot from Oregon. Leave all the work to the crockpot and the freezer for easy make ahead meals.
30. French onion soup freezer kits by Noshing with the Nolands. Get the gourmet taste of onion soup in minutes with this freezer kit.
31. Traditional homemade potato gnocchi by Natural Comfort Kitchen. Homemade gnocchi is delightful, and cooking it from frozen only adds 30 seconds to the process.
32. Simple chicken potstickers by Noming Thru Life. Cooked in 10 minutes, these potstickers make a hearty meal that can be customized to your liking.
33. Baked chicken nuggets recipe by Natasha's Kitchen. Low fat, tender and juicy nuggets that you can grab from the freezer any time.
34. Peas and scallions with dill by Veggies Don't Bite. Enjoy this as a vegetarian lunch or as a side dish served with grilled chicken breast.
35. Green vegetable rice by My Body My Kitchen. Easy vegan rice that you can freeze and upgrade depending on what fresh ingredients you have on hand.
36. Freezer pesto by Hello Glow. Having this pesto in the freezer is so convenient! Just toss it with pasta and lunch is ready.
37. Carrot walnut meatballs by Hello Veggie. These vegetarian meatballs are lovely on their own as a snack or over a bowl of fresh pasta.
38. How to cook dried beans by Kitchen Treaty. Never buy canned beans again – just cook it and pop it in the freezer to always have at hand.
39. Greens and mushroom stuffed shells by Hello Veggie. With greens, mushrooms and cheese, these stuffed shells are a dream comfort food.
40. Sticky chicken with vegetable fry rice by Recipe Tin Eats. Budget friendly, freezer friendly and super flavorful, just what you need for lunch!
Freezer Dinner Recipes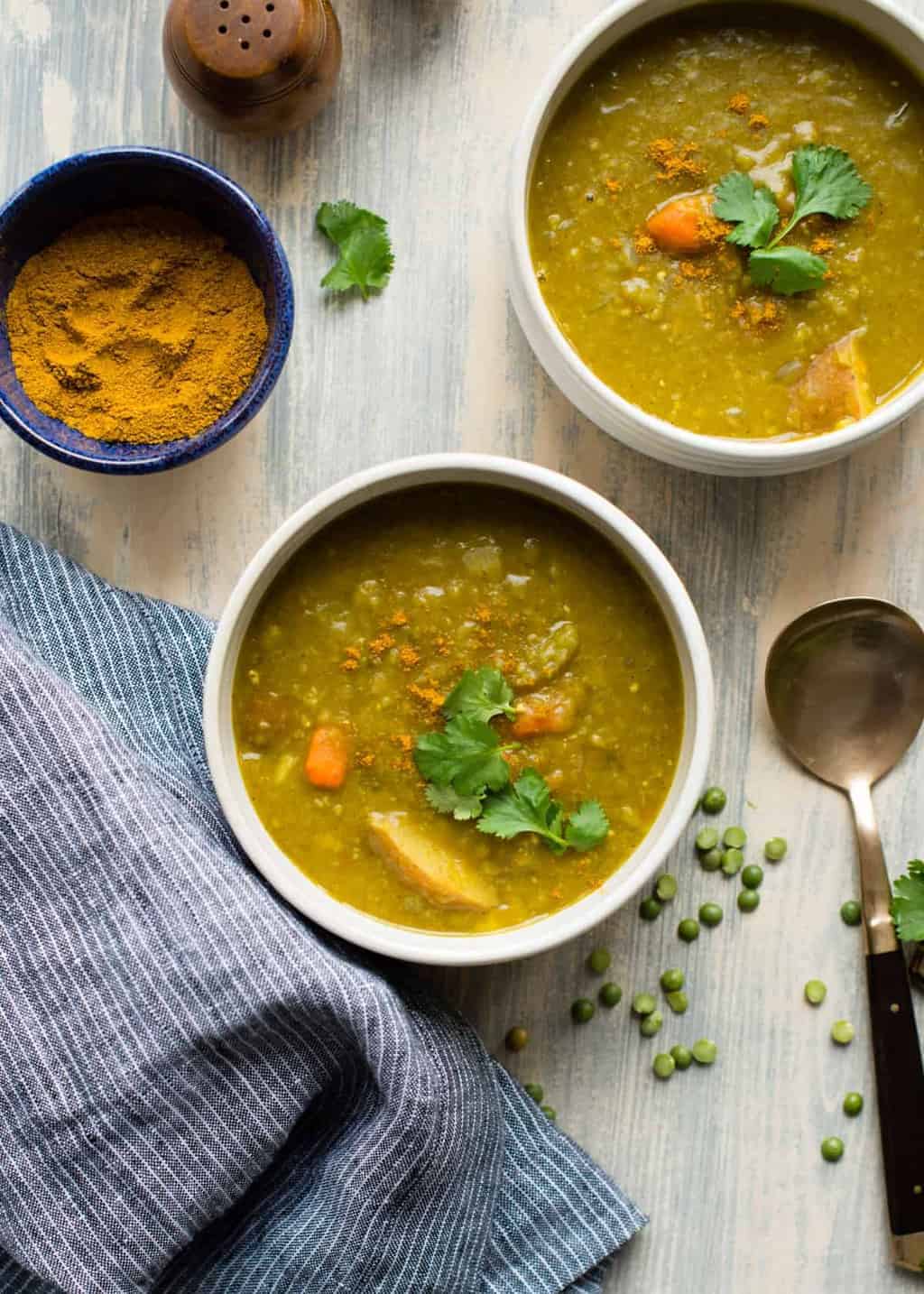 41. Vegetarian split pea soup by Hello Veggie. This hearty vegetarian split pea soup can be frozen and later thrown in the slow cooker.
42. Lemon chickpea shallot casserole by Bunsen Burner Baker. There's nothing like a good, hot casserole in the evening. Especially when you didn't go through all the effort of making it that afternoon!
43. Creamy spinach and mushroom lasagna by Damn Delicious. This vegetarian lasagna is great for tonight's dinner, plus you can freeze the leftovers for months!
44. Chili dog chili by Simple Seasonal. Make this chili ahead of time and freeze for busy nights, then you can eat it with hot dogs or by itself.
45. Cauliflower baked ziti from Hello Glow. This cauliflower ziti is healthy, meat-free, and easy to bake straight from the freezer.
46. Herbed whole grain pizza dough by Cookie Monster Cooking. Making the dough to homemade pizza is the hardest part. Once made and frozen, it takes only minutes to cover with toppings and bake.
47. Bacon turkey burgers by Lisa's Dinnertime Dish. Light turkey burgers that you can easily freeze for another night.
48. Hearty white bean vegetable soup from Hello Glow. This hearty veggies and beans soup freezes well, so no worries if you make a bigger batch you can't eat right away!
49. Spiced eggplant lentil stew by Natural Comfort Kitchen. The Mediterranean flavors of this stew are even more prominent after some time in the fridge. Freeze leftovers to enjoy again!
50. Winter green soup by Mitzy at Home. Soup is one of the dishes that's easiest to freeze. This one is green and healthy, packed with Brussels sprouts and broccoli.
51. Chocolate espresso beef and black bean chili by An Edible Mosaic. This unusual combination might become a staple in your home, especially since it freezes so well.
52. Spinach lasagna rolls by Veggies by Candlelight. These spinach rolls are tasty and healthy, and you can store them in the freezer for a long time.
53. Veggie stuffed poblanos from Hello Veggie. These black bean and veggie stuffed poblanos are so tasty, and so full of protein, they'll soon become a staple dinner.
54. Cheesesteak football croquettes by Tasty Ever After. Make and freeze these tasty croquettes and enjoy them in front of the TV.
55. Quinoa and spinach patties by You're An Animal. These gluten-free patties are easy to make and you can jut as easily freeze them for later.
56. The ultimate chicken noodle soup by Sumptuous Living. Enjoy a warm bowl of chicken soup whenever you want by freezing it ahead of time.
57. Chili con carne with cornbread dumplings by Supergolden Bakes. Freeze the chili and just make a fresh batch of dumplings to serve with.
58. Winter vegetable soup by In Fine Balance. Finding this soup in the freezer is like finding money in the laundry!
59. One pot red wine beef stew by Natural Comfort Kitchen. Freeze this delightful beef stew, if you happen to have any leftovers (doubtful!)
60. Turkey meatball and pasta soup by I Food Real. Freeze this soup in an airtight container and enjoy time after time.
Freezer Dessert Recipes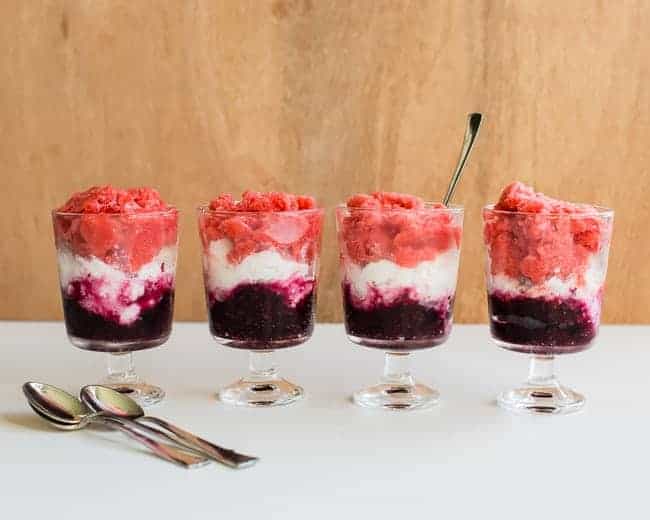 61. Red, White & Blue Granita by Hello Glow. Making granita is as easy as mixing simple syrup with fruit and leaving in the freezer.
62. Mocha brownies by The Pioneer Woman Cooks. With these in your freezer, you can surprise your family with dessert when they least expect it.
63.Healthy mini cheesecakes by Hello Glow. These little cheesecakes freeze beautifully – and they have nearly 15 grams of protein per serving!
64. Lightened up cookies and ice cream pie by Deliciously Yum. With six ingredients and eight hours in the freezer, this impressive pie comes to life.
65. Chocolate and caramel ice cream parfait by Lovertime Cook. The perfect summer dessert, which basically makes itself in the freezer.
66. Chocolate almond butter freezer fudge cups by A Girl Worth Saving. These tasty fudge cups are set in the freezer, and you can keep them there for surprise visitors.
67.Vegan Peppermint patties by Dreamy Leaf. These delicious peppermint patties are not only vegan, but they're also best served out of the freezer.
68. Vegan chocolate hazelnut freezer fudge from Hello Veggie. Good for a vegan, paleo or keto diet, this fudge is an amazing treat, straight from the freezer.
69. Festive Chocolate Lucuma Bark from Hello Glow. Pretty and tasty enough to pack as gifts for the holidays! Enough said.
70. Chocolate peanut butter freezer fudge by My Purple Spoon. No baking, just freeze to make these delightful fudge squares.
71. Make ahead freezer cookies by Simply Playful Fare. Do your holiday baking ahead of time and freeze it to spare you some hours during that busy period!
72. Summery spa pops by Hello Glow. Let the freezer do all the work with these popsicles while you take care of everything else.
73. Healthy dark chocolate monkey tails by The Yooper Girl. Frozen bananas topped with chocolate and seeds or nuts are the perfect healthy treat from the freezer.
74. Frozen yogurt bites by Hello Glow. When you need just a little sweetness, pick one of these yogurt bites from the freezer and enjoy a guilt-free snack.
75. Mocha & orange sable icebox cookies by Port and Fin. These look very sophisticated and there's no reason why you shouldn't have them in the freezer at all times.
76. Salted caramel nut butter cups by Style Nectar. Thank your freezer for making you such divine nut butter cups.
77. No bake pumpkin pie bars by Food by Mars. Gluten-free and vegan, this pie swaps the oven for the freezer.
78. Peach and vanilla beam freezer jam by A Farmgirl's Dabbles. Free of preservatives, this homemade jam can be stored in the freezer for any occasion.
79. Inside out freezer cupcakes by Recreating Happiness. The icing for these cupcakes is inside, so they're easily freeze and heat later!
80. Dark Chocolate Hemp Turmeric Fudge with Bee Pollen from Hello Veggie. The ultimate healthy treat gourmands can appreciate!
26