Books make an easy gift for anyone – the possibilities are endless! We're pretty sure everyone you know has a passion they want to read more about. And if they don't? Maybe you can help instill it! One added bonus: nothing is easier to gift wrap than a book!
We're sharing some of our favorite reads of this year, and hope you'll find an idea for all the loved ones on your list: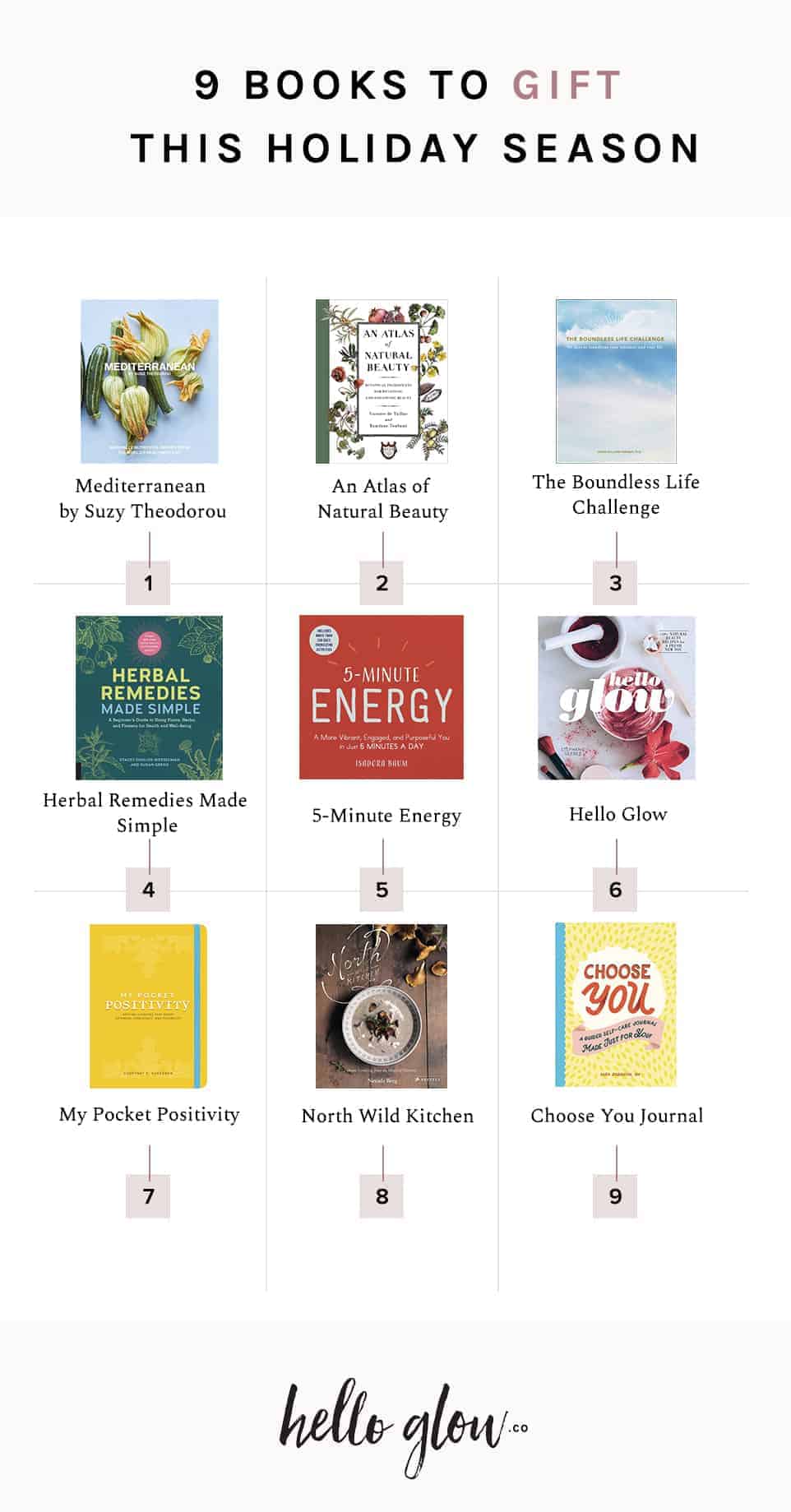 1. Mediterranean by Suzy Theodorou // Healthy eating really is for anyone, with this book of absolutely delicious recipes. It's not about restrictions, but about embracing seasonal, nutritious foods.
2. An Atlas of Natural Beauty // Learning everything about Parisian natural beauty just got easier with this illustrated guide, packed with totally doable recipes. 
3. The Boundless Life Challenge //  This 90-day challenge includes 90 activities, meditations, and simple exercises to help re-center and focus on the good things in life, even for those new to mindfulness.
4. Herbal Remedies Made Simple // An easy and fun way to learn about the many different healing herbs that grow all around us.
5. 5-Minute Energy // Who doesn't need some extra energy to get through the day every once in a while? This guide offers more than 200 quick, easy, and effective ways to feel more energized in just 5 minutes.
6. Hello Glow // The best beauty recipes of Hello Glow in book form! Perfect for your friend who always sends you links to our website.
7. My Pocket Positivity // Maintain a positive mindset and face any challenge with optimism and confidence with the aid of this handy pocket book. 
8. North Wild Kitchen // Nevada Berg's cookbook is not just a collection of simple, achievable recipes but also a great introduction into Norwegian culture. 
9. Choose You Journal // Choose You contains more than 150 pages for guided journaling, including questions for reflection, useful tips, inspirational quotes, and fun ideas for self-care activities. 
4