About a year ago, I was diagnosed with Hashimoto's disease, a condition where the immune system attacks your thyroid and causes inflammation that impedes its function [source]. A naturopathic doctor put me on a strict anti-inflammatory diet for 5 weeks to get my symptoms under control and try to keep my thyroid working as close to normal as possible.
The bad news: I really miss bread. The good news: I felt much better after rooting out some of the foods that were triggering inflammation for me, including sugar, gluten, and dairy.
Inflammation is a normal function of the body—the protective process by which our immune system deals with healing wounds and injuries (how your ankle will swell if it's sprained, or you'll get redness where you've been bitten by a bug).
But our bodies can get stuck in a pattern of chronic toxic inflammation that lasts for years. When this happens, the constant attempts at healing ourselves can actually do more harm than good, causing our immune system to disrupt normal functions.
Causes of Inflammation
Excessive stress, lack of sleep, genetic factors, and unhealthy lifestyle choices (poor diet, smoking, drinking, lack of exercise) all contribute to inflammation. Some people believe they have existing conditions that cause inflammation, but usually it works the other way: your inflammation causes or contributes to a health condition.
Many functional and alternative practitioners maintain that leaky gut syndrome (where the permeability of intestinal lining is increased, allowing toxins, yeast, and bacteria to pass into our bloodstream) triggers an autoimmune response and is the root cause of inflammation in the body. So repairing your digestion and healing the gut are great first steps in minimizing inflammation.
Inflammation and Disease
Everything from heart disease, rheumatoid arthritis, and ADHD to Alzheimer's, obesity, and cancer has been linked to chronic inflammation, a.k.a. the immune system constantly being in "attack mode." Doctors are studying how inflammation contributes to, causes, or is a symptom of dozens of diseases.
Inflammation is what contributes to heart attacks [source]—inflammation that's meant to"fix" the plaque buildup on blood vessel walls ends up causing a clot instead [source]. And it's interesting that the inflammatory process is also part of the body's response and attempts to repair the damage after a heart attack [source].
Inflammatory Foods to Avoid
The Western diet has been notorious for its high fat, meat, and dairy content, very little fiber intake, and a fairly large proportion of ultra-processed and refined foods [source]. This contributes to the high prevalence of chronic diseases seen in this culture, including atherosclerosis (with heart disease as the number 1 cause of death in the Western world), type 2 diabetes, hypertension, many types of cancer, obesity, and numerous autoimmune conditions.
Many experts recommend trying to stay away from certain inflammatory trigger foods in favor of the nutritious whole foods given to us by nature. Here is the short list of foods to avoid:
Alcohol

Gluten (in gluten-sensitive individuals)

Casein—found in all dairy products—and other components in cow's milk

Refined carbs such as white flour and sugar

Highly processed foods

Omega-6 fatty acids such as corn, safflower, sunflower, peanut, and soybean oils

Deep-fried foods and fast food

High-fat diets

Red meat, smoked and processed meats like bacon, hot dogs, and deli meats [

source

]
9 Foods to Beat Inflammation
Try to include whole foods in your diet as much as possible [source] in order to add plenty of healthy fiber to your diet, and to detox, keep yourself feeling energetic [source], and maintain the natural balance of your body's beneficial inflammatory responses:
1. Healthy Fats
Omega-3 fatty acids are especially helpful in fighting inflammation because they balance the high omega-6 content in foods we typically eat. They can improve your digestion and keep your skin looking great [source].
Opt for wild salmon, sardines, anchovies, ground flaxseed, hemp seeds, chia seeds, and walnuts in addition to healthy oils like olive, walnut, avocado, flax, and hemp seed.
Try Pesto Baked Salmon | Chai-Spiced Nut Mix
2. Cruciferous Vegetables
You can get your antioxidants, protein, fiber, and anti-inflammatory properties from veggies like kale, collards, cauliflower, cabbage, broccoli, and bok choy—which has added omega-3s and beta carotene.
Cruciferous vegetables contain a phytochemical, sulforaphane, that is action-packed in helping the body fight and prevent disease [source]. Vitamin K, also present in cruciferous veggies, can help regulate inflammatory responses in the body.
Try: Kale, Avocado, and Hummus Wrap | Creamy Vegan Cauliflower Soup
3. Lemons
Citrus contains many phytonutrients that fight inflammation, flavonoids, phenolic acids, and everyone is certainly aware of the vitamin C. Lemons are an especially good choice because they help detox the body and regulate both your pH and blood sugar levels [source].
Try: Coconut-Lemon Skinny Gut Smoothie | Lacto-Fermented Lemonade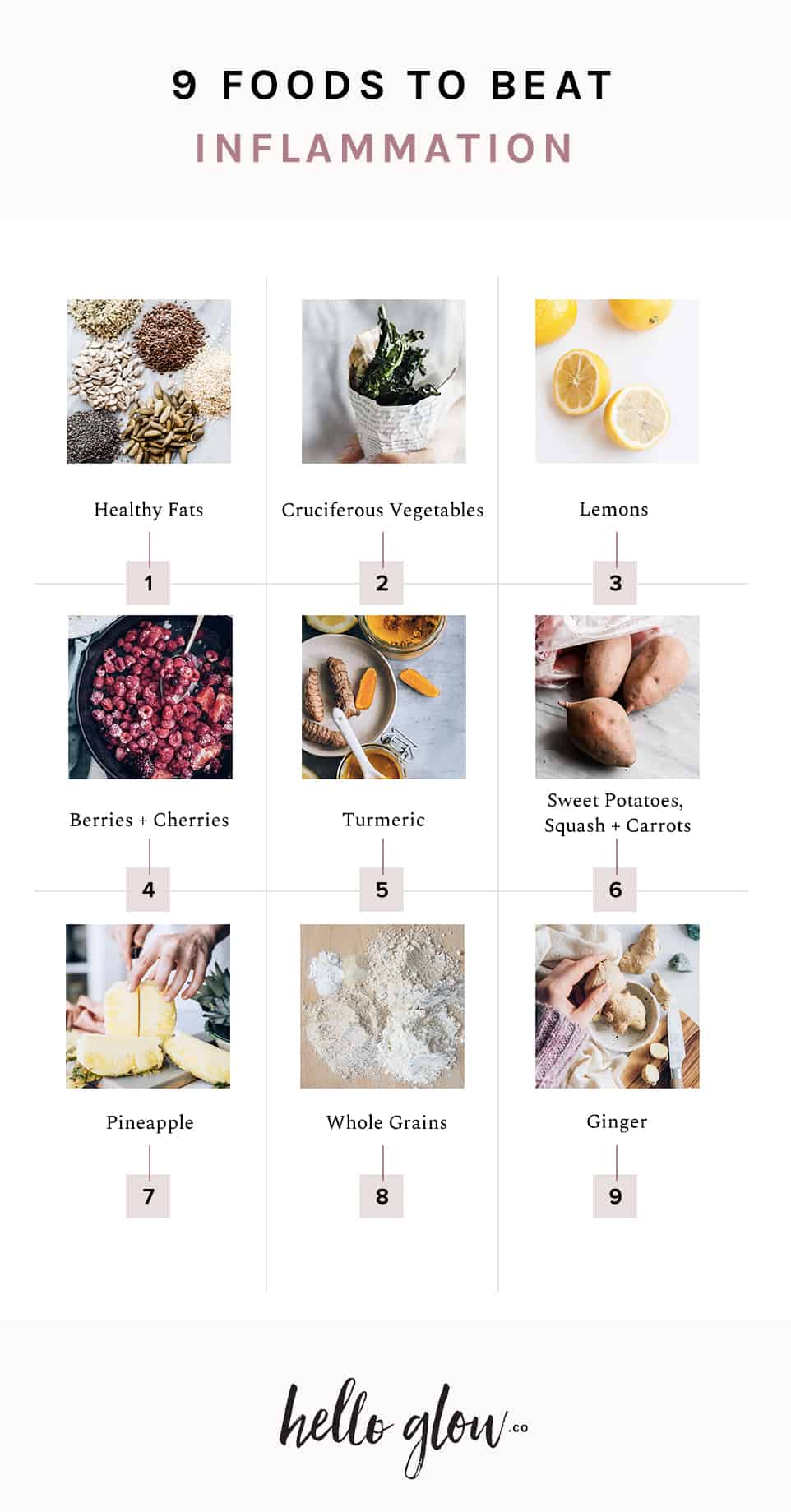 4. Berries and Cherries
In addition to fiber and blood sugar-balancing properties, berries and cherries contain a group of antioxidant flavonoids called anthocyanins, which are anti-inflammatory [source]. Tart cherries [source] and cranberries [source] have been extensively studied for this very reason, and my naturopath encourages me to add cranberries to my smoothies.
They're tart, but with a little ginger, canned pumpkin, and apple cider, you have an anti-inflammatory smoothie that tastes just like fall! Some researchers have even claimed that tart cherries have the highest anti-inflammatory content of any food.
Try: Whipped Berry Detox Porridge | Summer Love Smoothie
5. Turmeric
Curcumin, a component of turmeric, has been credited with lower rates of Alzheimer's disease (which begins with inflammation in the brain) in India and as a successful non-steroidal anti-inflammatory treatment for some types of arthritis [source]. Turmeric is better absorbed when combined with piperine, a component of black pepper [source].
Try: Homemade Bloody Mary Mix with Turmeric and Black Pepper | Turmeric Glowing Skin Smoothie
6. Sweet Potatoes, Squash, and Carrots
Vitamin A and beta-carotene fight inflammation [source], so make sure to add these orange veggies to your recipe rotation. Excessive intake of vitamin A has been linked with birth defects, so if you're pregnant (or trying to become pregnant), check with a practitioner before you up your vitamin A supplement intake.
Try: Creamy Vegan Butternut Squash Soup | Healthy Sweet Potato Gratin
7. Pineapple
The bromelain in pineapple reduces swelling, which can be especially helpful if you have an inflammatory condition like rheumatoid arthritis [source].
Try: Pineapple Chia Fresca | Grilled Pineapple with Coconut Whipped Cream
8. Whole Grains
There's some debate over this one. Whole grains are known to have many benefits as part of a fiber-rich, whole-foods, plant-based diet [source]. Some people feel that a strict vegan, gluten-free, grain-free diet is key to minimizing inflammation, while others who have a sensitivity avoid gluten but still consume whole grains like oats and quinoa.
The most important aspect of this is to make sure that if you eat bread and other grains, you are eating whole grains, as unrefined and natural as possible. Read the labels in the store, and you will be surprised to see the sheer amount of ingredients in most bread products, so shop carefully.
If you feel grains might be at the root of your inflammation, you can eliminate them altogether for a couple of weeks and see how you feel, then slowly reintroduce gluten-free grains and finally glutinous ones.
Try: Overnight Oats with Chia Seeds | Creamy Pumpkin Quinoa Risotto
9. Ginger
As if you needed another reason to love ginger—it functions as an anti-inflammatory aid [source], much like aspirin. Toss some peeled, chopped ginger into smoothies and stir-fries, or grate and add it into juices for a little spice. You can also use it topically in beauty recipes like bath scrubs.
Try: Ginger Chicken Lettuce Wraps | Kale Magic Juice
This post was medically reviewed by Dr. Amy Shah, a double board-certified MD, who specializes in helping busy people repair their microbiome and reduce inflammation. Learn more about Hello Glow's medical review board here. As always, this is not personal medical advice, and we recommend that you talk with your doctor.
136