You can plan all your meals from now 'til the end of time and still have trouble staying on track with healthy eating. That's because the need to snack (and for some, myself included, to snack constantly) is very real. It's also the easiest way to derail an otherwise clean-eating plan. When we're stressed, bored, busy, entertaining or just watching TV, munching on something is automatic—and if you're going to do it, you might as well do it right.
Making your own snacks is easier than you think, especially if you plan ahead. So stock up the kitchen and be sure to have at least 2 or 3 of these no-fail healthy items on hand at all times, and you'll totally win at snacking.
9 Healthy Snacks To Keep Stocked
1. Energy Bars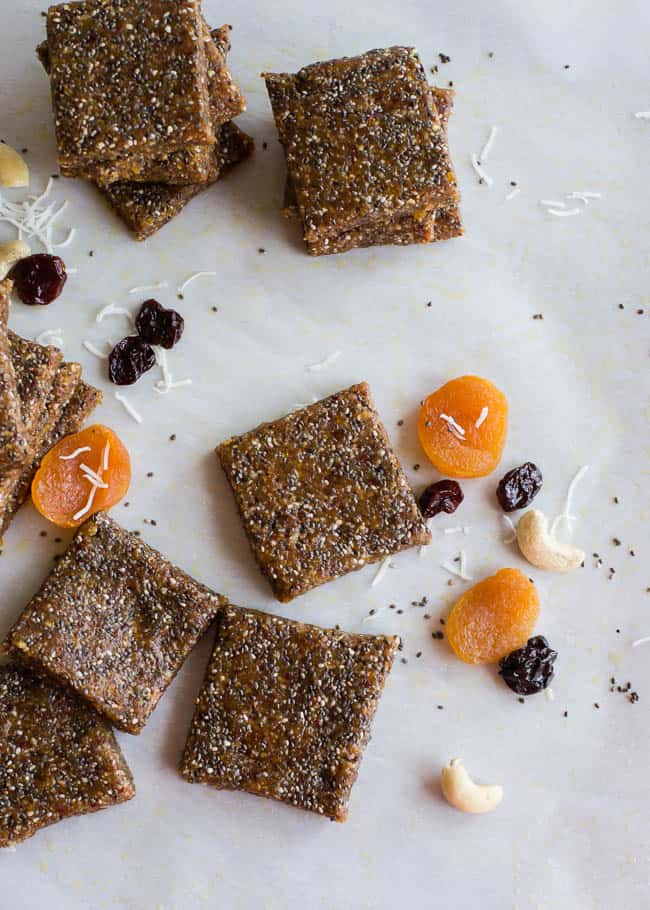 When you learn how to make your own bars, you can have all the convenience of store-bought energy or granola bars, but for a fraction of the cost—and with total control over the ingredients and the amount of sugar. And all you really need is some dried fruit, maybe oats or another grain, plus nut butter and/or honey to hold everything together. Buy the grains and fruit (stick to unsulphured) in bulk and you'll save even more money.
Try: No-Bake Energy Bars | Vegan Apricot Cherry Energy Bars | 25 Healthy Energy Bar Recipes | Gluten-Free No-Bake Almond Blueberry Granola Bars
2. Trail Mix
Here's another simple snack that, when made at home, can be super healthy. When store-bought however, trail mix can be a real sugar bomb (looking at you, chocolate pieces and yogurt-covered raisins). Make your own at home and you know exactly what's going into it—ideally healthy fats, protein and fiber. I like to mix dried bananas, coconut chips, cashews, dried cherries and a few dark chocolate chips for a faux-dessert trail mix that fills me up and gives me energy.
Try: Chai-Spiced Nut Mix
3. Smoothies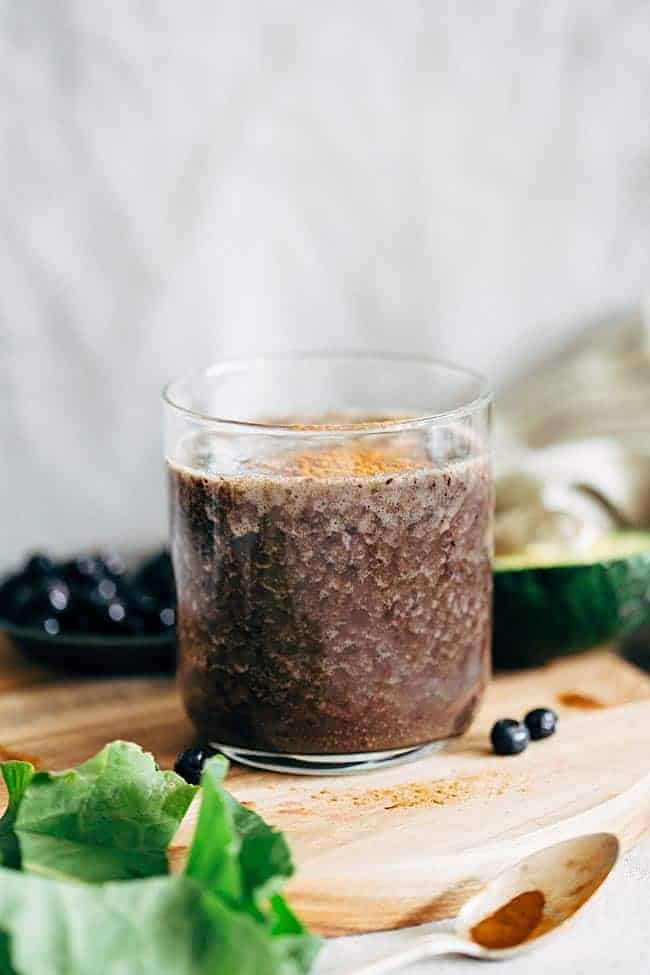 Smoothies are ideal for breakfast, but they're also one of the best (and smartest) snacks around. Not only are they portable, you can pack in a lot of nutrients—and it's really easy to customize to your tastes, or to just use up whatever is lingering the fridge. Simple carbs from fruit give you a short-term energy boost, while additions like nut butter, chia seeds, greens and avocado give you healthy fats and protein, a.k.a. long-term fuel to make it through a busy morning or afternoon meetings. To get myself to drink more smoothies, I bought myself a nice insulated cup with a straw that makes it more of a special occasion :)
Try: PB&J Energy Smoothie | Protein-Packed Pumpkin Pie Smoothie | Cinnamon Berry Smoothie
4. Oatmeal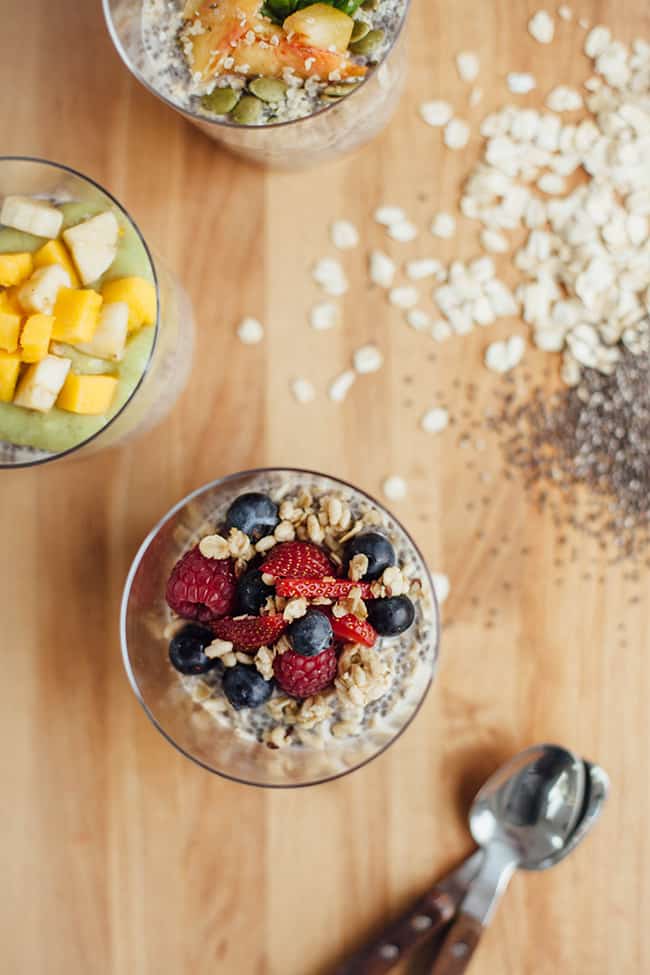 Oats are also a go-to for breakfast, but there's no rule that you can't snack on them, too. In fact, they're great at keeping you energized and satiated for long stretches. Make overnight oats and add in healthy fats (like pumpkin seeds) and fruit for a quick, easy snack that requires no cooking and only a little prep.
Try: Overnight Oats with Chia Seeds 3 Ways | 4 Overnight Oat Recipes for Fall
5. Nut Butters
I panic if there's not much nut butter left in my house, and I stock up whenever it's on sale. No, I'm not some sort of obsessive nut-butter fan—but unsweetened nut butters are one of the easiest ways to make satisfying snacks that have a healthy dose of good fats and protein. Put it on a rice cake, toast, an apple, or mix it in with energy bars, smoothies or oatmeal. Or just eat it with a spoon for an emergency "my energy is crashing" snack. (Okay, maybe I am a little obsessed with nut butter.) Walnut, cashew and almond butters will have higher doses of healthy fats.
Try: Make Your Own Walnut Butter | How to Make Almond Butter
6. Toast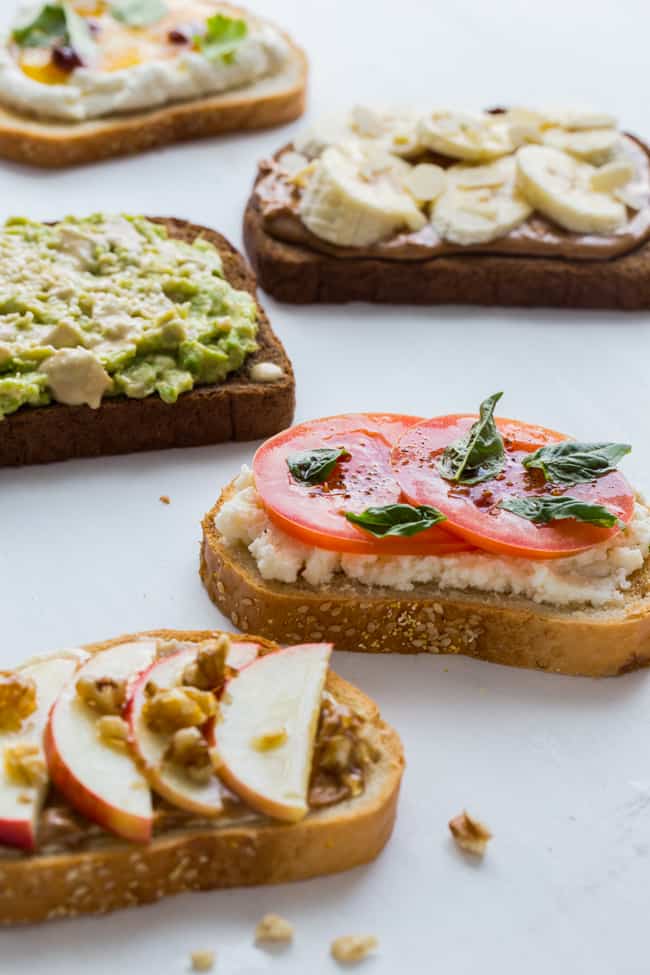 Especially if you're trying to reduce grains and carbs, you don't necessarily want to be loading up on bread for every snack. But toast—when it's made with whole grains—can be a really healthy, satisfying snack that, like smoothies, can kind of be made with whatever's in the fridge: hummus, avocado, cheese, sliced veggies, nut butters and more. Try a sprouted-grain bread (like Ezekiel) to make it easier to digest, and if you're gluten-free, I'm a huge fan of Trader Joe's GF Whole Grain bread or Lundberg Red Rice & Quinoa Think Stackers (don't put those in the toaster though!).
Try: 5 Tasty Toast Recipes to Try | Superfood Avocado Toast with Kale Tapenade
7. Chips
Before you get excited about chips being in your healthy-snack arsenal, let's be clear: We're not talking about potato chips. So put down the bag, and make homemade chips with any number of fruits and veggies to satisfy your crunchy cravings. If you do need to go the store-bought route, I really love Food Should Taste Good brand—especially the Kimchi flavor, which tastes exactly like Nacho Cheese Doritos. Seriously.
Try: 30 Healthy Chip Recipes | Baked Cinnamon-Sugar Apple Chips and Radish Chips |
8. Dips
What's a chip (healthy or no) without dip, right? I always find if I'm having a savory snack attack, just the act of dipping something crunchy into something creamy is enough to quell it. You can also get a lot of fiber (from your chips) and protein (from your dips) this way. Keep hummus, Greek yogurt or a homemade concoction in the fridge at all times and your homemade healthy chips will be that much more appealing. As someone whose biggest weakness was kettle chips and ranch dip not too long ago, I'm happy—and surprised—to say that cucumber slices and hummus now do the trick for me.
Try: 5-Ingredient Vegan Mexican Cheese Dip | 11 Last-Minute (and Guilt-Free) Superbowl Dips | Dried Apples with Black Currant and Cardamom Yogurt Dip
9. Sweets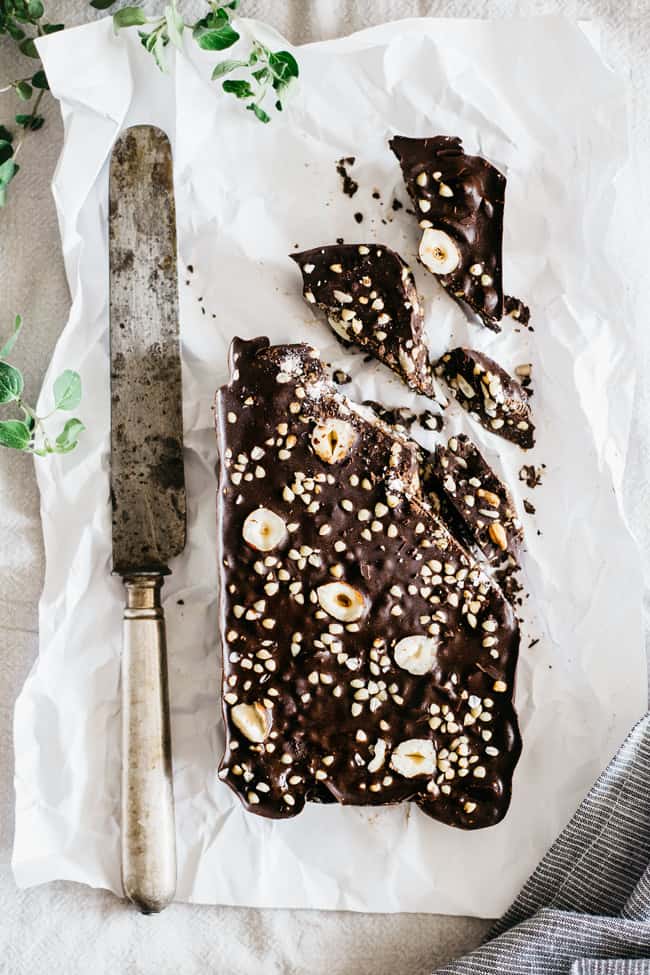 You might feel powerless when your sweet tooth strikes, but the more you feed it with healthier options, the less intense it will be over time. Blood sugar spikes and crashes wreak havoc on your diet, and rarely is a candy binge worth undoing all your healthy eating—or the resulting sugar hangover. Fruit is a great first line of defense here. Stock your kitchen with small quantities of not-too-sweet sweets like dark chocolate (get the expensive kind so you'll hopefully eat less), fruit chips or kombucha to get your fix. Personally, I'd be lost without Oh She Glows' chocolate-covered adaptation of the Almond Butter Freezer Fudge recipe from Everyday Detox. Just one square and I'm satisfied, and I got some antioxidants and healthy fats while I was at it.
Try: Superfood Dark Chocolate Bark | Coconut Milk Smoothie Popsicles | Healthy Apple Cinnamon Chia Seed Pudding
What's your no-fail snack food to keep you on track?
4