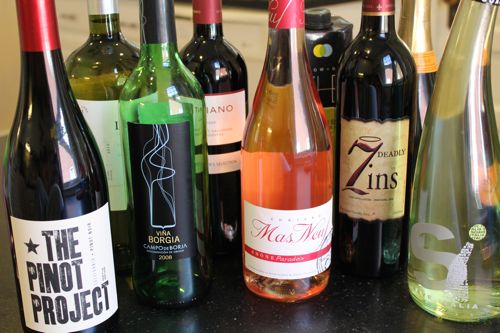 I am no wine connoisseur but I do like to ask questions. My gift to Mark for Father's Day was some really good food this weekend, and since I know him well, my first stop was at the Whole Foods wine market. I've chatted with Lori, the wine lady, several times but always felt bad about monopolizing her with questions. Not this time!
With my six bottle bag in hand, I was on a mission to fill it and get that 10% discount. I found her advice really helpful, so I thought I would share.
Here are a few of her picks and a couple of mine. Cheers to summer!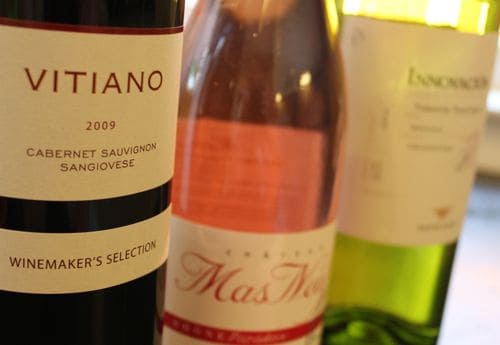 Best for Backyard Grilling: Vitiano Cabernet Sauvignon & Sangiovese $11.99*
Lori described this as a "Super Tuscan." I have no idea what that means but she said it would go well with whatever is on the grill – steak, chicken or fish – without being too heavy.
Best in Glass: Mas Neuf Paradox $11.99
I love to drink rose just because it's so darn pretty. Still fruity but less sweet than most.
Best Porch Sipping After Kiddos Go To Bed: Innovacion Torrontes & Pinot Grigio $9.99
A great budget find at $10 for a litre (you get an extra glass and a half!) plus it's really light and crisp. Bonus: made in Argentina from sustainably farmed grapes if you care about such things.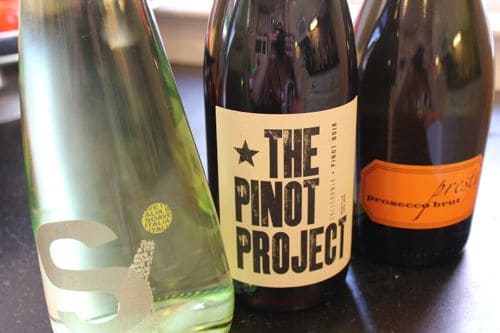 Best Looking Bottle: Si Soave $9.99
I had to try this one just because of the cool curved bottle. Si Soave gives great tips on food pairings.
Best Hostess Gift: The Pinot Project $14.99
More than I would usually pay for wine, but I'm willing to splurge a bit if someone is cooking and hosting my crazy brood. The project referenced in the name is finding really great Pinot grapes at affordable prices so it tastes like an expensive wine (whatever that tastes like).
Best for a Celebration: Presto Prosecco $10.99
I love Prosecco. Easy to drink and at this price I can celebrate even the smallest occasion.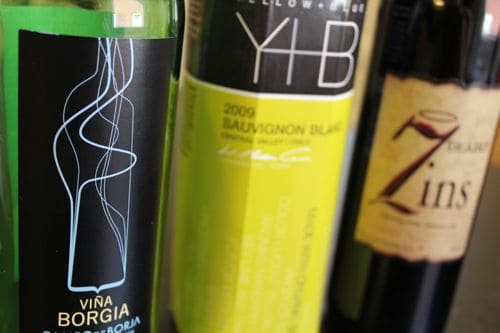 Best for Sangria: Vina Borgia Red $6.99
You don't want expensive wine for sangria. And according to Cook's Illustrated, sangria is actually better with cheaper wine (yay!). With this wine and the CI recipe, you won't go wrong.
Best to Keep in the Fridge: Yellow & Blue Sauvignon Blanc $11.99
This is my favorite white wine. It's organic and I can keep it in the fridge for several days in the nifty box. Ok, technically, it's not a box – it's a Tetra Pak but who cares.
Worst Name / Best Taste: 7 Deadly Zins $12.99
For syrah/shiraz fans, this is a really yummy wine. Try to get past the corny name.
What about you, do you like wine in the summer? Please share your picks!
*Prices listed are from Whole Foods in Louisville, KY.

0