Can we talk about meal planning for a minute? For someone who likes food as much as I do, it's surprising how much I hate planning for it. One assignment from my nutritionist was to keep a food journal, and I lasted about 2 days. Because, frankly, it made me crazy. I quickly go to the food obsession place where I can't stop thinking about food, and then I want to eat everything. My goal is to spend less time thinking about food, not more!
Enter the easy-to-assemble meal bowl. With a few tricks from my friend, chef Laura Wallace, the whole 'just throw a meal together' now seems actually doable. Prep a few things on Sunday and you're set for lunch or dinner for the entire week.
A Week of Make Ahead Meal Bowls
Each of these four bowl recipes starts with the same base: a grain, a protein and tons of veggies. That's what you'll prep on Sunday and have in the fridge ready to go. When it's time to assemble, you can add extra veggies and a source of good fat.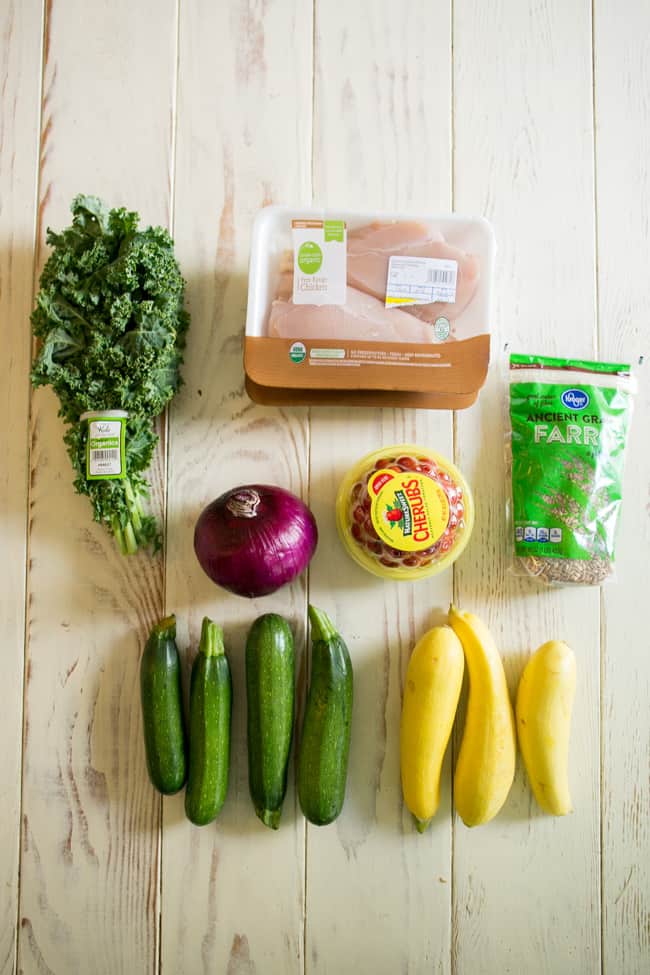 Grain
We used farro, but you can use rice or quinoa or whatever you prefer. Farro is one of my new favorites but it has a mild flavor and rice-like texture. To make farro, place 2 cups of water and 1 cup of farro grains in a sauce pot and bring to a boil. Reduce to a simmer until tender, 10 minutes approximately.
Protein
We used chicken, but you can use fish, beans, etcetera. Boiling is an easy way to quickly cook the chicken. We cooked four organic, free range chicken breasts. Bring a bit pot of water to boil, add chicken breasts and cook for 15-20 minutes. Let them cool and then shred them with a fork or with a KitchenAid using the paddle attachment.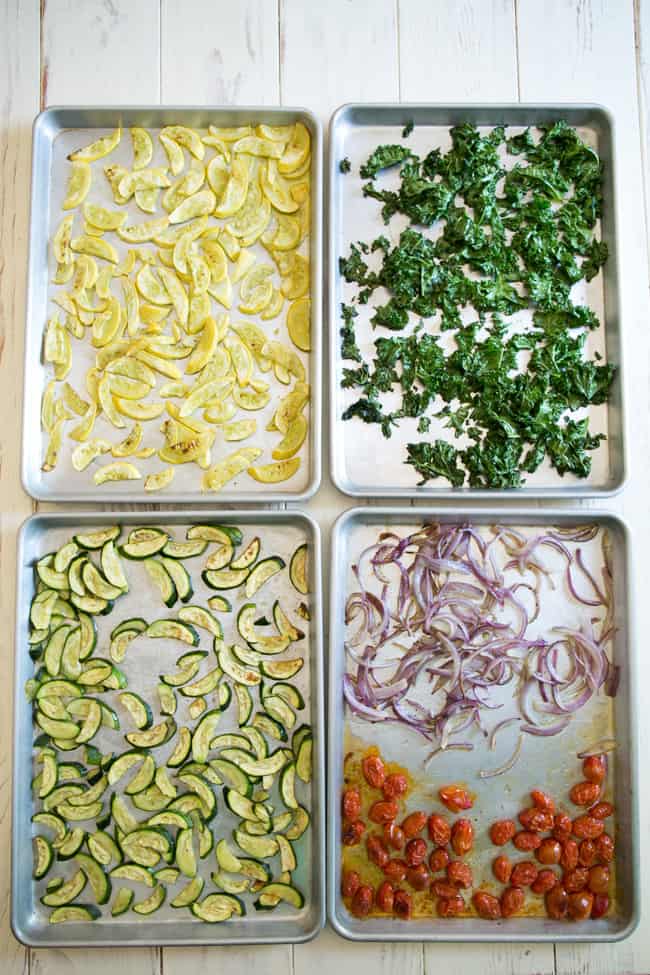 Veggies
Go crazy with the veggies! The more you have in your fridge, the more of them you're likely to eat. We roasted kale, tomatoes, red onion, zucchini and squash. Spread them on a sheet pan, sprinkle with a little olive oil and salt and cook at 400 degrees for 10 minutes.
Ready to put the bowls together? Here are 4 ways to change up the flavor profile for each meal. Seriously, they're all so different you definitely won't feel like you're eating the same basic ingredients each time!
1. Pesto Chicken Bowl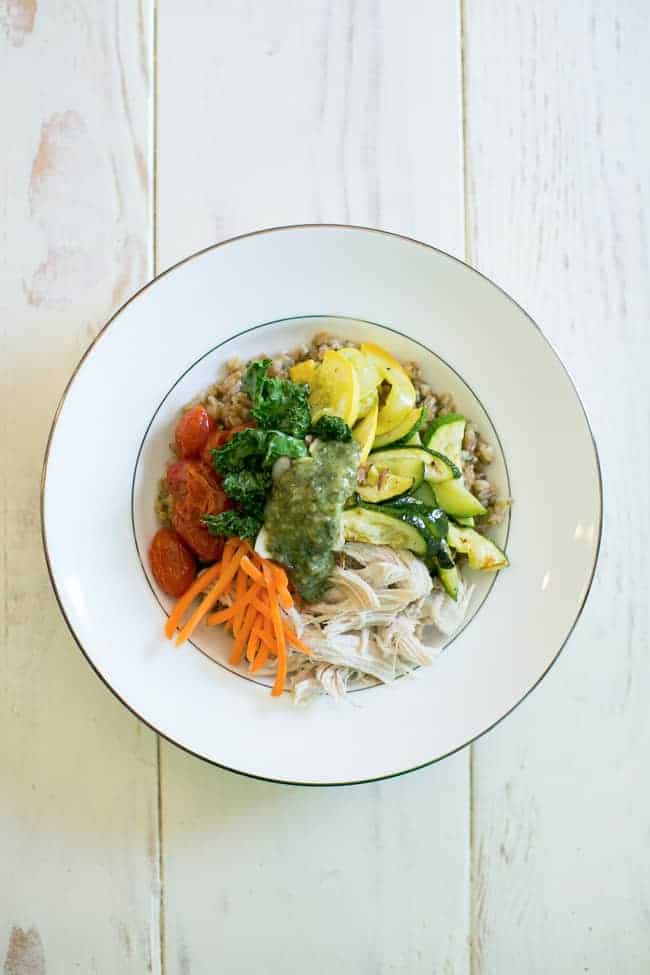 2. Greek Chicken Bowl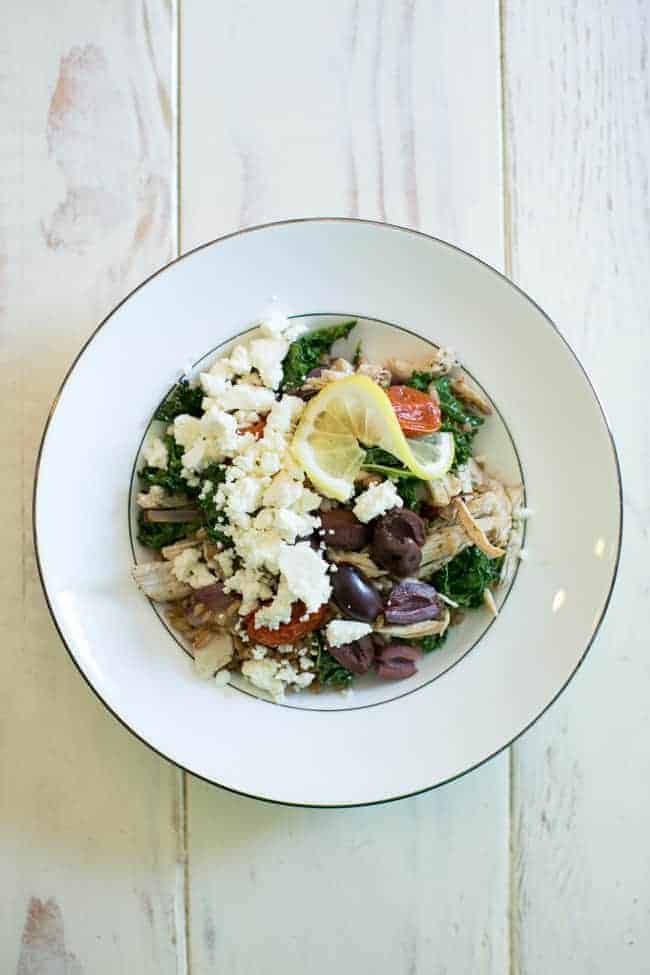 3. Southwestern Chicken Bowl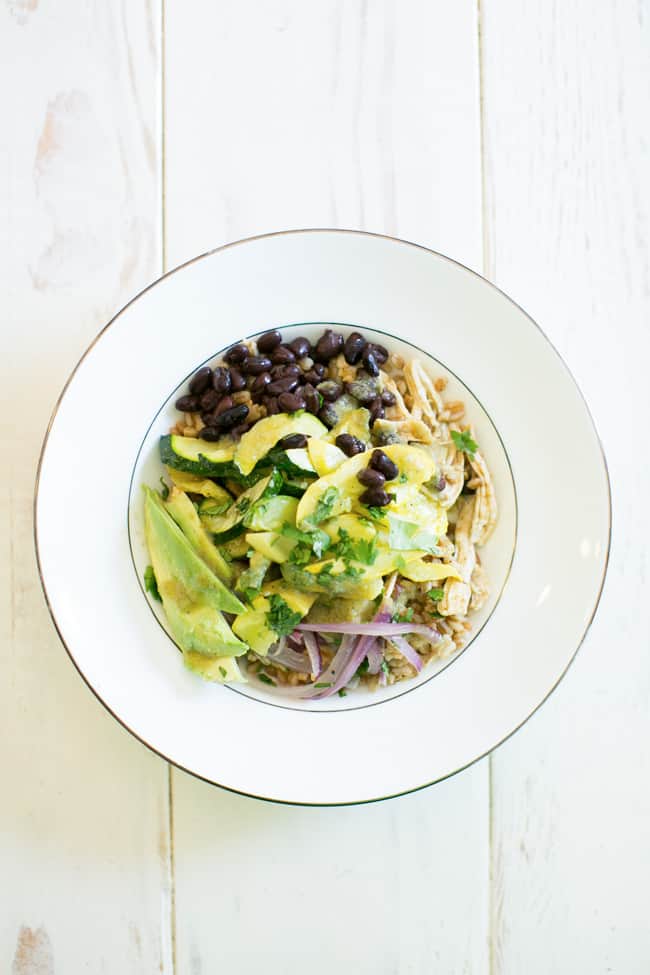 4. Asian Chicken Bowl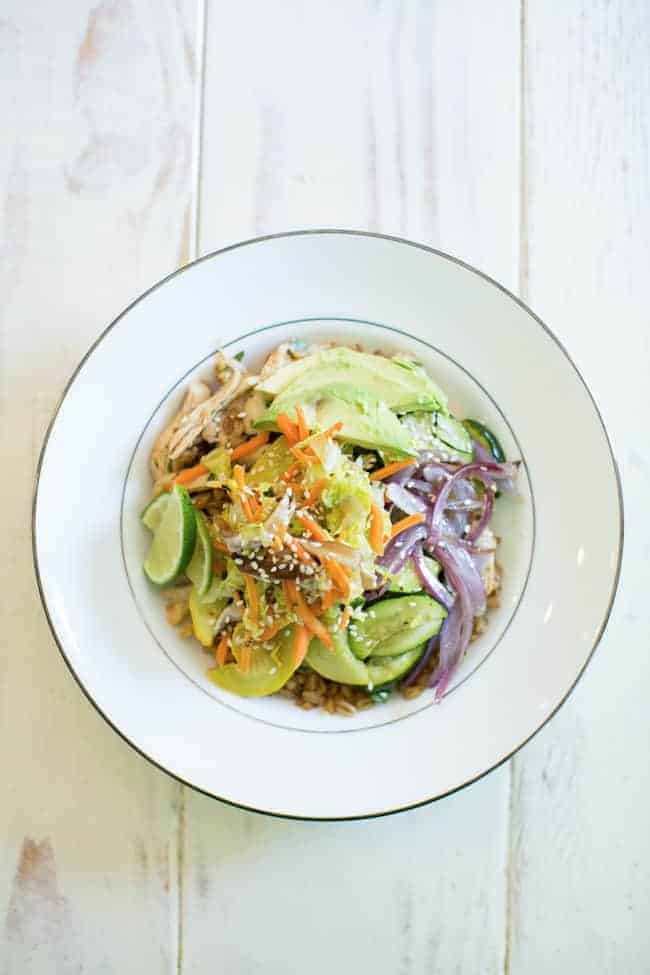 Recipes by Laura Wallace, Photos by Susan Hudson
9