A couple of weeks ago, my husband and I came down with a rip-roaring case of the stomach flu. If you've somehow managed to avoid this year's strain, consider me jealous (so, so jealous). It was almost seven days of headaches, chills, diarrhea, and nausea I thought would never end, followed by a cough that could set off a car alarm. It wasn't pretty.
But even when you're glued to the sofa with a trash can in your lap and nothing is staying down, there is one stomach virus remedy that actually works: charcoal. Not only does activated charcoal help soothe upset stomachs, but it has also been shown to help speed up recovery from diarrhea [source]. These activated charcoal gummies are perfect for sick kids and adults alike. And best of all, these gummies are super fun to make and eat.

Activated Charcoal Gummy Bears
Activated charcoal is a porous substance that pulls toxins into itself and flushes them from the body. It's typically used in hospitals or as a first aid remedy when someone has ingested poison.
But it also helps absorb the toxins from bacteria responsible for indigestion, gastroenteritis, and food poisoning. By binding to and removing the toxins from bad bugs in your system, activated charcoal can drastically reduce the amount of downtime caused by infections with these pathogens.
These charcoal gummies are made with only 3 ingredients—juice, charcoal, and gelatin—so you can whip them up in no time (a plus when you or your kiddos are feeling under the weather). And, unlike store-bought gummies, these contain no added sugar.
I used orange juice in mine because it's easy to get your hands on, and the added vitamin C helps boost the immune system. As for the gelatin, choose a whole food brand (I love Great Lakes gelatin), so you get the added vitamins and minerals.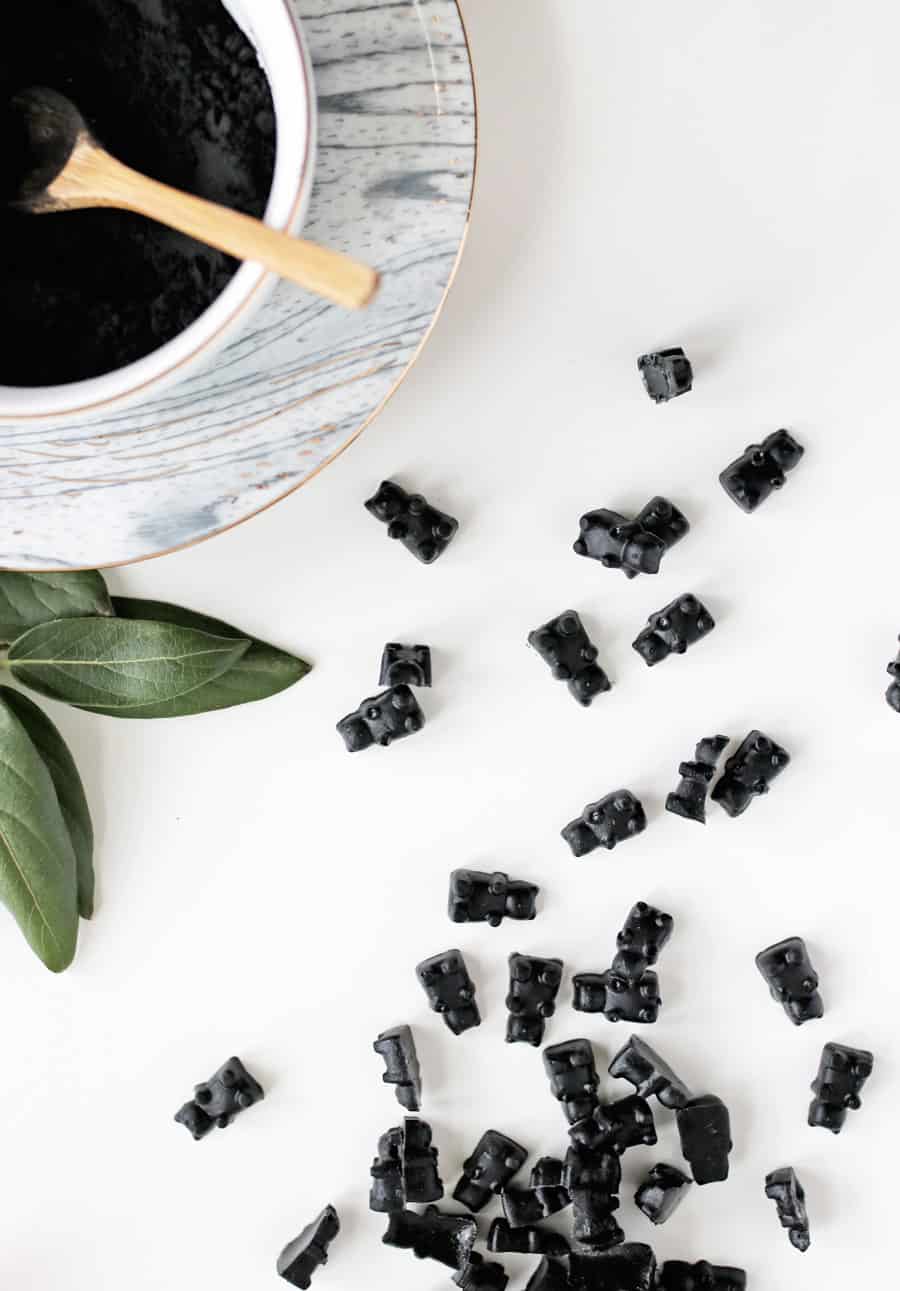 And lest you think gummies were just for kids, here's a little known fact: gelatin comes from collagen, which has long been used as a dietary supplement. Not only is it high in protein, but it's easily broken down by the body, so you get the maximum nutritional benefit.
And even if you're not sick, you'll love these gummies for their collagen-boosting benefits. As we age, our skin loses its tautness, our joints start to ache, our hair and nails become brittle, and our bones become weak. These effects can be helped by adding collagen back into our diets [source].
Whether you're recovering from a stomach bug or simply want to improve your diet, here's how to make your own charcoal gummy bears.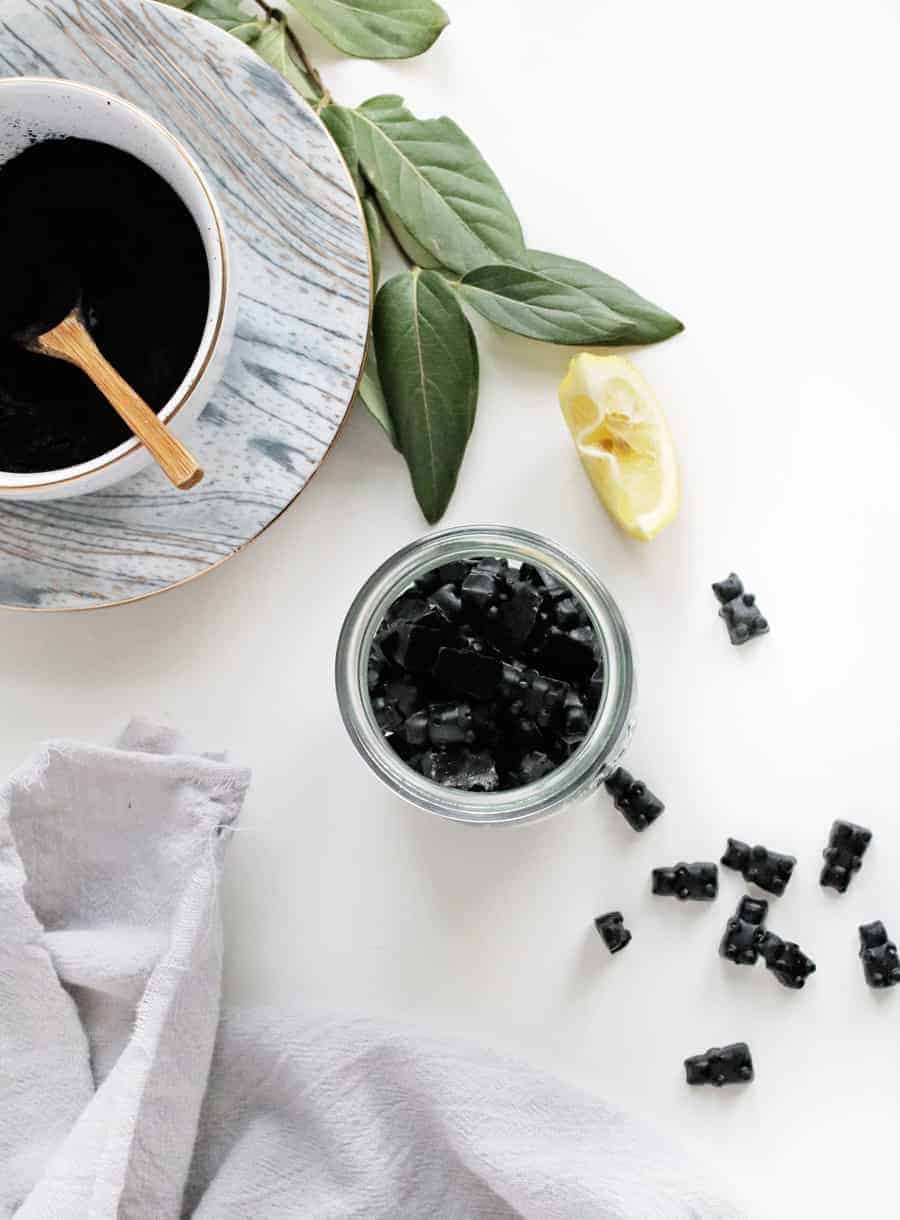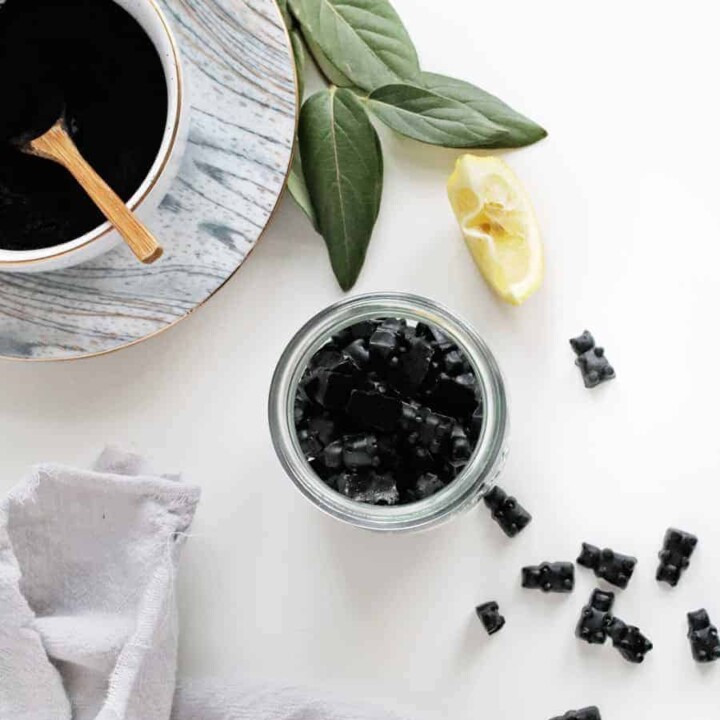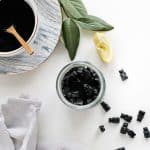 Print Recipe
Activated Charcoal Gummies
These activated charcoal gummies are ideal for helping the body recover from illness and removing toxins from the digestive tract.
Equipment
saucepan

whisk

Gummy bear mold
Instructions
Combine orange juice and gelatin in a small saucepan. Turn the heat to medium low and whisk to thoroughly dissolve the gelatin.

Remove from the heat and add the activated charcoal. 

Carefully pour the liquid into the molds and freeze for 20 minutes or until the liquid has gelled.

Remove from the mold and place in an airtight container.
Notes
Store in the freezer until ready to eat. 

Take 1 to 2 gummies as required to calm indigestion.
73