The interesting thing about adaptogenic mushrooms is that they don't work in a single, specific way. Being adaptable is their main attribute, meaning they will adapt to your body's needs as you ingest them. So while you can't pinpoint an exact recipe that works universally, one thing's for sure: these 'shrooms make your body and mind feel better!
The next time you order a dish with shiitake mushrooms, you might as well give yourself a pat on the back: they, too, have medicinal uses, supporting the well-being of the heart and the immune system. If you're willing to try them out for yourself, here are some mushroom-rich beauty and wellness products we love: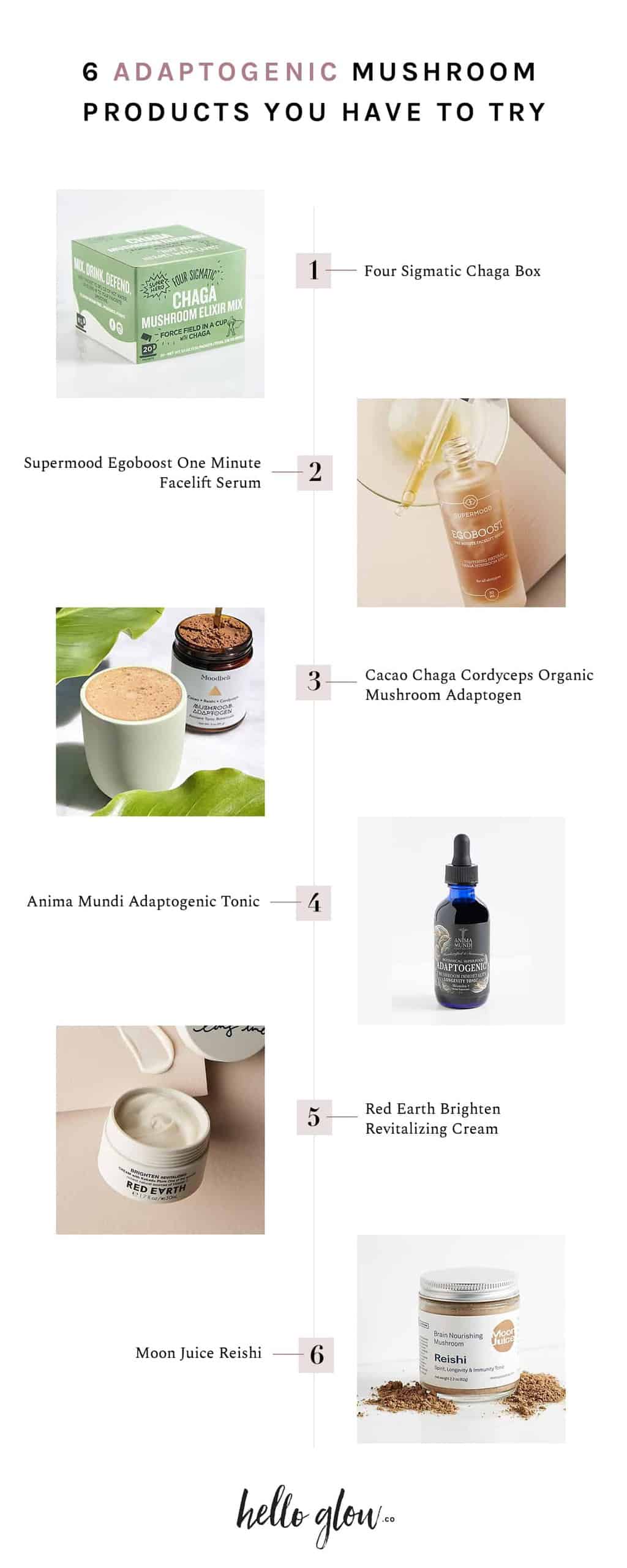 1. Four Sigmatic Chaga Box // Naturally boost immunity with this mushroom elixir, crafted from a blend of vegan ingredients, including antioxidant-rich chaga mushrooms. The wonderful drink mix offers anti-aging support for both your skin and hair too.
2. Supermood Egoboost One Minute Facelift Serum // Give it a minute! This supercharged serum instantly lifts and tightens the skin, with the aid of a chaga mushroom, birch sap, and wheat bran mix.
3. Cacao Chaga Cordyceps Organic Mushroom Adaptogen // An immune system-boosting mushroom drink that tastes like hot chocolate rather than mushrooms? A big "yes" to that!
4. Anima Mundi Adaptogenic Tonic // Reishi, Chaga , Shiitake, Maiitake, Lions Mane, Agaricus, and more medicinal mushrooms are blended together in a rejuvenating treatment which also helps purify the blood.
5. Red Earth Brighten Revitalizing Cream // This brightening cream features a quickly absorbing combination of orange peel, mushroom extract, kadaku plum and lemongrass, leaving the skin moisturized and dewy.
6. Moon Juice Reishi // Protect the liver, activate the brain, and create a sense of calm with this organic reishi mushroom tonic. Bonus: you can even use it in confections!
7