Morning smoothies get boring using the same old bananas and spinach day after day. I always try to find a way to adapt smoothies to my specific mood and general feel. As someone who struggles with a slow thyroid, I've been experimenting with a cycle phase diet to get my hormones in balance and honor my feminine inner self.
This also includes adding adaptogenic ingredients to help my body adapt and embrace the changes throughout the month. This smoothie is an elixir made with my favorite adaptogenic mushrooms and other key ingredients for supporting the transition during the luteal phase.
Adaptogenic Smoothie Recipe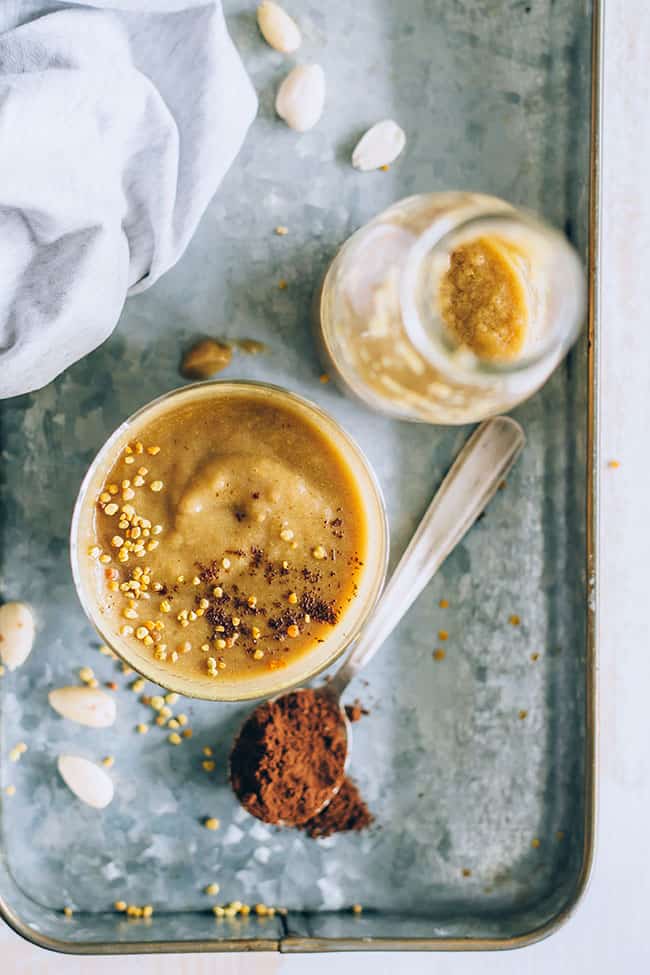 The Luteal phase begins after ovulation, ends with your menstruation and is the toughest time of the month, especially if you struggle with hormone imbalance.
This is the time when your body is preparing for a possible pregnancy and progesterone levels jump to create a thick, welcoming lining for a successful uterine implantation of the embryo.
Then slowly, the levels of progesterone start to drop and so does estrogen. Serotonin is in short supply and you get those unbearable mood swings and cravings for fat, carb-packed foods and chocolate.
When your body doesn't produce enough progesterone, hormone imbalance occurs, and you can have trouble falling and staying asleep, and get fibroids, endometriosis, thyroid disfunction and headaches.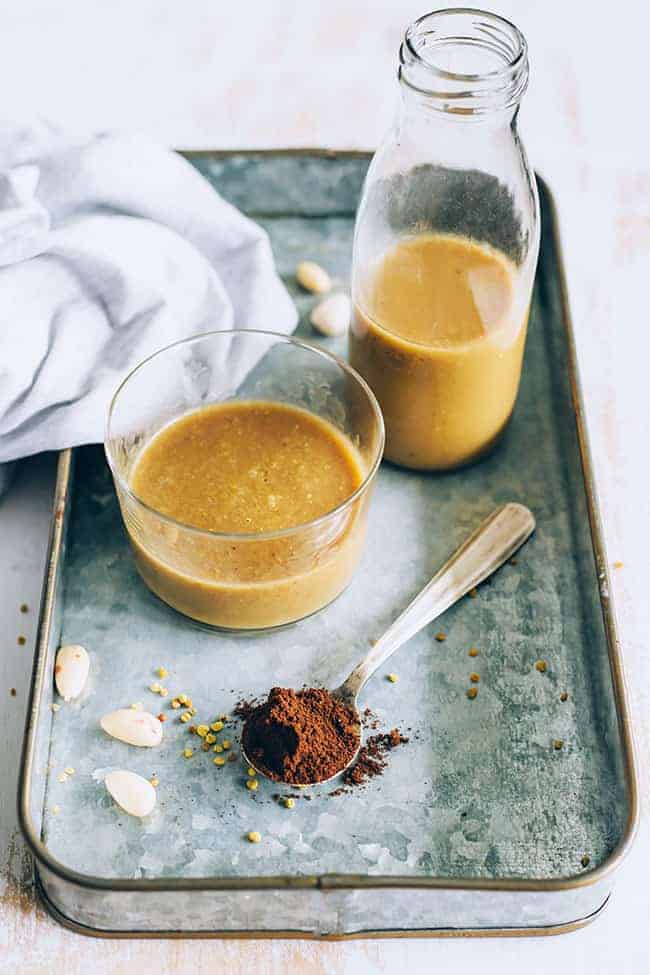 If your progesterone levels are low, before taking medication you can try making some simple dietary changes.
During the luteal phase, fiber-rich foods help regulate changes in bowel transit due to PMS, while vitamin C-packed foods ameliorate progesterone fluctuations. This is the best time to use these adaptogenic mushrooms:
Chaga, for its calming, stress-reducing, anti-inflammatory and immune-boosting properties.
Reishi, for its plant sterols that act as hormone precusors and its liver function support
This smoothie is designed to support your body throughout the luteal phase, using apples for vitamin C and soluble fiber, magnesium-packed almond milk and cashews to curb cravings, coconut oil for healthy fats, and a bit of each adaptogenic mushrooms mentioned above.
Supplementing with evening primrose oil and practicing gentle yoga exercises also calms your mood swings and eases hormone imbalance.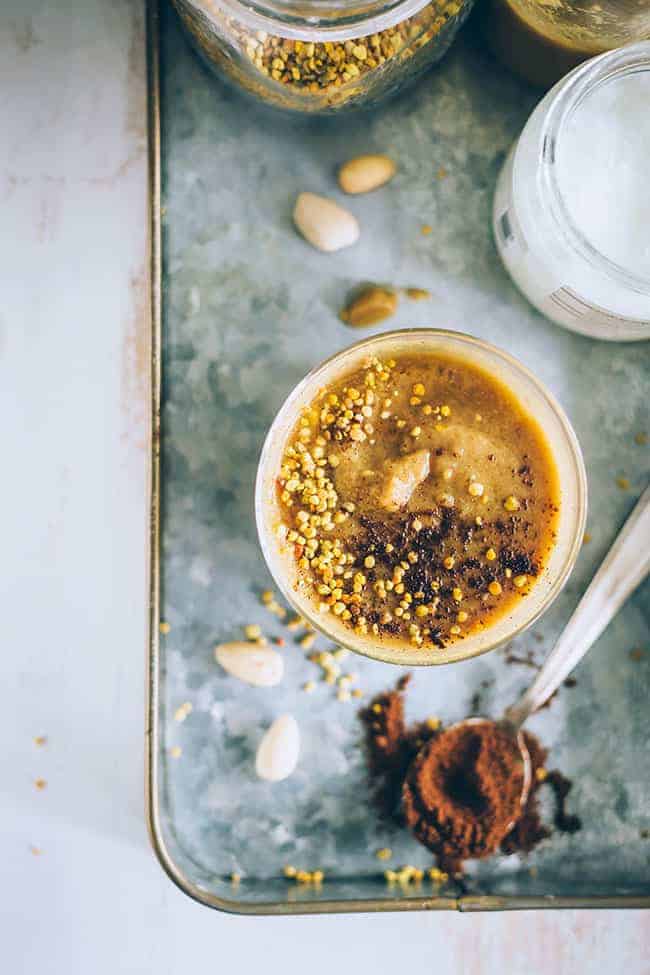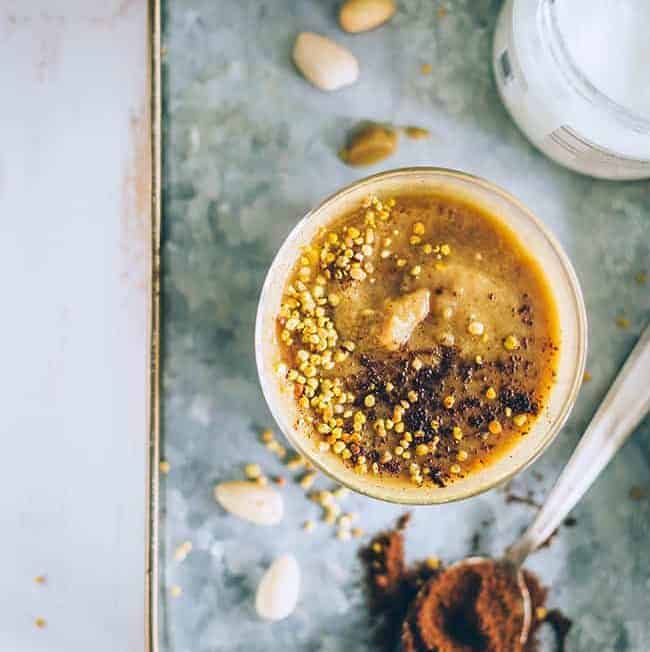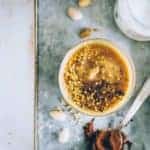 Print Recipe
Adaptogenic PMS Smoothie
A mineral, fiber and vitamin C-packed smoothie combining the adaptogenic properties of mushrooms with nutrient-dense ingredients to help your body cope with hormonal imbalance.
Ingredients
1 1/2

cups

unsweetened almond milk

1

organic apple

cut into cubes

1

tablespoon

cashew butter

1/2

teaspoon

chaga powder

1/2

teaspoon

reishi powder

2

teaspoons

bee pollen

1

teaspoon

cold-pressed coconut oil
Instructions
Combine all ingredients in a blender and blend until smooth. Pour into a glass and garnish with bee pollen.
Notes
Reishi and chaga aren't the only adaptogens you can use for this recipe. Feel free to add any adaptogenic ingredients you like.
This post was medically reviewed by Dr. Kimberly Langdon, M.D., a university-trained obstetrician/gynecologist with 19-years of clinical experience. Learn more about Hello Glow's medical reviewers here. As always, this is not personal medical advice and we recommend that you talk with your doctor.
27