This is a sponsored post written by me on behalf of Activia Probiotic Yogurt. All opinions are 100% mine.
Adding probiotics into my diet happened naturally over a few years, but within the last year or so, I've really ramped it up and reaped the benefits. In my opinion, fermented foods are by far the best way to add probiotics into your diet. Yogurt is an easy place to start, if you're not already eating probiotic-rich foods.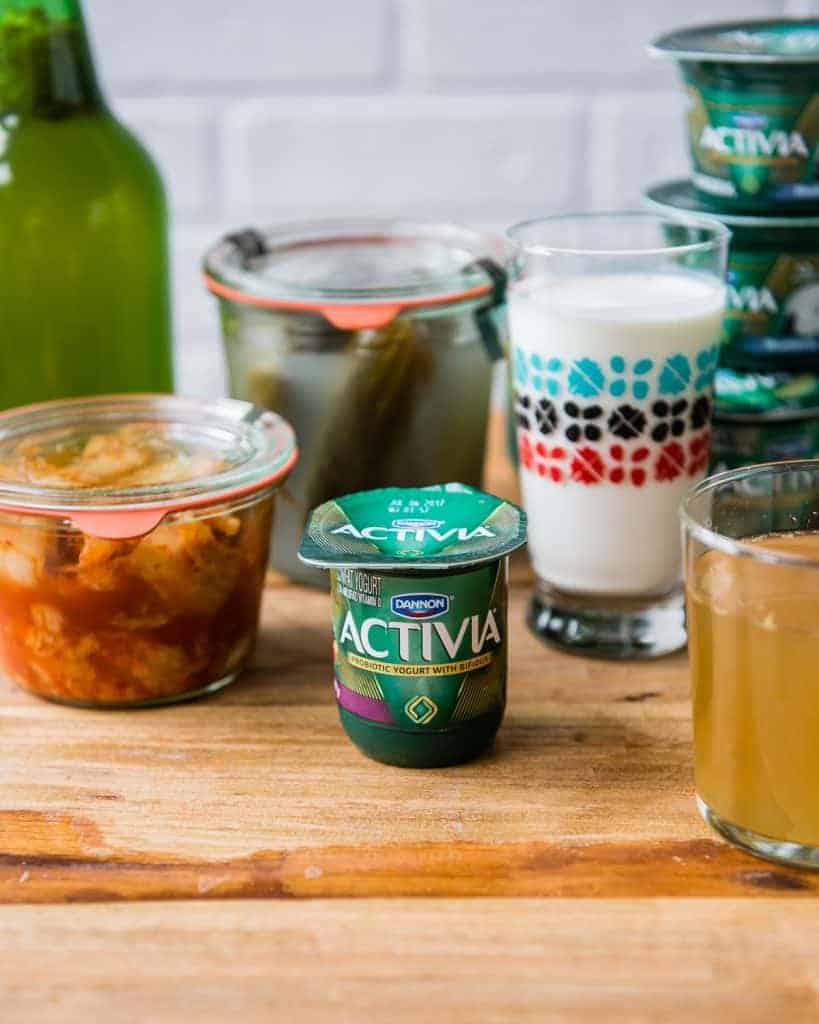 First, why are probiotic foods so important? What about supplements?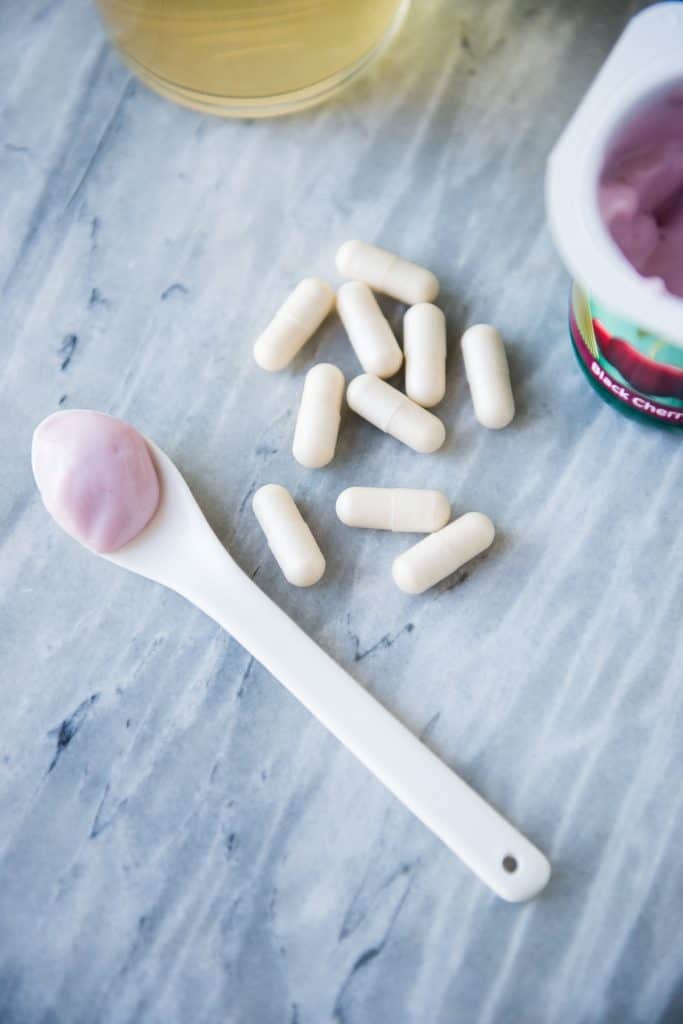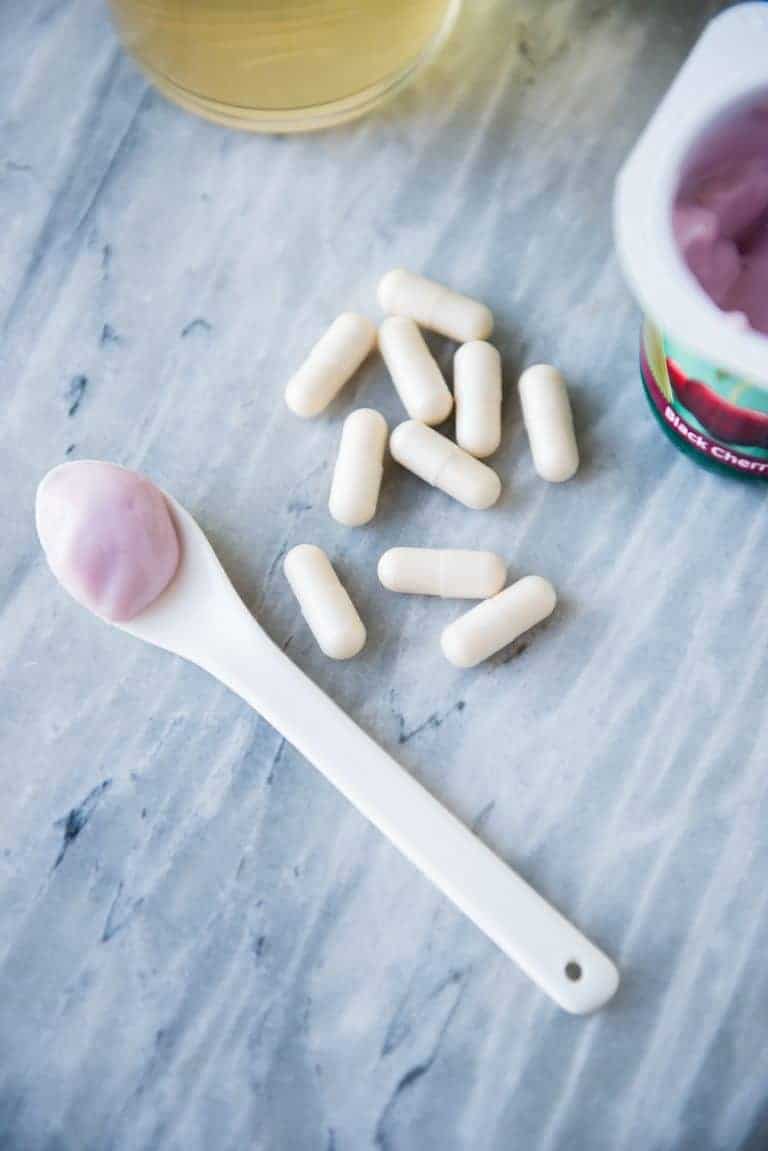 Probiotic benefits are strain specific and some probiotics have been shown to help support digestive health. When you consume them in food form rather than pill form (supplements), you get the added nutrition of eating a food as well as increasing the chance that they will survive stomach acid on their way through the human gut.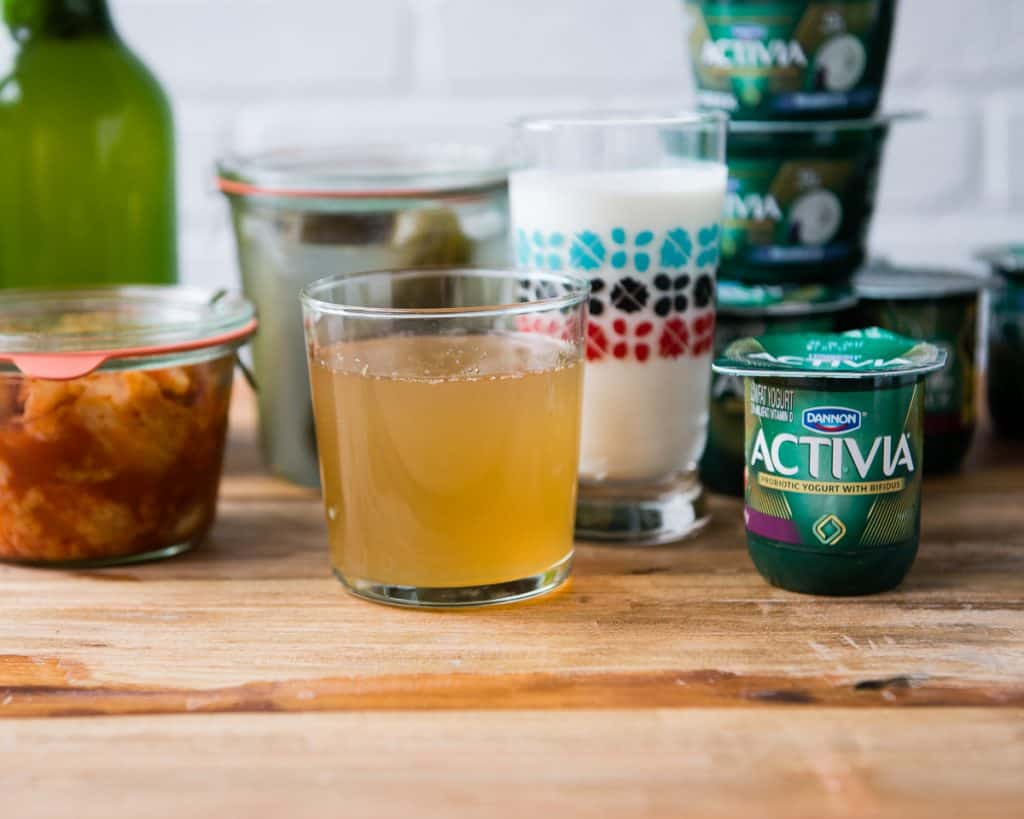 Supplements may be hard to remember to take. Eating probiotic rich foods is also easy, budget-friendly, and delicious, which is why that's the route I take.
One of the most important things I learned is that consistency is key–I need to eat (or drink) probiotic foods on a daily basis for maximum benefits. If I skip a day, not a huge deal, but if I skip a few days in a row, then I run the risk of not keeping it as a habit and part of my daily routine.
Here's what a typical day might look like: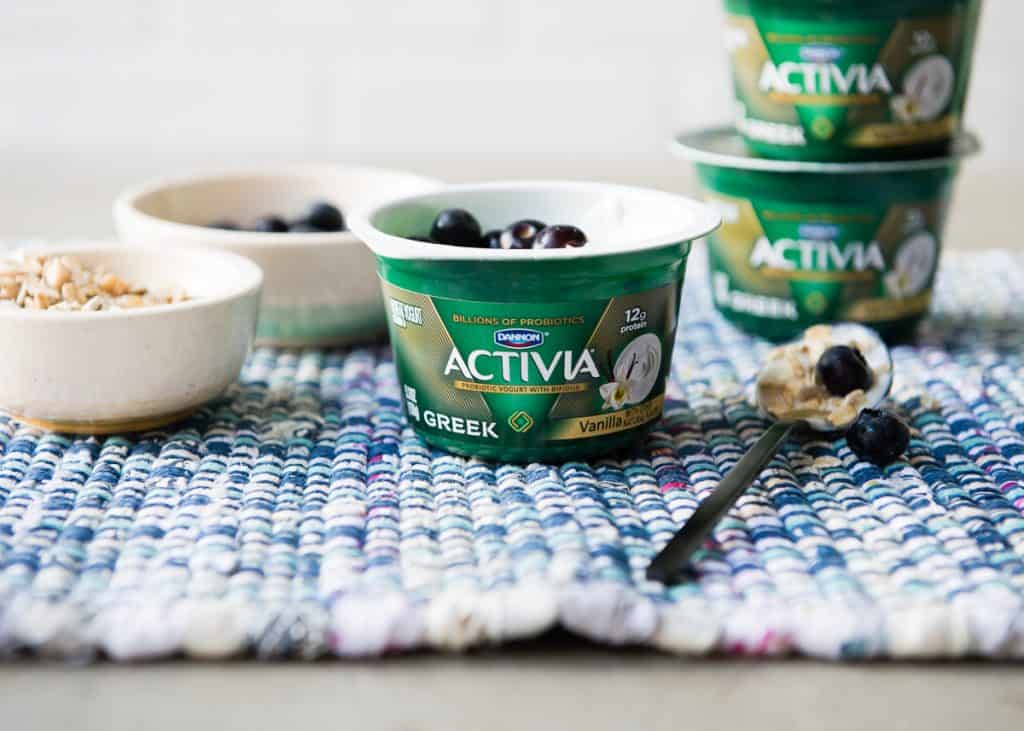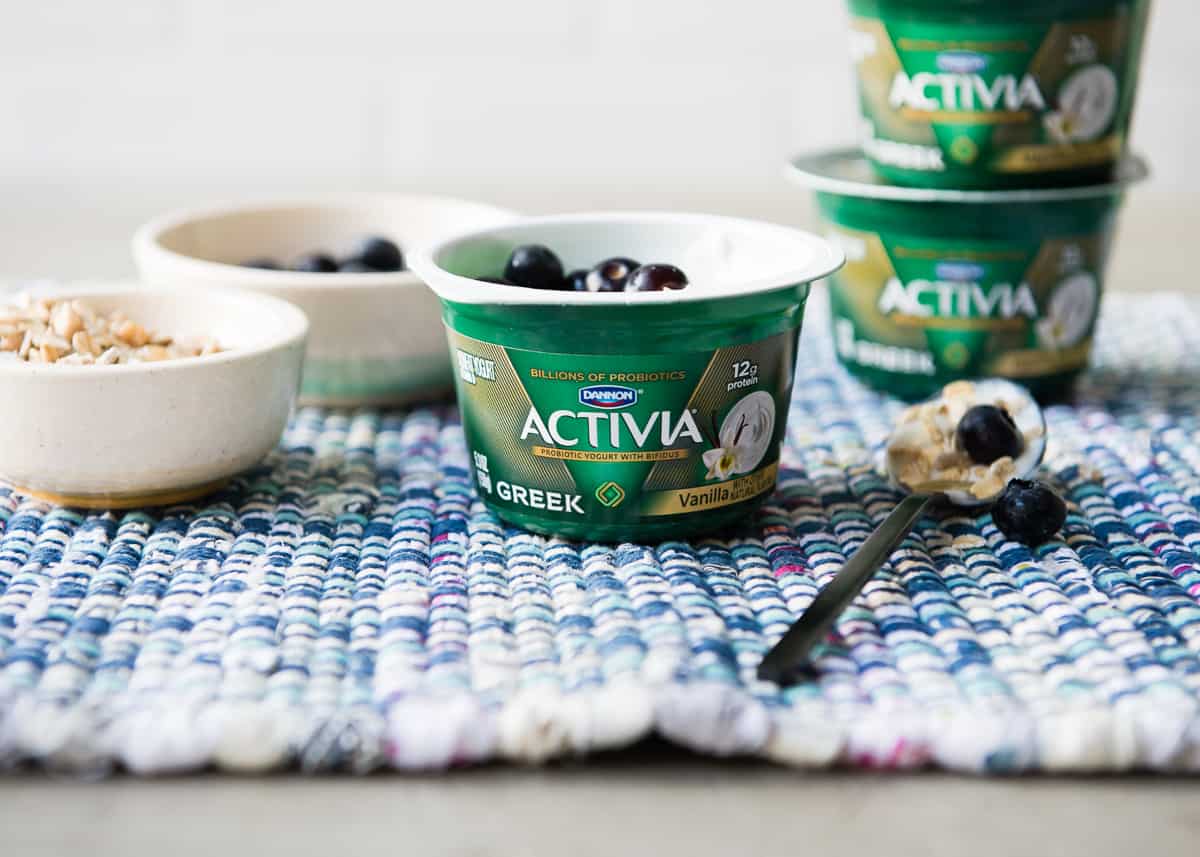 Breakfast: green smoothie made with kefir
Morning snack (or after exercising): 2 Activia Greek nonfat yogurt with granola and fresh fruit
Lunch: vegetable soup or salad; kombucha to drink and a cup of Activia to finish off my meal
Afternoon snack: naturally fermented pickles and raw almonds
Dinner: Veggie Buddha Bowl with Miso Dressing (bonus points if I add tempeh or kimchi too)
Another benefit of eating probiotic-rich foods is that you'll also reap the benefits of the nutrients in the foods in addition to the probiotics.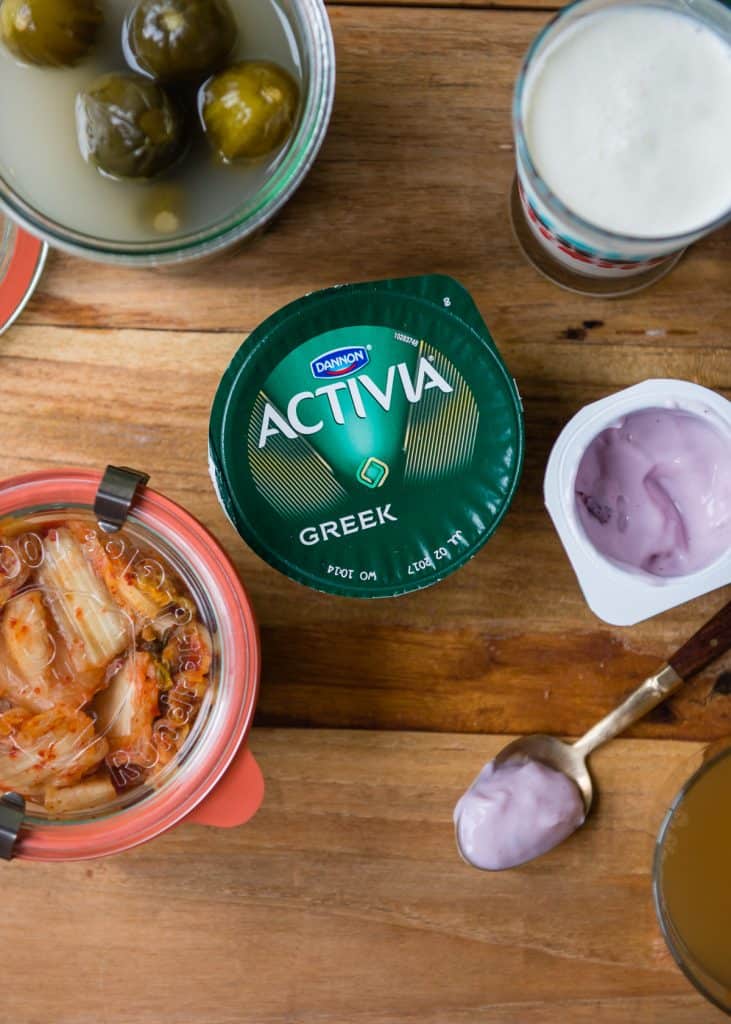 Getting your probiotics from yogurts, like Activia, provides calcium that helps keep bones healthy and strong. One of my favorite fermented foods, tempeh, is loaded with plant protein. Kombucha has B vitamins, which can be particularly important if you're following a vegetarian diet. And in general, fermented foods produce other nutrients, including certain vitamins during fermentation that you may not get from a probiotic supplement.
Taste, as I may have mentioned, is another important factor for me. Probiotic foods taste fantastic. If you're never tried a naturally fermented pickle, you're missing out. And it's hard to top the tang or spicy kick from sauerkraut or kimchi on a veggie bowl, or the fizz of kombucha or water kefir. And the creaminess of yogurt…sigh. There's nothing like it!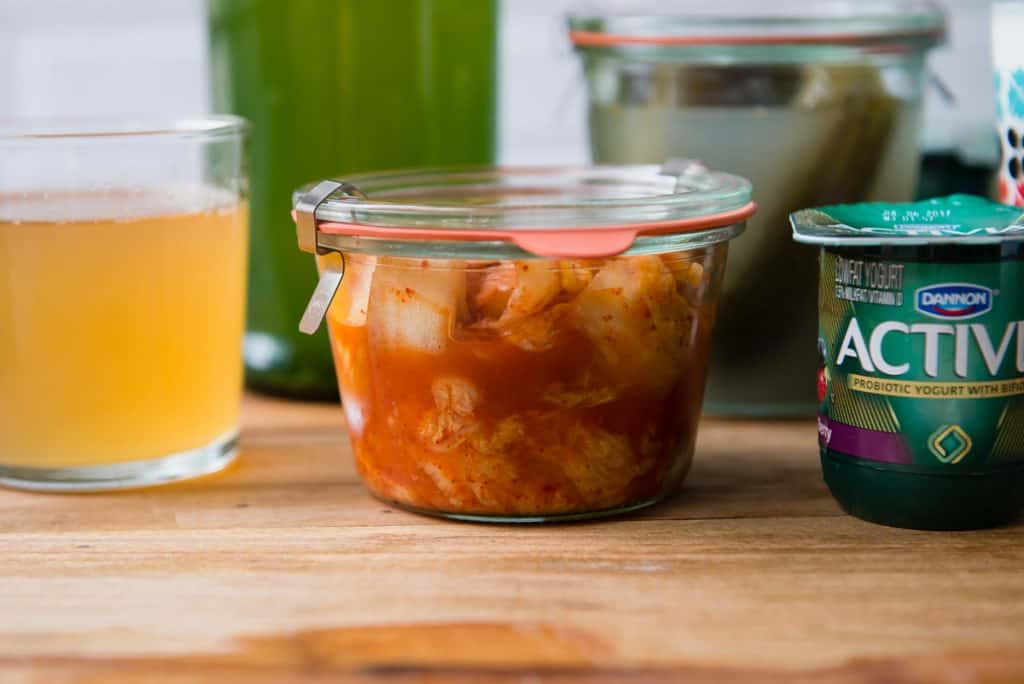 Because yogurt is so smooth, creamy, and easy to eat, it's one way I've gotten my whole family to enjoy getting their probiotics. My kids love yogurt as much as I do, and I love that with Activia lowfat and nonfat yogurts they're getting beneficial bacteria, like Activia's probiotic Bifidobacterium Lactis DN-173 010/CNCM I-2494, as well as the calcium, protein, and other nutrients on a daily basis. (Especially if they're not quite ready to try the other probiotic foods yet!)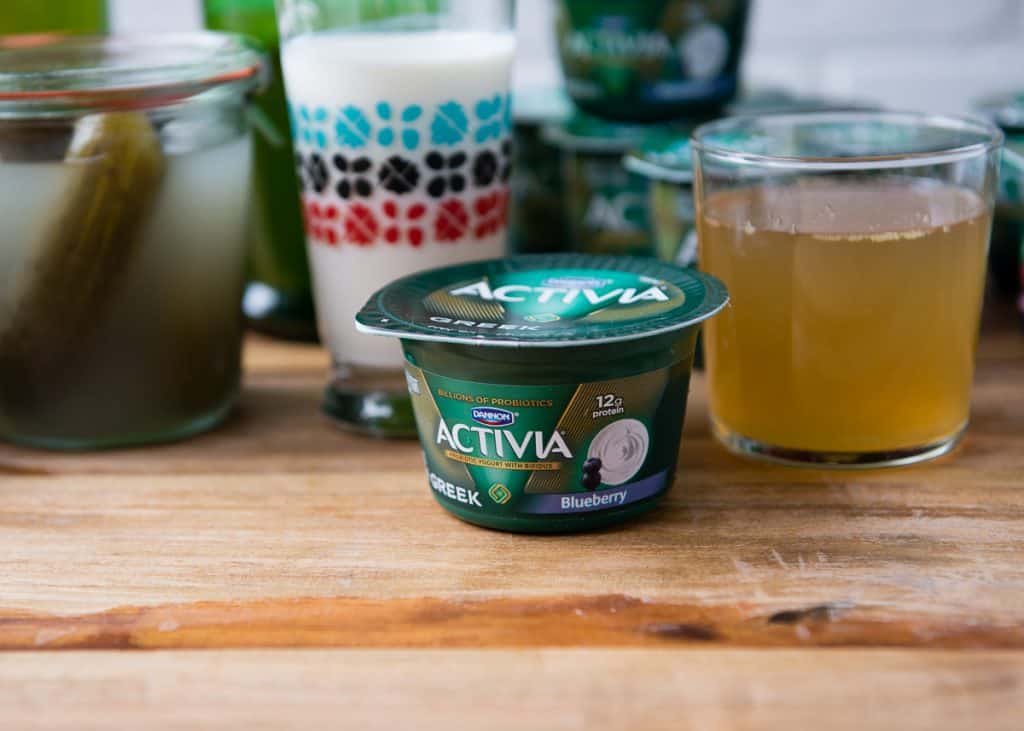 Have you found a good routine for adding probiotic-rich foods into your day? Take the Activia Probiotic Challenge and find out how probiotics can change your health for the better. Read the Challenge Rules and get started!
*Activia probiotic yogurt may help reduce the frequency of minor digestive discomfort when consumed twice a day for two weeks as part of a balanced diet and healthy lifestyle. Minor digestive discomfort includes gas, bloating, abdominal discomfort, and rumbling.
1