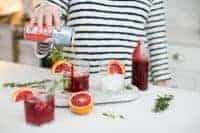 Blackberry Cider Fizz
Yield 4 drinks
Ingredients
1 cup blackberries, frozen
2 tablespoons apple cider vinegar
2 tablespoons rosemary simple syrup (recipe instructions below)
3/4 cup water
2 - 4 cups blood orange sparkling water (1/2 to 1 cup for each glass)
1 slice blood orange and 1 rosemary stem for garnish
Instructions
Combine first 4 ingredients in a blender. Pulse until blackberries are smooth. Strain the mixture into a measuring cup or jar.
To serve, fill a glass with ice, then pour in the blackberry mixture to fill the glass about ¼ of the way. Fill the rest of the glass with the sparkling water and add the garnishes.
Rosemary Simple Syrup: Combine 1 cup sugar and 1 cup of water plus 2 rosemary stems and 1 tablespoon chopped rosemary in a sauce pan over medium high heat. Bring to a boil and simmer for 5-10 minutes. Let cool for 10-15. Strain out the rosemary and store in the refrigerator.
Recipe by Hello Glow at https://helloglow.co/alkalizing-blackberry-cider-fizz-mocktail/