I never experienced seasonal allergies until I moved to Washington, D.C. I had always heard people complain of allergies and I watched plenty of friends and family members battle them firsthand, but until I experienced them myself, I never really got it.
Suffice it to say that my first spring in D.C. was a real doozie. I spent a long couple of months sniffling and sneezing my way through every allergy remedy under the sun. And while some worked and some didn't, I eventually found one that I swear by: bee pollen.
These allergy fat bombs contain local pollen, so they help your body adjust to the allergens in the air. Just whip up a big batch and enjoy them like dessert (they're seriously tasty). And with any luck they'll dramatically reduce your hayfever symptoms or even get rid of them completely.
Allergy Fat Bombs
There are lots of factors at play when it comes to seasonal allergies, but most doctors agree that it boils down to an over-active immune system. If the immune system becomes overstimulated, it can start treating harmless substances (like allergens in the air) as if they're harmful invaders. And with repeated exposure, these symptoms often become chronic.
While there isn't much scientific evidence supporting the use of local pollen to treat allergies, there are tons of sufferers like me singing its praises. In theory, consuming local honey and pollen from where you live will help your body adapt to the allergens in your environment. It acts like a natural allergy "shot", whereby the gradual intake of pollen helps your body build up immunity. Then when allergy season hits, your immune system responds normally and you remain symptom-free.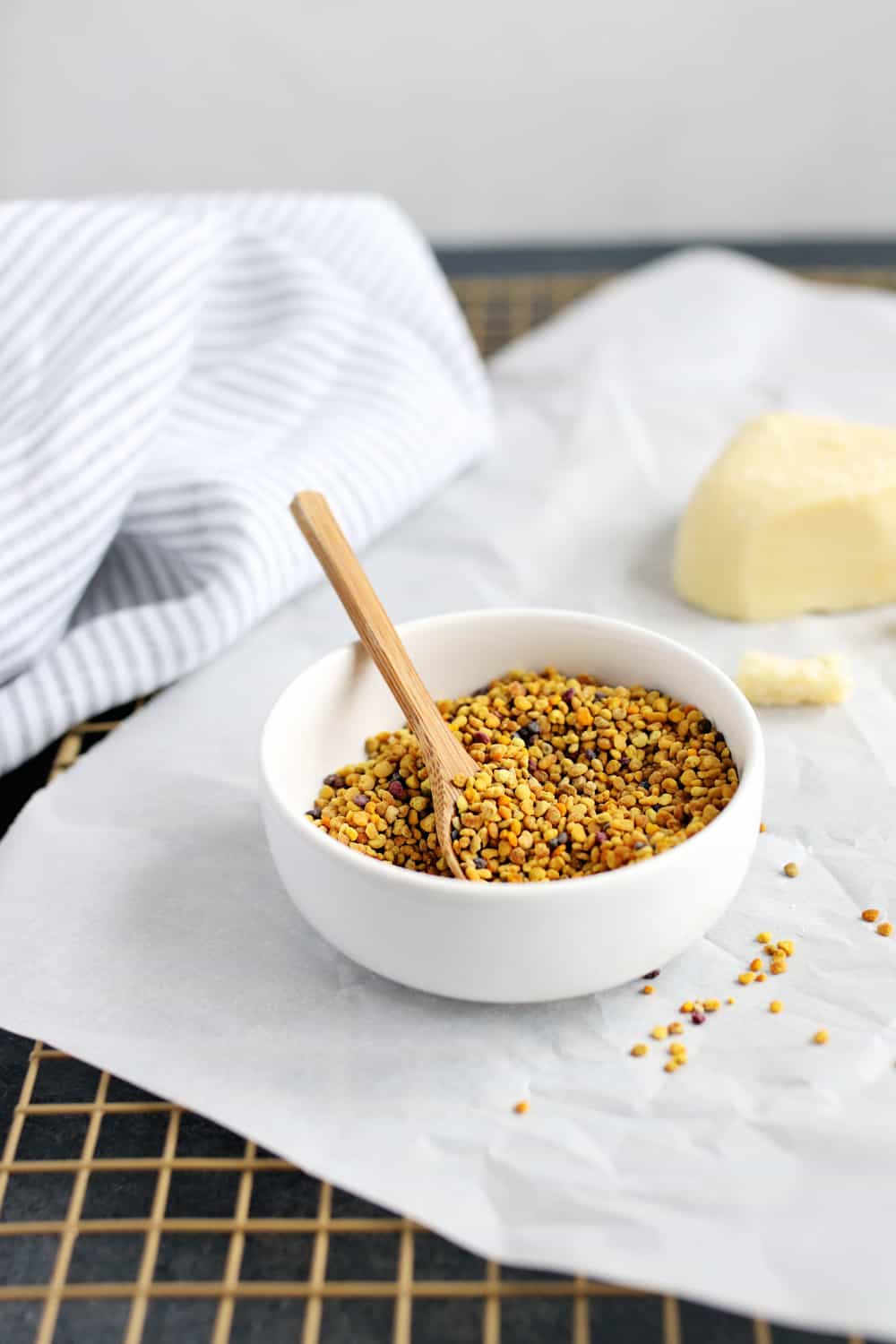 These fat bombs are an easy way to get your daily pollen fix. Thanks to cocoa butter and coconut oil, they taste like white chocolate and they're loaded with healthy fats. I like to sweeten them with local honey to get even more allergy-fighting benefits. For best results, eat one or two a day starting at least a month before allergy season – that way you'll be prepared once allergy season gets into full swing.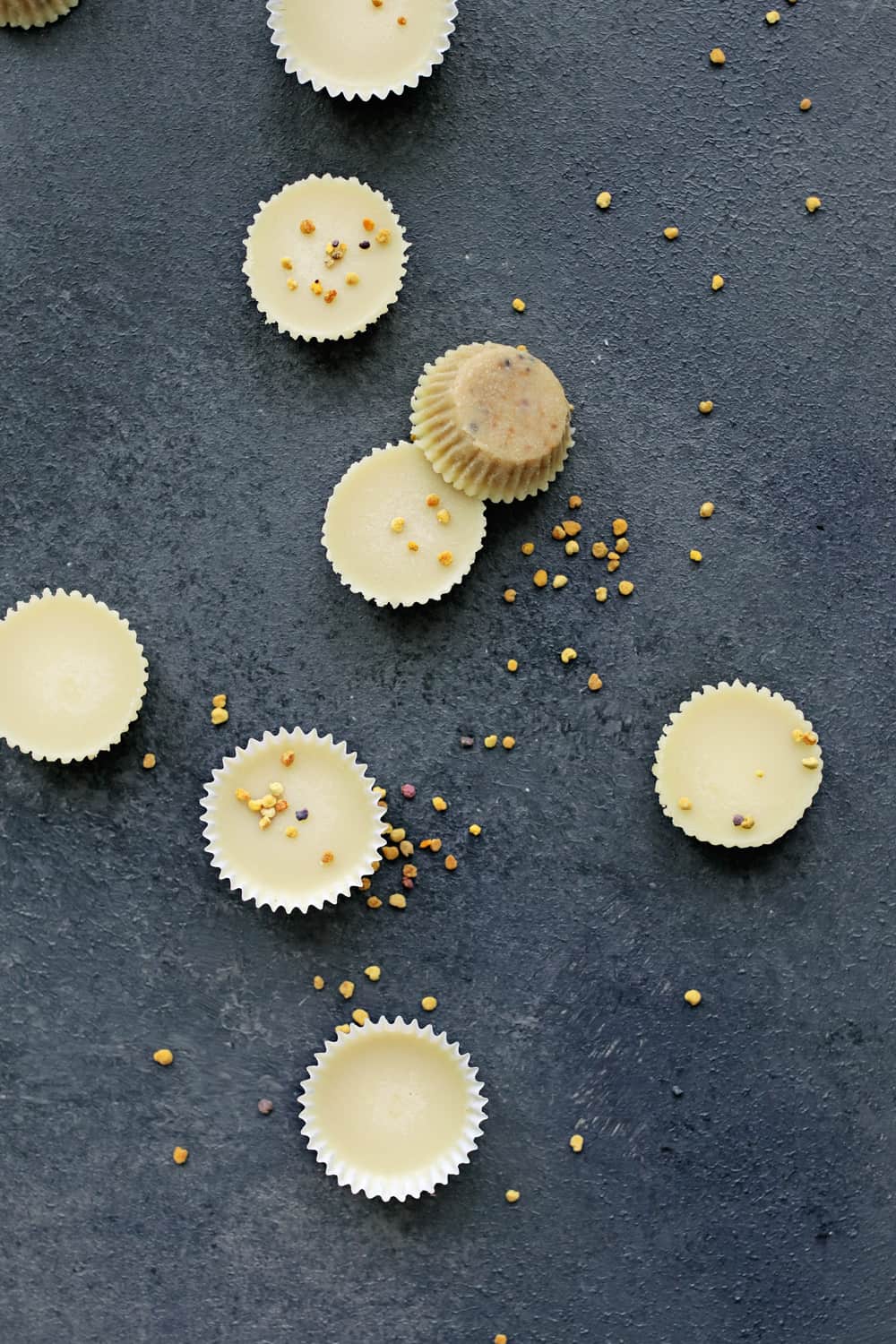 If you live in a small town, local pollen might be hard to find. I found mine at a farmer's market, but I sometimes see it at nearby health food stores as well. If you run into trouble, check online for pollen from your state. Obviously, the closer to home the better, but I have still had good results from a bee farm 75 miles away. As last resort, you can just use local honey and skip the pollen altogether. Honey contains some of the same allergens as pollen, only in lesser amounts, so you'll still get some benefit.
And it goes without saying, but make sure you and your family aren't anaphylactic or severely allergic to bees before trying these!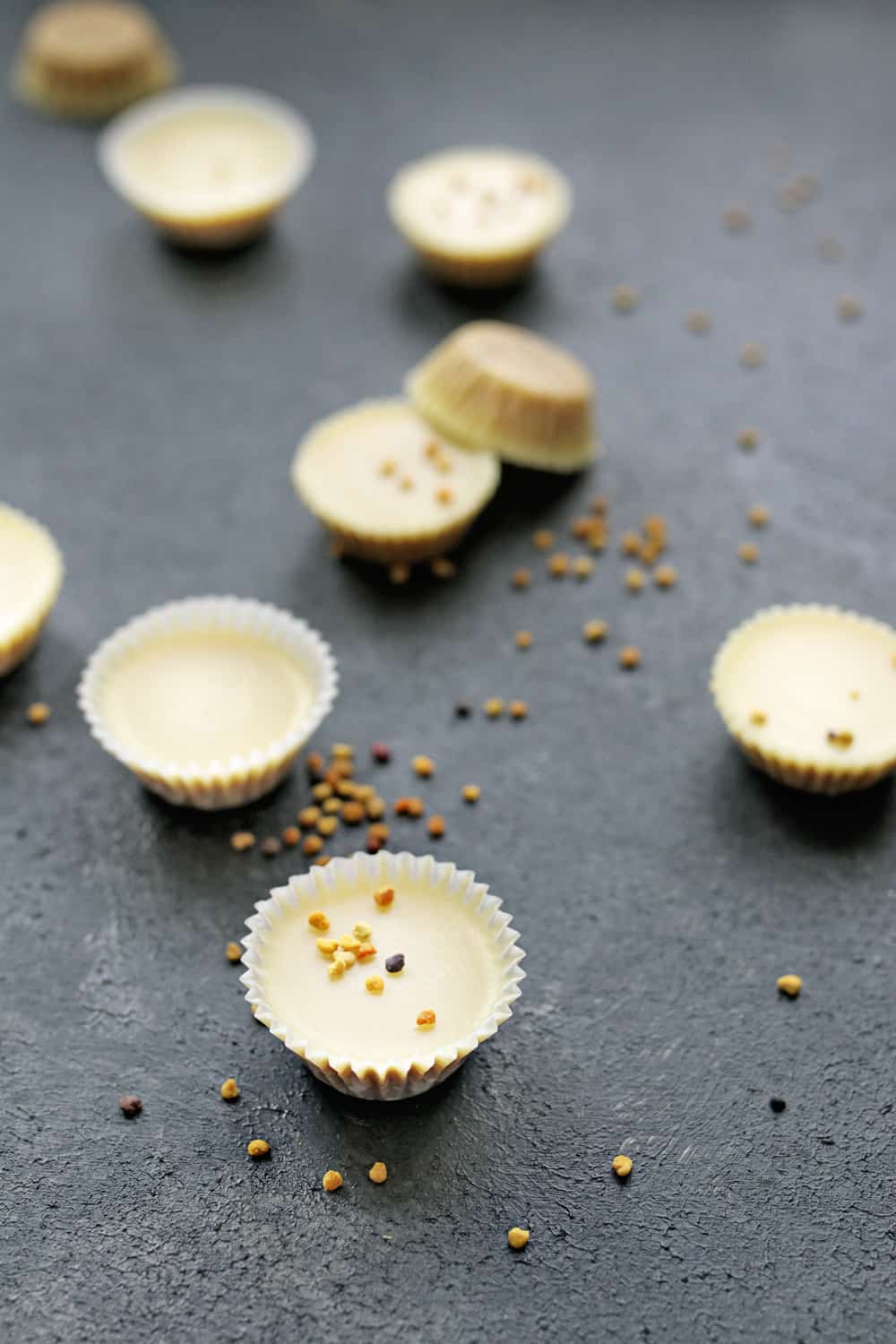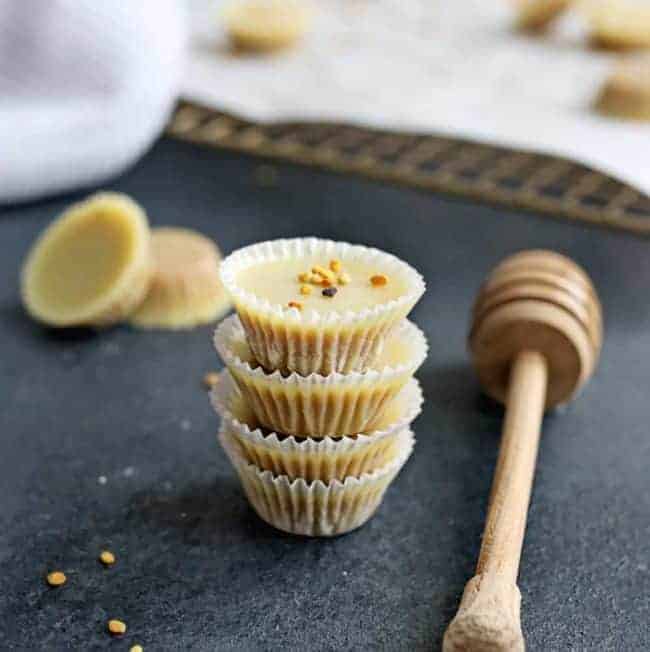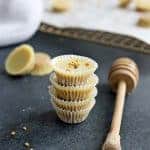 Print Recipe
Allergy Fat Bombs
These allergy fat bombs use local bee pollen and honey to help the body overcome seasonal allergies. And they taste amazing too!
Equipment
Small bowl

Wire whisk

Mini muffin tin liners or silicone mold
Ingredients
½

cup

cocoa butter

¼

cup

coconut oil

¼

cup

tahini

you can also use almond or peanut butter

2

tablespoons

coconut cream

1

teaspoon

vanilla extract

1

tablespoon

local honey

1

tablespoon

local bee pollen
Instructions
Combine everything except the honey and pollen in a small bowl. Microwave in 30-second intervals until just melted. The cocoa butter might take longer than the other ingredients, in which case just whisk the mixture until it fully melts. 

Add the honey and pollen and whisk again.

Spoon the mixture into your muffin tin liners and sprinkle with extra bee pollen. Freeze for 20 minutes or until solid.

Store your fat bombs in the refrigerator and eat one or two a day throughout allergy season.
Notes
Feel free to use a double boiler on the stove if you'd prefer to skip the microwave. 
These should keep for 2-3 weeks in the refrigerator.
10