I don't care what the experts say; attaining flawless skin isn't as easy as washing your makeup brushes and changing out your pillowcase every couple of days. Just like when I was a teenager, my "more mature" skin isn't afraid to tell me when I've done something it doesn't like—which, apparently, is all too often.
I recently overhauled my skincare routine and eliminated the chemicals that might be leading to breakouts. Then, to top it all off, I started making my own aloe vera face wash. I needed a homemade cleanser to remove daytime makeup and grime without stripping my skin of moisture or adding to the irritation—and this stuff works like a charm.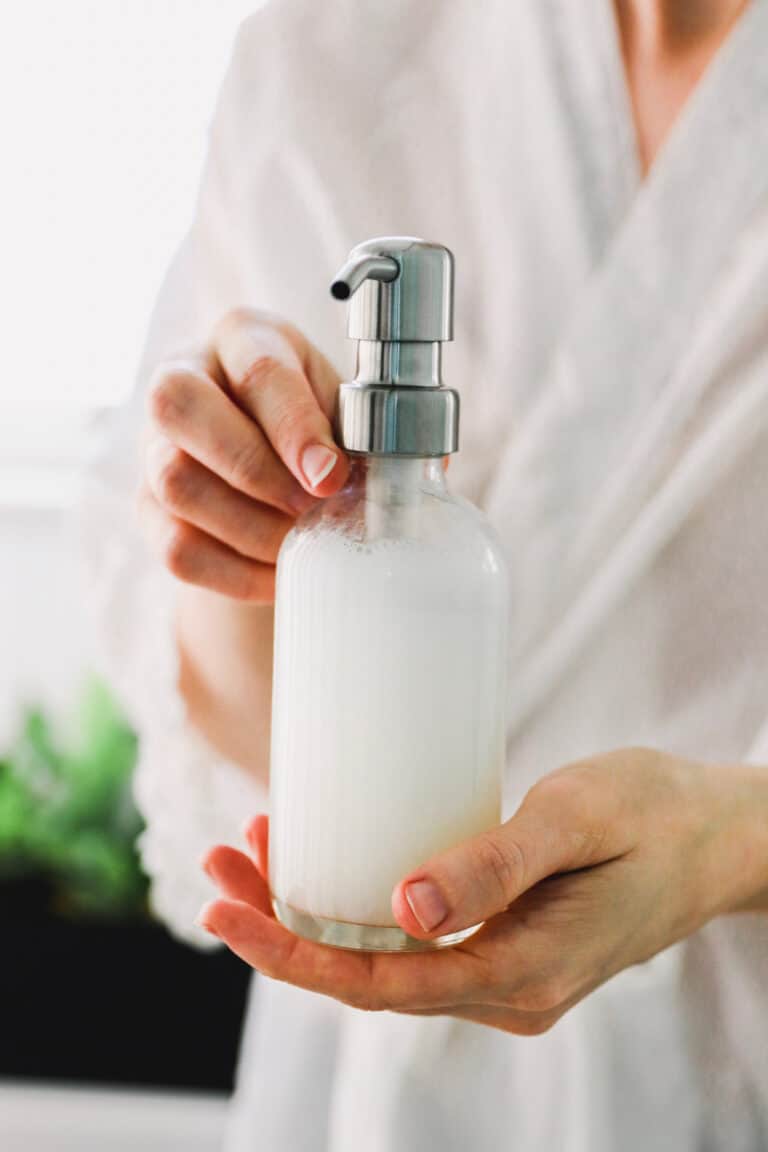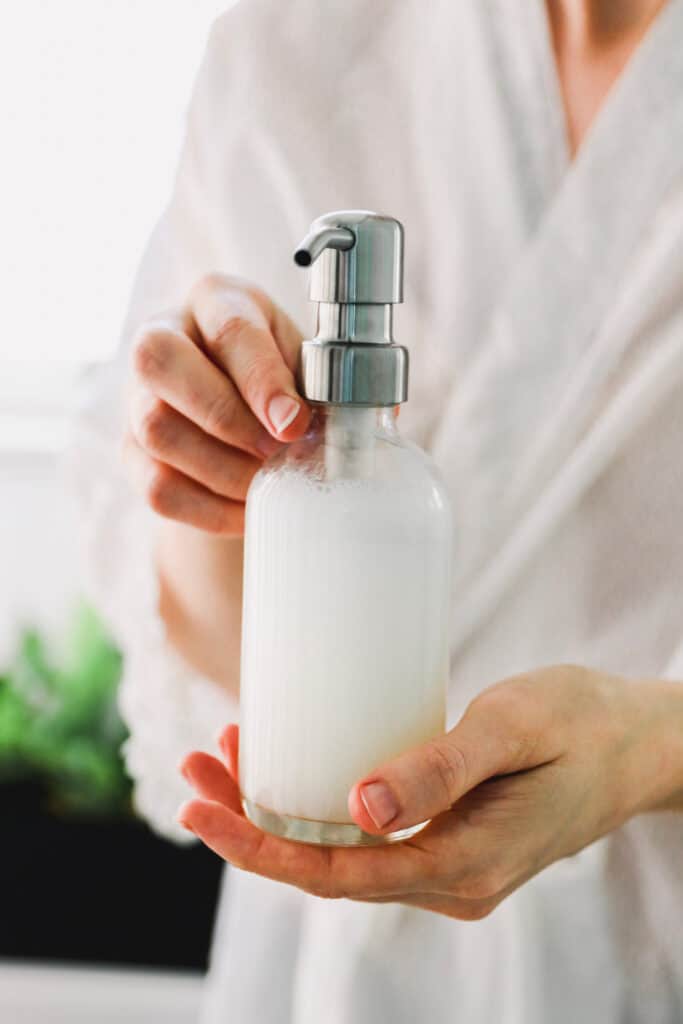 Benefits of Aloe Vera for Skin
There are a lot of different species of aloe, but aloe vera is king when it comes to keeping skin healthy.
Aloe vera has long been known for its anti-inflammatory, antibacterial, and wound healing properties [source]. Thanks to a plethora of antioxidants, enzymes, vitamins A, C, E, and anti-inflammatory agents [source], it's most often used to treat sunburns and other skin issues.
But a 2019 review of the science surrounding aloe vera showed that it can successfully prevent skin ulcers and treat both internal and external wounds of all kinds, including things like psoriasis, eczema, and flare-ups of the digestive tract [source].
Also, drinking aloe water, smoothies, or other aloe drinks can provide many internal benefits as well [source]!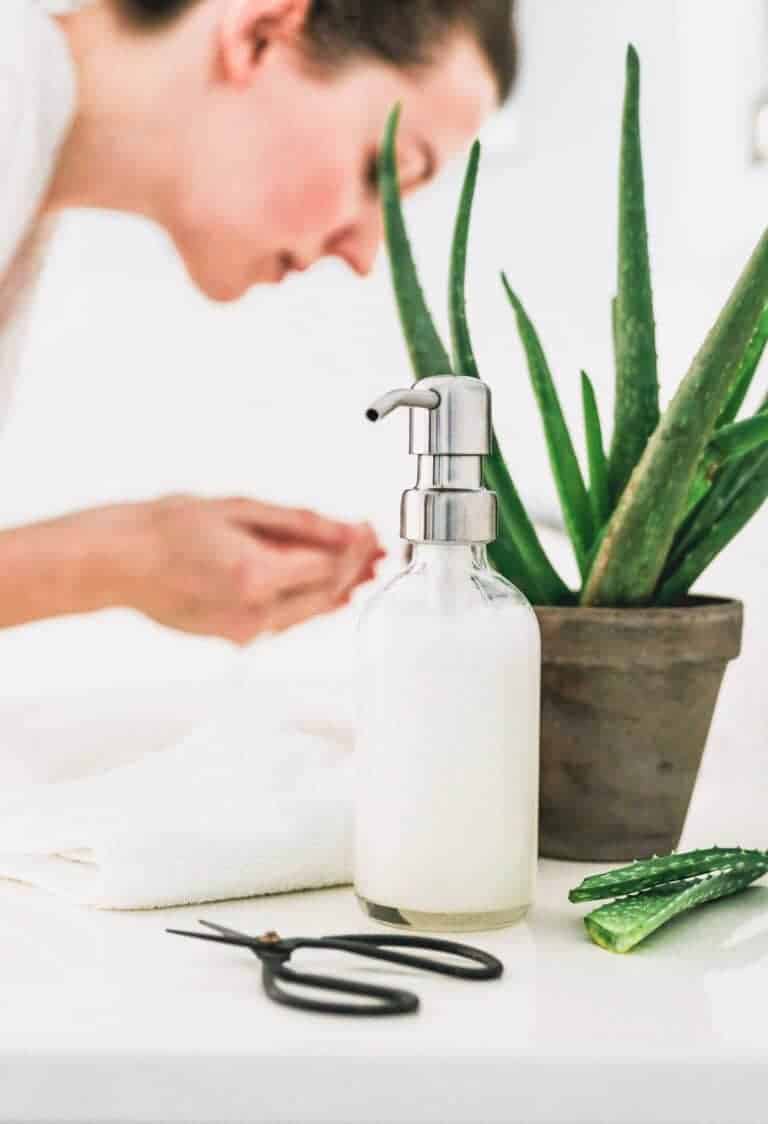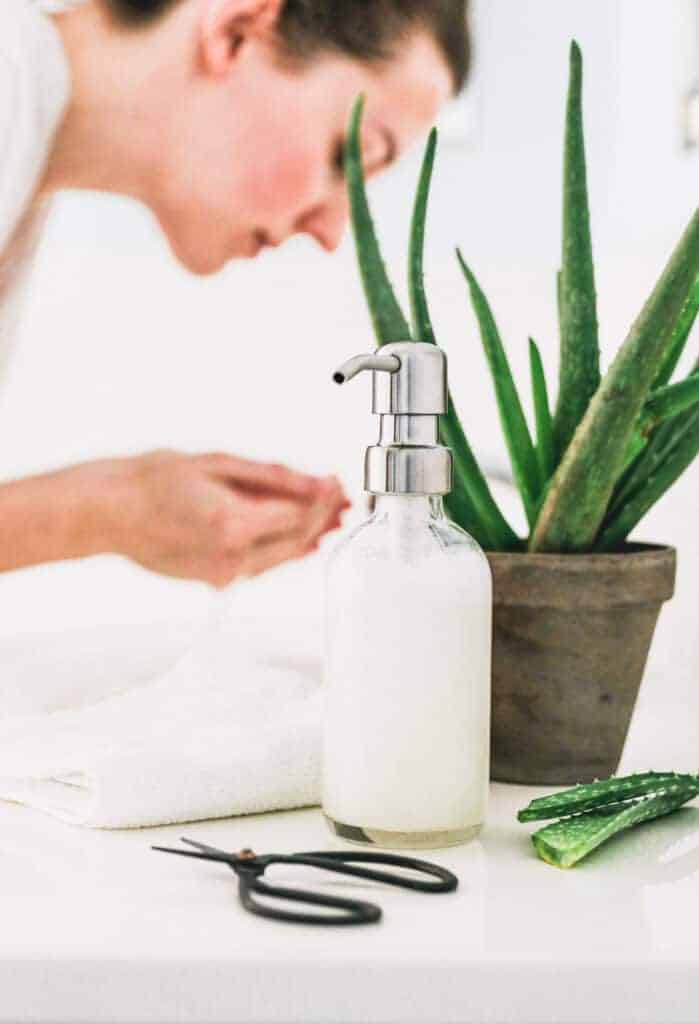 That's why aloe is such a great addition to your homemade beauty products. Whether your skin is problematic or you just want to keep it looking healthy, aloe vera can help by:
Exfoliating dry skin so it appears smoother and softer
Soothing inflammation and irritation caused by bacteria
Reducing the appearance of acne, scars, and wrinkles
Improving skin's moisture content
Because the topical application of aloe is so beneficial, we added a healthy dose of aloe gel to our homemade facial cleanser to soothe skin, balance your skin microbiome, and keep inflammation at bay—leaving you with some seriously radiant skin.
How to Make an Aloe Vera Face Cleanser
To get the biggest bang for your buck, I like to use fresh aloe vera gel in my face wash (here's how to harvest it). Because it's straight from the source, vitamins and nutrients in the gel are still potent, unlike some of the aloe gels you can find at the store.
But being pure and preservative-free also means that it goes bad quickly. If using the fresh stuff, I recommend storing your face wash in the refrigerator and using it within a couple of days. It's quick, I know, but the benefits of fresh aloe are worth the effort.
You can also get similar benefits with store-bought gel, assuming you use the right kind. Skip the chemical-laden stuff found at the drug store and instead opt for pure aloe vera gel, like this Lily of the Desert 99% Aloe Vera Gelly (my all-time fave.)
Since commercial aloe vera gel is shelf stable, your face wash should keep a little longer (about 2–3 weeks) without the need for refrigeration.
In addition to aloe vera, this face wash also uses things like rose water, Castile soap, and essential oils to keep your skin looking radiant.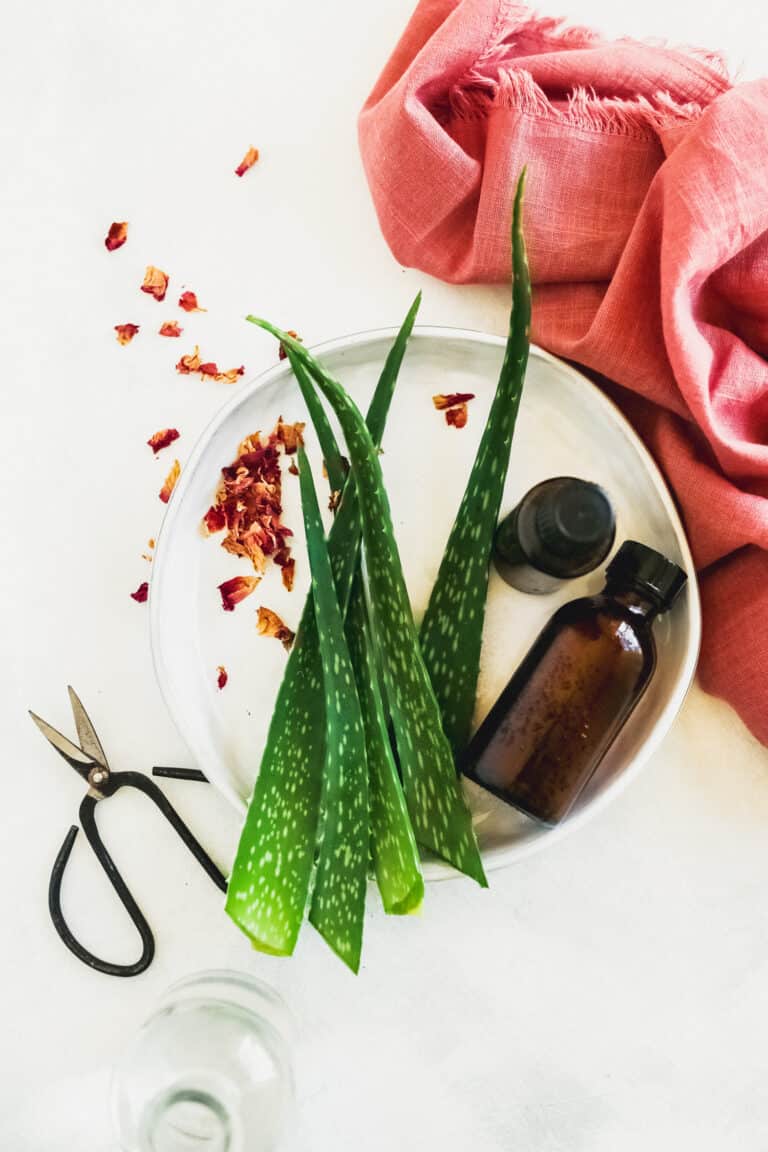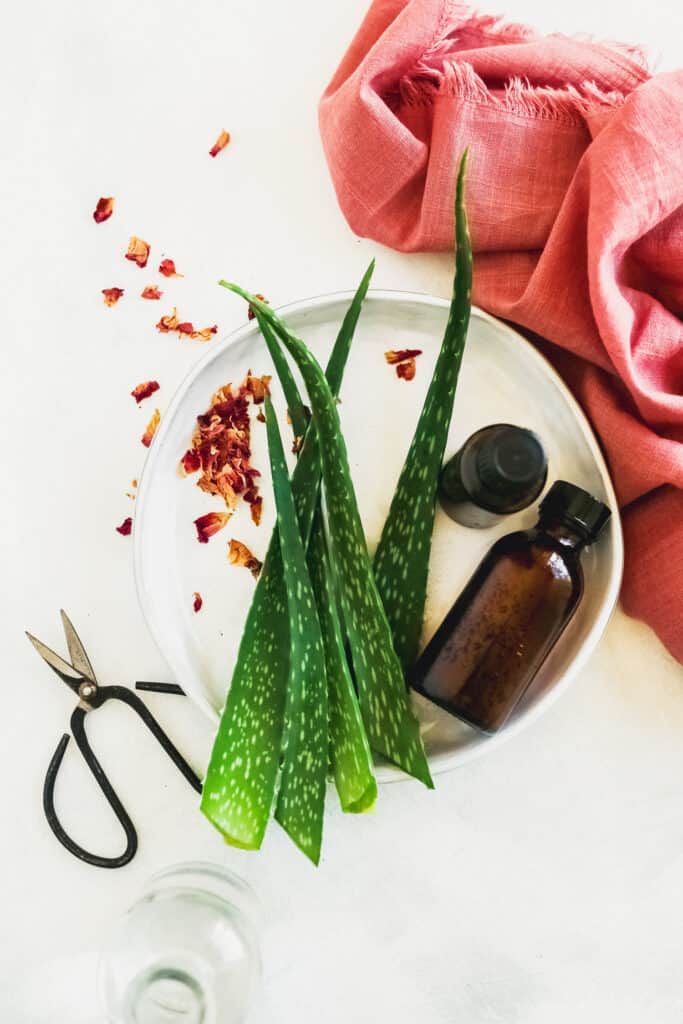 Rose water helps balance skin pH, fights inflammation [source], and reduces oil production without damaging the skin. Because of its antioxidant and anti-inflammatory properties, applying rose water to skin may also reduce redness and irritation and soothe problem skin.
Castile soap is an amazing cleanser for sensitive skin because it clarifies skin without stripping away its natural oils. I use Dr. Bronner's Baby Castile Soap for my face because it's made especially for sensitive skin and contains no added essential oils.
Rosehip seed oil and chamomile essential oil help fight free radicals, making skin look smoother and more radiant.
Ingredients
-1/2 cup aloe vera gel (if using fresh, harvest the gel and puree in a food processor ahead of time)
-1/2 cup rose water (add more or less depending on your preferred consistency)
-2 tablespoons Castile soap
-4 drops rosehip essential oil
-4 drops chamomile essential oil
-2 teaspoons avocado oil (you may substitute any other oil you prefer)
–8-ounce pump bottle or squeeze bottle
Instructions
Using a small funnel, combine all the ingredients in a bottle. Screw the lid on tight and shake well to combine.
To use:
1. Rub a dime-size amount between your hands and gently massage into skin, avoiding the eye area.
2. Rinse completely with cool water.
3. Shake well before each use in case of separation. Use within 7 days.
Aloe Vera Face Wash FAQs
Can I make this with just fresh aloe and Castile soap?
Sure! Give it a try and see how you like it. If you find that this combo is drying, try adding a bit of tap water to thin it out a bit.
The aloe vera in this recipe makes my skin feel dry. How can I fix this?
Add more oil to your cleanser recipe. And always apply oil, serum, or moisturizer after using your cleanser.
Will this help clear up my occasional breakouts?
Aloe vera is especially good at soothing inflammation and healing wounds. If you'd like a little more acne-fighting power, try adding honey or tea tree oil.
How can I make this recipe last longer?
Your best bet is to add a preservative made specifically for water-based products.
This post was medically reviewed by Dr. Jennifer Haley, a board-certified dermatologist with extensive experience in medical, cosmetic, and surgical dermatology. Learn more about Hello Glow's medical reviewers here. As always, this is not personal medical advice, and we recommend that you talk with your doctor.
340