What's the one natural beauty ingredient you can't live without? For me, it's aloe vera—hook, line, and sinker.
Sanskrit, the sacred language of Hinduism, has a name for aloe vera, ghrita kumari, which means "young girl." Not surprisingly, aloe vera has been known for centuries as an important ingredient for maintaining youthful beauty and a healthy glow [source].
But did you also know that incorporating it into your haircare routine keeps locks soft, hydrated, and shiny?
Aloe contains about 20 amino acids (the building blocks of our hair) [source], and the gel-like substance nourishes and strengthens weak strands. It's also an emollient that seals the hair's cuticle, boosts hydration, and prevents moisture from escaping.
Ready to give it a go? Here is some information about aloe vera and 8 ways to use it for your hair.

Aloe Vera Hair Benefits
Aloe vera is amazing for both hair and scalp. The soothing benefits of aloe are fantastic for a dry, itchy scalp. If you dye or bleach your hair, aloe vera may even help alleviate some of the irritation caused by harsh chemicals.
Aloe has been shown to:
-improve skin and scalp hydration [source]
-reduce inflammation that leads to dandruff [source]
-cleanse and disinfect the hair shaft [source]
-boost hair health and reduce breakage, thanks to vitamins A, C, E, and fatty acids [source]
Tips for Using Aloe on Your Hair and Scalp
Use fresh aloe, if you can. Although we linked to a store-bought aloe gel for these recipes, fresh aloe still trumps the commercial stuff every time. That's because aloe's medicinal properties degrade over time, especially when exposed to heat, chemicals, and preservatives. If you're not sure how to harvest fresh aloe, this post will walk you through the details.
Harvest the aloe immediately prior to using it and freeze any extra. As mentioned above, fresh aloe goes bad quickly, which is why you want to harvest the gel right before using it. If you can't use all of it, put the excess gel in a plastic ziploc bag or airtight container and freeze it. If you've used the gel in a beauty recipe, store the recipe in the refrigerator and use within 3 to 4 days.
Only apply aloe to the scalp for 30 minutes, max. Aloe vera has moisturizing properties up to a point. After about 20 minutes, it tends to get dry and flaky, which may exacerbate scalp issues. If you've mixed aloe with other hydrating ingredients, like a carrier oil, you can leave it on much longer.
8 Easy Hair & Scalp Recipes with Aloe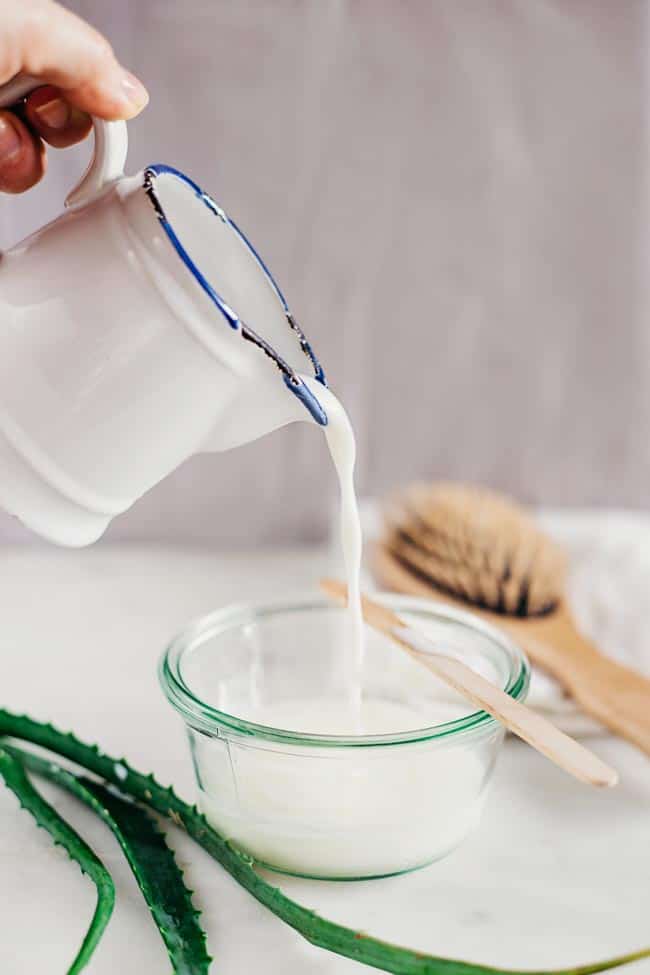 1. Healthy Scalp + Hair Mask
This aloe hair mask is a pre-shampoo treatment that can be applied to dry hair. If you are treating your scalp, you'll want to concentrate it on your scalp area, massage for several minutes, and then let sit for an additional 10 minutes.
If you are focusing on dry or damaged ends, apply the mask to the bottom half of your strands, and leave it on for 20–25 minutes.
-½ cup aloe vera gel (fresh or store-bought)
-1 tablespoon full-fat coconut milk
Mix the aloe vera gel and coconut milk in a small bowl. Massage the mixture into your scalp for approximately 60 seconds. Then run your hands through the length of your hair to distribute the mask from root to tip.
You'll want to shower and rinse the mask off and then follow with shampoo and conditioner. For added hydration, put on a shower cap to let the mask heat up prior to rinsing off.
This mask can be used once a week for shiny hair and a healthy scalp.
2. Overnight Oatmeal Moisture Mask
I've battled dandruff off and on for years, especially during the winter months when my skin is parched and my scalp dries out. But there's one thing I always turn to for relief: oatmeal.
I like to combine finely ground oatmeal with fractionated coconut oil and aloe vera for extra soothing power. Then I add a few drops of lavender essential oil to promote hair growth [source]. But this recipe is highly customizable, so feel free to play around with ingredients and essential oils if you want.
-½ cup aloe vera gel (fresh or store-bought)
-2 tablespoons fractionated coconut oil
-20 drops lavender essential oil
-1 tablespoon finely ground organic rolled oats
Combine the aloe vera and coconut oil in a small bowl. Whisk for about a minute or until it all comes together in a lotion-like consistency. Then add the lavender oil and ground oats and mix again.
At night before you go to bed, apply the mask to dry hair. Spend extra time massaging it into your scalp, focusing on any dry or itchy areas. Since this can get a little messy, make sure to place an old towel over your pillow before falling asleep. In the morning, rinse out the mask and wash your hair as usual.
When you're done using this mask on your scalp, apply some to any other areas of your body that need some moisture. Leave it on overnight and rinse in the morning.
3. De-Frizz Treatment with Aloe and Argan Oil
When strands are already dried out from sun and chlorine, humidity can create a fluffy, frizzy mess. But thanks to starchy carbohydrates known as polysaccharides, aloe helps restore moisture, seal out humidity, and boost shine. For extra frizz-fighting power, reach for argan oil, which contains water-holding compounds [source] that hydrate hair without making locks greasy.
-1 cup water
-2 tablespoons aloe vera gel (fresh or store-bought)
-1 teaspoon argan oil
-1 teaspoon vegetable glycerin
Mix ingredients together in a large measuring cup and pour into a spray bottle.
Lightly spritz on clean, dry hair and use your fingers to work into strands. If you have fine hair, focus mainly on the ends and avoid spritzing the roots. Style hair as usual.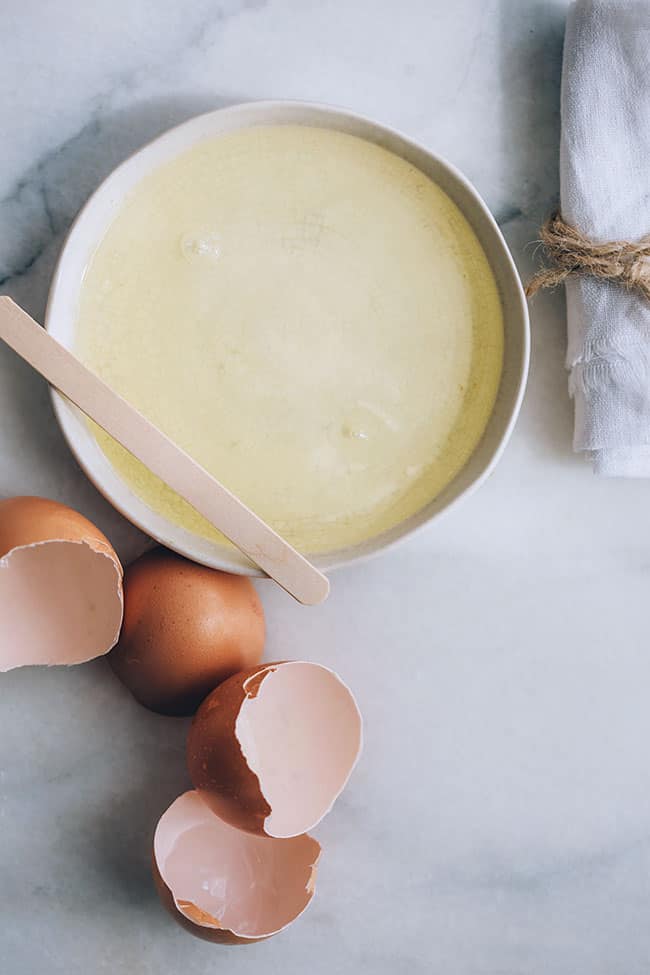 4. Nourishing Hair Growth Serum
Aloe vera contains a plethora of vitamins and minerals that are vital for cell turnover and healthy hair. Combine aloe gel with protein-rich egg whites and hydrating coconut oil, and you've got yourself the perfect at-home hair growth treatment.
-1 egg white
-1 tablespoon melted coconut oil (or use fractionated coconut oil)
-1 tablespoon aloe vera gel (fresh or store-bought)
Mix everything together and apply to your scalp. Using your fingertips, gently massage the mixture into roots for 10 minutes. Wash out, and follow up with a quality conditioner.
5. Hydrating Leave-In Conditioner
Anyone with kids knows that a good leave-in conditioner is vital for preventing tangles. Heck, even as an adult, I reach for a leave-in conditioner every now and then to tame my locks and boost hydration. Combining aloe vera juice with distilled water and essential oils is a great way to keep hair soft and tangle-free.
-1 cup distilled water
-1 teaspoon jojoba oil
-¼ cup aloe vera juice
-8 drops lavender essential oil
-5 drops rosemary essential oil
Combine the water, jojoba oil, and aloe vera juice in a small bowl and whisk until well blended. Add the essential oils and whisk again. If you have extremely dry hair, you can substitute geranium essential oil for lavender.
Pour the mixture into an amber glass spray bottle to keep the ingredients potent and fresh. You will want to refrigerate the mixture and shake well before each use.
Lightly spray clean, wet hair before combing to smooth down unruly frizz and hydrate the hair shaft.
6. Aloe + Rosewater Shine Boosting Spray
Using the proper formula for your hair will actually result in more volume—in addition to shiny locks. Use it on the hair rather than the scalp and keep it light. Try this sealing spray made with aloe, almond oil, and rosewater, and you'll be hooked.
-2 tablespoons aloe vera gel (fresh or store-bought)
-1–2 teaspoons sweet almond oil
-½ cup rosewater
Add aloe vera, almond oil, and rosewater together in a small bowl and whisk to combine. With the help of a funnel, transfer the mixture to a spray bottle. Spritz on clean, dry hair to boost shine and seal cuticles.
Store in the refrigerator for 3–4 days if using fresh aloe vera and 7–10 days if using store-bought aloe.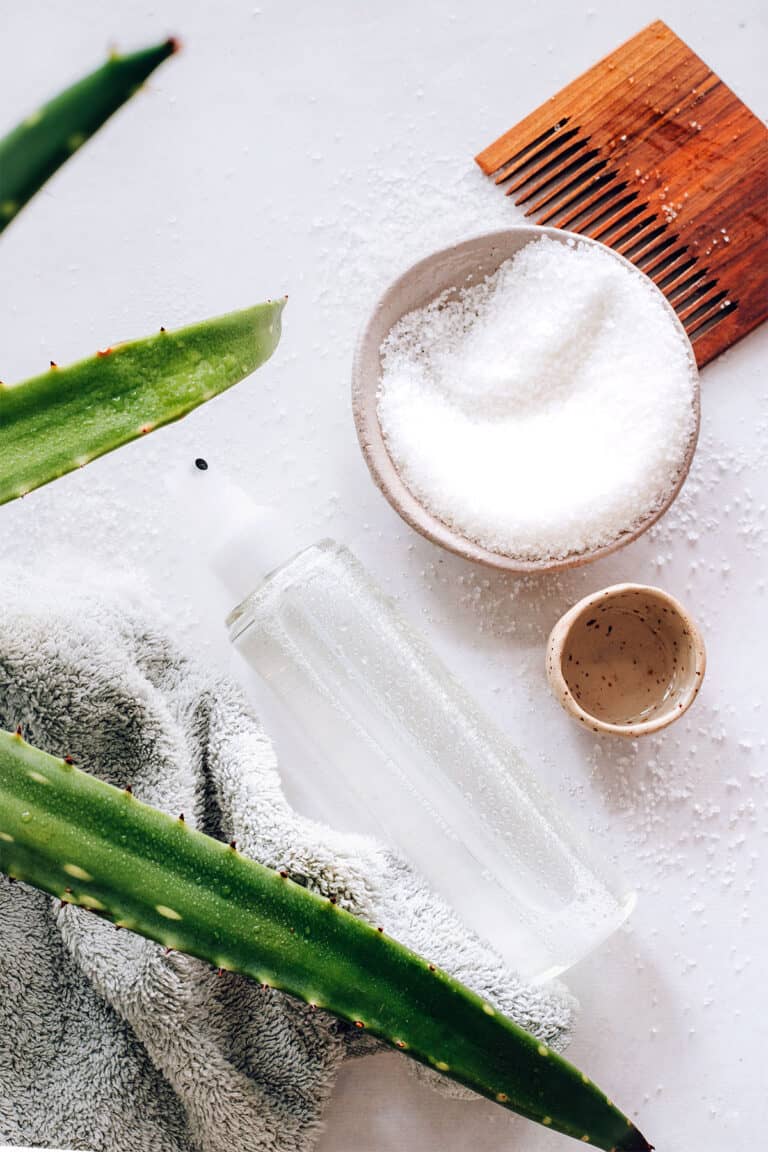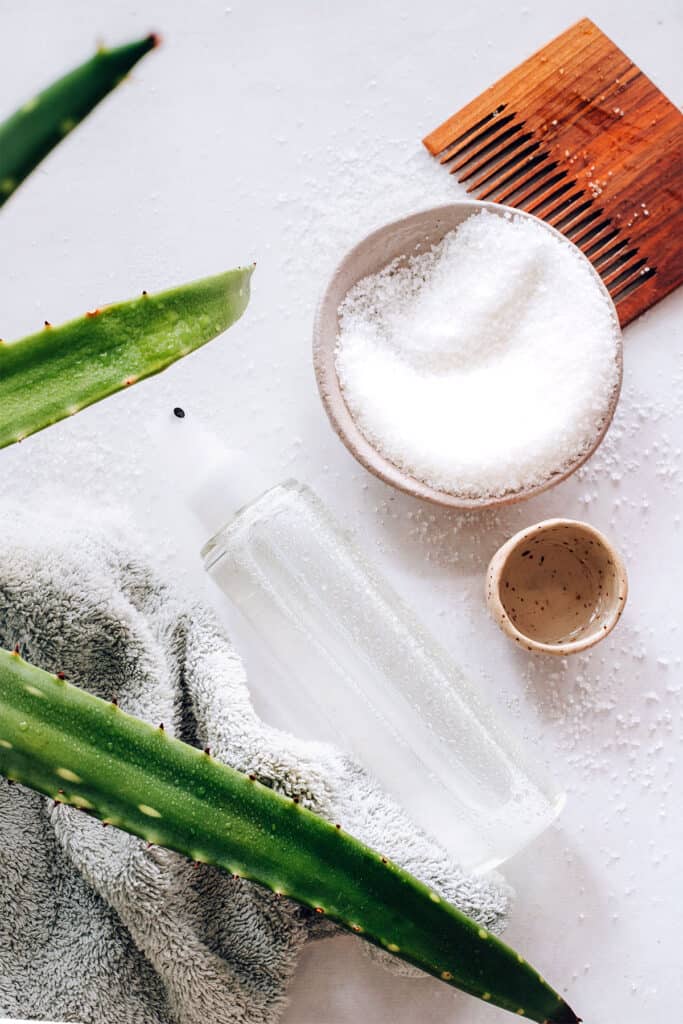 7. Sea Salt Spray for Beachy Waves
You know that wonderful texture your hair gets when you're on a beach vacation? You have sea salt to thank for that! Keep the same sensation and hair volume all year round with an easy-to-make sea spray enriched with aloe vera and chamomile.
-1 cup chamomile tea (or distilled water if you don't want to refrigerate)
-1 tablespoon Epsom salt
-Pinch sea salt
-1 teaspoon aloe vera gel (fresh or store-bought)
-1 teaspoon coconut, almond, or jojoba oil
-4–5 drops of essential oil - like lavender or grapefruit
-1 teaspoon lemon juice (for additional lightening)
Steep tea in almost boiling water for 5 minutes, then discard the tea bags. Combine all ingredients except aloe vera and lemon juice in a reusable spray bottle. Shake well to dissolve the salt.
Let the mixture cool completely before adding aloe and lemon juice. Shake well.
Shake before each use and spray on clean, damp hair. Scrunch and twist the hair with your hands to define the waves. Then let it air dry. If needed, apply more spray to dry hair for a stronger hold.
8. Clarifying Scalp Mask
Tea tree oil has clarifying properties that help unclog hair follicles and tame bacteria [source]. When mixed with aloe vera, this scalp mask nourishes the base of hair where it originates in the follicles and gets rid of product build-up.
-2 tablespoon aloe vera gel
-1 teaspoon raw, organic apple cider vinegar
-4 drops tea tree essential oil
Mix aloe vera and tea tree oil in a small bowl. Apply the mixture to the scalp, and let it sink in for 10 minutes. Rinse out and follow up with shampoo and conditioner.
This article was medically reviewed by Dr. Gina Jansheski, a licensed, board-certified pediatrician with over 20 years of experience in practice. Learn more about Hello Glow's medical reviewers here. As always, this is not personal medical advice, and we recommend that you talk with your doctor before using this recipe to determine what's best for you.
29