My love for activated charcoal continues! This detox soap and healing salve are just a few of the myriad ways you can use this trendy beauty ingredient at home for pretty much anything.
It not only draws out splinters and helps heal skin wounds and burns, but it also detoxes by drawing bacteria, oil, and toxins out of the body [source]. A few of the skin benefits of activated charcoal include:
– Controlling excess oil
– Exfoliating due to its slightly gritty texture
– Helping bug bites heal quicker
– Soothing skin irritations
– Lifting dirt and grime out of pores
Activated charcoal can be used to make your own acne-fighting scrubs, face masks, and soap. Here's a closer look at some more impressive beauty uses for activated charcoal.
4 Beauty Uses for Activated Charcoal

1
.
Whiten teeth
Not only does the thought of putting charcoal in your mouth sound a bit, well, unsanitary, but it seems counterproductive to slather on something black onto the teeth that you are hoping to turn white.
Well, let me tell you that I've learned firsthand the impressive abilities of activated charcoal when it comes to whitening teeth [source] and scrubbing off those coffee, tea, and wine stains from tooth enamel.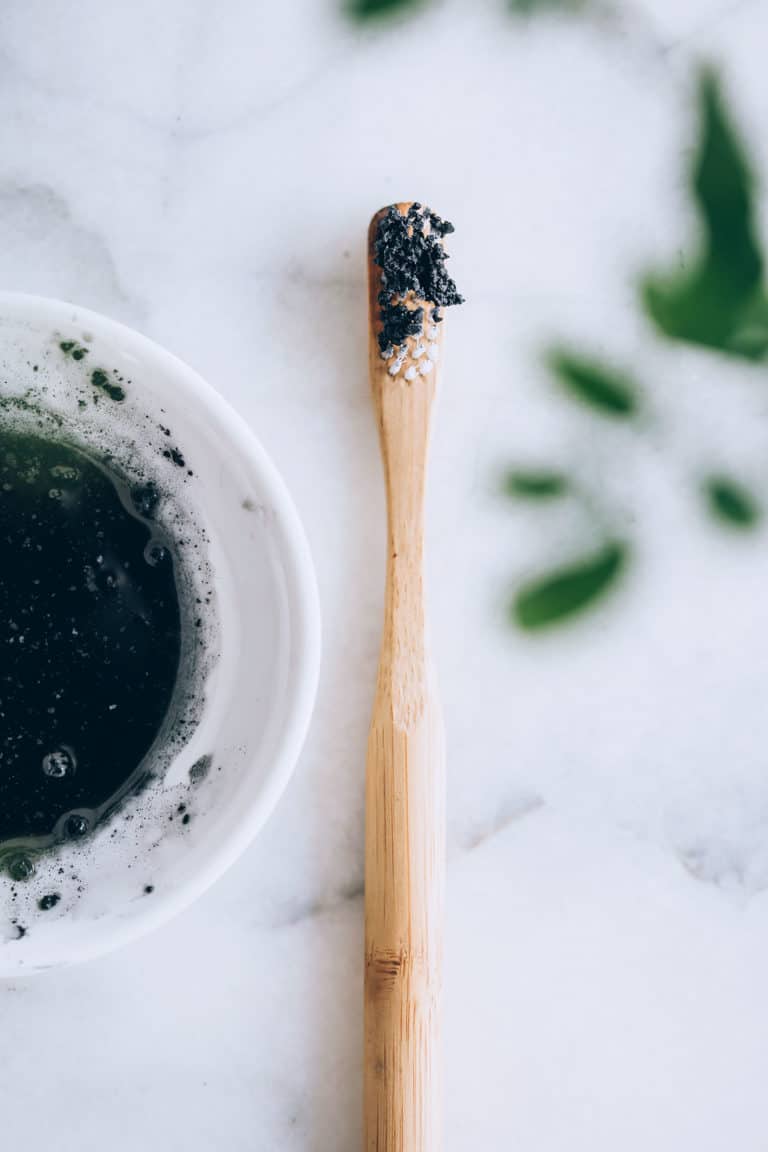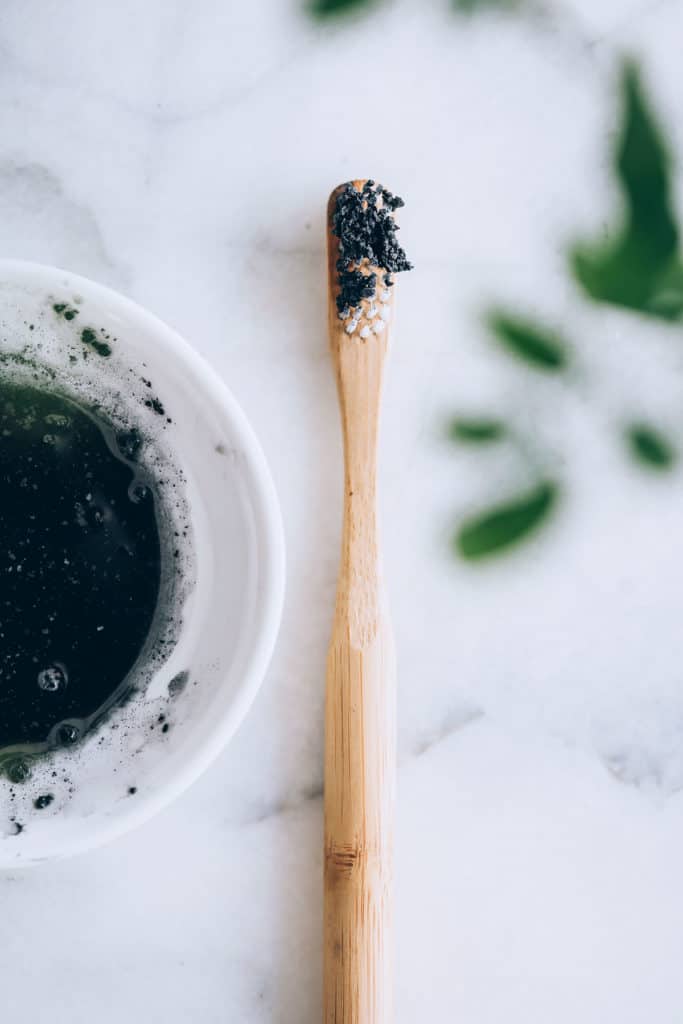 To use: Try this procedure from a cosmetic dentist [source]: Open 1 or 2 activated charcoal capsules into a cup. Add a bit of water to make a paste. Then, with your toothbrush or finger, dab (don't scrub!) the paste onto the surfaces of your teeth. Wait 3 minutes before rinsing. Repeat daily.
2
.
Attack acne
After those sweaty summer days when I need to use extra sunscreen, I always find myself breaking out more than usual. But a simple face mask with charcoal and clay can absorb excess oil, dead skin cells, and other impurities and help clear out clogged pores. Activated charcoal has bacteria-fighting properties [source], which can aid in preventing pimples. This mask will help calm irritated skin, get rid of topical gunk, and help keep breakouts at bay.
In fact, this is the only type of activated charcoal mask our dermatologist Dr. Jennifer Haley recommends. She cautions against some of the dangerous finds on the internet that contain glue and tear off the precious top layers of delicate skin, sometimes even causing permanent scarring.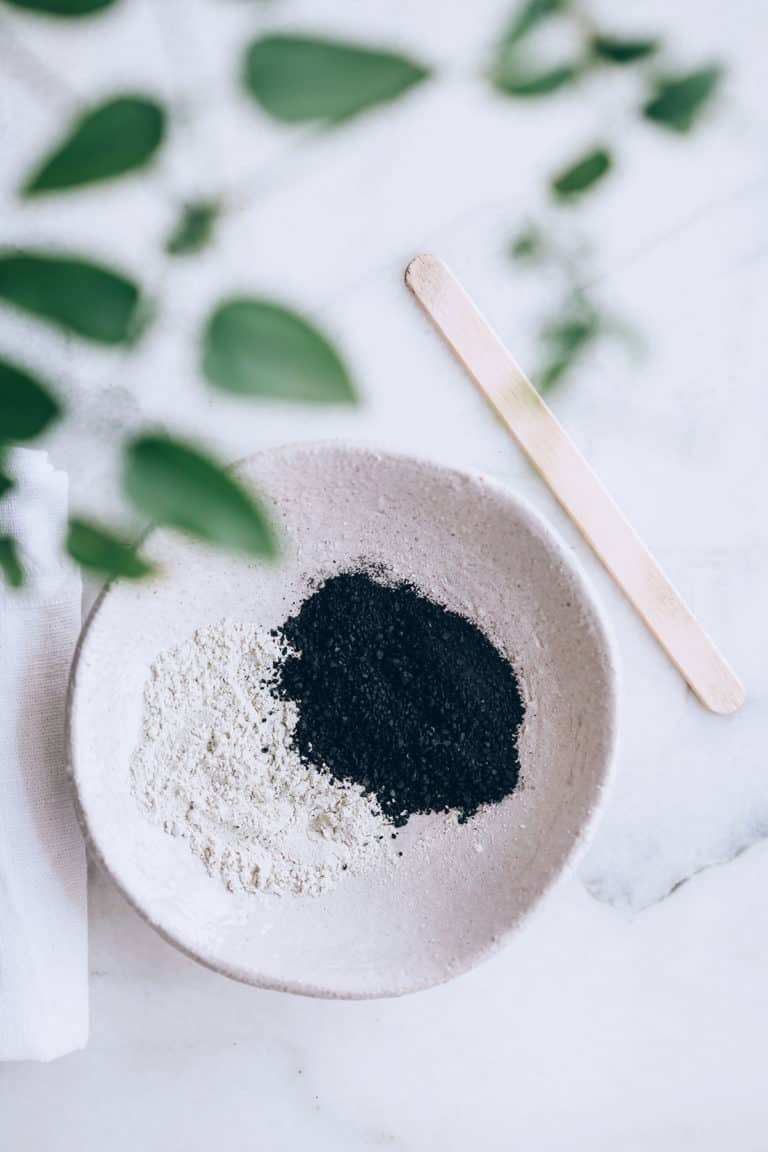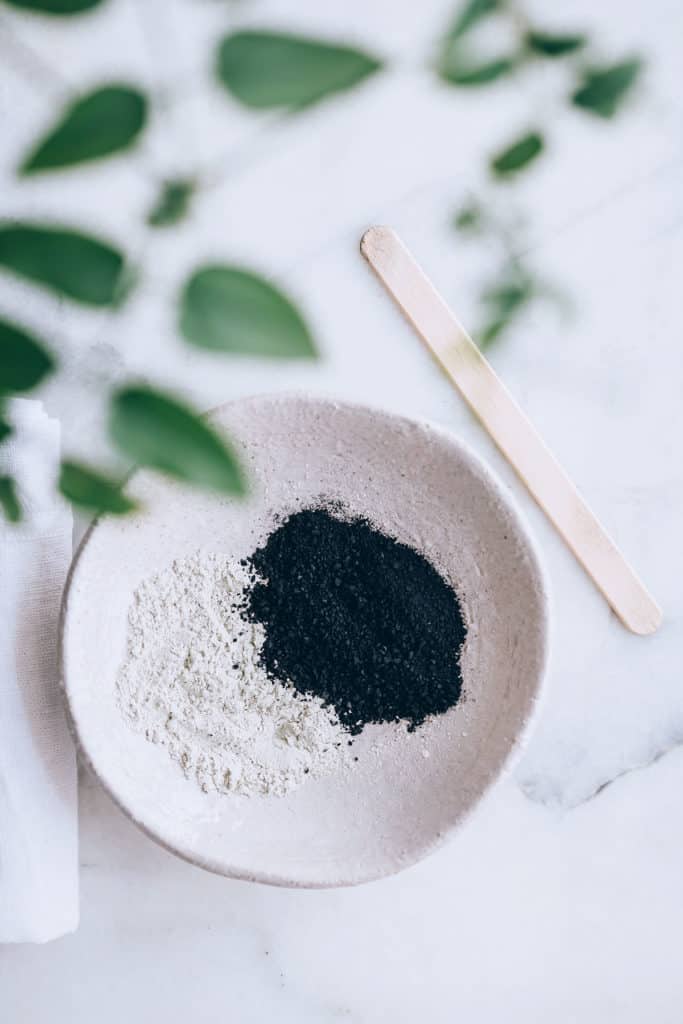 To use: Combine a tablespoon each of activated charcoal and bentonite clay. Use apple cider vinegar to make a paste. With clean fingers, spread the paste over your face and let it sit for 15 minutes. Rinse with cool water and apply moisturizer.
3
.
Soothe upset tummies (
+
banish bloat)
You've probably seen this ingredient pop up more and more in juice and smoothie recipes—and for good reason! Charcoal is a well-known remedy for absorbing toxins in the stomach. And it does wonders when it comes to beating bloat and gas.
Heavy foods certainly seem to weigh your body down, especially amidst the heat and humidity that comes along with the summer season. And let's not even talk about the temptation of cold ice cream for those of us who are lactose intolerant!
When I wake up feeling groggy and gross, I add a couple of activated charcoal capsules to a morning smoothie and score some instant relief.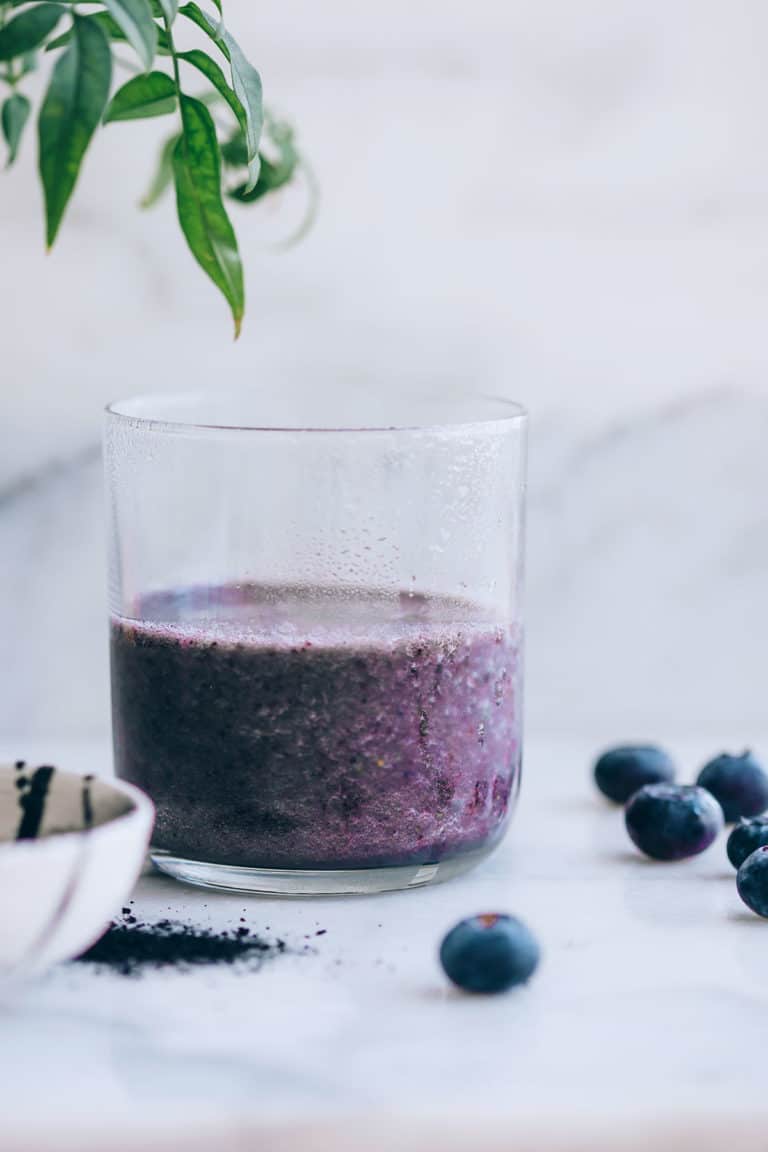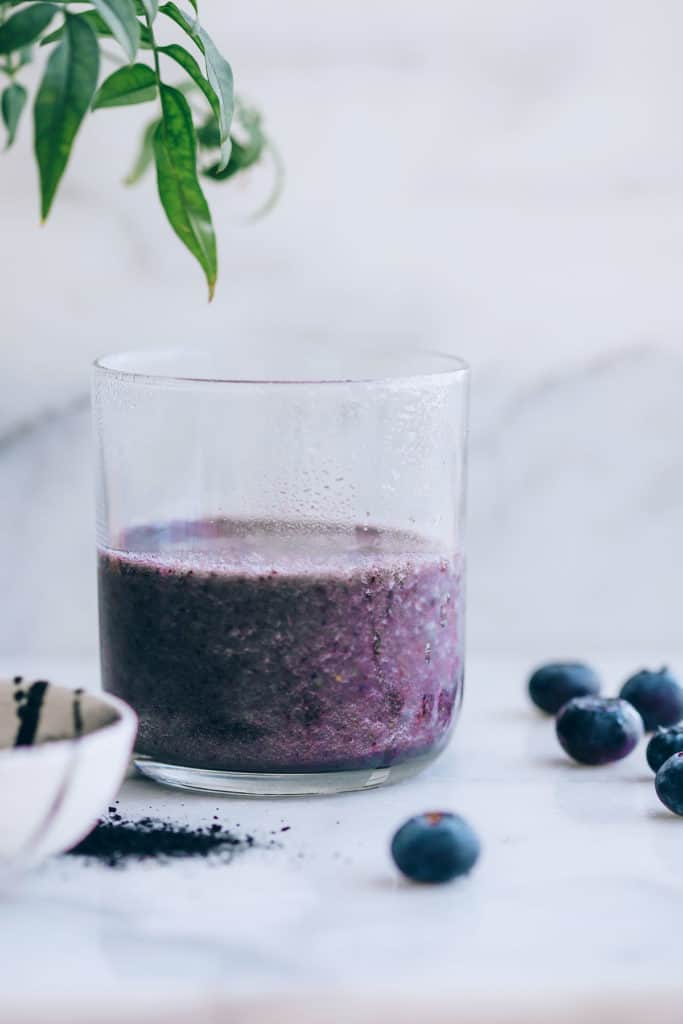 To use: My go-to smoothie recipe is to combine 1 cup dairy-free milk, 1 cup frozen blueberries, 1/4 avocado, and a handful of spinach. Add 1–2 charcoal capsules as needed. It's delicious, and you score skincare benefits as you sip!
One caution: If you take prescription medication, just talk to your doctor to make sure the charcoal doesn't interfere with its absorption.
4
.
Exfoliate skin
Adding exfoliation more regularly to my skincare routine was one of my biggest beauty lessons. And face scrubs are so easy to make at home! Just break open a couple of activated charcoal capsules to mix up this face cleanser that lets charcoal work its magic on dead skin and excess oil.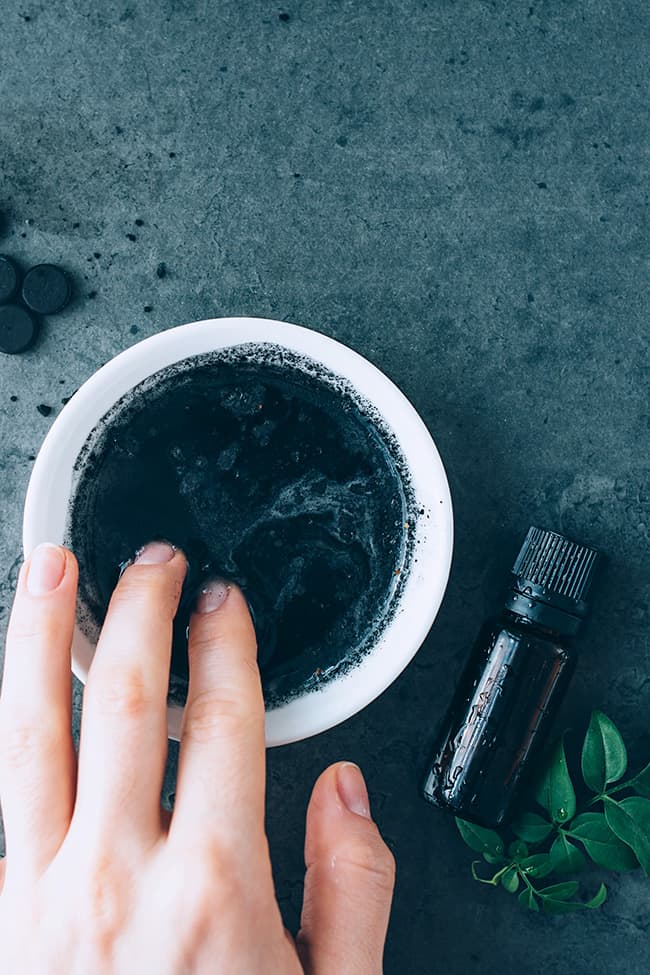 To use: You'll need equal parts:
-Plus 1 drop of tea tree essential oil
Combine all ingredients in a small bowl and use your fingers to mix together before applying the cleanser to skin. In circular motions, work the charcoal cleanser around your face for 1 minute.
Rinse thoroughly with warm water. Use this cleanser a few times a week for optimal benefits.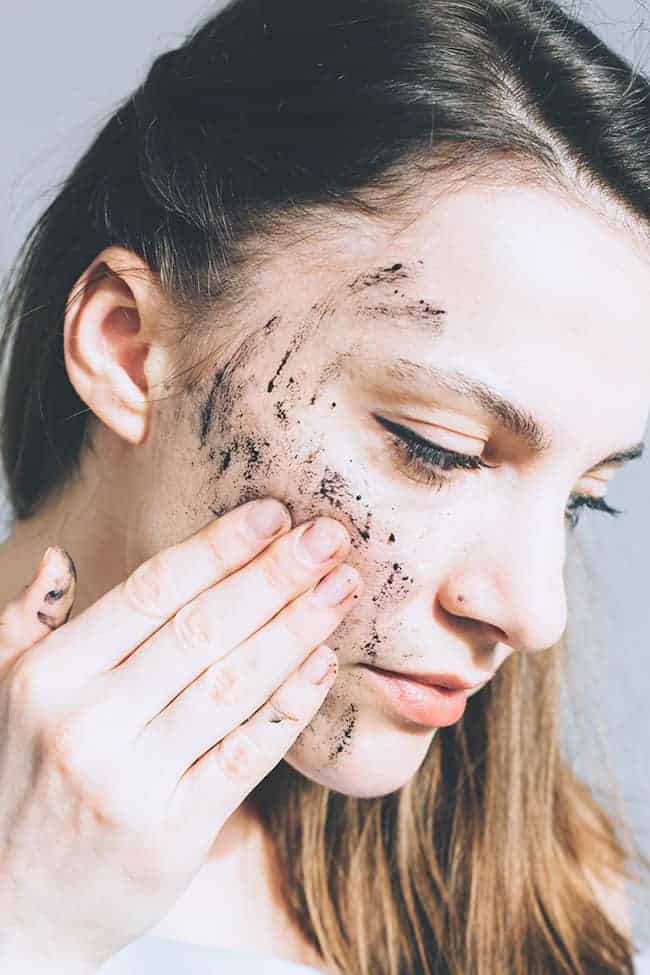 Have you added activated charcoal to your beauty routine? If you're not into DIY, check out our favorite charcoal skincare products!
This post was medically reviewed by Dr. Jennifer Haley, a board-certified dermatologist with extensive experience in medical, cosmetic, and surgical dermatology. Learn more about Hello Glow's medical reviewers here. As always, this is not personal medical advice, and we recommend that you talk with your doctor.
Photos by Ana Stanciu
482