Creamy? Check. Deliciously tropical tasting? Check? Full of healthy ingredients like turmeric, coconut oil and maca? Check! We have two tropical turmeric based smoothies that will do more leg work than squats at the gym.
Turmeric contains curcumin, which, as you've probably heard, brings an array of anti-inflammatory benefits. Smoothies are an excellent way to add a daily dose of the spice to your diet, especially since cooking with heat diminishes turmeric's health benefits.
Read on the for recipes!
Anti-aging Coconut-Turmeric Smoothie
Shannon Vaughn of Pursoma clay detox baths created this beauty-boosting recipe that's full of healthy fats, anti-inflammatory properties and energizing maca for our friends at The Chalkboard Magazine, and we're sharing it here: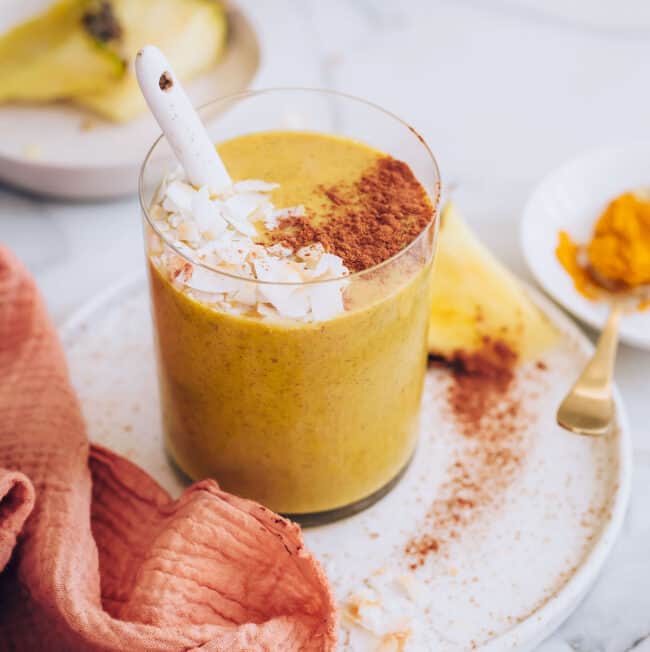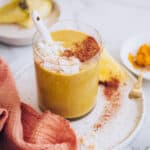 Print Recipe
Anti-Aging Coconut-Turmeric Smoothie
Turmeric, ginger and maca combine for a beauty-boosting energy smoothie.
Ingredients
1

cup

hemp or coconut milk

1/2

cup

frozen pineapple

1

frozen banana

1

Tbsp

coconut oil

1/2

tsp

turmeric

can be increased to 1 tsp

1/2

tsp

cinnamon

1/2

tsp

ginger

1

tsp

chia seeds

1

tsp

maca powder
Instructions
Blend all ingredients until smooth.
Golden Smoothie
Another beauty booster is our creamy, delicious golden smoothie. Even if you don't apply it to your t-zone, turmeric will leave you with a golden appearance, especially when you try out this recipe. A dose of dried maca gives extra nourishment and hormone-balancing support for women. A combination of coconut flakes and chia seeds add texture and fiber, while sweetness comes from the dates and mango.
Turmeric's beauty benefits don't seem to end. While turmeric has great anti-inflammatory properties when ingested it also has beauty benefits when applied topically. Turmeric's anti-inflammatory properties go work to reduce acne scars, reduce pore size, and calm the skin. Need some turmeric beauty recipe ideas? We've got you covered.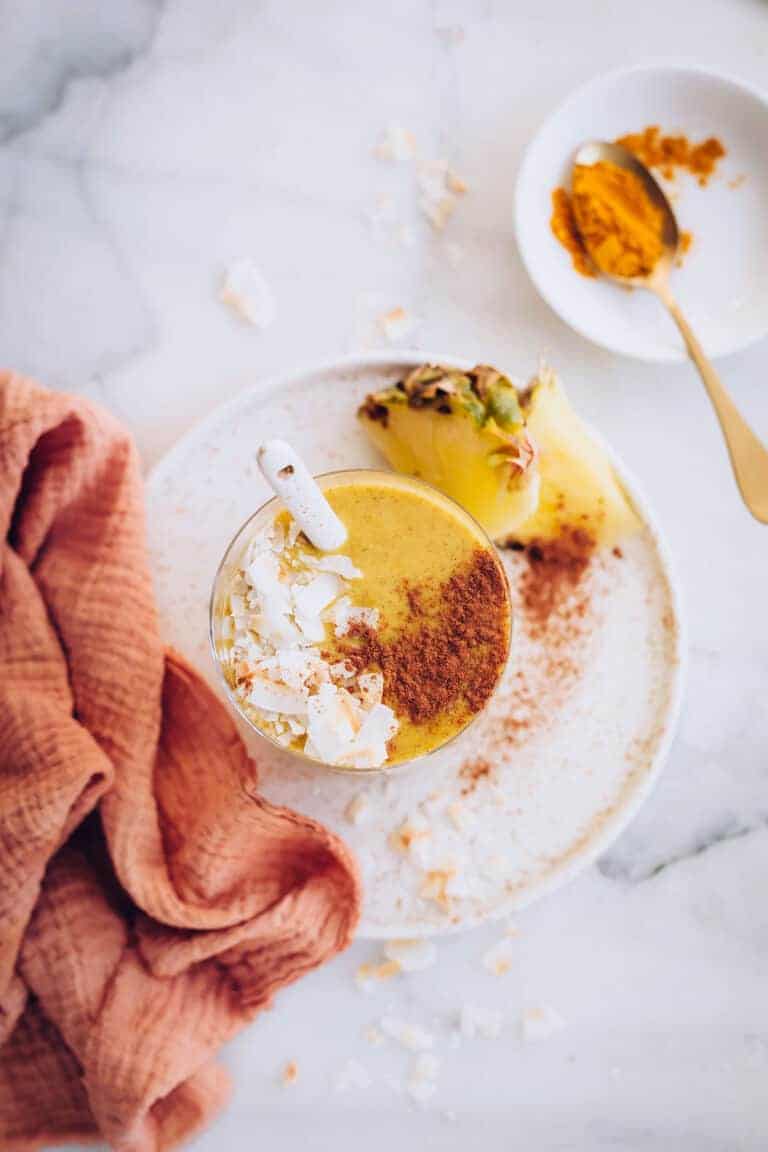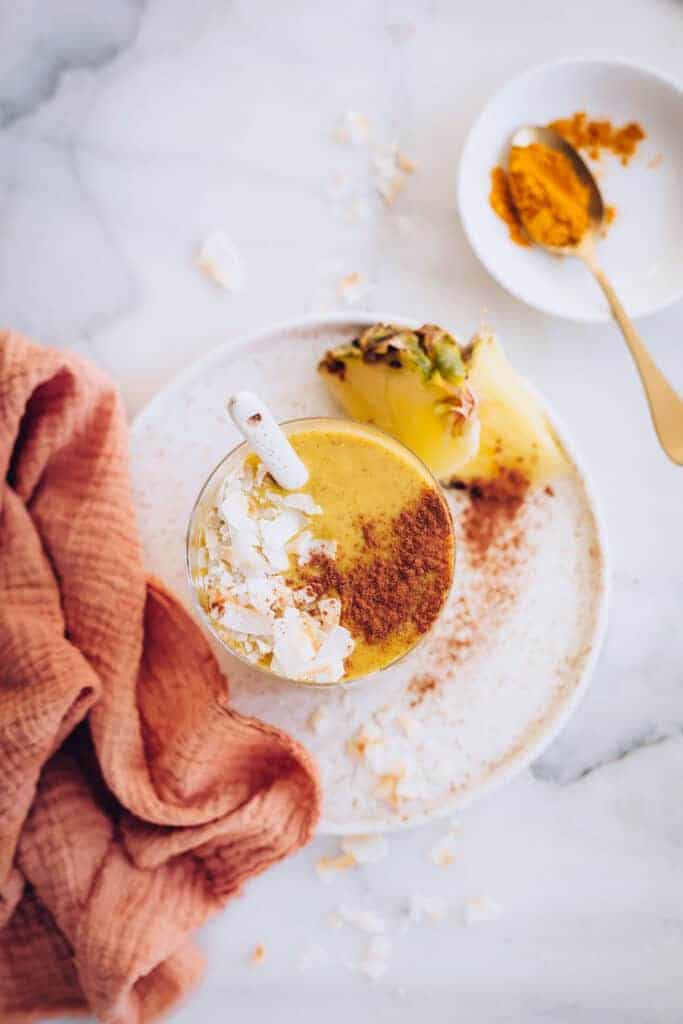 To make morning life a little easier, pull together your smoothie ingredients together the night before. Round up all the dry ingredients in one place (it can be a freezer bag, food storage container, or a pint glass). In the morning take the measured ingredients from the night before, add them to the blender with the wet ingredients and be on the way to a successful day.
Can't get enough turmeric? Try these tasty turmeric recipes to calm inflammation and promote healthy gut flora: Ginger Turmeric Water Kefir or this Turmeric Golden Milk or this Chai-Spiced Turmeric Latte.
And if you try one of these smoothie recipes, be sure to post your photo and tag us #helloglowblog on Instagram so we can share it with our community.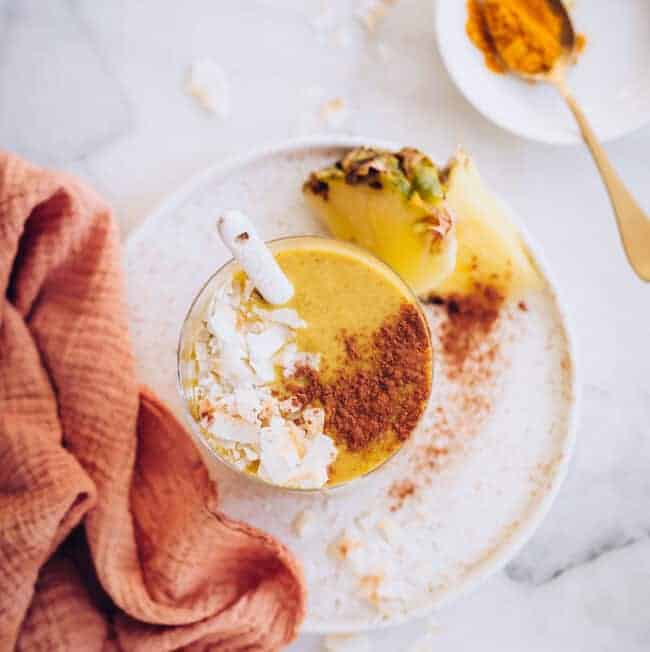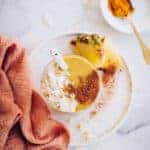 Print Recipe
Golden Smoothie
This turmeric smoothie will leave you with a golden glow.
Ingredients
1

cup

organic unsweetened coconut milk

1/3

cup

unsweetened organic coconut flakes

1

tbsp

chia seeds

1

tsp

organic virgin coconut oil

1/2

tsp

turmeric

1/2

tsp

dried maca

2

pitted dates

1

fresh or frozen mango

1/4

cup

ice cubes
Instructions
In a blender, combine all ingredients and blend until smooth.

Pour into a tall glass and enjoy cold.
Photos by Ana Stanciu
46