My obsession with turmeric has been going strong for a few years now. It all started with this chai-spiced turmeric tea, a soothing combination of turmeric, honey, and almond milk, and has since expanded into the realm of smoothies and soups. But it turns out that you can use it on your face, too.
Turmeric has been popping up in beauty products for centuries, and its effects are just as potent on the outside as they are on the inside. Simply combine turmeric with a little coconut milk and honey—and voila! An anti-inflammatory, antiaging turmeric face mask that will leave you with glowing skin.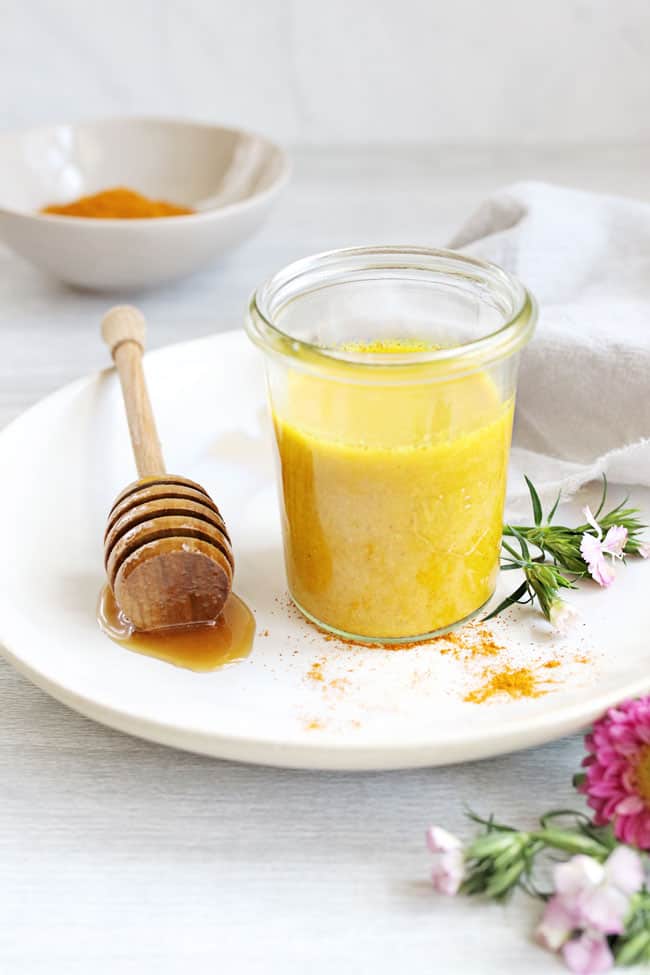 How to Make an Anti-Inflammatory Turmeric Mask
My poor face has needed a lot of help lately. Thanks to the summer heat and a little too much sun, my skin has been red and finicky for weeks. Whenever this happens, I reach for the big guns.
As seasons change, skin can become inflamed and not just in the summer months. Fall and winter can cause irritation from indoor heating, colder outdoor temperatures, less humidity in the air, and increased wind. All of these changes can cause skin to react a bit angry, red, itchy, sensitive, inflamed.
Turmeric is a strong anti-inflammatory, thanks in part to a phytochemical called curcumin [source]. Not only does it calm inflammation, but it also helps heal wounds, soothe skin irritation, and treat burns [source]. A 2016 review concluded that studies show turmeric has a significant effect on skin disease severity when applied topically and when taken internally [source].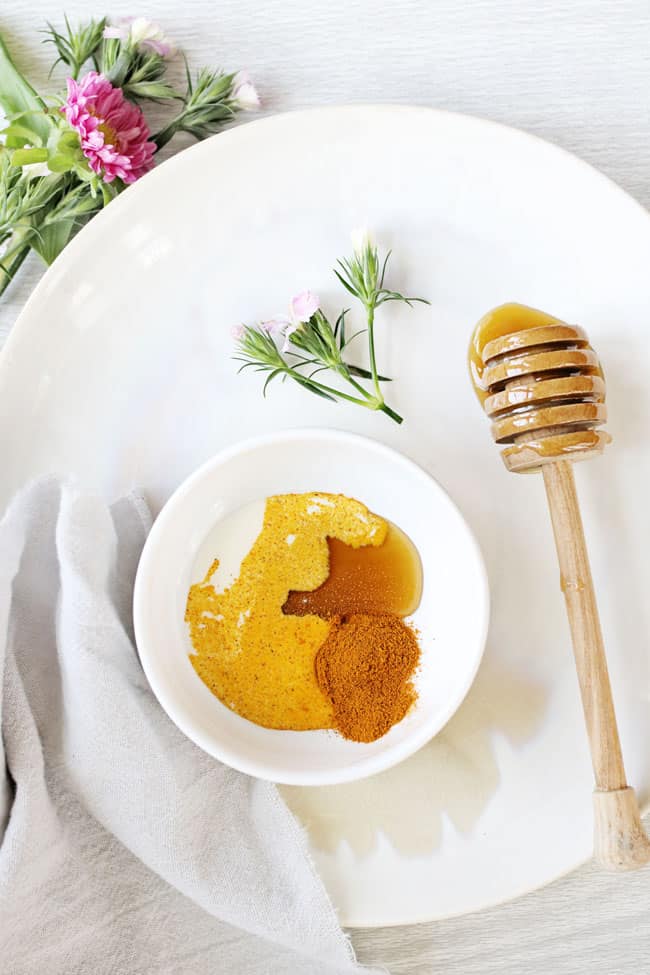 For added benefit, I recommend mixing it with other skin-soothing ingredients that work in tandem with turmeric to decrease inflammation and improve the look and feel of skin. Two of my favorites are raw honey [source] and coconut milk [source], which help tighten and brighten skin while also minimizing pores and replenishing moisture.
But there are lots of other ingredients you can choose from. Just look through your medicine cabinet and pantry for things like vitamin E, essential oils such as chamomile, and organic green tea bags to boost your mask's effectiveness.
And the best part is that this turmeric mask works its de-puffing magic in just 20 minutes!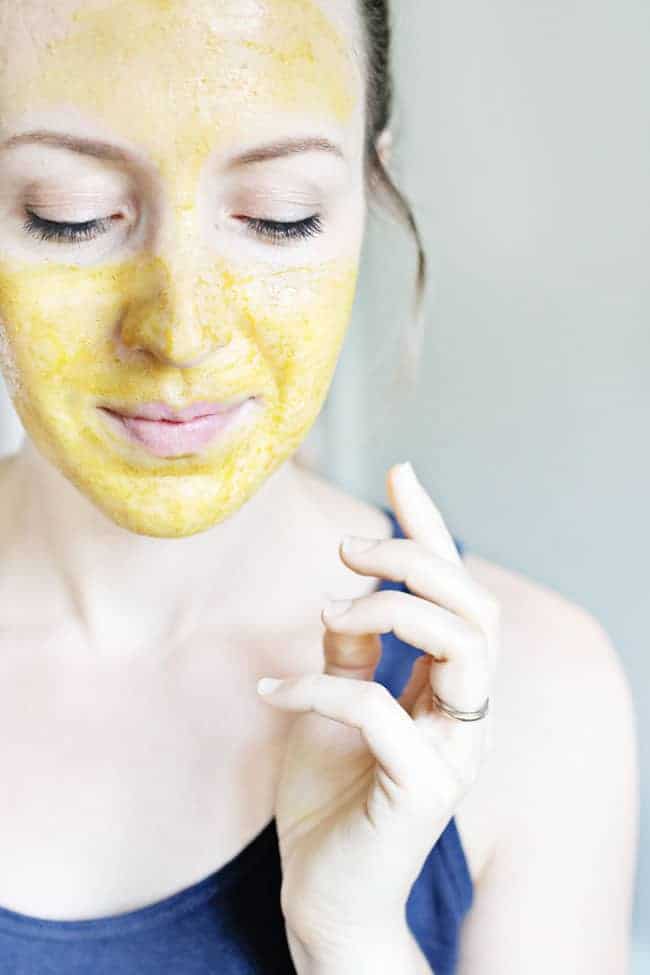 While this mask isn't likely to leave your face with an orange hue, your clothes are a different story. I would recommend wearing old clothing when applying this mask and staying away from furniture that's tough to clean!
When it's time to rinse off, just use your hands and some warm water to gently exfoliate dead skin cells and cleanse your face.
Turmeric FAQs
How often can I use this turmeric mask
?
This mask can be used as often as needed during flare-ups and once a week as maintenance.
Can I make this mask ahead of time in large batches and save for later use
?
Since there are no preservatives in this mask, you would only want to make enough for one-time use. We don't recommend saving for later use. In this case, fresh is best.
What are the other benefits of turmeric
;
should I add it into my vitamin routine for internal benefits
?
Turmeric is a potent antioxidant that helps fight free radicals that cause damage to the body's cells. Also, since turmeric is anti-inflammatory, many people who take it as a supplement report an easing of joint pain from arthritis and that it can increase gut health and digestion.
Any adverse reactions to turmeric I should know about
?
If you are allergic, you should avoid using this topically and internally. If you aren't sure, we recommend a test patch inside your forearm. If you notice any redness, irritation, or swelling, skip this mask.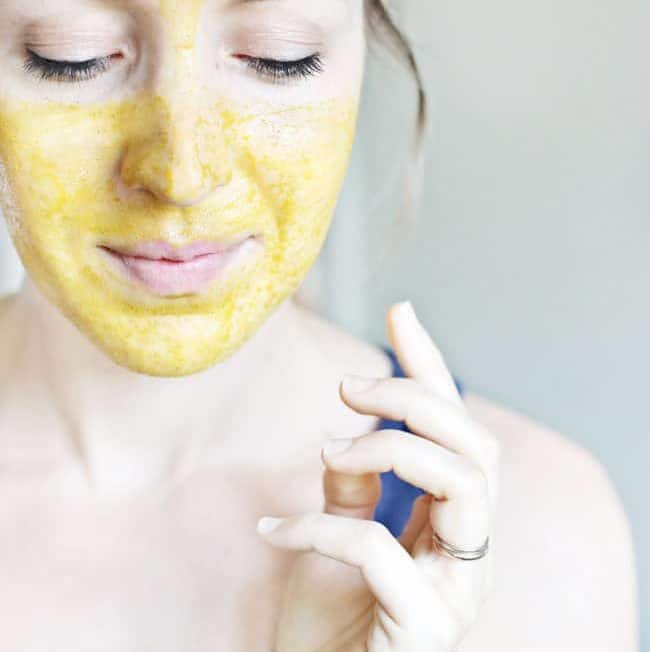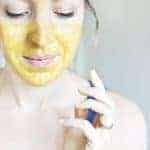 Print
Anti-Inflammatory Turmeric Face Mask
Say goodbye to redness and irritation and hello to healthy, glowing skin with this antiaging turmeric face mask.
Instructions
Put turmeric, honey, and coconut milk into a small bowl and stir. Add the orange oil and stir again.

You want your mask to be a thin paste, so adjust the coconut milk as needed until you get the right consistency.

Cleanse your face to remove dirt and makeup then apply the mask evenly all over your face, being sure to focus on any inflamed areas.

Leave the mask on for 20 minutes, then rinse off with warm water. Repeat 1-2 times a week until the inflammation subsides.
This post was medically reviewed by Dr. Jennifer Haley, a board-certified dermatologist with extensive experience in medical, cosmetic, and surgical dermatology. Learn more about Hello Glow's medical reviewers here. As always, this is not personal medical advice, and we recommend that you talk with your doctor.
192