Do you use toner? I'll admit, when I'm tired or in a hurry, toner is the first thing I skip in my beauty routine. But it's so easy to make your own toner! Using toner helps equalize the skin's pH level after cleansing as well as remove any leftover makeup or cleanser residue. And combining the antioxidant power of green tea and pomegranate juice gives your skin extra rejuvenating benefits.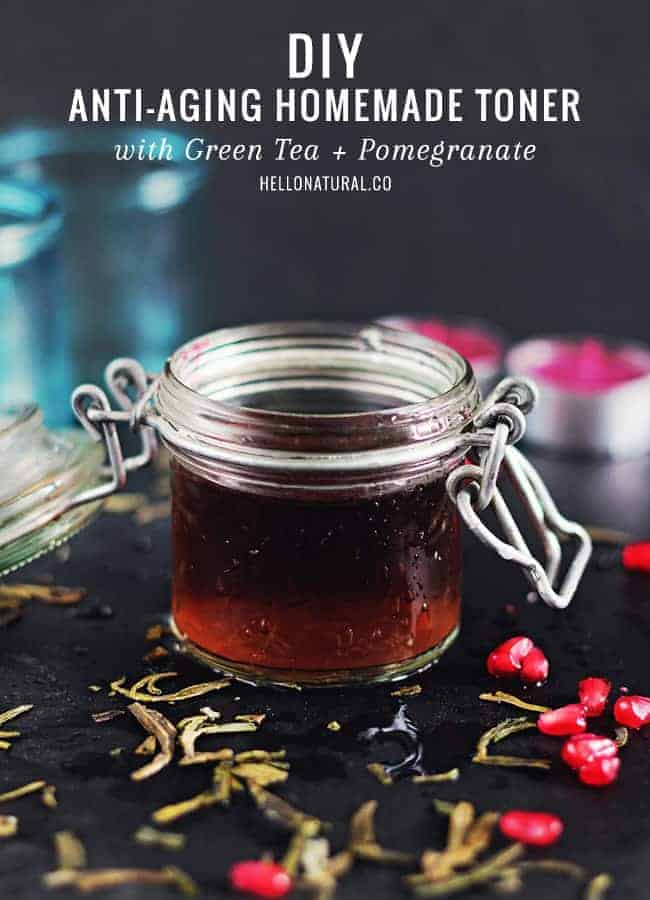 No surprise that we're fans of homemade green tea beauty recipes. Green tea has been shown to reduce sun damage and eye wrinkles, and its natural anti-inflammatory properties soothe skin inflammation and redness.
Pomegranate juice is another powerful antioxidant that your skin will love, especially if you're concerned with aging. Pomegranate increases collagen production and promotes the regeneration of skin cells, both of which slow down the formation of wrinkles. Look for 100 perfect pure pomegranate juice or make your own from a fresh pomegranate.
Homemade Toner with Green Tea and Pomegranate
Ingredients
1/4 cup green tea, cooled
1/8 cup pure pomegranate juice
1/8 cup filtered water
Mister bottle
Instructions
Steep a green tea bag in hot water. While tea is cooling, dilute pure pomegranate juice with equal parts water. Discard the tea bag and combine green tea with diluted pomegranate juice. Skip the cotton ball and pour the toner into a small mister bottle. One of the most refreshing ways to apply toner is to spritz it on all over your face and neck. Keep refrigerated and use within 2 weeks.
You can apply this throughout the day too for a moisture boost!
266