Do you use toner? I'll admit, when I'm tired or in a hurry, toner is the first thing I skip in my beauty routine. But it's so easy to make your own toner! Using toner helps equalize the skin's pH level after cleansing as well as remove any leftover makeup or cleanser residue. And combining the antioxidant power of green tea and pomegranate juice gives your skin extra rejuvenating benefits. You can apply this throughout the day too for a moisture boost!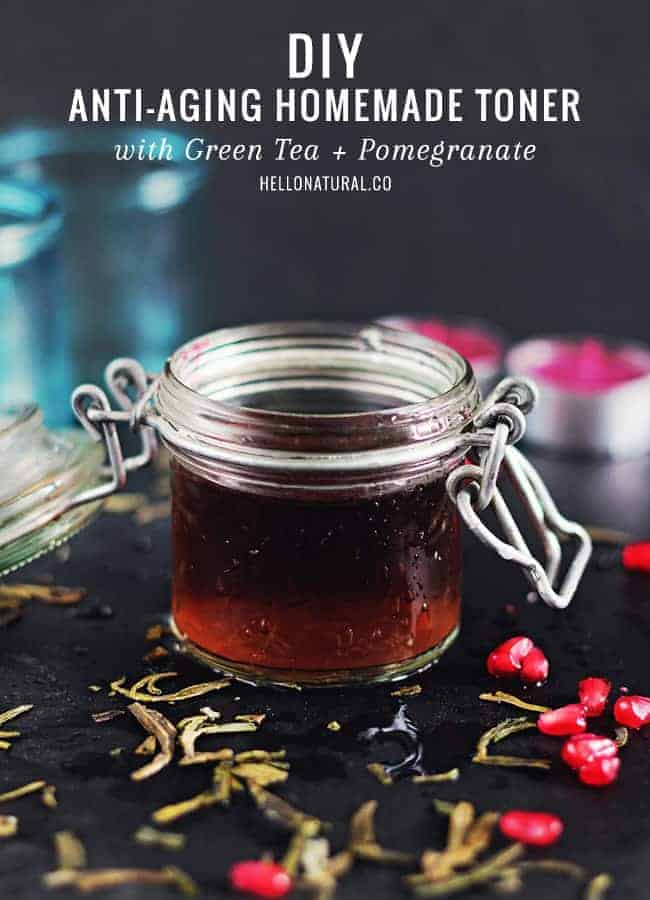 No surprise that we're fans of homemade green tea beauty recipes. Green tea has been shown to reduce sun damage and eye wrinkles, and its natural anti-inflammatory properties soothe skin inflammation and redness.
The molecule responsible for green tea's amazing anti-inflammatory and antioxidant abilities is a catechin—specifically, one called epigallocatechin-3-gallate (EGCG). You'll find this ingredient highlighted in a lot of green tea-based skincare, but you don't need to buy a premade product to benefit from this naturally potent antioxidant!
Pomegranate juice is another powerful antioxidant that your skin will love, especially if you're concerned with aging. It's naturally rich in phenols (aka plant-based antioxidants) that show promising anti-aging results for the skin.
Pomegranate increases collagen production and promotes the regeneration of skin cells, both of which slow down the formation of wrinkles. Sign me up!
Look for 100 perfect pure pomegranate juice or make your own from a fresh pomegranate. The fresh stuff is better in my opinion, but pomegranate juice for drinking will do in a pinch.
Green Tea Toner with Pomegranate
Ingredients
1/4 cup green tea, cooled
1/8 cup pure pomegranate juice
1/8 cup filtered water
Mister bottle
Instructions
Steep a green tea bag in hot water. While tea is cooling, dilute pure pomegranate juice with equal parts water. Discard the tea bag and combine the green tea with the diluted pomegranate juice. Give it a good shake to ensure that everything is well blended. If you want to use this as a facial mist, skip the cotton ball and pour the toner into a small mister bottle.
One of the most refreshing ways to apply toner is to spritz it on all over your face and neck. It's perfect for a midday pick me up, as well as keeping makeup from looking cakey by adding hydration to the skin. You know that I love a good multi-purpose DIY recipe and this is no exception!
Keep this toner refrigerated and use within two weeks. Even if you're not sure if it's off, making a fresh batch after a few weeks is the best way to ensure that you're getting the most of these amazing natural antioxidants.
It's also really important to store this in the fridge since our ingredients are all-natural—they're amazing, but without commercial preservatives, is prone to going off prematurely.
Keeping it cold in the fridge is a great cooling hack in the summer too—if you're feeling a little too warm, a little spritz of this is the perfect pick me up on a hot day.
352