Do you use toner? I'll admit that toner is the first thing I skip in my beauty routine when I'm tired or in a hurry. But it's so easy to make your own toner that I keep coming back to it again and again.
Using toner helps equalize the skin's pH level after cleansing, as well as remove any leftover makeup or cleanser residue. And combining the antioxidant power of green tea and pomegranate juice gives your skin extra rejuvenating benefits. You can apply this green tea toner throughout the day for an additional moisture boost!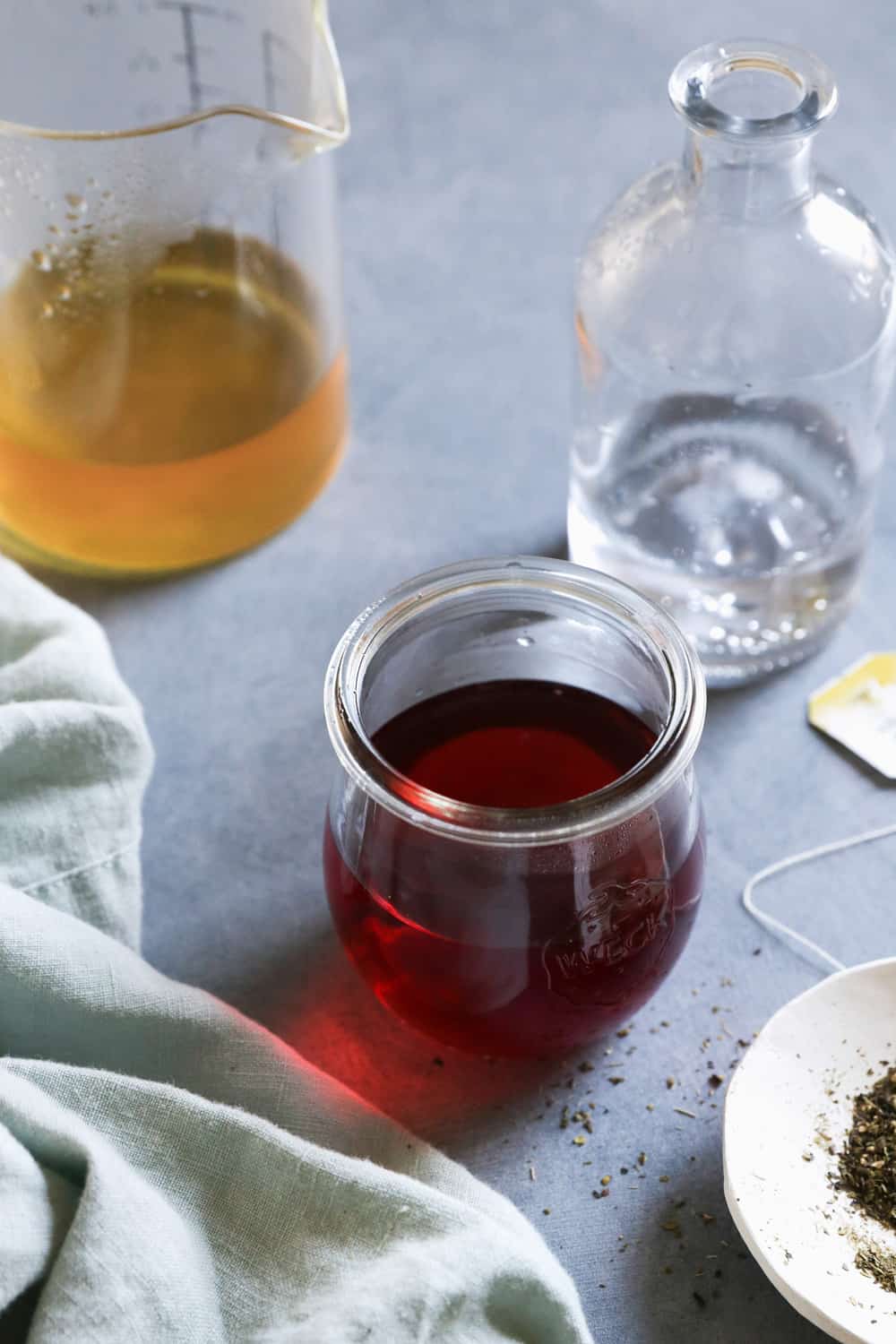 Benefits of Green Tea + Pomegranate for Skin
No surprise that we're fans of homemade green tea beauty recipes. Green tea has been shown to reduce sun damage and eye wrinkles, and its natural anti-inflammatory properties soothe skin inflammation and redness [source].
The molecule responsible for green tea's amazing anti-inflammatory and antioxidant abilities is a catechin—specifically, one called epigallocatechin-3-gallate (EGCG) [source]. You'll find this ingredient highlighted in a lot of green tea-based skincare products, but you don't need to buy one that's premade to benefit from this naturally potent antioxidant!
Pomegranate juice is another powerful antioxidant that your skin will love [source], especially if you're concerned with aging. It's naturally rich in phenols (aka plant-based antioxidants) that show promising anti-aging results for the skin [source].
Pomegranate increases collagen production and promotes the regeneration of skin cells [source], both of which slow down the formation of wrinkles. Sign me up!
Look for 100% pure pomegranate juice or make your own from a fresh pomegranate. The fresh stuff is better, in my opinion, but pomegranate juice for drinking will do in a pinch.
(If you'd prefer to keep things simple, there's no need to buy these ingredients separately. Instead, just look for an organic green tea with pomegranate already in it, like this one.)
How to Make a Green Tea Toner
Ingredients
Instructions
Steep a green tea bag in hot water.

While the tea is cooling, dilute pure pomegranate juice with equal parts water.

Discard the tea bag and combine the green tea with the diluted pomegranate juice.

Give it a good shake to ensure that everything is well blended. If you want to use this as a facial mist, skip the cotton ball and pour the toner into a small mister bottle.
Keep this toner refrigerated and use within two weeks. Even if you can't tell if it's gone off, making a fresh batch after a few weeks is the best way to ensure that you're getting the most of these amazing natural antioxidants.
It's also really important to store this in the fridge since our ingredients are all natural—they're healthy, but without commercial preservatives, they are prone to going bad prematurely.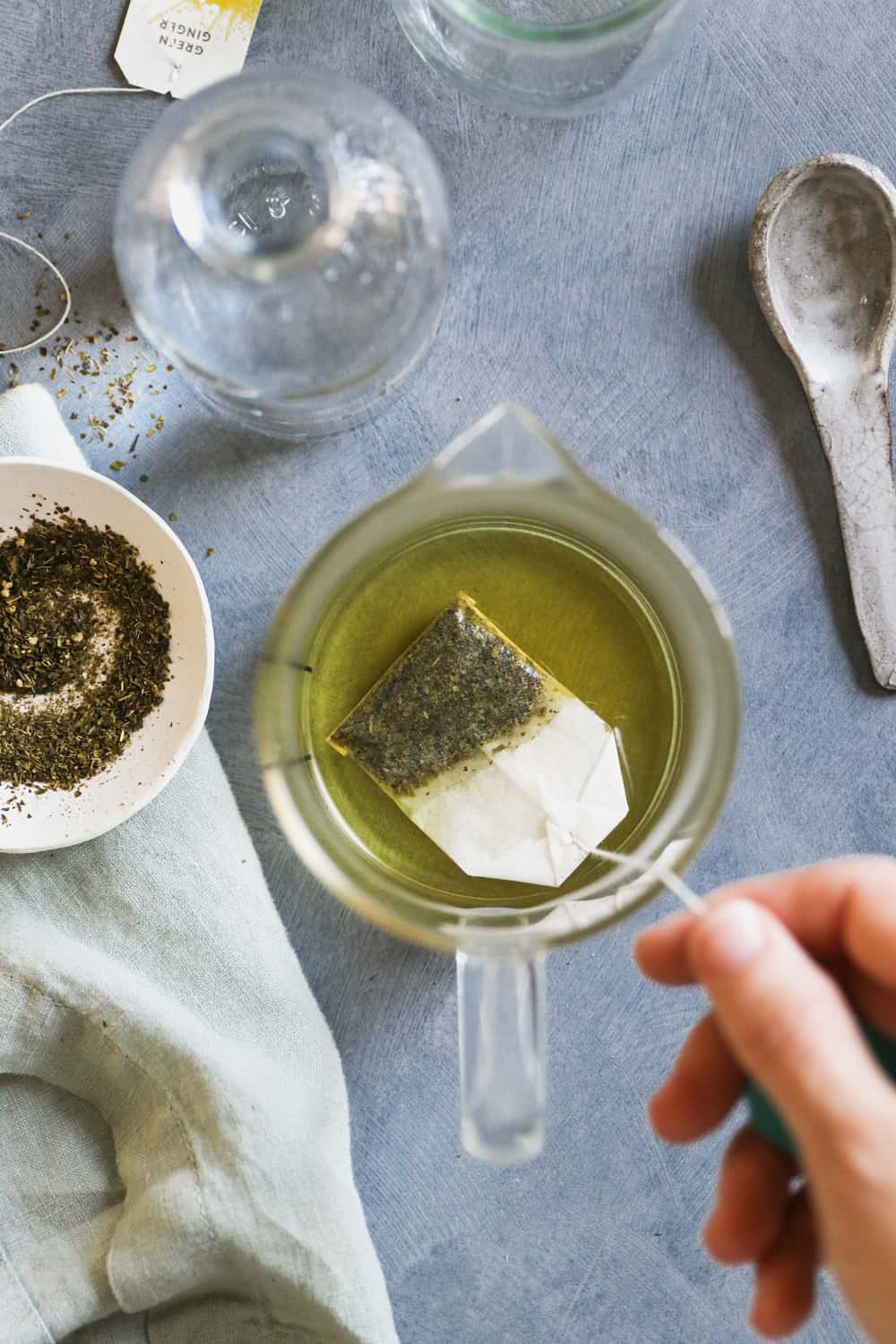 How to Apply Toner
1. Start by cleansing your face and removing any lingering dirt and makeup.
2. Gently pat your skin dry and apply your toner. One of the most refreshing ways to apply toner is to spritz it all over your face and neck. You can also store your toner in a jar and apply it using a cotton ball.
3. Let the toner sink in for several minutes before applying the remaining items in your beauty routine, such as serum and moisturizer.
4. Use the toner 1–2 times a day, morning and evening. This green tea toner also makes a great midday pick-me-up if you'd like to freshen skin or keep makeup from looking cakey.
5. Keeping it cold in the fridge is a great cooling hack in the summer, too—if you're feeling a little too warm, a little spritz of this is the perfect skin refresher on a hot day.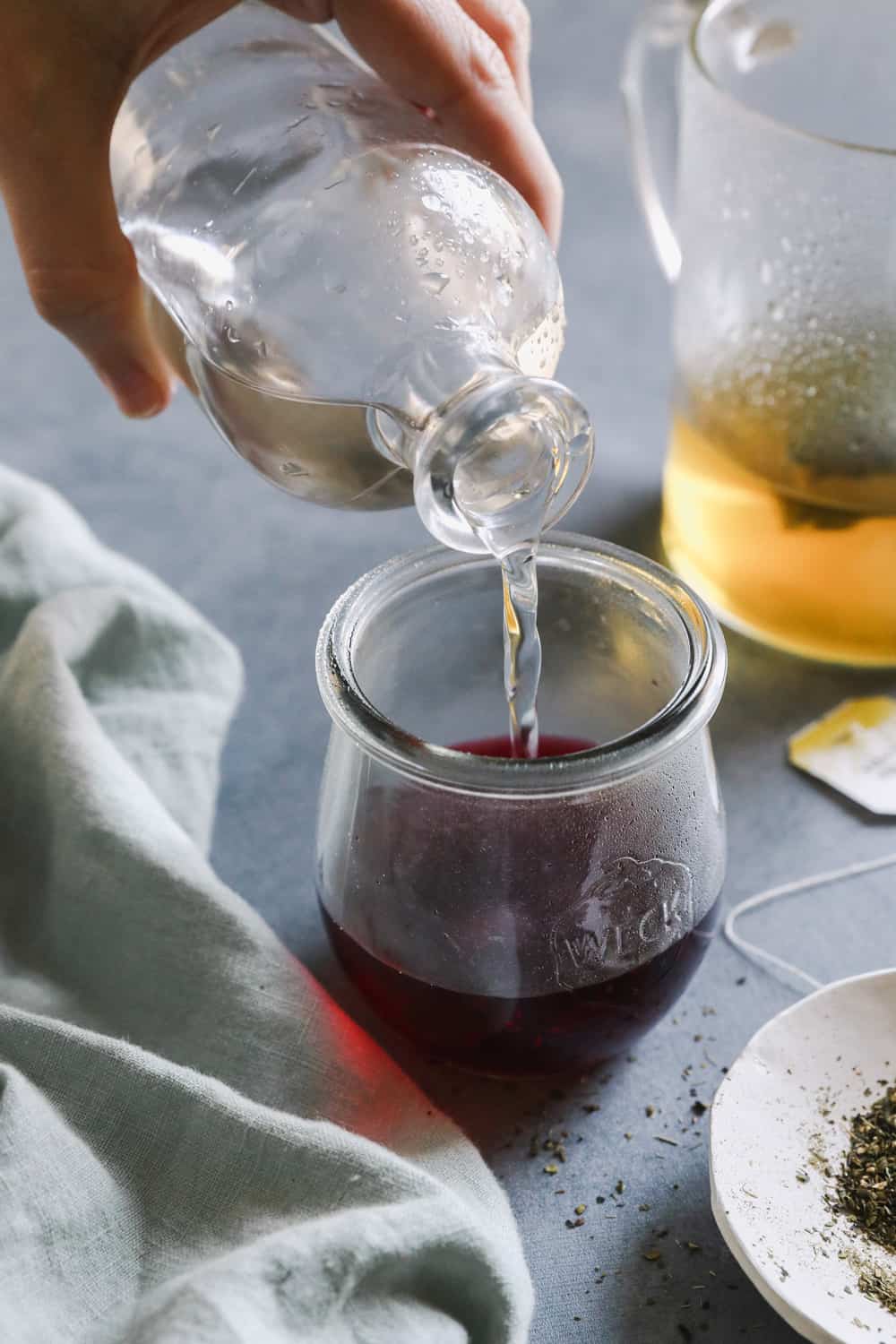 Green Tea Toner FAQ
What else can I use besides pomegranate juice?
You can use pomegranate tea (make sure to choose an organic brand to keep toxins to a minimum!) or a teaspoon of pomegranate powder.
Can I add an oil to my toner for extra moisture?
Yes, although the oil won't completely blend with the toner, so you'll need to give it a good shake every time you use it. I recommend jojoba, carrot seed, or rose hip seed oil since they have regenerative properties. You can also try a little pomegranate seed oil for an extra dose of pomegranate nutrients.
How can I make this toner stay fresh longer?
Since it's water-based, this toner will only last a couple of weeks in the fridge. If you can't use it that quickly, pour the toner into an ice cube tray and freeze it in smaller portions. Remove one ice cube at a time, let it melt, then pour it into your spray bottle and use as usual.
You can also add a natural, broad-spectrum preservative if you would like it to last longer at room temperature.
Can I leave green tea on my face overnight?
Green tea and pomegranate are gentle enough for extended use, so leaving this on overnight shouldn't be an issue. If you start to notice redness or irritation, use it less often to give your skin a break. Or just add more water, so your toner isn't quite as strong.
Is green tea toner good for oily skin?
Yes! The tannins in green tea have astringent properties, which can help shrink pores and lessen oil production.
This article was medically reviewed by Dr. Gina Jansheski, a licensed, board-certified physician who has been practicing for more than 20 years. Learn more about Hello Glow's medical reviewers here. As always, this is not personal medical advice and we recommend that you talk with your doctor.
390