One of the bloggers I follow on Instagram is always talking about her obsession with apple cider vinegar. She swears it does everything from clear up acne to stave off a bad case of the flu–and just about everything in between.
Since I'm desperately in need of some of that ju-ju in my life, I started putting it on everything, too. You know, just to see. One surprising benefit I didn't see coming? My hair has never looked better! The secret is an herb-infused apple cider vinegar hair rinse.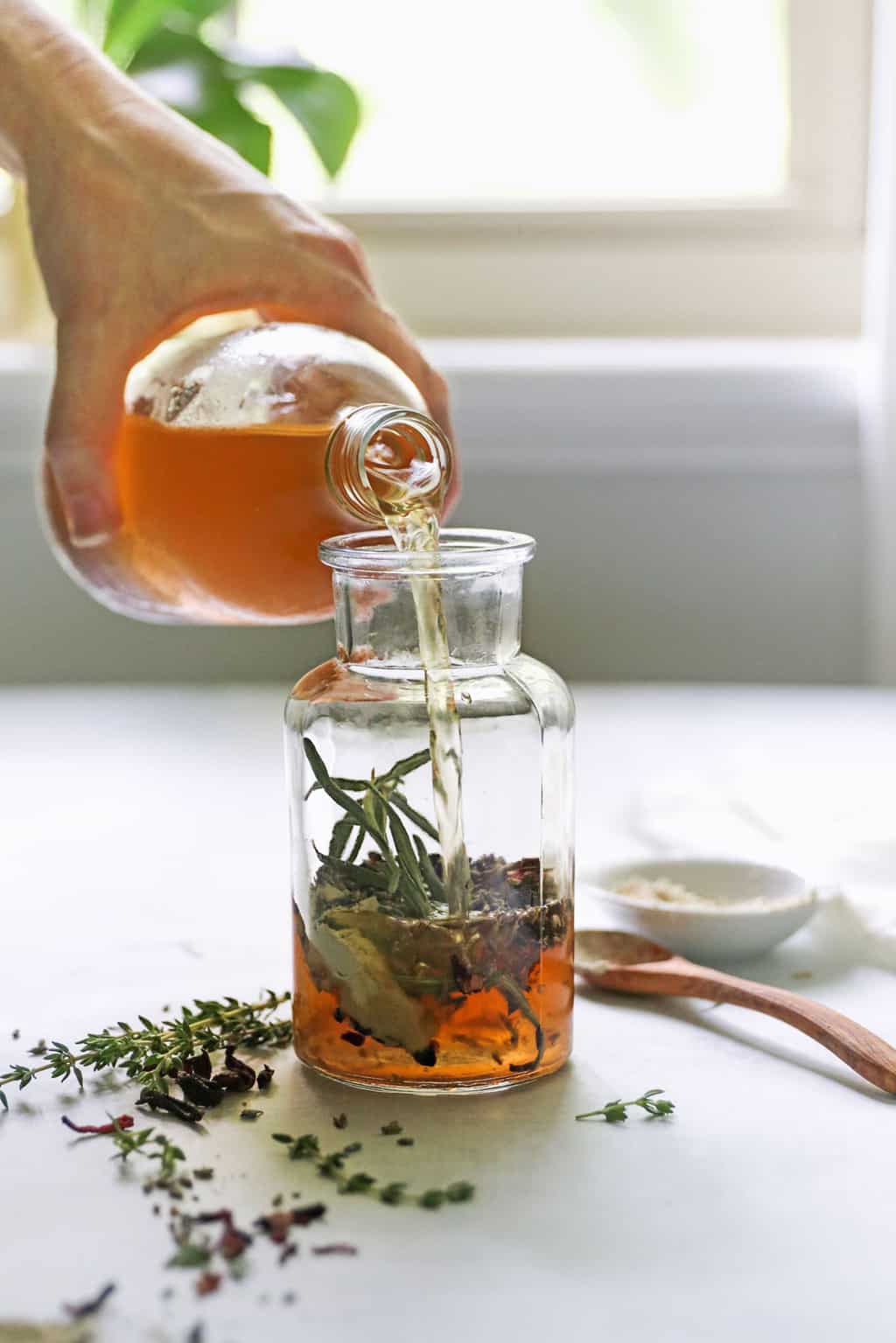 Making my own apple cider vinegar hair rinse has quickly become my new go-to secret for lackluster hair. Not only does it get rid of the gunky buildup that used to weigh down my hair, but it also makes my locks soft and super shiny.
Plus, by infusing it with hair-boosting herbs, I've noticed more growth, less flakes and fewer bad hair days to boot. Here's how to make your own version of this hair fixer upper.
Herb-infused apple cider vinegar hair rinse
Apple cider vinegar (ACV) is a must for any healthy hair regimen. Because raw ACV hasn't been pasteurized, it still contains the nutrients and probiotics that are so vital for healthy hair and scalp.
When used as a post-shampoo rinse it helps decrease tangles and smooth away frizz, add body and shine, clarify over-styled locks and unclog hair follicles that may be causing excess shedding. Not only that, but by replenishing healthy bacteria and re-balancing your scalp's pH, you may even see less dandruff and oil production than usual. Hallelujah.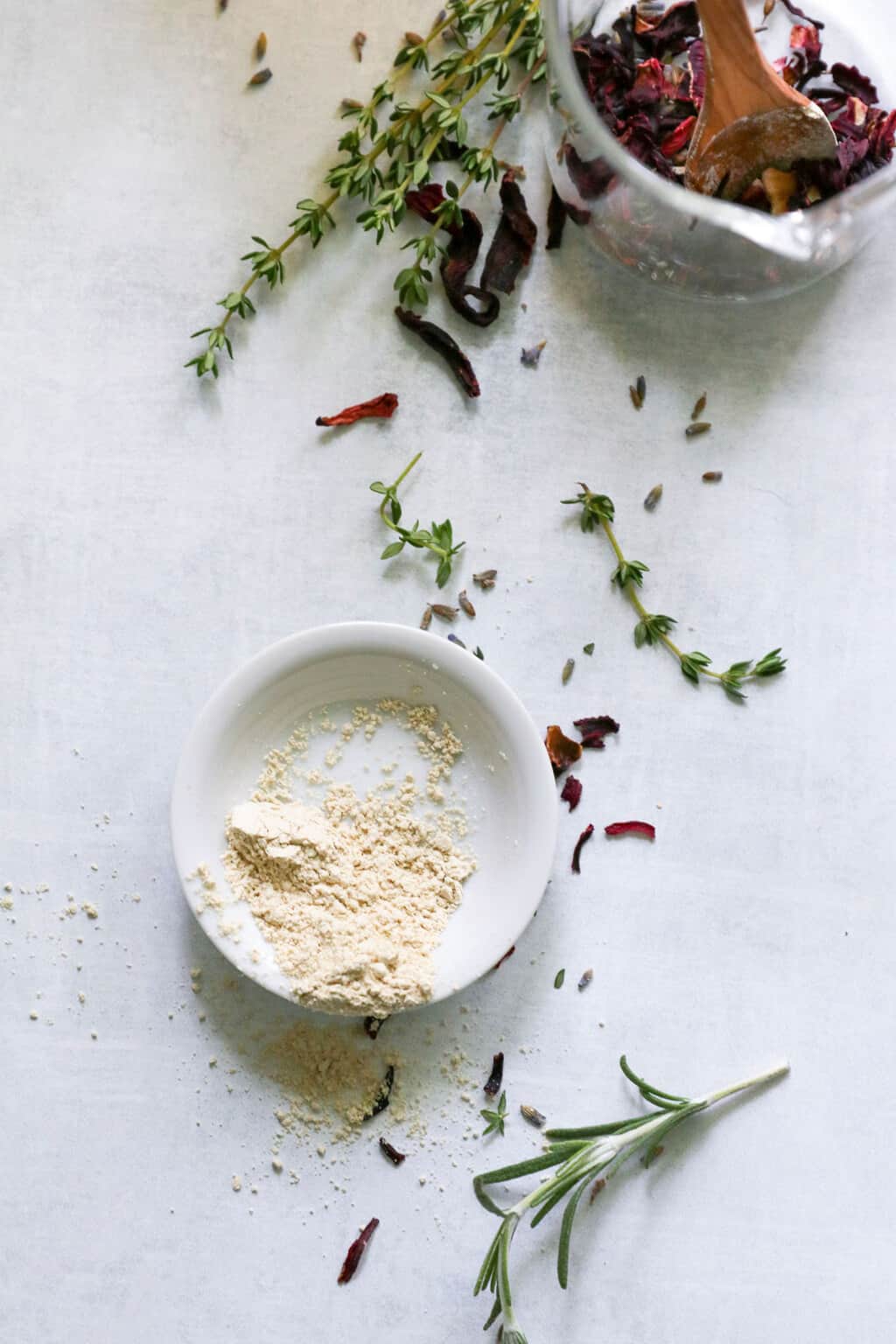 Although ACV is great by itself, adding in various plants and herbs makes your apple cider vinegar hair rinse that much more potent. For mine, I used rosemary, hibiscus, lavender and marshmallow root.
But you're by no means limited to just those herbs. Feel free to choose any of the following herbs based on your hair type and the kinds of issues you run into:
Best Herbs for Healthy Hair
Hibiscus
Packed with vitamins, minerals and antioxidants, dried hibiscus flowers can help improve the overall health of your hair and scalp. I would avoid this if you have blonde or light brown hair because it gives the ACV a red tint, which is great for red or dark hair highlights, but could temporarily stain lighter hair.
Lavender
Lavender is said to deep condition hair, which in turn helps it stay soft and shiny.
Rosemary
Rosemary is chock full of oils and nutrients that nourish the root, encourage hair growth, and increase circulation in the scalp. If you don't have fresh or dried herbs, add a couple of drops of rosemary essential oil for the same hair growth benefits.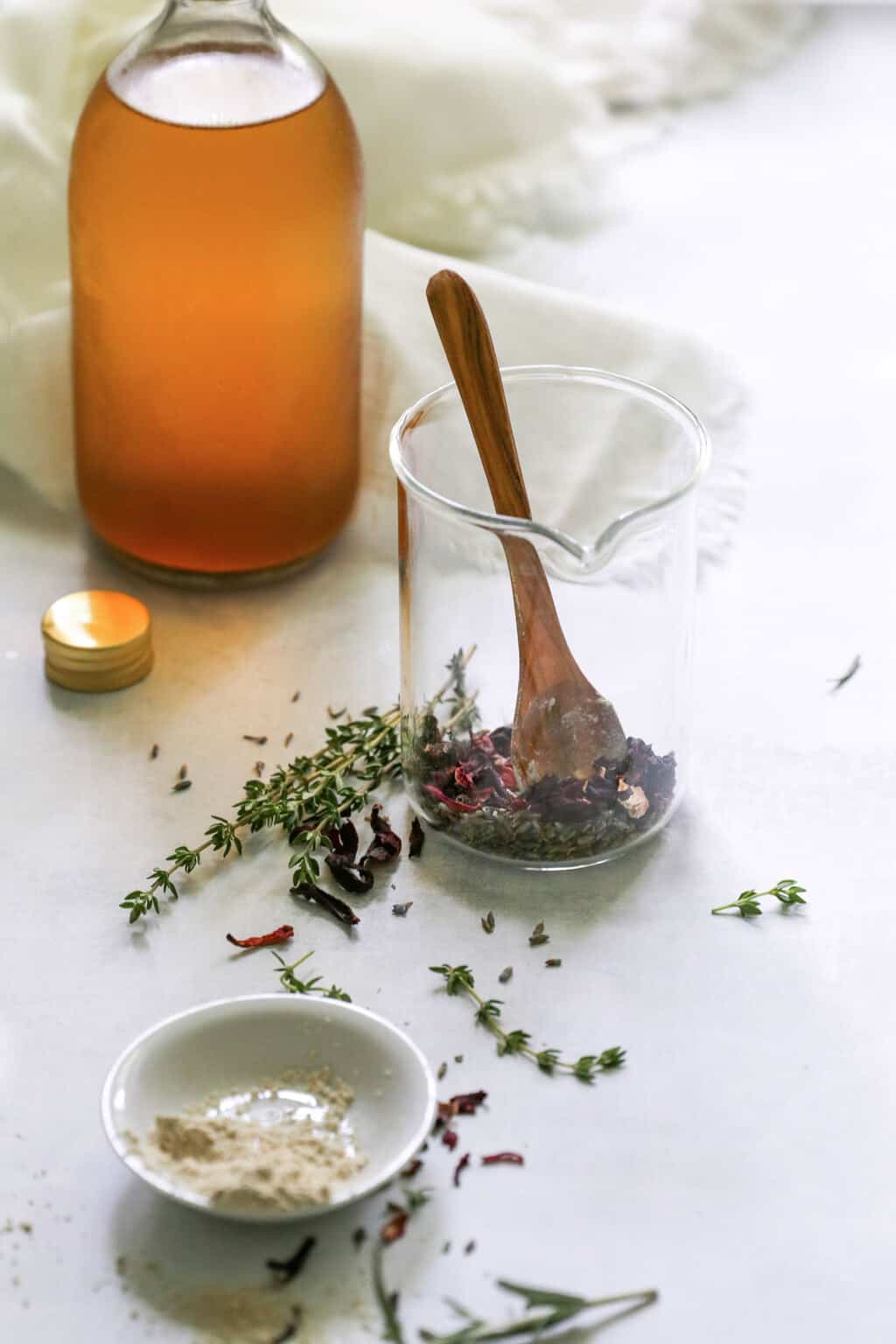 Thyme
Thyme delivers powerful nutrients to hair follicles that are necessary for healthy hair growth. Like rosemary, thyme improves blood circulation to the scalp and encourages hair to grow thicker and stronger.
Ginseng
Ginseng is often found in shampoos and conditioners because of its hair stimulating benefits. Not only does it promote hair growth, it also reduces shedding and decreases inflammation in the scalp.
Nettle
Nettle leaves are rich in silica and sulfur which are great hair boosters. Applying nettle topically not only promotes healthy hair growth, but it can also help scalp conditions like psoriasis and dandruff.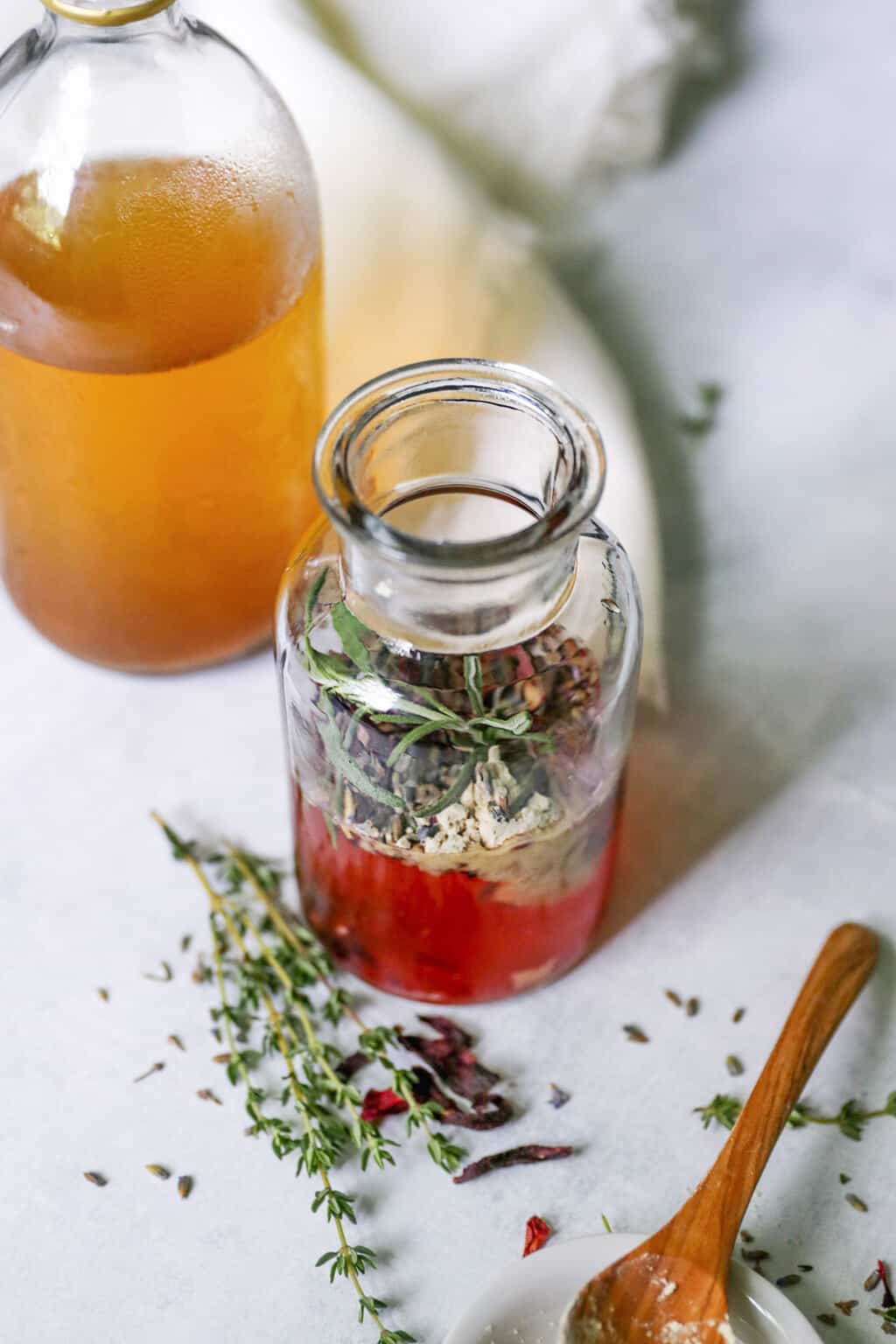 Marshmallow Root
Marshmallow root contains low concentrations of ceramide precursors which bind to hair, making strands look thicker and feel stronger. It's also somewhat slippery and can therefore be used as an alternative to conditioner.
While I was able to find all of these herbs in the bulk bins at my local health food store, you can also order them online if that's easier. And it doesn't matter if you use fresh or dried herbs. I used a combination of both depending on what was readily available at the store. Either way, the ratio stays the same.
More herbs for healthy hair
Herbs for dry hair: Burdock root, comfrey, elderflowers, lavender, marshmallow, parsley, sage, stinging nettle
Herbs for oily hair: Calendula, horsetail, lemon juice, lemon balm, mint, rosemary, witch hazel, yarrow
Herbs to combat dandruff: Burdock root, garlic, onion, parsley, rosemary, stinging nettle, thyme
Herbs for body and luster: Calendula, catnip, horsetail, licorice, lime flowers, nasturtium, parsley, rosemary, sage, stinging nettle, watercress
Herbs for shine: Horsetail, parsley, nettle, rosemary, sage, calendula
Herbs for hair growth: Aloe, arnica, birch, burdock, catmint, chamomile, horsetail, licorice, marigold, nettles, parsley, rosemary, sage, stinging nettle
Herbs for coloring hair: Brown – henna, walnut hulls, sage, Blonde – calendula, chamomile, lemon, saffron, turmeric, rhubarb root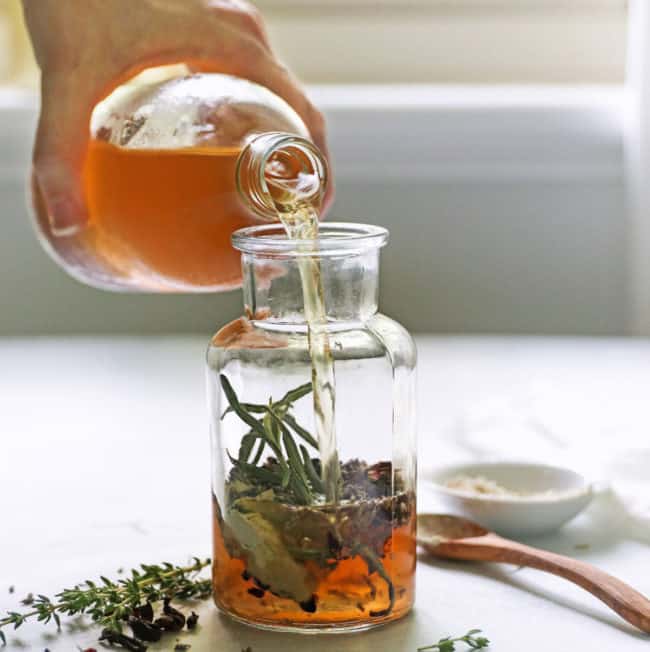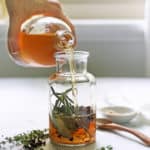 Print
Herb-Infused Apple Cider Vinegar Hair Rinse
Herbs and vinegar come together to make the ultimate hair fixer upper.
Equipment
Quart-size glass jar with lid

Cheese cloth or fine mesh strainer
Instructions
Combine all herbs in a glass jar. Stir with a spoon to mix everything together. Pour the vinegar over the herbs, then screw the lid on tightly and shake well.

Place the jar in a cool, dark location. Shake it every couple of days and top off with additional apple cider vinegar as needed to keep the level the same. After about 2 weeks, strain the herbs from the vinegar using cheesecloth or a strainer. 
Notes
To use, dilute the rinse by combining 1 part water, 1 part vinegar (this can be done in a small squirt bottle or in the palm of your hand). Apply to clean, wet hair and let sit for 1-2 minutes. Then rinse thoroughly.
Note: the herb-infused vinegar should keep indefinitely without requiring refrigeration; however water encourages bacterial growth, so don't dilute the mixture until you're ready to use it. If you accidentally get water in the rinse mixture, use within a week.
This post was medically reviewed by Dr. Jennifer Haley, a board-certified dermatologist with extensive experience in medical, cosmetic and surgical dermatology. Learn more about Hello Glow's medical review board here. As always, this is not personal medical advice and we recommend that you talk with your doctor.
206