What is it about this time of year that makes me need a vacation even though I just got back from one? While I'm hunkering down to ride out the long stretch between January and April, I need a little somethin' special to look forward to.
And, as cheesy as it sounds, a plush new robe (thanks, Santa!), some luxe skincare products, and these DIY aromatherapy shower sprays have me all excited about creating a spa vibe at home—for free!
Just give your shower a quick spritz with these essential oil sprays before cranking up the steam. Then step in, take several deep breaths, and unwind. It's like taking a long, hot soak in the tub without any of the mess (or pruney fingers). And when you step out, you'll feel shiny and new.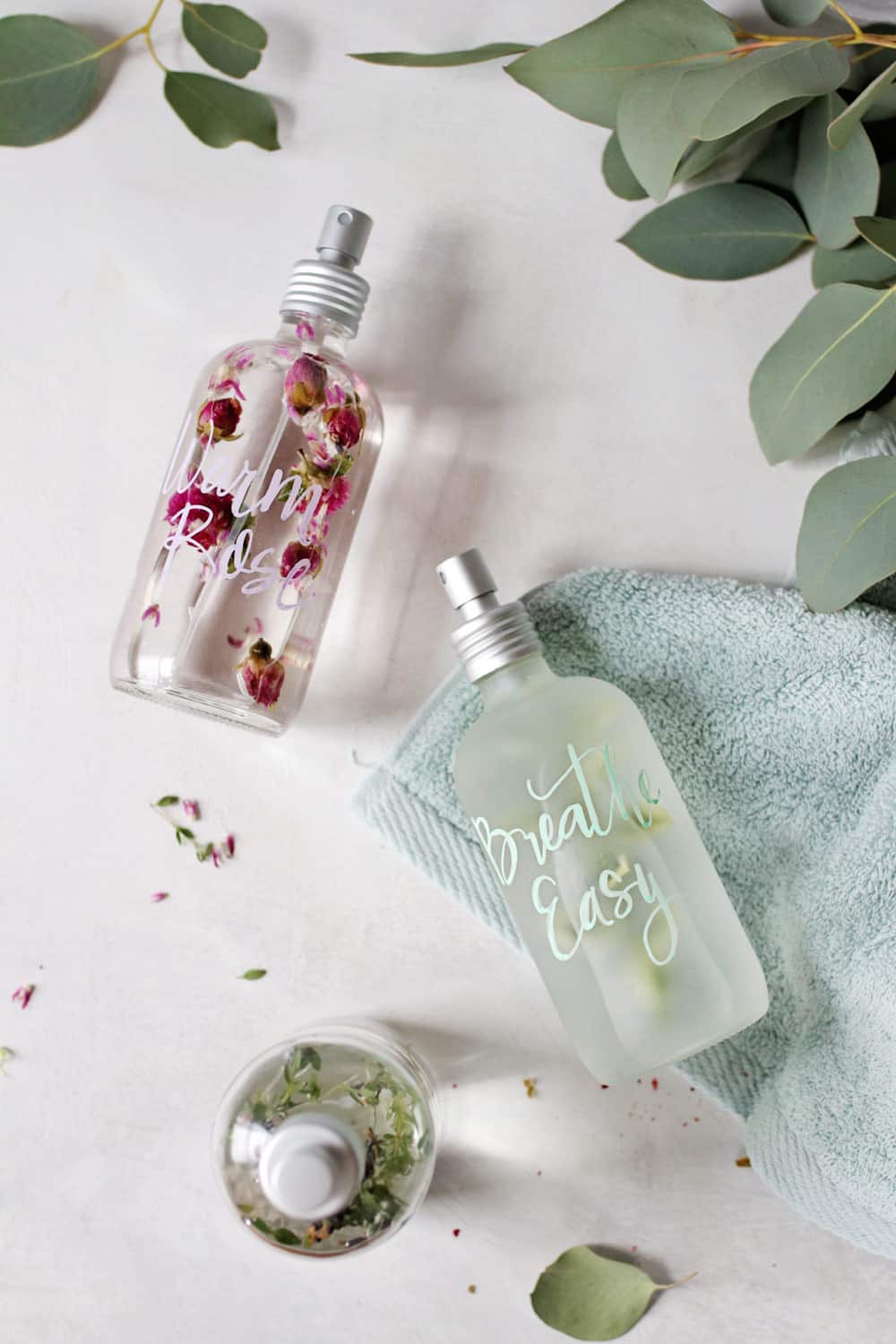 Shower Mist Benefits
If you're familiar with traditional room sprays, the concept is pretty much the same: mix essential oils with alcohol or witch hazel and put it in a spray bottle.
But unlike the room sprays you're used to, these are meant to be sprayed directly into the shower.
You see, the steam from the shower helps diffuse the oils and disperse them through the air so that they can be absorbed gently into the body. The aroma then helps the nervous system transmit signals to the brain, which can prompt changes in things like hormone levels [source], pain [source], and mood [source].
But they're not just for therapeutic purposes. If you're feeling anxious and in need of some time off, these shower sprays help elevate an everyday shower into an event.
Put on that hair mask you've been saving, whip out your jade roller and expensive serums, and put on some spa music. Then crank the shower all the way up, and spritz a few pumps of your spray directly into the shower to create a steam room effect.
It's relaxing, fun, and you'll walk away feeling like you just spent hours at the spa.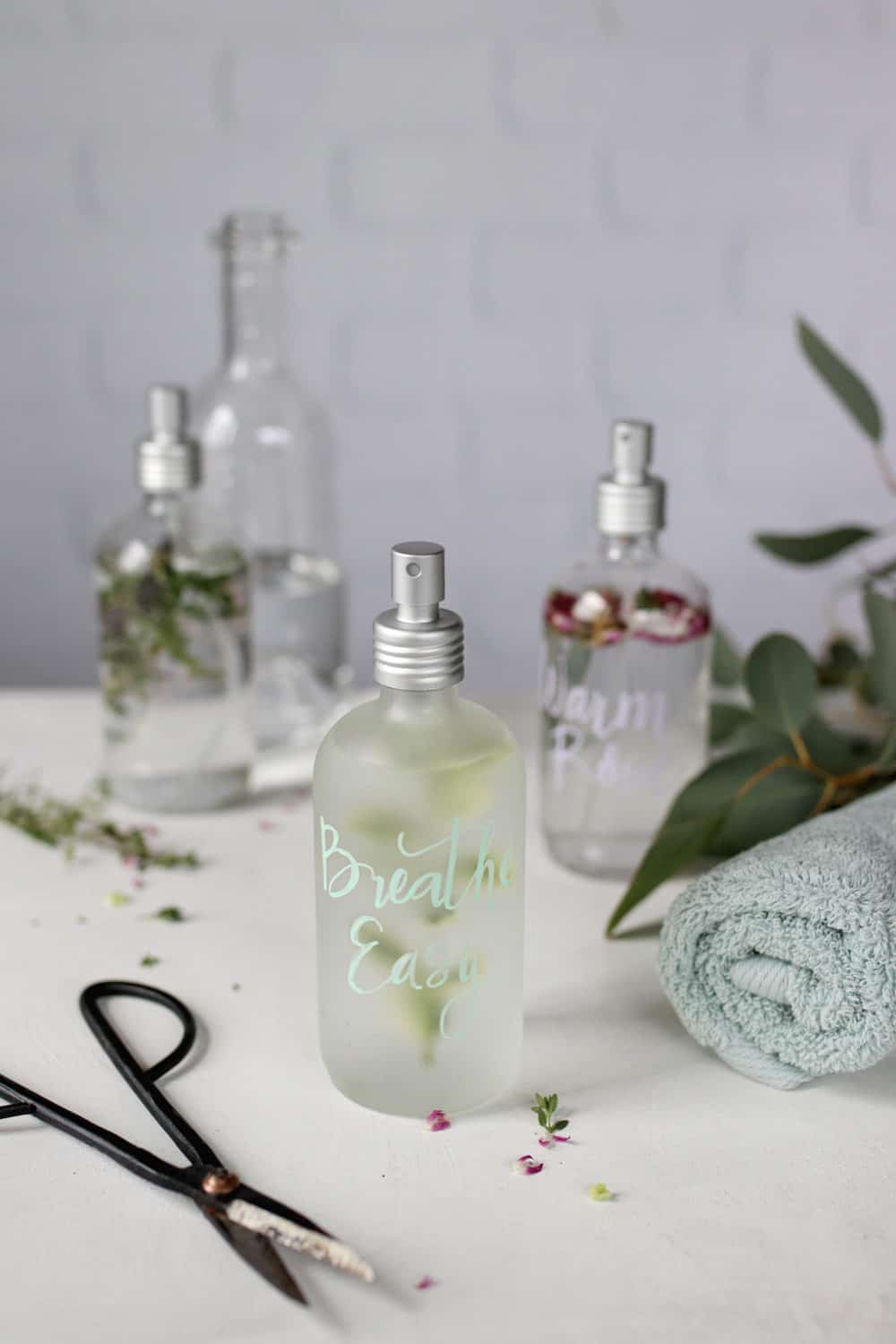 The best thing about these aromatherapy shower sprays is that you can make several different scents for different occasions. I chose oil blends that help boost mood, decrease stress, strengthen the immune system, and soothe the respiratory system.
But you can choose any essential oils you like! There's no right way to make these, so feel free to experiment and create scents you love.
DIY Aromatherapy Shower Sprays
Just in case you're wondering, these shower mists aren't just for the shower. You can use them to cleanse the energy in your home, as a pillow spray for a good night's sleep, as yoga mat cleaner, or simply as an air freshener when things start to feel stale.
Basic Shower Spray Recipe
Fill your bottle with the water, witch hazel, and essential oil. Shake well.
If you plan to give these shower sprays as a gift (which I highly recommend!), add your dried flowers, and label the bottle with a chalk marker just before wrapping it up.
To use your shower spray, wait until the bathroom gets nice and steamy, then shake the bottle and spray liberally in the shower just before hopping in.
Always store your sprays in a cool place away from direct sunlight. Make a fresh batch every 1–2 months.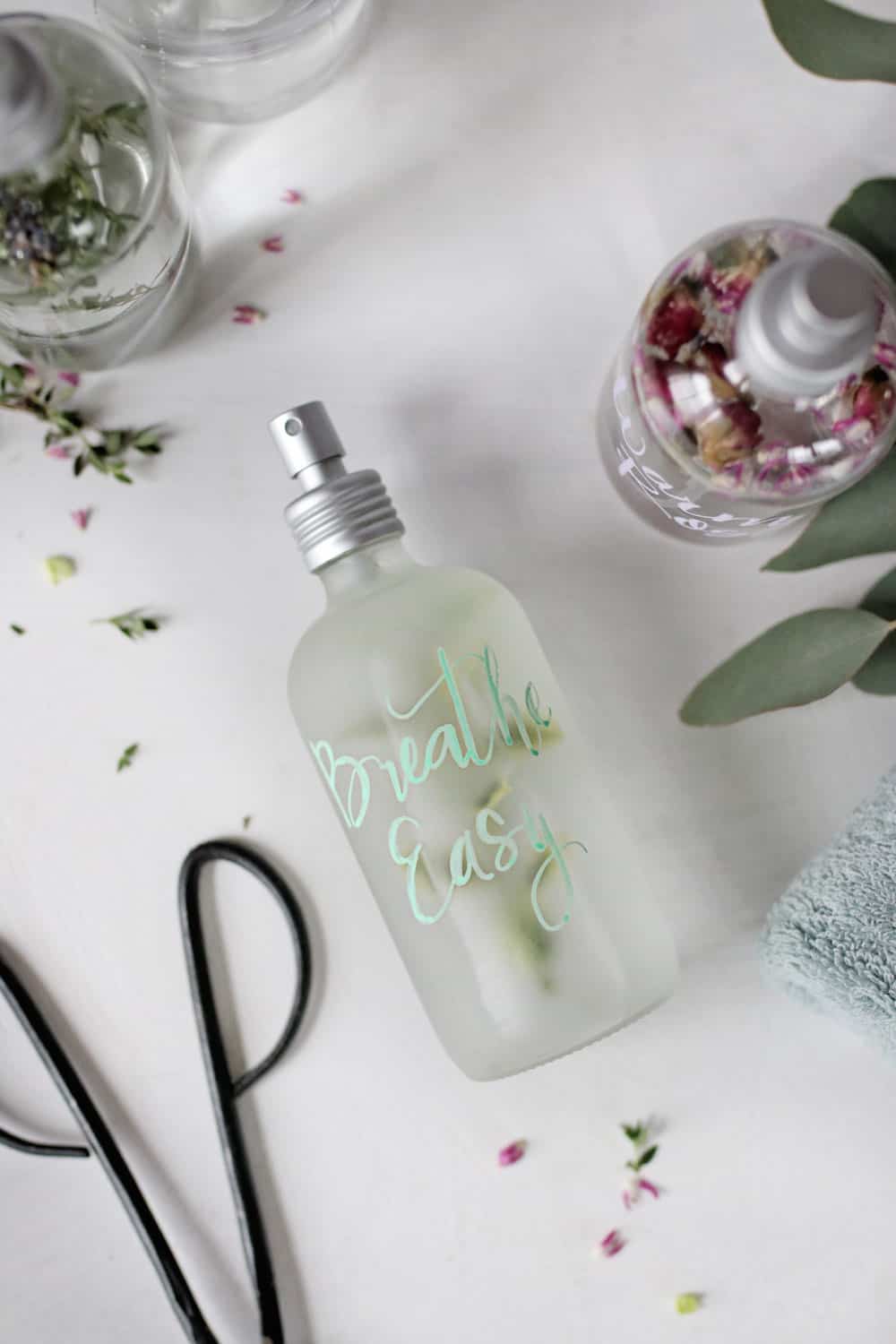 Shower Spray Oil Blends
You can really use any oils you like for these aromatherapy shower sprays, but here are a few of my favorite blends. Be sure to choose oils you love, that meet your needs, or that suit your recipient if you're giving these as a gift.
And if you have children or pets, always research individual oils to make sure they're kid- and pet-friendly.
Breathe Easy Blend
Warm Rose Blend
Relaxing Lavender Blend
Other essential oils that are great for the shower:
Aromatherapy Shower Spray FAQ
Do I have to use witch hazel or vodka in this recipe? Can I leave it out?
The witch hazel or vodka helps disperse the oils throughout the spray. But it's not nearly as effective as a chemical emulsifier, so you'll still need to shake your spray before using.
However, if you leave out the witch hazel or vodka, you'll see a lot more oil floating at the top of your spray. And you'll need to make a fresh batch every 1–2 weeks to keep the spray from molding.
Is it safe to use glass bottles in the shower?
When using these sprays, you don't need to bring them into the shower with you. You should keep your bottle in the closet or medicine cabinet and spray it before you hop in the shower.
That being said, I always use glass bottles for my homemade beauty products (yes, even in the shower), and I haven't broken one once. If you're uncomfortable using glass in the shower, then use plastic. Since the essential oils are so diluted, you probably won't run into any issues with the oils degrading the plastic.
Where can I find pesticide-free flowers?
I usually just search Amazon for organic dried flowers. Keep an eye out for food-grade blooms, like rose, lavender, or chamomile, that you can use to keep chemicals to a minimum because you will be inhaling the mist.
Will the dried flowers start to mold, and do I need to strain them out?
It depends on what kind of flowers you use and how quickly you use the spray. Yes, eventually, the flowers might start to grow mold. But since this mixture contains water, by that point, you run the risk of the entire spray growing mold whether you use flowers or not.
Aim to use your aromatherapy shower sprays as quickly as possible (within 2 months, max) and if you see any fuzz before that, toss it out, sanitize your bottle, and make a fresh batch.
Can I just put essential oils directly in the shower?
I don't recommend it for a couple of reasons:
1. Oils can make the floor of your shower super slippery, which can be dangerous. When mixed with water and witch hazel and then dispersed into the air, like with these sprays, very little oil should actually accumulate on the shower floor.
2. Essential oils are extremely strong and can ruin your tile or tub finish. (I learned this the hard way when I left a bottle of essential oil sitting on the edge of my recently reglazed tub. Whoops!)
Looking for more ways to add aromatherapy to your bath routine?
Aromatherapy shower sprays are just the tip of the iceberg!
This post was medically reviewed by Dr. Holly Smith, a board-certified physician in nephrology and internal medicine with a background in nutrition. Learn more about Hello Glow's medical reviewers here. As always, this is not personal medical advice, and we recommend that you talk with your doctor.
539