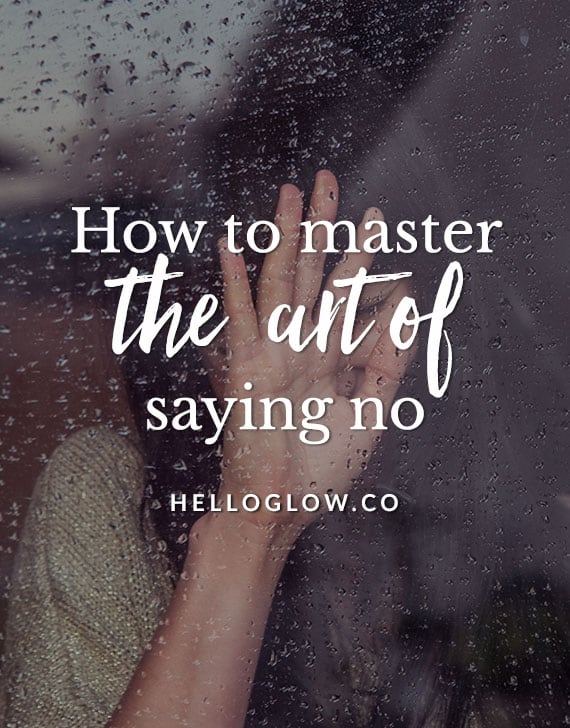 The word "no" is usually one of the first words we learn how to master. Seriously. Spend time around just about any toddler and I'm sure you'll hear "no" used frequently and liberally. Yet as we get older, the word "no" becomes harder and harder to say – especially for women.
Often times it is because we don't want to let others down and telling people "no" makes us feel extremely guilty. We want to meet the needs of everyone around us, but unfortunately this comes at our own expense.
Mastering the art of saying "no" is one of the best forms of self-care you can implement, because knowing when to say "no" to others helps us say "yes" to ourselves. Here are three tips to help you say no without feeling guilty.
Know Your Worth
Depending on the request, it is important to factor in your worth. What is the other person asking for? Precious time you need to spend on self-care? Financial resources that you aren't in a place to lend? What would be the cost of this request, and is it one you can afford to take, specifically from a self-care perspective? Take a moment to consider what your time and resources are worth, and how they would be best used. Keeping a practical mindset can help combat feelings of guilt.
Be Firm, but Polite
No should always mean no, but unfortunately that's not the case. If you have received a request that is a firm no for you, it's ok to be upfront about it. Don't feel like you need to beat around the bush or give a "maybe" if you truly mean no. Saying no once is far easier than having to say it two or three times from lack of clarity. Stand your ground and state your "no" with kindness and respect.
Offer an Alternative Solution
If saying "no" in this instance truly makes you feel bad, try offering an alternative solution for the ask that doesn't cut into your ability to practice self-care. Whether it's pointing the individual to another resource, to giving them advice on other ways they can satisfy their request, often times a "no, and…" feels better than "no."
2