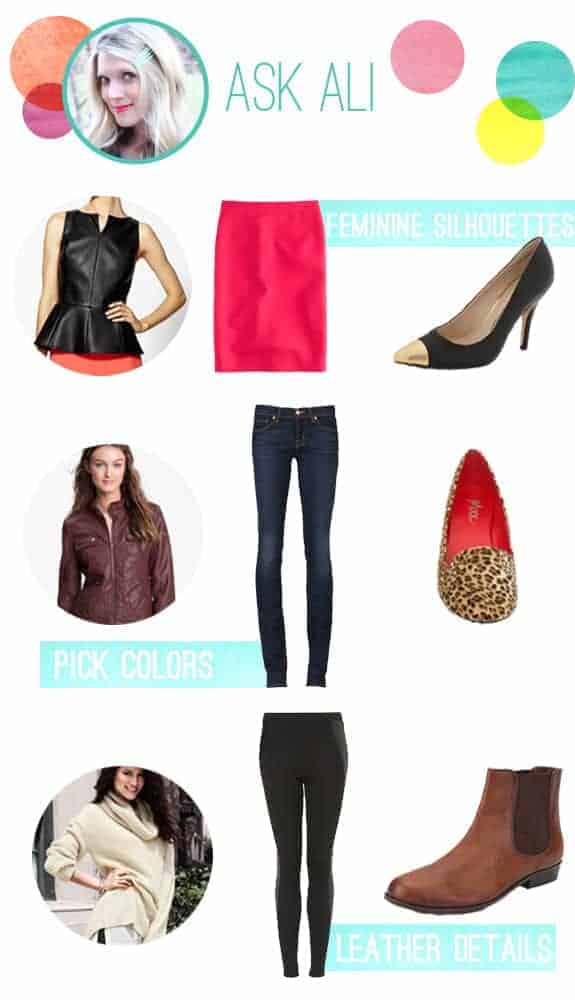 Leather is a big trend this fall but it can be a little intimidating for everyday wear. I don't know about you but leather pants just don't mix with doing laundry and getting crafty. But a little can go a long way with leather. Here are three tips on how to wear leather:
Look for feminine silhouettes
The best way to soften leather is to wear it in feminine silhouettes like this peplum top. Another good choice is a leather skirt. You can keep the look feminine by pairing the peplum top with a slim pencil skirt and a pointy toe heel.
peplum top / pencil skirt / heels
Pick a color other than black
Black leather is a classic but to you can go more modern with an updated color. This faux leather jacket in burgundy is kills two fall trends in one! To make this look work, pair colored leather with other neutral colors.
faux leather jacket / jeans / loafers
Find leather details
You don't have to wear head to toe leather (in fact, I recommend you don't). Look for small leather details such as the side panel in these leggings or try a leather waistband or other pocket detail. Little leather details can be all you need to make a statement.
leather panel leggings / sweater / boots
Ali from WITH AN I.E.
0